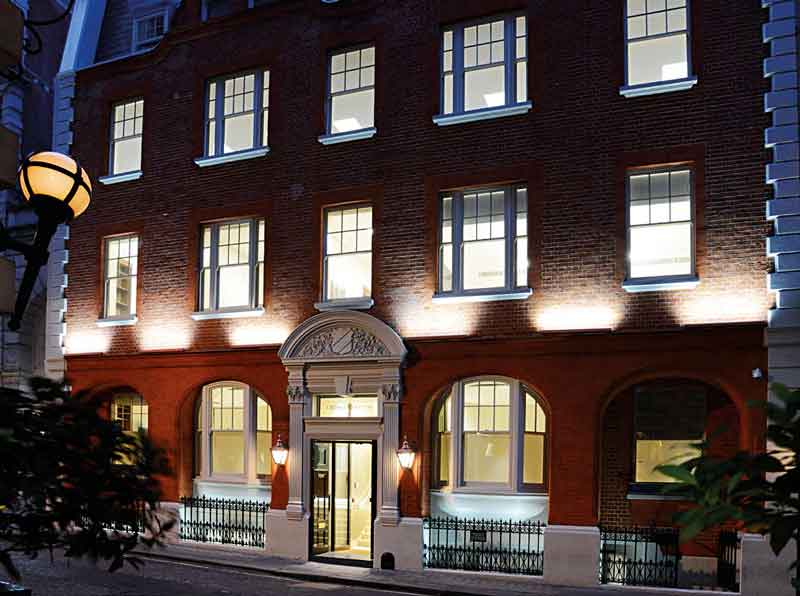 Pilatus Bank in Mayfair, London&nbsp
Author:
Ali Sadr, Chairman of Pilatus Bank
November 1, 2017
Uber may have only been in existence for eight years, but in that short time the company has become synonymous with radical transformation. Of course, this has caused a fundamental shift in the taxi industry, but other sectors are also experiencing what is now known as an 'Uber moment'.
Citing the increased adoption of digital banking solutions, there have been a number of predictions stating that the financial services sector is ripe for its own Uber moment. Naysayers might claim that the sector is too risk-averse to embrace innovation in the same way that other industries have, but that simply leaves the market wide open for agile start-ups to steal a march on less mobile institutions.
In fact, it is up to established industry players to show that they are flexible enough to develop their own innovations. Pilatus Bank is one such company, and it is intent on introducing its own disruptive technologies into the private banking and fintech arenas, in order to help bring about banking's very own Uber moment. World Finance spoke to Ali Sadr, Chairman of Pilatus Bank, to learn more about the company's unique approach.
What will the Uber moment mean for the banking industry?
While many industries have already digitalised, the banking sector still has room for technological improvement. Advancements to date in fintech and banking are just the tip of the iceberg. Studies suggest that market forces will cause banks to significantly automate their business processes and reduce the number of branches and human capital by as much as half.
In my opinion, this trend is well underway. But the sector still needs a disruptive yet simple idea to truly revolutionise the space – this will be banking's own Uber moment. Branch banking has not achieved this, and I don't believe online banking will be the game-changer either.
Statistics show a trend of customers moving away from branch banking and towards online banking. What is your view on this?
The shift to online banking is not due to online banking being the best solution. In my opinion, it is caused by branch banking no longer offering quality service, leaving customers with no other option but to use their online platform. It's the lack of options that has forced customers to use online banking, not its convenience.
It's the lack of options that has forced customers to use online banking, not its convenience
Let's look at banking in three different generational stages: branch banking, online banking and next-generation banking. The last of these is the one that will be triggered by banking's Uber moment. I predict, with a high level of confidence, that online banking will cease to exist as soon as the Uber moment of banking takes shape.
I also believe that private banking, and greater human interaction between bankers and customers, will be an integral part of that next generation.
How do you think online banking will end?
It will happen in a similar way to how the taxi business almost came to an end when Uber was introduced. Many banks are closing branches in cities and towns, abandoning communities and depriving them of direct face-to-face interaction for their banking needs. These customers have no other option but to use online banking platforms. For many people, online or mobile banking is not a choice; it's the only viable option.
It's natural for people to settle for the only option available and believe it to be a convenient service. People viewed the Walkman as a convenient way to listen to music, but that's because we didn't know any better, and there wasn't a superior product available.
A true revolution took place in the music industry via a simple shift from the Sony Walkman to the Apple iPod. Online banking will feel like the Walkman in a few years – nothing more than a faint memory.
Why hasn't the banking sector already embraced disruption?
Actually, it has. And that is why I believe that the Uber moment of banking is extremely close, and will be one of the most disruptive undertakings we will ever encounter. Pilatus Bank has been testing its propriety product, ARX, for some time now, and the results are quite astonishing.
We are working on scaling up the platform so that we meet the demands of customers who have patiently been awaiting the full launch of ARX. We are planning to go live in the next few weeks.
Who do you think the main audience and early adopters of disruptive solutions will be?
The answer is the mass affluent. They hold the largest share of global wealth. They make up about 14 percent of the European population, while controlling 47 percent of its wealth, making them the most significant customer base. Despite this, banks have not managed to successfully meet their demands. One of the main reasons why banks have failed to accommodate the mass affluent is that they have underestimated their demand for service.
Financial institutions have become caught between private banking and retail banking, meaning that the mass affluent market is often neglected. Despite holding significant levels of wealth, most mass affluent customers do not qualify for the high thresholds of private banking services, thus they are offered the standard services within the retail banking market.
I believe we need to change this and create an entirely new customer experience, with mass affluent customers being the main beneficiaries.
Offering a private banking fintech solution to the mass affluent segment will come with a number of challenges, however. Mass affluent customers span a large age range, from young professionals to retirees.
They therefore have very different financial goals, such as buying a home, saving for their children's education, or planning for retirement. Fintech solutions for this demographic must encompass diversity while remaining simple and convenient, which is a challenging balance to strike.
Given the recent growth in fintech, how do you feel about rising competition?
In the near future, I'm confident that many market players, including Pilatus Bank, will be engaging with new fintech solutions. I believe there's a good level of diversity and healthy competition among market participants, but the industry needs to focus on key objectives.
That is exactly what we at Pilatus Bank have done. The reason I think our solution is beyond anything the market has ever experienced is that we have mastered the art of quality service, and now we know how to expand our customer base with a superior product.
Delivering superior customer experience is the starting point for all our solutions. Service delivery must be simple and seamless, and our product should fit the customer's lifestyle. Accordingly, the user experience should require the minimum amount of learning or teaching.
The solution should encourage more client-banker interaction in order to deepen the existing relationship. Lean and innovative distribution channels should drive operational factors, and processes should be designed with three parameters in mind: quality, efficiency and scalability. If we get all that right, then convenience for customers will be the natural outcome.
Wouldn't providing such a service to a large segment of the market come at an exuberant cost?
This is where fintech comes into play as a key enabler. We are focused on cutting the bond between delivering high-quality service and doing so at a high cost. Our proprietary fintech solution is not just a mobile banking app; it is a direct channel for delivering timely, relevant, personalised customer experiences to our mass affluent customers.
Our goal is for our fintech solution to become a basic day-to-day and lifestyle tool for our clients. This efficient and scalable model will reduce costs and enable the bank to monitor its efficiency and quality of service.
What differentiates Pilatus Bank's technology?
Currently, mass affluent clientele view their relationship with their bank as distant, as opposed to having a 'trusted banker'. Our solution will change that by serving as a direct portal with a relationship manager while simultaneously reducing service costs.
Our technology is also exclusive and personalised. One of the primary obstacles to a deeper relationship with the mass affluent segment is the perception of a one-size-fits-all value proposition offered by banks. These clients want to be known by their banker, and they want to know their banker. Our solution will eliminate anonymity and allow each client to be offered vast possibilities by a dedicated relationship manager.
Our fintech product is convenient, and has been designed as an easy-to-use and reliable solution, one that could bring the extreme convenience of private banking to the mass affluent segment. It also serves as a branch in your pocket; it aims to re-engineer product delivery channels by eliminating unnecessary activities and interactions that are no longer relevant to digitally savvy customers.
How will Pilatus Bank's brand be affected by this expansion?
I believe we already have a world-class service and we have built an exclusive brand. What's more, I truly believe that expanding our customer base can only add value to our image, which has always been associated with luxury and high-quality service.
I don't see a reason why we wouldn't be able to transfer that brand recognition and market expectation to a much wider segment of the market. Ultimately, I'm confident that our brand will always be known for high-quality service delivered in the most convenient way for our customers.