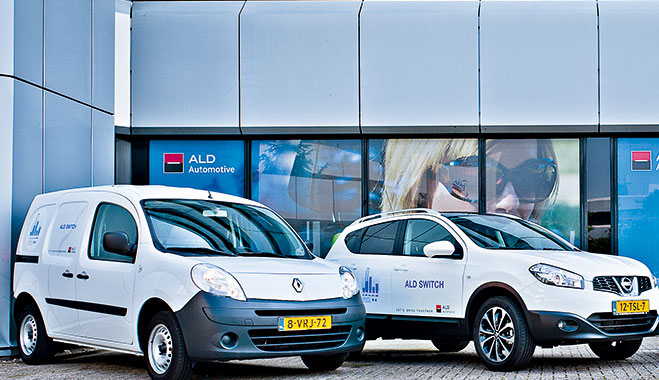 ALD Automotive has rapidly expanded its service as a provider of company contract hire and fleet management, covering 40 markets&nbsp
The market for vehicle leasing and funding has evolved in recent years to span multiple countries and various continents, offering customers more services than ever before, and new benefits through technological innovation. The financial crisis was a turning point for the industry – generally, only the largest have survived. The most financially robust and well-structured companies have been able to absorb falling vehicle resale prices and withstand fierce competition.
One such firm is ALD Automotive, Europe's leading service provider for company car contract hire and fleet management. World Finance spoke with Gilles Momper, the group's Chief Financial Officer and Stéphane Renie, ALD's Sales and Marketing Director, to discuss recent trends in the industry and how ALD has been able to continue growing and expanding.
The past crisis and general market conditions have made it increasingly difficult for small and local players to remain competitive
How has the vehicle funding and management industry changed recently?
Renie: The first striking change within the industry in recent years is a very clear movement of concentration, with a greater market share for international players. The past crisis and general market conditions have made it increasingly difficult for small and local players to remain competitive.
Secondly, there has been a vast geographical expansion of the product; up until 10 years ago, it was focused mostly in mature markets, but the service has since spread to emerging fleet markets, such as Brazil, Mexico, Turkey and India.
Momper: I would say that the other main hinge in recent years is that during the financial crisis, operational vehicle-leasing players suffered an unexpected decrease of used-car prices in Europe, which generated significant losses when customers returned their vehicles at the end of the leasing contract. Since then, used car prices in Europe have never recovered to the level they were before the recession, and as such, residual value remains the main risk that we carry for our customers.
Why is ALD recognised as one of the industry's leading service providers?
Renie: We now have a market leadership position as we manage more than 1.1 million cars across the globe and we have experienced a compound annual growth rate of eight percent for the past 10 years. The other dimension is one of geography, whereby we have the broadest presence in our industry.
We are now covering 40 markets – the mature western European markets, but also Central and Eastern Europe, the BRICs and other emerging economies. Moreover, even through difficult times, we continued to be a sustainable partner to our customers, which is partly due to a strong shareholder structure.
This also stems from our long-term approach as a business and our commitment to quality services – which make us stand out in the industry.
What benefits does belonging to a banking group entail?
Momper: Belonging to a banking group is obviously a key advantage in receiving competitive funding to support both our organic and external growth in the long term. It is also an advantage from the commercial point of view to have access to the market and promote vehicle-leasing products through the network and corporate customer base of the bank. Also, being part of Societe Generale imposes a prudent approach to ALD in terms of asset and liability management: assets and liabilities are matched in duration, currency, and type of rates. This provides extra assurance to our customers that ALD has a consistent, long-term and sustainable approach when dealing with funding.
What does ALD offer as an optimal solution for car fleet management?
Renie: We tend to think that our core product, which we call full service leasing or full operational leasing, is today more than ever the optimal solution when it comes to car fleet management. It provides a one-stop shop for our customers that encompass vehicle purchase, a financial path and operational services for a fixed monthly rental, which lasts on average 43 months.
From a financial perspective, this is a stable cost and so does not suffer from any unexpected variations, thereby making it easy for companies to budget for, while also mitigating many risks for the customer. From an operational point of view, it simplifies issues for our customers when it comes to supplier management and the quality of the services that are eventually delivered to drivers.
That being said, our approach is not monolithic; we have diverse solutions in our portfolio, such as fleet management, which now comprises 25 percent of our product offerings. We think of ourselves as being part of the service industry more than anything else, so the capability of ALD to provide these two products and a number of variations for them both, puts us in an excellent position to really fit and adapt to customer needs – today and going forward.
How can companies establish a lasting risk reduction programme?
Momper: I would say that operational vehicle leasing in itself is a risk reduction option – as Stéphane was saying – customers pay a fixed monthly rental, which protects them against any residual value risk or maintenance risk, on top of not having the cost and burden of dealing with complex operational matters for non-core activities. We also offer a consistent and compliant platform, which provides comfort for international groups that have subsidiaries in countries that are located far away from their headquarters.
How does ALD facilitate value management for customers?
Momper: The economy of scale acts as the main driver of value creation for our customers – our size and growth matters to us, but it also matters to our customers as they benefit from our procurement power. We are buying more than 230,000 cars and 1.2 million tyres per year worldwide, which contributes greatly to decreasing operational costs.
Renie: Beyond the quantitative side of value creation for customers that Gilles described, there is also a qualitative aspect to the work we do. Another part of our job is to provide consultancy for our customers regarding the best ways to optimise their fleet management policies that can lead to savings – this is very much part of our core services.
How is ALD driving innovation within the industry?
Renie: When you think of innovation, you immediately think about technology, and clearly technology in our industry can be a major transformation factor. When it comes to client-facing solutions, we want to be ahead of the game in terms of interaction with drivers and fleet managers by providing client and driver portals, which can be accessed from anywhere in the world. This platform encompasses everything they need to know about their relationship with ALD on a given vehicle, or more broadly on their entire fleet.
Similarly, we have rolled out an app in over 30 markets for drivers to optimise their search for the closest location where they can have their vehicle serviced, thereby simplifying the job of maintaining their car. There is also another angle, which is creating new products to address new needs, such as the new mobility product field, in which we try to think of alternative solutions to test the standard company car assigned to a given individual for a whole year.
We have a lab in the Netherlands, which has a specific mandate within the group to test and learn new mobility solutions – that is the way we drive innovation internally and hope to be at the forefront of the market.
What role do strategic partners play within ALD's business model?
Renie: We have strategic partnerships in areas of the globe that we do not cover with direct affiliates. That's particularly true for North America where we have an alliance with Wheels, which is a top three player in the North American leasing and fleet management industry. We also have associate companies in South Africa, Australia, New Zealand and Ireland. The purpose of these strategic partnerships is to provide for customers within our portfolio that require a global solution. We have noticed that this trend is increasing; many more customers want to optimise the service from a global standpoint, instead of just regionally, which was previously the case.
What regions does ALD operate in and which markets offer the greatest potential for growth on a global scale?
Momper: We currently operate in 40 countries and we have just opened a subsidiary in Chile and a branch in Kazakhstan last year. Our approach has always been to open subsidiaries or branches wherever our international customers are established – of course this also depends on the fleet potential.
In terms of further growth, there are still many countries, even in Europe, where operational vehicle leasing has great room for expansion, especially on the SME market. This is even the case in France and South Europe. Regarding the rest of the world, for the time being, we are experiencing the highest percentage of growth in Brazil, Mexico, China, India and Russia – although, our absolute fleet numbers remain the highest in Western Europe.