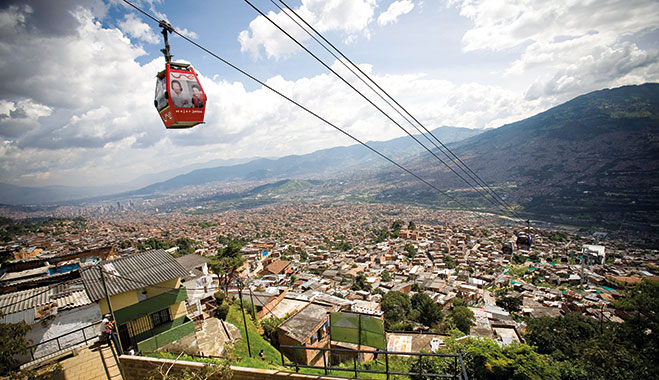 The poor neighbourhoods of Medellin, Colombia, at the foot of the mountains, are linked to the centre by cable car&nbsp
Author:
Elizabeth Matsangou
September 17, 2015
Despite covering just two percent of the globe's surface, more than half of the world's population now lives in cities, consuming approximately 75 percent of mankind's resources. Given the rapid rate of urbanisation, economies must contend with a multitude of complex challenges as pressure mounts for cities to become sustainable, in all aspects related to the term. Those that don't will bear increasingly harmful repercussions – economically, socially and politically. It's not just a matter of greener practices; all factions of society stand to lose unless practical solutions to rapidly expanding populations are implemented.
As the world adjusts to the urban phenomenon of the 21st century – albeit it at a frustratingly slow pace – there are some cities that stand out in terms of their efforts to become sustainable. Singapore has made commendable strides to reduce congestion in urban dwellings; Munich is a pioneer in green energy, while Rio de Janeiro is taking steps to tackle its infamous favela crisis.
Yet, no city has got it completely right yet. There is no utopic centre that resolves the various, interlinked obstacles they face, from housing to quality of life and water scarcity – the list goes on. "Cities that are not sustainable begin to breed other problems – not just environmental ones", said Gilberto Arias, Senior Advisor, participating at the UNFCCC in climate change and sustainable development.
Top 10 sustainable cities, 2015
Frankfurt
London
Copenhagen
Amsterdam
Rotterdam
Berlin
Seoul
Hong Kong
Madrid
Singapore
Source: Arcadis Sustainable Cities Index
Multifaceted challenges
Traffic jams are the mainstay of any metropolis – as all city dwellers know too well. Not only is road congestion detrimental to the environment, (according to the International Road Transport Union, traffic increases CO2 emissions by around 300 percent), it also holds significant economic and social implications. The inefficiency of a city's road network can stunt both private and public sectors, wasting valuable time and money. Yet air pollution is not limited to vehicles – businesses, homes and public structures alike are guilty of harmful carbon emissions.
The consequences of climate change are already being witnessed globally, identifiable as unpredictable weather conditions that severely disrupt cities and their communities. City mayors and businesses are charged with the feat of promoting efficiency and implementing more effective monitoring systems, but these kind of changes do not happen overnight – they require governmental support for training, funding and most importantly, motivation.
As resources become more scarce and expensive, the issue of efficiency becomes increasingly vital in all aspects of city living and sustainable practices. At present, multiple cities around the world suffer from water shortages – from developing cities such as Sao Paolo, to wealthier counterparts, including Las Vegas and Tokyo. In June, San Diego's Water Authority banned several activities and placed limits on irrigation with portable water – but a long-term solution requires far more than just temporary cutbacks.
Efforts to reduce consumption, such as partnerships with local businesses and campaigns to advise citizens, can effectively change social habits and perception. Educating a city's populace holds the key to success as sustainability necessitates support and participation from all layers and sectors of society.
The European Commission's SWITCH report argues that by introducing green areas and clean rivers to a city, a foundation is laid for the health and character of urban communities. This in turn further motivates initiatives and a desire for a city to become more sustainable. Green architecture, including construction with biomaterials, green rooftops and urban farming not only bring a natural element to the built environment that is aesthetically pleasing, they also penetrate the social consciousness of a city.
Finding some answers
The struggle of transportation within confined urban spaces has forced some city administrators to create innovative solutions. After a warning that congestion would cost Singapore over $2bn, the country's Land Transport Authority (LTA) introduced the e-Symphony payment card in 2008, enabling citizens to pay for buses, the metro, road tolls and even consumer goods with a simple touch. The huge advantage of the system is that it enables Singapore's Ministry of Transport to collect extensive data on a daily basis that can alter public transportation routes in order to ensure efficiency.
Improvements are made on a regular basis, such as a distance based fare structure that was introduced in 2010. "LTA is currently working on contactless payment modes that will allow devices with Near-Field Communication technology such as wristbands and mobile phones to be used at the fare card readers in the near-term", an LTA spokesperson told World Finance. "We are also working towards an account-based payment system where commuters are identified upfront and the transaction will be processed and charged back-end, similar to post-paid mobile phone subscription schemes. By leveraging on innovative technologies, we hope to bring greater convenience to commuters through innovative fare payment systems."
Yet the system is not without its flaws. There are many cities that would struggle to implement a payment card that so accurately tracks movements and payments, particularly as the threat of cyber security looms more so than ever. "The Singapore proposal is very good, but you have to be careful with what you're asking people to do, because you'll have a backlash in different areas. In other parts of the world, people are very nervous about the information they give out to people and the government, but Singapore has a much stronger government", Arias argued.
Understanding the cultural and social nuances between cities is crucial in order to create unique, bespoke strategies that are effective to the area in question. This again highlights why careful planning is key to the process, so that all caveats of an initiative are examined and incorporated to achieve long-term success.
On the other hand, Bolivia has taken to the skies to solve the crippling traffic jams in La Paz. Over the last two years, the incumbent government has ploughed $234m into the construction of the world's largest cable car system, and plans to invest a further $450m into a six-line expansion. As well as being the most cost-effective solution presented by the authorities, it has fewer maintenance costs than other systems – but naturally, it also has its own risks. "I think the example illustrates that not all solutions are appropriate to all cities and that the palette is wide open for city administrators to approach intelligent and resilient urban growth.
"The cable car concept was pioneered in Medellín, Colombia and has been a huge success, not only for urban transport, but also as a tourist attraction. These are now, I believe in existence or in planning in Lagos, Nigeria, Rio de Janeiro and other cities. The cost is less than an underground system – though there will be safety issues to consider, of course", Arias told World Finance.
Survival of the fittest
Sustainability also extends to planning for potential catastrophes and natural disasters. As demonstrated by the typhoon paths that hit Vanuatu earlier this year, which Arias explains were equivalent to the size of the Gulf of Mexico, "It really doesn't matter where you are – you don't have to be at the eye of a storm to have a problem. And because we have cities that are more densely populated, more people get displaced, which means that resilience for cities is important not just for places that get hit by the storm, but because people at the storm area may come to your city for shelter." The increasing incidence and size of natural disasters also highlights the danger of maintaining a centralised power generator system, and the need to implement a robust energy strategy.
Flooding is also affecting more areas than ever before and poses grave danger to densely populated areas. "Cities at risk of flooding as a result of climate change or due to their geographic location can learn from the strategies that the private sectors has helped deliver in places like Rotterdam, where severe floods in the middle of the 20th century were the catalyst for actions taken that have kept the city safe up until the present day", said John Batten, Global Cities Director at Arcadis, a firm specialising in global natural and built asset design and consultancy.
Curitiba in Brazil is another well-documented example of a city that has successfully mitigated against the risk through an innovative approach to flood management that began in 1995 following floods that caused $40m in damages. The Integrated Urban Drainage Master Plan involved a strategic network of parks in urban areas to not only absorb precipitation runoff, but also to provide corridors for transport through the parks and add aesthetic value to the city. An early-earning system is also in place, which has been supported by a high level of public awareness and involvement.
A tactical approach
"Effective planning can help cities create a framework to become more sustainable by helping to set a clear long-term vision for what it wants to be done and setting a roadmap of how it can get there", said Batten. "To do this, cities need to take a balanced view of their sustainability vision." This entails a thorough understanding of various principles and cooperation among all stakeholders in order to provide lasting solutions that meet a city's needs, while also making it a desirable place to live and work.
More involved growth management practices and a strategic approach is vital for cities to accommodate for their expanding communities, before costs and issues spiral out of control. "We need to figure out better ways to do management of these things because without organisation, planning will become very resource intensive. If you allow cities to sprawl without any real planning or logic to it, transportation from the edges to the centre will be very difficult and expensive – not only in terms of infrastructure, but also in terms of time and services, things like fire services, hospitals, policing, all becomes very difficult", Arias told World Finance.
A deeply collaborative and strategic effort is therefore crucial in order to make cities smart. We are in the midst of the age of urbanisation – a first in history. As such, governments face issues that they have never before encountered, issues that could be their downfall unless addressed quickly and effectively. But being sustainable involves a complex web of policies, projects and stakeholders.
It is far more than just creating green urban spaces and cleaning rivers – it entails an integrated system that works harmoniously to maximise the potential of a city. And the approach itself is not as simple as a one size fits all proven method – herein lies the difficulty. "Each city has its own challenges, which means that the priorities differ from city to city. While Los Angeles has a need to improve its water supplies, New York is investing in better protection from future storms. Where London needs to replace its ageing infrastructure, Jeddah is building completely new. The challenge for any city is to balance the needs of its people, the planet and profit, so while all are important, some need more immediate attention based on the individual circumstance", Batten explained.
Creating sustainable centres is not just the moral obligation of city administrators, it is absolutely necessary for survival – with a responsibility to all parties. Involving the private sector can fill the gap in terms of funding, for doing so is to their benefit as much as the populace.
And as technology improves and innovative solutions appear across the globe, more and more cities will be inspired to follow suit. The world is changing – socially, economically and environmentally – cities are therefore responsible for accommodating this new era, and there is certainly no more time or energy left to waste.