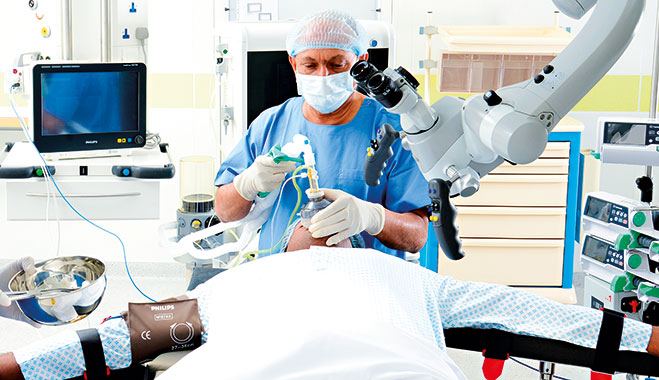 NMC Healthcare is determined to up the bar in terms of high quality and affordable healthcare services in the UAE&nbsp
Good healthcare and economic prosperity go hand-in-hand. For this reason, the UAE is investing heavily to develop world-class healthcare infrastructure, expertise and services as the country's population continues to expand.
As well as ensuring that citizens and residents of the UAE obtain the best possible medical care, its healthcare sector presents a wonderful opportunity in the growing global health tourism market. The federal government is championing the UAE's healthcare sector as part of its long-term economic vision to diversify the economy away from hydrocarbons and towards a knowledge-based economy. NMC Healthcare is nearly as old as the UAE itself and has been a trusted healthcare partner for over 40 years; as such, it is ideally placed to lead the UAE's healthcare sector, as the country becomes a major player in the global market.
The seeds for NMC Healthcare were sown when Dr B R Shetty first arrived in the UAE in 1973. A trained pharmacist from India, Shetty quickly spotted an opportunity in the country's nascent healthcare industry and established NMC Healthcare, opening the doors of the New Medical Centre (as it was then known) in 1975 and commencing operations as a small pharmacy and clinic. On the back of a sterling reputation, NMC Healthcare has grown to become the largest private healthcare provider in the UAE. At present, it has over 24 hospitals and medical centres spanning three countries and seven cities. It was the first healthcare company from the Gulf region to be listed on the London Stock Exchange in 2012 and is also part of the FTSE 250 index.
Despite the growing trend of medical tourism across the globe, it remains a relatively new occurrence, and still faces some challenges
Hub for health
NMC Healthcare is leading the UAE's drive to become a hub for health tourism. In a world of rising medical costs and ageing populations, the UAE is a cost-effective solution for patients seeking high-quality healthcare outside of their home countries. Some visitors travel to the UAE to seek diagnosis and treatment that is unavailable in their home countries, while others do so in order to avoid long waiting times. Due to its accessibility in terms of transportation and its world-class medical facilities, the UAE welcomes thousands of health tourists every year – and the numbers are growing.
NMC alone currently treats over 2.5 million patients a year from various parts of the world. Shetty attributes this success to NMC's unique offering in the UAE: "Our vast experience translates into an understanding of the challenges patients face when looking for medical treatment outside of their home country". Through its various facilities, NMC caters to people from all sectors of society and varying socio-economic demographics that seek affordable, quality medical care. "We treat patients from over 25 different countries, including Saudi Arabia, Russia, South Africa, UK and Germany. We also get a lot of medical tourists from Russia and the Middle East, from countries such as Kuwait, Qatar and Bahrain", said Shetty.
Despite the growing trend of medical tourism across the globe, it remains a relatively new occurrence, and still faces some challenges. For example, having a multi-ethnic and multilingual client base can present communication and cultural challenges. To meet this issue head-on, NMC facilities in the UAE employ US, British and European certified medical experts. Furthermore, doctors within the NMC network are able to communicate in English, German, Austrian, French, Italian, Arabic, Swedish, Spanish, Japanese, Tagalog, Hindi, Malayalam, Tamil and Kannada, among others languages.
In recognition of how synonymous it has become with excellent healthcare in the region, NMC has won numerous accolades. In February this year, NMC was awarded the 2015 Frost & Sullivan Middle East Integrated Healthcare Company of the Year Award at the Growth, Innovation and Leadership event this year. It was also recognised as one of the nation's strongest brands by members of the Superbrands Council UAE. "We're thankful for the trust vested in us by our patrons and the support received from our partners. Most of all, however, we are thankful for the benevolence of the rulers and royal families of the UAE, which has allowed NMC to become a trusted household name", said Shetty.
Raising the bar
At the heart of NMC Healthcare is the mission to keep upping the bar in terms of high quality and affordable healthcare services in the UAE. In 2004, NMC established its most advanced hospital, the NMC Specialty Hospital in Dubai, which specialises in areas such as reconstructive plastic surgery, ophthalmology and nephrology. Following its success, NMC then opened speciality hospitals in Abu Dhabi and Al Ain, which all received the prestigious JCI accreditation in 2009. Then in 2014, NMC opened Brightpoint Royal Women's Hospital, the first private hospital dedicated to women and child care in Abu Dhabi.
Further illustrating its ongoing commitment to meeting the medical needs of individuals is a ground breaking project that was recently undertaken to build the most advanced super specialty hospital in the entire region – the NMC Royal Hospital in Khalifa City. When completed in the coming months, the hospital, which will be NMC's largest, will accommodate 250 beds and will eventually feature 23 specialised departments. The hospital will provide a range of medical care encompassing emergency services, intensive care, paediatrics, cardiology, ophthalmology, orthopaedics, urology, neurology, psychiatry, gastroenterology and nephrology. Shetty and his team are hopeful that the NMC Royal Hospital will meet the needs of the growing populations in Abu Dhabi's Khalifa City, Al Raha, Mussafah, Mohammed bin Zayed City, Masdar City, Shahama and Yas Island. Given that some of these suburbs are expected to house around one-fifth of the total emirate population by 2030, Shetty has once again spotted a significant opportunity to meet the upcoming needs of local communities.
Expanding care
NMC is also strengthening its presence through various acquisitions. It recently acquired Clinica Eugin, one of the leading European fertility and assisted reproduction services providers. NMC also completed the purchase of Dr Sunny Healthcare Group, a network of six medical centres in Sharjah, where compulsory medical insurance is expected to be rolled out soon, following the footsteps of Abu Dhabi and Dubai. NMC acquired ProVita International, a market leader in critical long-term care, and Americare, a leading brand in home care services in the UAE. Such acquisitions enable NMC to extend its portfolio of services both geographically and also in terms of offering more services, which can expand its current client base.
"NMC Healthcare has been looking after the people of the UAE since its inception", Shetty said. The level of medical care now offered in the UAE is among the most advanced in the world. "NMC Healthcare guarantees personalised care, genuine concern and a sincere commitment to the overall wellbeing of society. We believe that healthcare is not simply about detecting, diagnosing, informing or treating an individual, but it is about helping people to lead a wholesome and healthy life. We are committed to serving local communities and pledge to provide its customers with hope – hope of a healthy and happy life."
Another facet of the growing group is NMC Trading, the distribution arm of NMC, which is one of the UAE's leading marketing and distribution companies. NMC Trading started distributing medicine to pharmacies in Abu Dhabi in 1976. It now acts as a distributor for various prestigious brands in personal care, food and beverage, pharmaceuticals, medical equipment, veterinary products, analytical lab equipment and educational resources. Some of the leading brands distributed by NMC Trading include Nestlé, Nivea, Unilever, Pfizer, Sanofi, Siemens, Samsung, Abbott, 3M, Kiwi among others. Within a short time span, the company has emerged as one of the leading players in the trading business. Today, hundreds of international brands occupy premier slots, while NMC Trading also markets and distributes a wide range of medical products, from temperature-sensitive vaccines and life-saving drugs to ECG machines and heart monitors.
With a broadening scope, expanding vision and commercial success, NMC Healthcare is able to fulfil its core mission to help more and more people in the UAE and far beyond also. The group itself is the predominant factor driving medical tourism to the UAE, and as such, it acts as a pillar of the economy that is growing stronger by the year. Given the need for the UAE to diversify its economy sustainably, there is good reason why the state is accommodating the ongoing expansion of one its most prized organisations.