Banking Groups
Taking on a new role
Banking groups are tremendously complex organisations, which makes enacting significant change within them a difficult task. This will have to change as new customers, services and technology drive a shift in priorities
By their very nature, banking groups are unwieldy creatures, resistant to change. In an industry that is heavily regulated, conglomerates deal with infinitely volatile markets on a remarkably large scale. This means that banking groups as a whole tend to move far slower than other industries. An incentive is often needed to push an organisation to change – whether that's a looming financial crisis or a crackdown on regulation. But even with these pressures, changes are often made too slowly to avert an impending catastrophe.
With the rapid development of technology, the sluggish pace at which banking groups tend to move is no longer viable. In every field banking groups operate in – be it fund management, insurance or financial planning – the way business is done faces titanic change. A cynical public and favourable regulatory framework have led to the rise of many start-ups in the wake of the global financial crisis, each one nimble and aggressive in a way that banking groups can't easily match. To survive in this new landscape, banking groups will have to become very different creatures to what they are today.
The most significant change is likely to be in terms of the people who make up the sector's workforce. For years, the potential benefits of robotic and automated processes have been touted. While many of these reports were overly optimistic, a mix of computing power, reliable and affordable technology, and a multitude of trackable data points has allowed previously far-fetched ideas to become feasible. With many tasks being placed in the hands of robots, the composition of workforces will undergo a fundamental shift.
Rise of the machines The impact of robotic automation was underlined by Deloitte's 2018 Banking Outlook report. The report states that the ongoing development of technology is leading to a more automated workforce, a trend that is only set to continue (see Fig 1).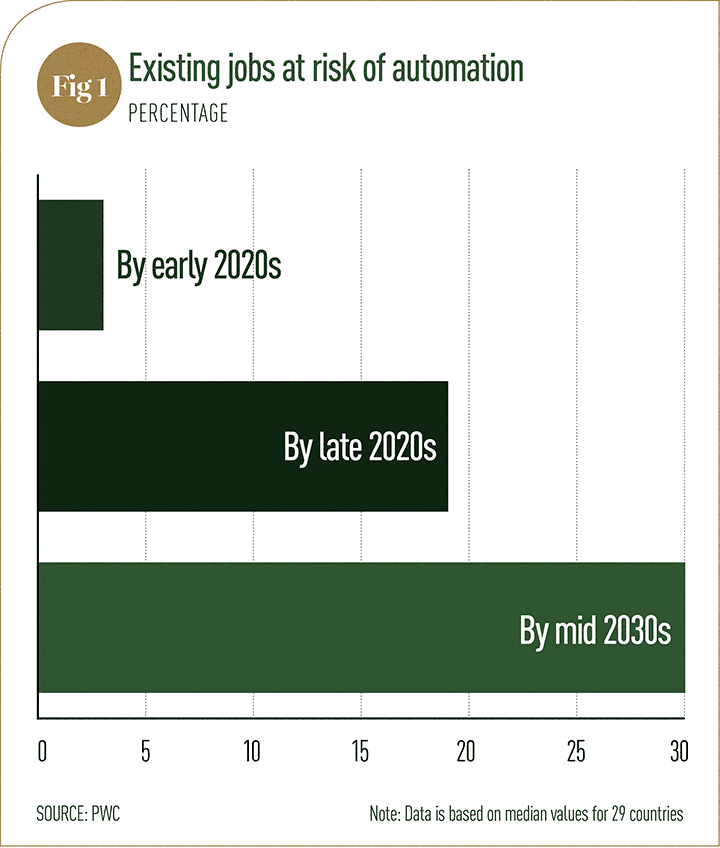 With more core processes being automated, tasks that require a human touch will vary greatly, demanding that freelancers come and go as necessary. As such, the banking workforce of the future is expected to include a greater proportion of contractors and freelancers, many of whom may work with multiple banks. According to the MIT Sloan Management Review and a global study by Deloitte Digital, 78 percent of banking executives agree that their work is going to change significantly over the next three to five years as a result of digital business trends. To that end, 56 percent of banking executives are taking on projects that require learning new skills, and 60 percent of executives said their organisation is developing new talent by taking advantage of digital opportunities.
For banking groups, technological adoption will manifest in different ways across the business. CEOs will be grappling with how to synergise development across all facets of their banking group for the next year and beyond. The importance of their decisions cannot be understated, as they will likely shape banking groups for the foreseeable future.
Juggling act In terms of banking groups' retail arms, mobile applications will only continue to grow while brick-and-mortar branches close. According to recent data released by the European Banking Federation, 48,000 bank branches closed in the EU between 2008 and the end of 2016. In 2016 alone, the number of branches fell by 4.6 percent from the previous year. This shift away from physical banks will reduce costs in terms of rent and staff, but will increase expenses in terms of technology development, maintenance and support.
The situation within corporate banking looks quite similar. Deloitte's 2018 Banking Outlook contends that, with middling demand for loans in the global commercial and industrial market, banks should instead focus on the emerging middle-market loan sector and how digital systems can be beneficial. "Corporate banking groups should ramp up their [digitalisation] efforts, especially in businesses that still heavily rely on manual, paper-based activities," the report states. By pooling data and offering genuinely useful tools to business customers, banks can provide a differentiated service from competitors, particularly the many fintech start-ups encroaching on the market.
Automation and artificial intelligence will be the driving forces behind both the wealth management and capital market departments of banking groups. Robotic advisory systems are now reaching a level of competency that is making them a necessity for any wealth management or trading platform. In 2018, robo-advisor start-ups Betterment, Ellevest and Wealthfront launched services and products specifically targeted at high-net-worth individuals, rather than the low-stake and novice investors they targeted before. While investors making deposits higher than $100,000 will always demand face-to-face services, the tools that each of these new start-ups provide will no doubt appeal to information-hungry clients. Banking groups will have to be ready to compete with this.
Increasing automation is no easy feat, however. After just three years in the job, former CEO of Deutsche Bank John Cryan was unceremoniously fired in April 2018. Cryan championed automation as the solution to the bank's financial woes, unveiling a plan to cut as many as 9,000 jobs from the banking group's workforce. "In our bank, we have people doing work like robots," Cryan said in September 2017. "Tomorrow we will have robots behaving like people. It doesn't matter if we as a bank will participate in these changes or not, it is going to happen." Just a few months later, he was fired, with the bank continuing to struggle financially (see Fig 2). While a greater amount of automation may be inevitable, implementing it is a complex task that is easy to get wrong.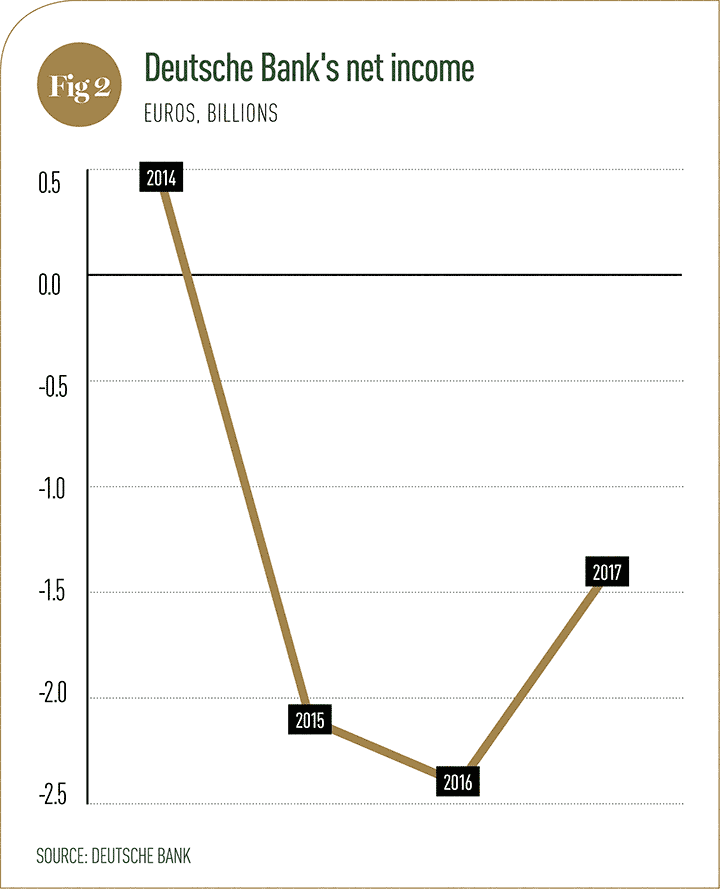 Finding a way to unite the many disparate parts of an organisation as large and complex as a banking group is a challenge. For the organisations that don't manage to do so, both technology and competitors will leave them behind. Those that do will be rewarded with cost savings and an increase in productivity. Success in digitalisation projects will determine the banking groups that will lead in the future.