Private Banks
Moving with the times
The ever-evolving nature of private banking means that only those institutions keeping up with change will find lasting success. The rest will lose out to more agile competitors
Over the past year, competition in the private banking arena has heated up, leaving players with no choice but to up their game, react swiftly and adapt as necessary. This shift can be largely attributed to an unparalleled period of transparency and mounting pressure from tax authorities – not just at a national level, but at a global one too.
And that's not the only challenge private banks and wealth managers face today: client needs and shareholder expectations are also shifting at a rapid pace, as is new technology and the opportunities it presents.
According to the EY Wealth Management Outlook 2018 report, this environment will soon give way to new structures in the industry, a shift it expects will take place in the coming years.
Those who continue to make necessary adjustments – and do so promptly – will capitalise on future opportunities and flourish. Those who don't could fade away.
Growing demands Today, private banks are faced with an increasing set of demands from high-net-worth individuals (HNWIs). These demands are largely the result of the permeation of technology in our lives, particularly in terms of smartphones and apps (see Fig 1). The immediate access we now have to knowledge and services has placed higher expectations on private banks and wealth managers.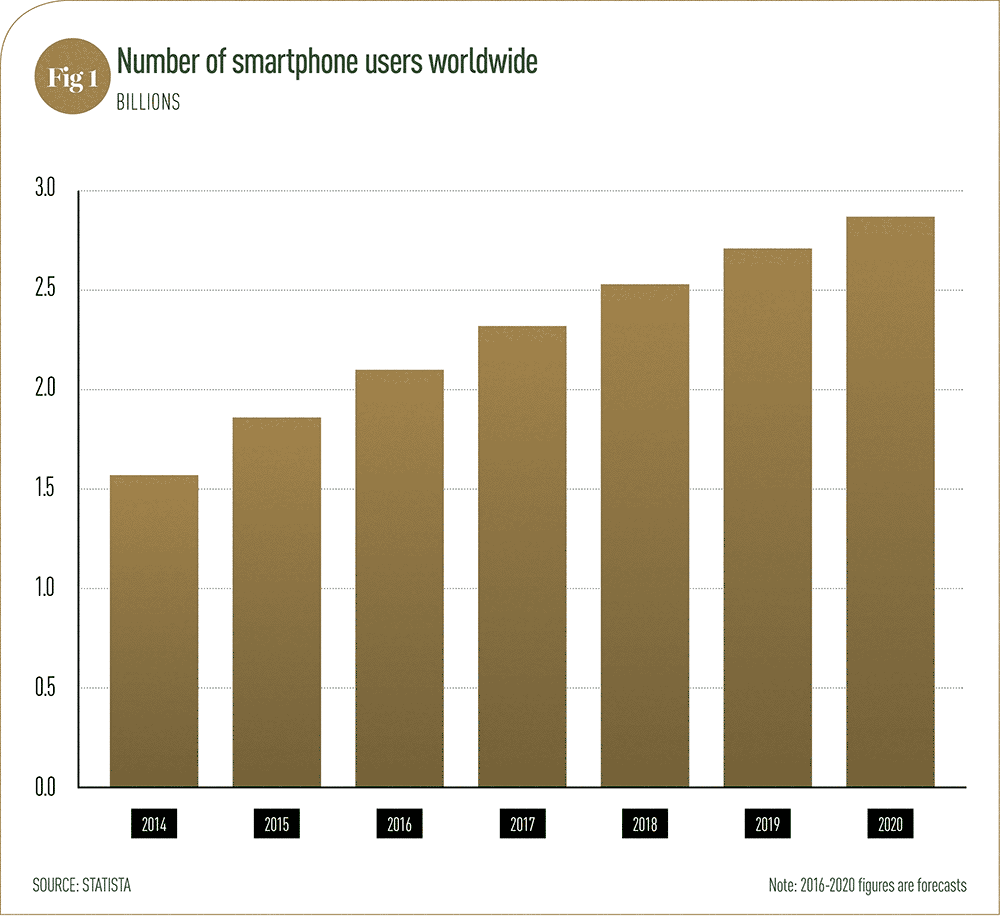 What's more, e-commerce has reached a new stage in its development; it's now the norm for artificial intelligence to help individuals make more personalised online purchases. Consequently, HNWIs – a growing segment of the global wealth management sector (see Fig 2) – now require equally personalised services from their private banks and wealth managers. Namely, they expect a digital infrastructure for smart, immediate support.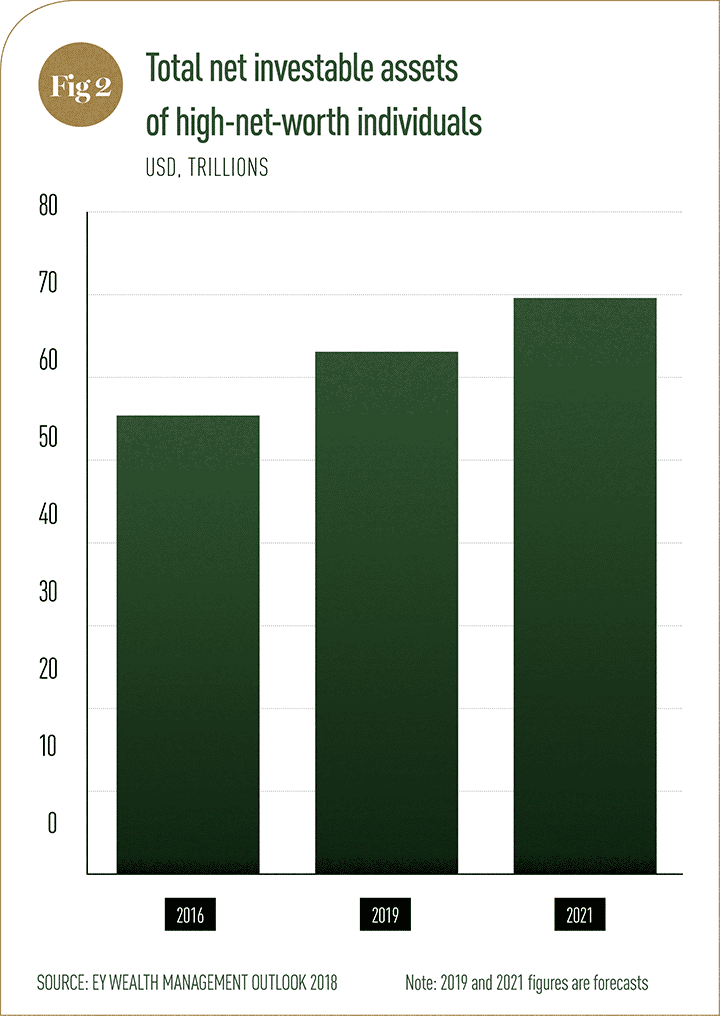 In response to these changing needs, more private banks are using big data to provide a personalised service, while also enabling them to better analyse the risk preferences of their clients. "Algorithms that draw on current market data optimise the structure of portfolios, allowing them to be continually and automatically rebalanced based on real-time information," according to the report.
Tools such as video chat services can also be used as a means of convenient communication with clients. Private banks that offer such add-ons can create a positive and effective experience for their clients. Such an approach is crucial, because nowadays HNWIs want their wealth, assets, liabilities and life plans treated holistically. They are aware that doing so can help the preservation and performance of their wealth.
Shifting focus This digital focus is not the only change in clients' expectations. "The ultra-low interest rate environment has made clients more price-sensitive and they expect a new breed of support, which is advisory rather than product-driven," states the EY report. This environment, which is also characterised by volatile markets and a loss of confidence that has been in play since the global financial crisis, now sees a fading demand for conventional assets. Instead of money market investments, bonds and shares, for example, HNWIs are opting for alternative investments. Additionally, according to EY, investments into private equity funds and hedge funds are being supplemented by direct real-asset investments in areas such as infrastructure, agriculture and real estate.
In 2018, passion-based investments – like collectable coins, cars and artwork – are also in greater demand, as are ethical investments promoting social entrepreneurship and sustainability. The latter is growing in force, given that various existing social and political issues – such as mounting state control and rising taxes – can have a considerable impact on the private wealth of HNWIs.
Transparent future Unsurprisingly, since the 2008 crisis, financial entities have been hit with increasingly rigorous regulatory requirements in a trend that shows no signs of abating. Rules such as the Common Reporting Standard and the Foreign Account Tax Compliance Act have made offshore banking locations such as Switzerland, the Channel Islands and the Caribbean more stringent environments to operate in than ever. Specific requirements for funds and their management companies, such as the EU's Undertakings for the Collective Investment of Transferable Securities Directive and the greatly anticipated MiFID II, are looming over private banks.
The variance in taxes and regulations in different markets is an increasingly resource-intensive process, particularly in terms of reporting and onboarding new clients. Unfortunately for private banks, the costs required to conform to MiFID II will not bring them or their clients added value. Yet there is little choice but for them to apply the resources necessary to adhere to an increasingly complex regulatory environment. Naturally, doing so has become a concern for private banks, which are under growing pressure to operate with more caution. While this environment is making it more difficult for new firms to enter the market, it also gives established players a greater opportunity to expand.
With all these changes afoot, a clearly defined business model for private banks, offering holistic, digitally advanced services, does not actually exist at present. Institutions are thus charged with the task of carving one out for themselves, while also evolving quickly and anticipating the changing demands of HNWIs. Those that proactively face these challenges are staying ahead of the game. Read on to find out more about our top picks from around the globe in 2018.