Banking Groups
Banking hits a digital crossroads
Following a lengthy recovery from the 2008 financial crisis, banking groups are now looking to address the next challenge on the horizon – the digital transformation of the financial landscape
A decade on from the global financial crisis and banking groups have much cause for optimism. Lessons have been learned, and the industry is now more robust and resilient than it has been for years. With greater transparency and better management, banks are enjoying a period of increased stability, boasting healthy profits and returns on equity. Despite this largely positive outlook for banking groups, post-crisis recovery has varied globally, with some regions taking a little longer to regain their financial footing: stringent regulations, tax cuts and prudent policymaking have helped to spur US banking groups forward, while European institutions have recovered at a slower rate.
Having weathered this storm, banking groups are now turning their attention to the next big challenge in their future. From artificial intelligence (AI) to biometric data, technological advances have been reshaping the financial landscape for many years, and the rapid rise of fintech start-ups is propelling the industry towards a digital crossroads. According to a recent survey carried out by Accenture, fintech start-ups now account for 33 percent of global financial services revenue, indicating that these digital-first, non-traditional players are here to stay. As the technological arms race heats up, traditional banking groups simply cannot risk falling behind their younger, tech-fluent counterparts.
A failure to modernise will prove costly, but for forward-thinking banking groups, new technologies also present a lucrative opportunity for growth. This year's World Finance Banking Group Awards offer an insight into this rapidly evolving industry while celebrating the sector's most innovative players.
Technological tipping point In order to stay competitive and profitable in the digital age, banking groups must put technological innovation at the heart of their operations. According to EY's Global Banking Outlook 2018, 85 percent of banks around the world cited 'implementation of a digital transformation programme' as a business priority last year (see Fig 1), demonstrating an industry-wide awareness of the importance of technological expansion. Increasingly, as fintech start-ups expand their foothold in the financial services sector, banking groups have accepted that their future digital strategy might involve collaborating with their fintech peers. Rather than attempting to keep up with their digitally innovative competitors – or, worse, investing heavily in risky new technologies – many banking groups are now forming strategic partnerships with digital upstarts, non-banks and other payment platforms.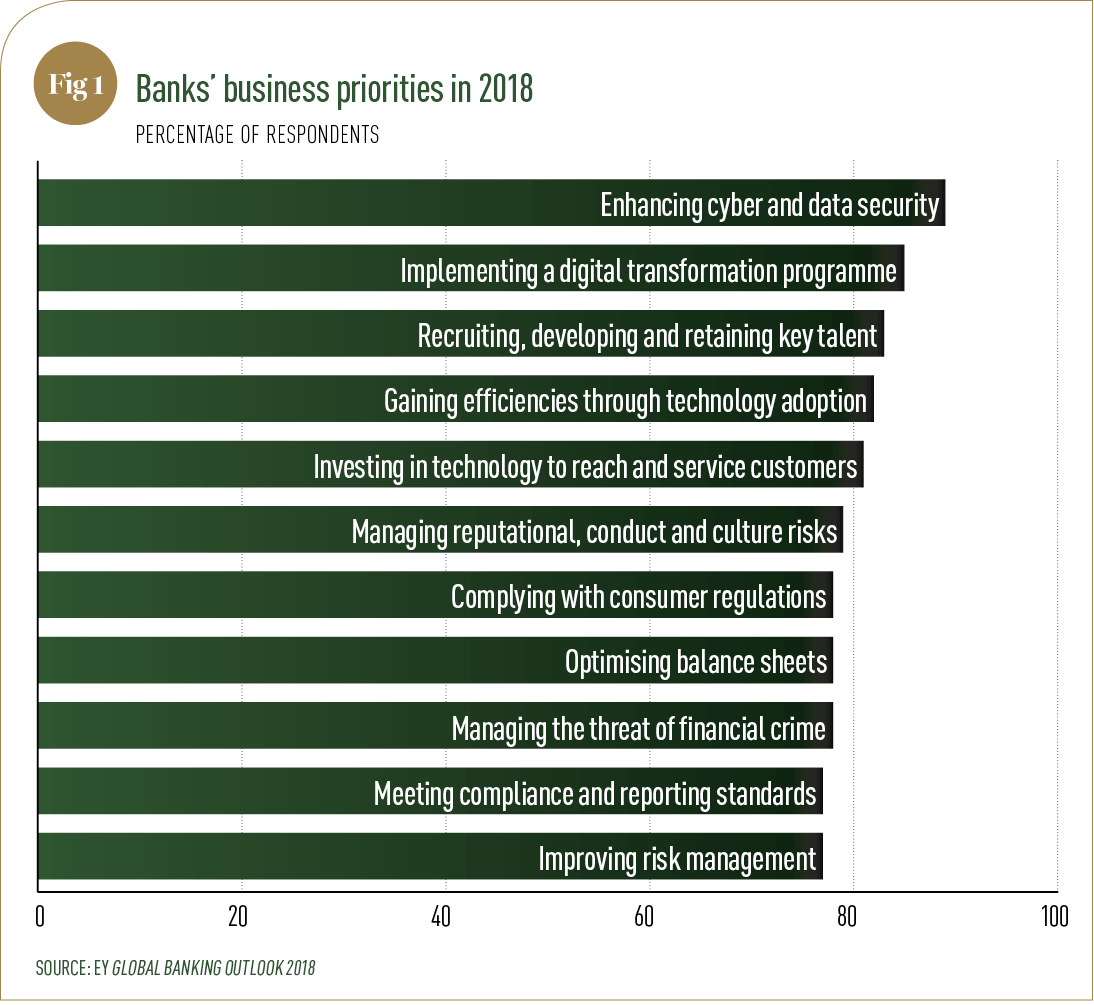 In April 2019, China's state-owned China Construction Bank and the Hong-Kong-listed Bank of Gansu announced their partnership with tech giant Tencent. Rival firm Ant Financial has also signed deals with several leading Chinese banks, including a 2017 partnership with China Construction Bank to improve online credit card insurance. With the mobile payments market having boomed since 2013 (see Fig 2) and fintech titans Alipay and WeChat Pay each boasting more than one billion regular mobile payment users, China's banking groups have shown great prudence in opting for collaboration over competition.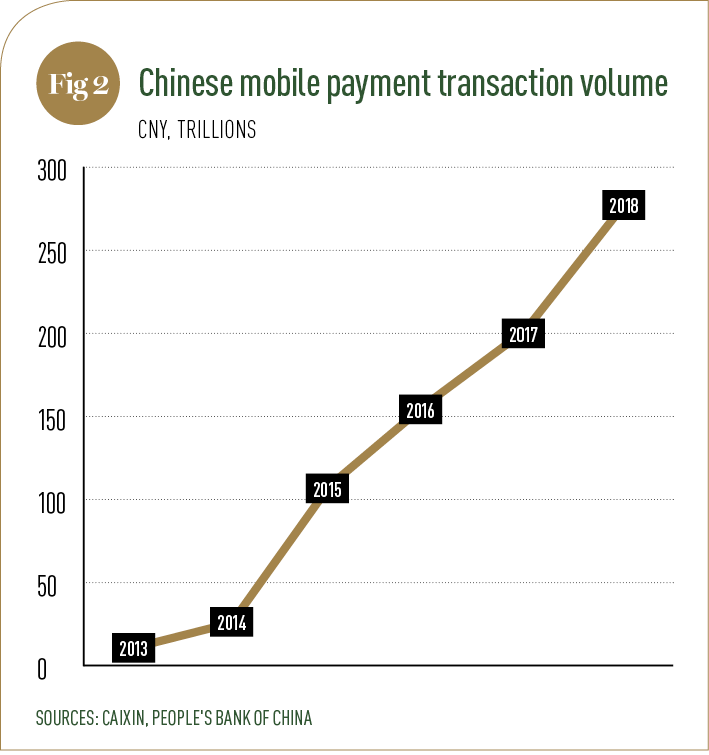 As fintech continues to disrupt traditional banking markets across the globe, we are likely to see similar partnerships emerging between banks and fintech start-ups in the coming months. By working alongside tech-savvy upstarts, banking groups will be able to better address their own technological needs, in addition to expanding their digital portfolios and bringing on board the very best products and services.
Whether through external partnerships or internal innovation, banking groups must prioritise data management as part of their digital transformation. Effective data management helps banking groups better understand and serve their clients by using extensive analytics to develop personalised offerings that enhance the customer experience in every area of operations – be it fund management, financial planning or insurance. It is therefore only through efficient data analysis that banking groups will experience the greatest return on their digital investments, making data management a priority for any forward-thinking financial institution.
Cyber risks But with countless banking groups investing in new technologies, the issue of cybersecurity must be addressed. Digital transformations of financial institutions can certainly deliver ample benefits, but they can also introduce new vulnerabilities and security risks. As such, banking groups are walking a tightrope – they must harness data and use it effectively, but they must also ensure privacy and security for customers.
In May 2018, EU policymakers ushered in a new era for data privacy with the introduction of the EU General Data Protection Regulation. In response to this sweeping piece of legislation, banks across Europe have updated their privacy policies and are reassessing how they use and store their customers' personal data. However, as customers become more aware of data protection and privacy issues, meeting compliance requirements is simply not enough for banking groups. Instead, they must comprehensively reassess how they are gathering, processing and sharing clients' data, and strike a balance between technological innovation and security. What's more, with the proliferation of new technologies such as AI and biometric identification, the issue of privacy is only set to become more complex.
In order to alleviate customer fears over privacy issues, banking groups must put cybersecurity at the heart of their businesses going forward. Risk management is essential for emerging areas such as AI and algorithms, and banks must ensure that any early threats are detected and dealt with effectively during the design stage. However, while new technologies can potentially introduce their own security risks, they can also be used to identify issues in other areas, such as financial crime and money laundering. By employing advanced technologies such as robotics, AI and machine learning, banking groups can more effectively manage risks in these crucial areas.
As banking groups modernise and evolve, their successes will be largely defined by their digital strategies. The top banking groups in this year's World Finance Banking Awards are innovators in their industry and are helping to drive the sector towards an exciting future.