Private Banks
Changing customer expectations
Thanks to shifting demographics and technological advancements, private banking clients are more discerning than ever. As they are also more likely to switch providers, private banks must enhance the value they offer
The past few years have been characterised by a multitude of changes in the private banking and wealth management industries. Of particular note are the demographics of investors, ranging from older cohorts to women to Millennials. Meanwhile, a shift in global wealth – from North America to the Asia-Pacific region – has also been witnessed. In this period of transition, private banking firms must remain mindful of emerging trends in order to capitalise on market opportunities as they appear.
Thanks to new technologies, innovative business models and disruptive players, consumer behaviour has transformed. People have changed how they shop, what drives their decision-making and, ultimately, what they buy. Consequently, more clients are now willing to increase their spending on financial services and advice. That said, what they value most within this area continues to evolve to this day.
As established organisations and innovative new entrants alike navigate these changes, there are numerous challenges to overcome. In 2019, some industry players stand out for their ability to adapt and advance as quickly as the market demands. We celebrate the private banking firms that continue their operations with such a forward-thinking approach in this year's World Finance Banking Awards.
Seeking greater value Clients are the heart of the private banking industry, but with their preferences and needs changing so quickly, it's more important than ever for wealth managers to be proactive and pre-empt clients' evolving demands. This is particularly vital with so many disruptive new players in the market, including those of the big tech variety.
As a result, clients are now more inclined to switch providers in order to better suit their preferences and capture greater value. This is especially the case during important milestones in their lives and as their wealth increases, as clients feel more secure in switching. The 2019 Global Wealth Management Research Report by EY said of this: "The increasing digitalisation of wealth management activities and the rise of self-service offerings have made clients more empowered and willing to switch providers or shift assets for value."
According to the report, around one third of clients are planning to switch wealth management providers in the next three years. This behaviour is most common among the youngest and wealthiest private banking clients: ultra-high-net-worth (UHNW) individuals are the most likely to make a switch, with 39 percent saying they plan to move during this time frame (see Fig 1). Furthermore, Millennials are considerably more likely to change providers than Generation X or Baby Boomers.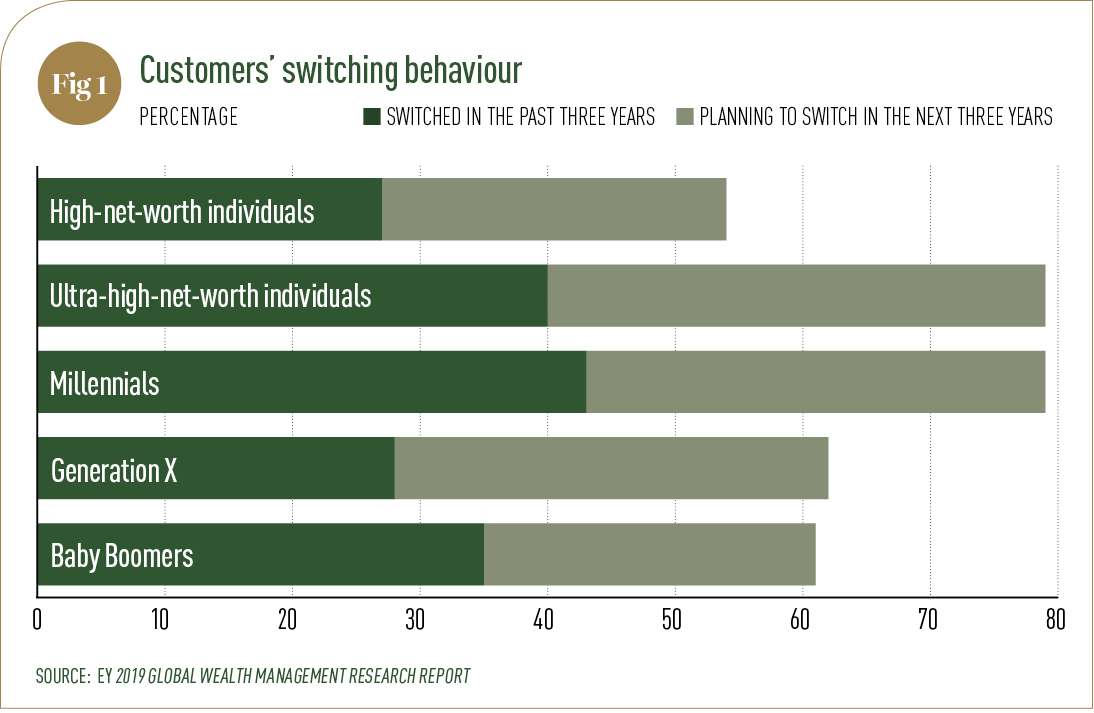 In their search for a better deal, more clients are forming relationships with multiple wealth management providers. By doing so, they are able to identify suppliers that can help them fulfil specific needs. Today's private banking client is also more likely to experiment with different products from different providers in order to seek the most value overall – this has resulted in the average client now maintaining relationships with around five different types of private banking providers. Again, UHNW clients are the most likely to split their assets among a larger number of providers.
A Millennial, for example, may have a current account with one bank that offers no fees, a brokerage with an online provider that offers the most convenience, a savings account with another financial institution that offers high yields, a retirement account with a full-service bank, and a series of micro-investments with a nimble fintech firm. Wealth managers are thus charged with the mission of balancing these diverse interests with their clients' needs. By educating – and thereby empowering – them, private banks can build greater trust and play a bigger role in managing their clients' wealth.
The rise of chatbots Clients today want more help and advice regarding their wealth planning. At the same time, they also want personalised and connected solutions, which they value far more than generic products and services.
In the current technological age, it is no surprise that cutting-edge tools play an increasingly important role in providing a bespoke, seamless experience. One way to stay ahead, according to Capgemini's Top-10 Trends in Wealth Management: 2019, is to use client data to capture "deep customer insights". In doing so, private banking players can identify key demands and change their services to align with them.
Meanwhile, Deloitte's Innovation in Private Banking and Wealth Management report states that the majority of wealth management clients prefer digital channels for communication when it comes to simple transactions, with 58 percent preferring mobile technologies in particular.
Clients are also beginning to show a preference for voice-enabled assistants, or chatbots, when it comes to receiving financial advice. This is due to the immediate and user-friendly nature of such interactions. Thanks to the advancing sophistication of machine learning technology, chatbots are becoming increasingly effective at answering queries, placing orders, monitoring transactions and performing screening functions. This additional support is helping human advisors become more efficient in their daily work, while also allowing them to spend more time with their clients.
In light of this current trend and the upward trajectory it exhibits, it is important for private banks to reconsider how they plan to interact with their clients in future. As noted in EY's report: "This may mean reallocating budgets from websites to voice-enabled tools sooner rather than later."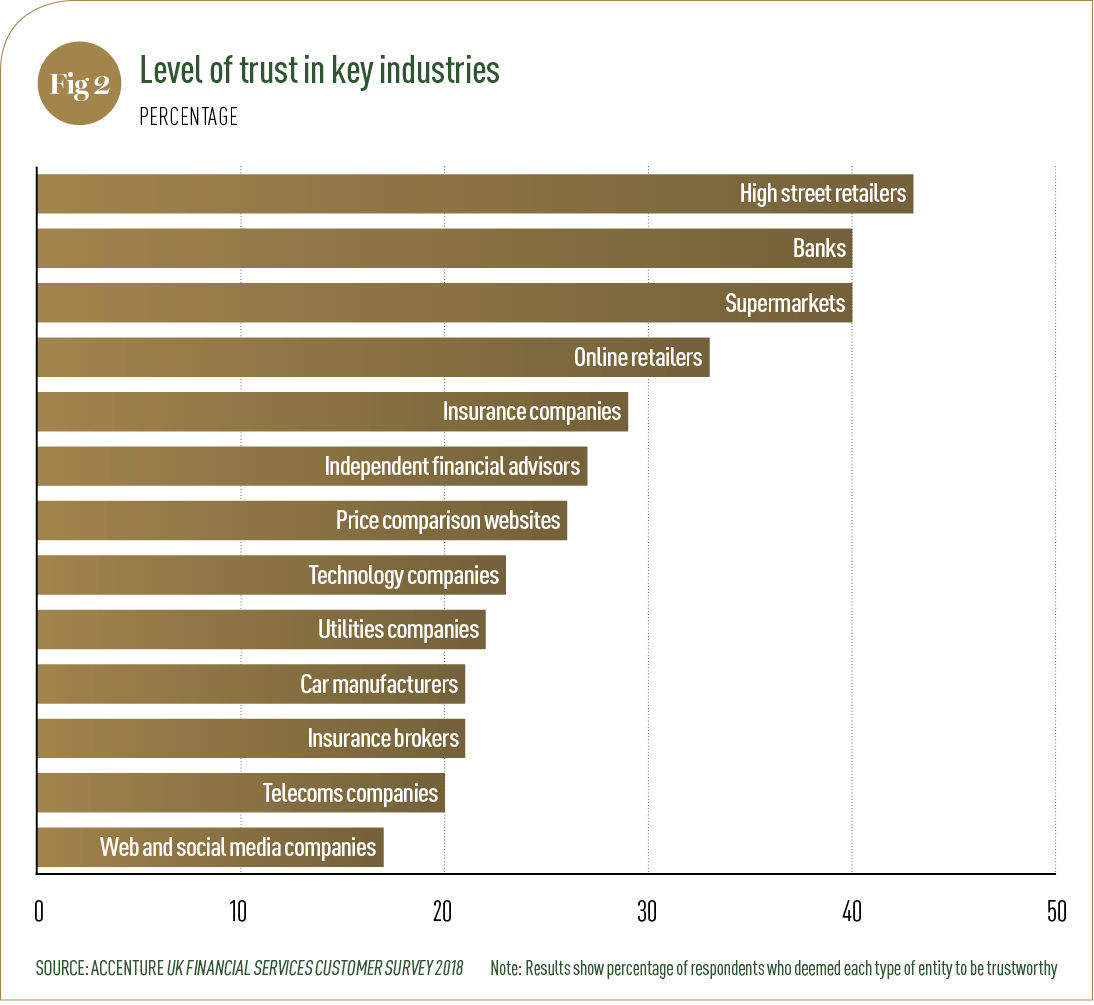 In order to hold on to current clients – a tricky feat, given the low levels of consumer trust and loyalty across multiple industries (see Fig 2) – while also attracting increasingly discerning new customers, wealth managers must make a hoard of changes. But through a better understanding of what today's clients value most, private banks can offer more effective financial advice, and in turn cement their place in an increasingly competitive marketplace. The World Finance Banking Awards highlight the private banks that are doing just that – taking a proactive, forward-thinking approach that prizes customer satisfaction above all else.