Investment Banks
Trimming the fat
Mergers and acquisitions activity at both top and middle-market level has been a boon for investment banks this year. Many are now seeking to simplify their operations in order to maximise profits and prepare for upcoming market changes
If there were ever a word to describe 2019 both politically and economically, 'volatile' would surely be it. With trade tensions ongoing between the world's two largest economies, grave concerns about recession in Europe and continued uncertainty concerning Federal Reserve rate cuts, the world has certainly been kept on its toes over the past 12 months.
Theoretically, such volatility should benefit investment banks, as traders can take advantage of market swings to drive profits. While those with large trading desks have seen some benefit, an industry-wide decline in risk appetite following the 2008 crash meant the majority of institutions have come to rely more heavily on mergers and acquisitions (M&A) advisory and underwriting fees to boost their top lines.
US banks are better placed to dominate in that regard, and have captured most IPO underwriting fees in the past 12 months. Goldman Sachs saw its net underwriting revenues rise by four percent to $4.36bn in 2018, while JPMorgan retained its crown as the top earner of investment banking fees for the 10th year in a row. Europe's institutions, meanwhile, have steadily been losing market share, with plenty forced to scale back hiring and investment while they focus on streamlining their complex internal systems. Many have also found themselves bogged down with the implementation of regulatory frameworks such as MiFID II, the EU's new transparency directive that came into force in January 2018.
While strong M&A activity is expected to continue boosting US investment banks' fortunes in 2019, Europe's institutions will face issues due to slow continental growth, cumbersome operational models and local competition from US firms. All investment banks will also come up against headwinds in the form of competition from both boutique advisory firms and fintech companies, as well as industry upheaval in the lead up to the shuttering of LIBOR in 2021.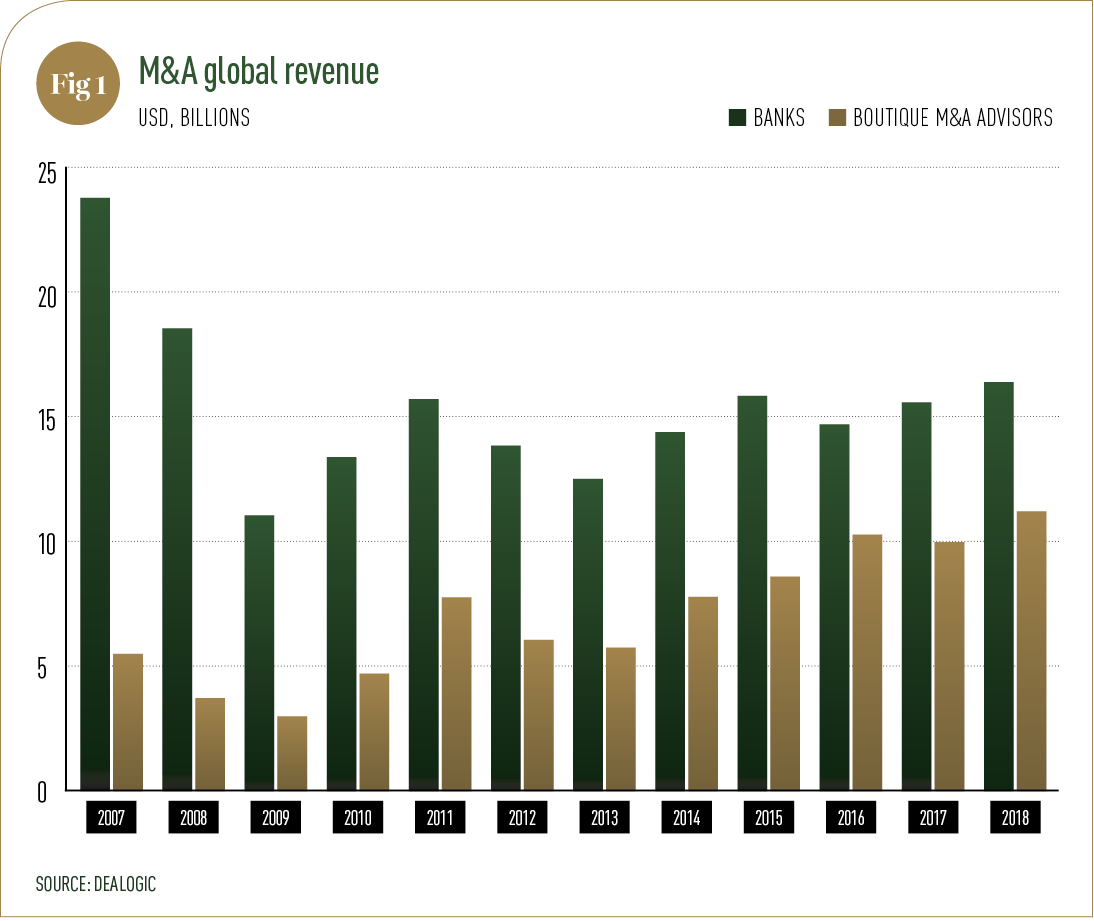 American advantage The past 12 months have seen a boom in global M&A activity, volumes of which reached $3.35trn in 2018 – the highest level since 2015 (see Fig 1). This has provided a boon for US investment banks, which have established themselves as go-to partners for companies considering M&A. As of May 2019, the leading US bank, JPMorgan, had made $1.4bn in advisory fees – more than twice the $690m taken by Barclays, the leading European institution (see Fig 2). Goldman Sachs, meanwhile, announced it is building a new 20-strong team that will focus on mid-market deals worth between $500m and $2bn: this is part of a larger strategy at the US lender to accrue 1,000 more investment banking clients over the coming months. This focus on the middle market comes as investment banks face increased pressure from boutique advisory firms, which expanded their market share to 40.9 percent in 2018, according to Dealogic – the highest percentage in history. By building out specialist teams to concentrate on smaller deal volumes, investment banks are hoping to regain some of that share, as well as to reinforce the base of their businesses in preparation for larger M&A deals. As Uber and Lyft's 2019 IPOs demonstrated, multibillion-dollar public offerings present a high risk for both investors and underwriters, hence investment banks have recognised the need for robustness at lower levels of the businesses in order to mitigate those risks.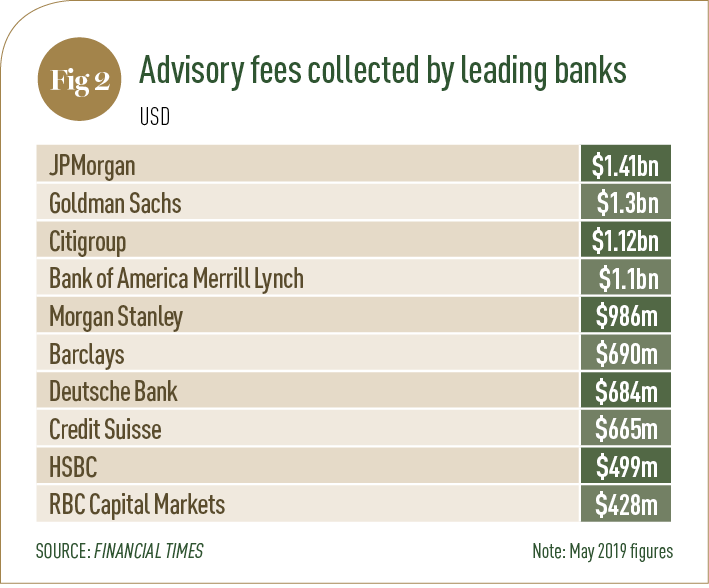 Technological innovation Investment banks recognise the importance of investing in new technologies in order to remain competitive, with many embracing automation in an unprecedented way. Credit Suisse's CSLiveEx system allows the smallest trades in the US market to be carried out with no direct human involvement, while Morgan Stanley has begun exploring automated trading for small investment-grade corporate bonds as a way to handle the 10,000-odd electronic trade requests it receives every day. Goldman Sachs has taken the technology to even greater heights, building a bond-pricing engine that can handle transactions of up to $2m without a single human touch.
Automation has also proved to be an important tool for some in cutting costs and streamlining complex operational models. UBS, for example, has rolled out more than 1,000 algorithms that are able to autonomously complete back-office processes – a move it hopes will help it meet its target of cutting 22 percent of non-technology costs from its operations divisions over the next three years.
The great shake-up The most significant change to the investment banking industry is expected to arrive in 2021 with the axing of LIBOR. This key benchmark has been mired in scandal for the past decade, as numerous traders were found to have manipulated the rate for personal or institutional gain. Regulators in both the US and Europe continue to investigate banks and individuals alike for their role in the scandal – for example, at the end of April, a pension fund in Hawaii filed a claim accusing 18 investment banks of corrupting LIBOR by submitting artificially lowered figures.
As a result, the Financial Conduct Authority, which sanctions the panel of banks that set LIBOR, has said it will not continue to publish the rate beyond 2021. Some banks have begun preparing for this transition by testing new rates: the Federal Reserve Bank of New York has started publishing the Secured Overnight Funding Rate, which is currently the frontrunner in replacing LIBOR for US banks. Another possible alternative is the Euro Overnight Index Average in the EU.
The disappearance of a unified reference rate is likely to cause issues for banks operating across multiple markets and currencies by introducing a new level of complexity to institutions that are already grappling with byzantine operational systems. It is imperative, therefore, that investment banks take action in the next two years to simplify internal processes and ensure they are fully compliant with all existing regulations. By reducing operational cost burdens, they will also be able to maximise profits from the burgeoning M&A market, which is set to reach fever pitch in the coming months.