Retail Banks
Fintech rocks the banking sector
Competition in the retail banking industry is heating up, with technology firms offering new options for financial services. In the year ahead, digital innovation and customer experience will be critical to success
Over the past decade, huge changes have swept through the retail banking industry. In the aftermath of the 2008 global financial crisis, regulatory standards were bolstered, while innovative fintech companies introduced customers to an entirely new way of banking.
Today, the economic outlook for the sector is promising. According to Deloitte's 2019 Banking Industry Outlook, retail banks' net interest margin and loan growth rate both rose across all regions in the first half of 2018, with the industry's total net interest margin reaching its highest level in four years. As ever, advances in technology are pushing retail banks to provide more – and better – products and services to their customers, with artificial intelligence (AI), machine learning and blockchain technology all helping banks boost their efficiencies. However, alongside this increase in technology comes a rise in cybersecurity threats.
Now, disruptive fintech and non-bank technology firms are widening the gulf between rapidly growing, innovative companies and ageing legacy giants. Faced with more options, customers' expectations are higher than ever.
Make or break The continued digitalisation of the retail banking sector will be a major driving force of change in the year ahead. In a survey for its latest Digital Banking Report, the Financial Brand found that more than half of respondents ranked the use of big data, AI, advanced analytics and cognitive computing as the top trend for 2019 (see Fig 1). The survey also said bankers' views on the importance of innovation had "far exceeded what was projected" in 2018.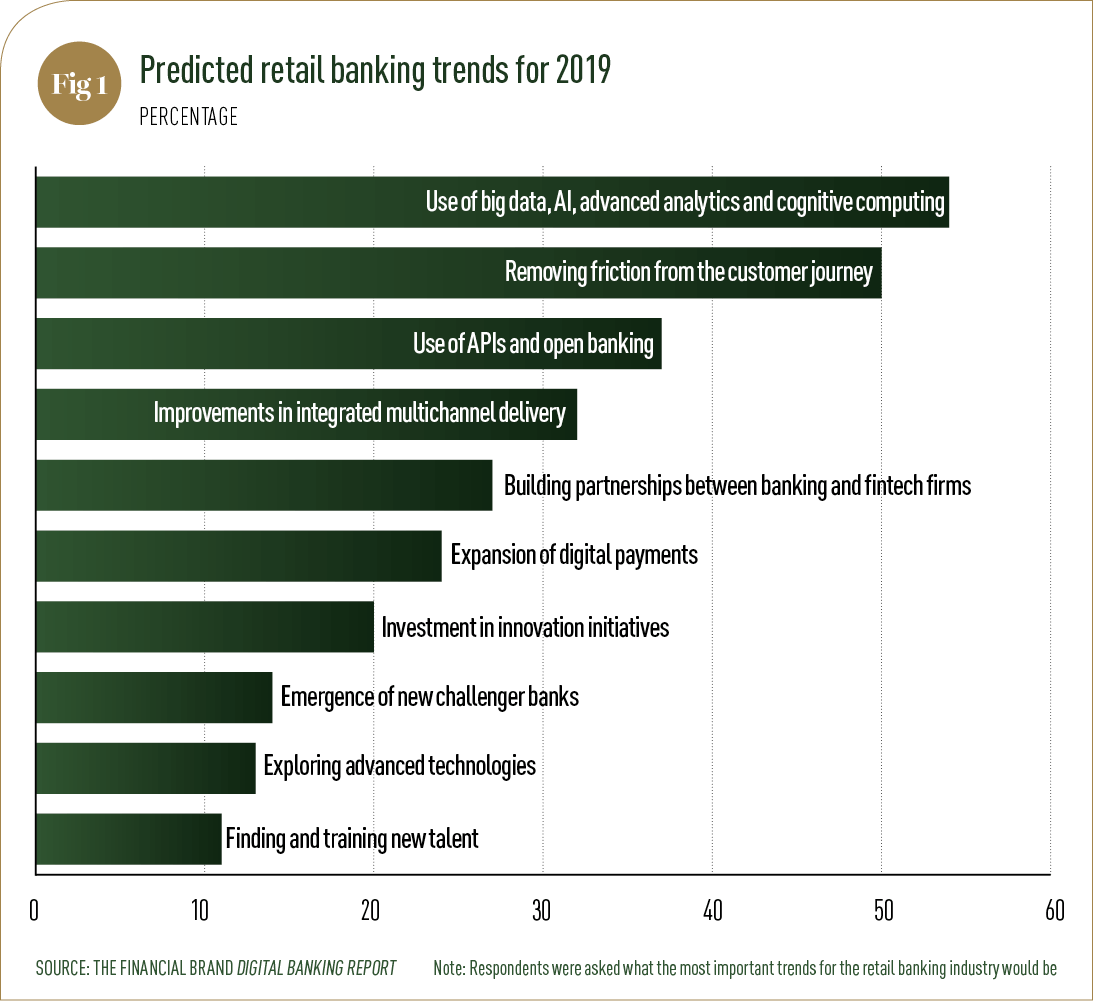 But although the industry understands how disruptive new technologies will continue to be, many firms have been slow to act. Today, adopting digital technology is no longer a mere option – it's a necessity. In fact, as tech giants such as Amazon, Google and Alibaba enter the financial services industry, the implementation of innovative technologies could make or break an incumbent bank.
Research by Capgemini found that low regulatory hurdles have attracted tech giants to the payments market, where they can offer convenient services to their huge customer bases. Capgemini noted that these companies' offerings were "not necessarily meant to replicate banking offerings" – instead, they are "designing value propositions that often eliminate the need for standard banking products".
These companies also pose a threat to traditional banks due to their excellence in customer service, which is raising the bar for banks. In a recent global survey, Deloitte found that banking consumers had a stronger emotional connection to technology brands such as Apple, Amazon and Google than they did to their banks. With many incumbent banks struggling to reconcile the merging of digital services with physical branches (see Fig 2), Deloitte suggested they could learn something from the way big tech firms "blend experiences from the physical and digital worlds". This may result in more retail banks seeking a slice of the fintech market by launching their own digital banks or forging partnerships with established companies.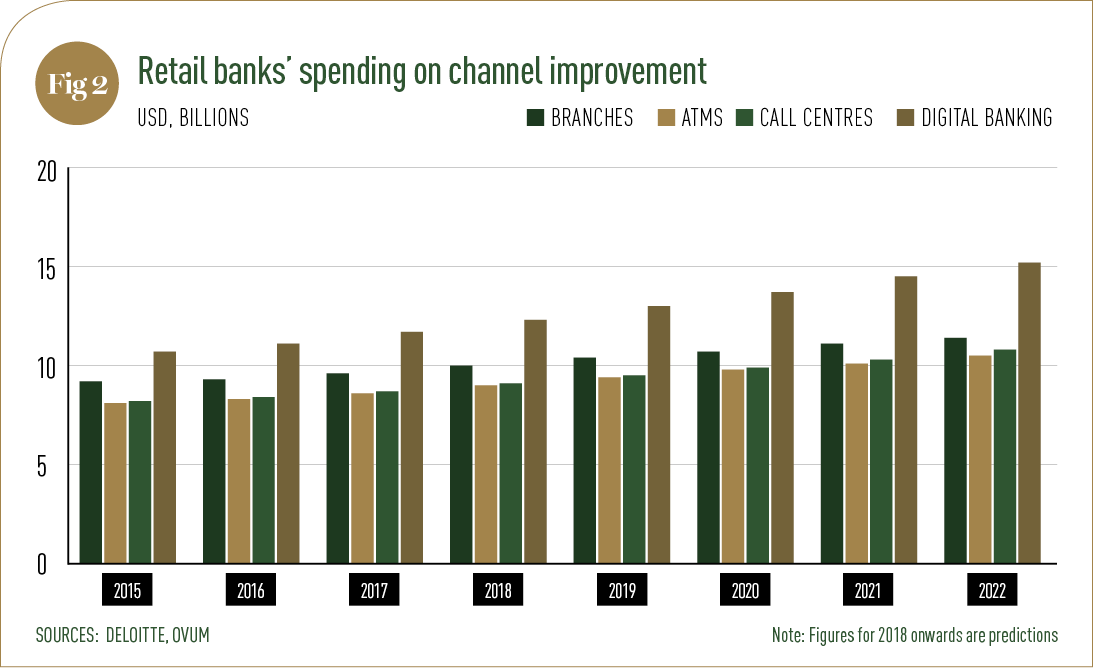 Legacy banks can also improve the customer experience by utilising an incredibly powerful tool: data. By collecting and evaluating data from consumers, banks can offer personalised products and services that capitalise on new insights. However, banks must consider new regulations establishing data protection rights, such as the EU General Data Protection Regulation or California's Consumer Privacy Act, 2018, which are likely to become more widespread. At the same time, increasingly common open banking measures are complicating matters by requiring banks to make customer data accessible by third-party companies in order to boost innovation.
Prioritising resilience As technology reshapes the retail banking industry, it is more important than ever that institutions manage security threats and keep their core systems up to date. Legacy infrastructure has long been an issue for the industry, but as new technology is implemented, Deloitte said: "[Relying] on a patchwork of archaic systems can pose significant risk."
Modernising core infrastructure is now a large part of the banking sector's overarching digital transformation. Without a robust system, banks will struggle to successfully implement new technologies such as AI, blockchain and – eventually – quantum computing. As such, this will remain a big focus in 2019.
Several banks are ahead of the game, having already embarked on modernisation plans or reduced their reliance on legacy systems. Don Bergal, Chief Marketing Officer at Avoka (now Temenos), told the Financial Brand: "What started as a trickle last year will become a steady stream, as banks of all sizes announce they are ripping out their 25-year-old core systems in a continued effort to become more modern, non-siloed digital banks."
But adopting new technology comes with its own dangers, largely in the form of cyberattacks. In the UK alone, the Financial Conduct Authority found that the number of cyberattacks against financial services firms increased 80 percent between 2016 and 2017. Capgemini, meanwhile, noted that new open banking regulations could make banks even more vulnerable to such attacks.
Consumers rely on banks to keep their personal information safe. Lenders must therefore ensure that digital security is a priority as they bring in new products or services in order to keep that trust – and their reputations – intact. Thankfully, banks have recognised this issue; in a 2018 survey, Capgemini found that cybersecurity was the top area of focus for digital investment among banks. Along with robust data management systems, innovation in identity, facial and voice recognition software will help strengthen security in the coming years.
Customer-first approach Above all, the ultimate challenge for retail banks in 2019 will be improving the customer experience. In 2014, a PwC survey of C-suite bankers found that 61 percent of respondents believed a customer-centric business model would be very important by 2020 – at that time, though, only 17 percent said they were 'very prepared' for this. Today, executives see the customer-first approach as being even more significant: according to the Financial Brand's survey, eight in 10 respondents mentioned improving the customer experience as a top priority, up from 72 percent in 2018.
In the years ahead, customer satisfaction will be influenced by how a bank responds to the industry's biggest challenges, including introducing digital innovations, creating a robust core system and ramping up security. With a growing number of traditional banks, fintech companies and tech firms seeking to win over customers, the leaders of the pack will be the institutions that prioritise the experience of ordinary consumers.