Commercial Banks
Convention meets innovation
In order to keep pace with fintech firms, neobanks and changing customer demands, commercial banks will need to broaden their portfolios by investing in new technologies
With the financial crisis receding further into memory, the banking sector as a whole appears to be on relatively stable ground. Commercial banks, however, still have a number of hurdles to overcome. In particular, they have to grapple with a highly competitive marketplace, vying for clients with emerging neobanks and new fintech operators.
Corporations possess different needs to individual customers, and commercial banks have been slow to realise this. The technology that enables banks to collect powerful insights into their customers, along with ways in which they can better serve them, is now available; traditional commercial banks will come under increasing pressure to use these new digital assets to grow their customer base.
Throughout 2019, many commercial banks will be left with a difficult decision to make: plod along with their legacy systems and face a slow death as digitally focused clients move to more agile rivals (see Fig 1), or risk investing in the new technologies that could potentially save their businesses.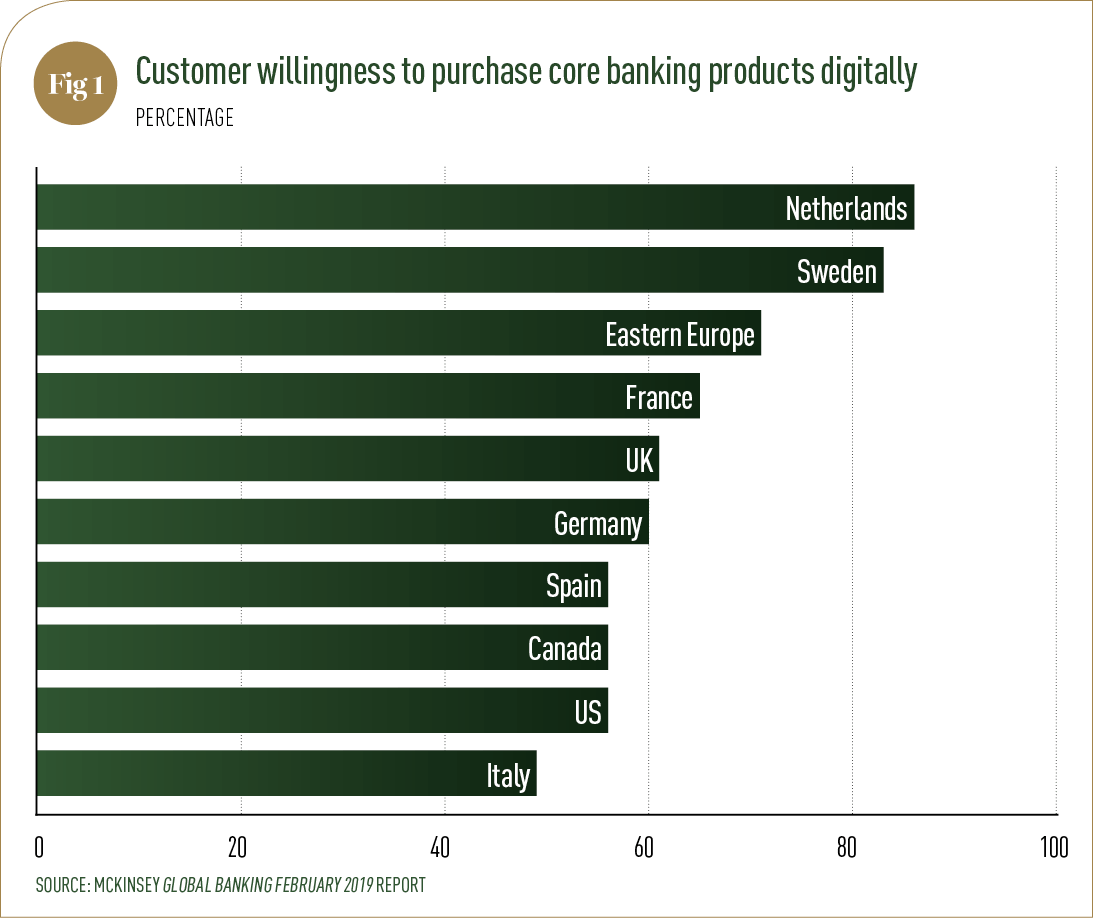 Building relationships With long-term low interest rates placing downward pressure on bank profitability throughout the West (see Fig 2), many financial institutions are looking to diversify their revenue streams. Throughout the rest of 2019, it is probable that commercial banks will shift their focus towards non-lending services in order to minimise their reliance on interest rate spreads.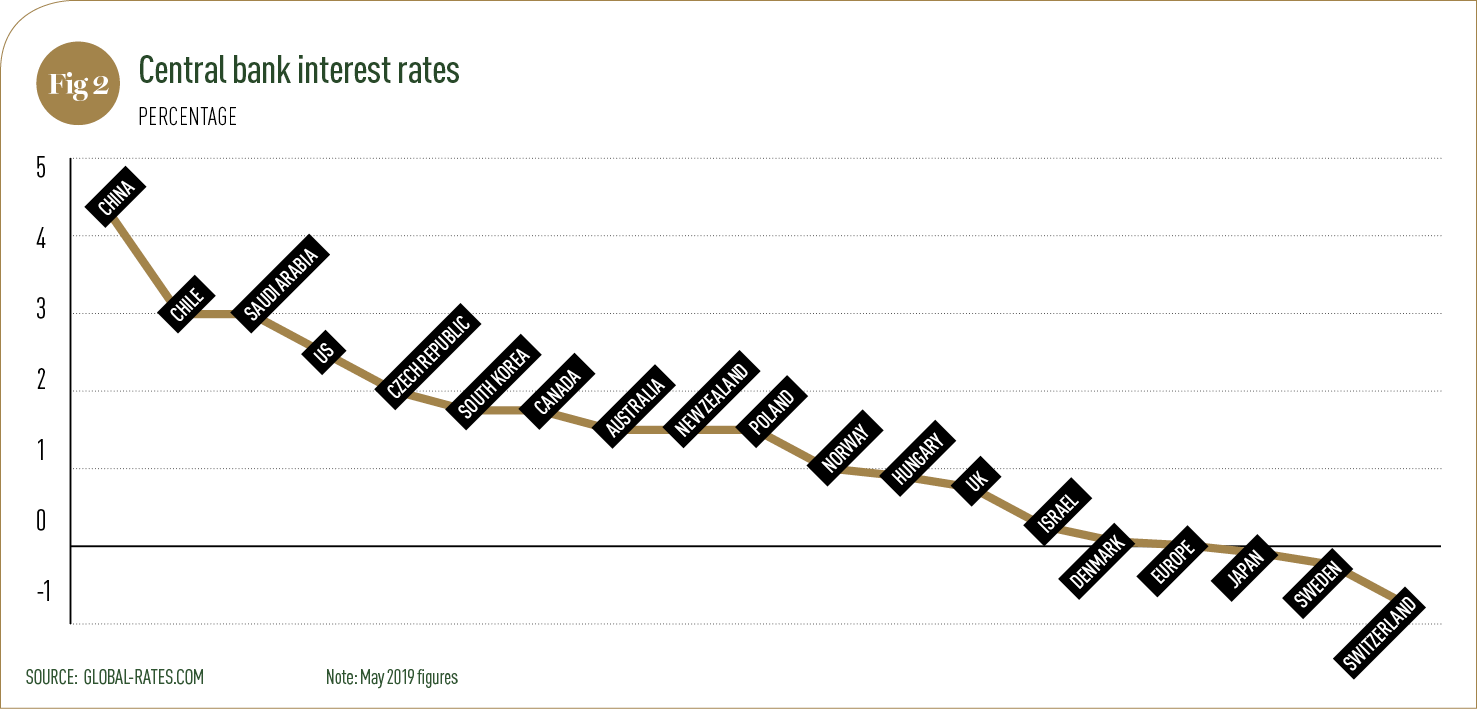 One of the areas that commercial banks should prioritise is risk management. This is a high-margin business unit and one that is likely to be in great demand over the coming years. For example, new risks are emerging all the time, whether they concern cybersecurity or financial contagion. Commercial banks would be wise to adopt the latest technologies and business modelling programs in order to get to grips with these threats.
Banks will be able to offer these non-lending services more effectively if they gather as much relevant information as possible about their customers. Data will become increasingly crucial for commercial banks looking to improve their relationships with clients, and for those that are keen to better understand their consumers' needs.
Understanding their customers will enable banks to offer superior advisory services and improve their effectiveness at cross-selling. It will also help them formulate entirely new services that fill an untapped niche in the market. These services will be of particular importance if – as seems to be the likeliest outcome – a low-interest environment persists.
Working together Although the retail banking sector has been quick to embrace new digital solutions, commercial financial institutions seem to have been caught slightly off guard. This is partly due to the fact that the needs of business clients are often more variable than those of retail customers: a one-size-fits-all mobile app may go down well with individuals, but it probably won't be suitable for numerous firms operating across disparate industries.
One of the major commercial banking trends to look out for in 2019, therefore, is how financial institutions will attempt to provide more customised digital services to their customers. In order to do so, banks will have to open themselves up to collaboration with their clients and become more willing to integrate their value chains.
The first stage will centre on assessment. Commercial banks will need to analyse the market landscape to determine industry needs and client expectations. If they do so successfully, they are likely to find that many of their customers require digital and automated solutions to help with their everyday financial tasks, such as processing payroll information.
In order to deliver the customised solutions that each client is demanding, commercial banks may decide to adopt cloud computing on a grander scale. Alternatively, partnerships with agile fintech firms are expected to become increasingly commonplace as a way of providing more bespoke services: Spain's Bankia, for example, works alongside fintech firm Eurobits to manage the billing process for more than 33,000 SMEs.
These collaborations also provide benefits for the banks themselves. According to a 2019 survey conducted by ING and Illuminate Financial, 87 percent of banks have used fintech solutions to lower their operational costs, while 67 percent agreed that they had improved regulatory compliance.
However, banks are likely to find that integrating their internal systems with those used by outside partners also comes with challenges. Securing data flows in a more integrated ecosystem can be difficult, particularly against a rising tide of cyberattacks. Better risk assessment, therefore, will be essential for commercial banks as they continue to modernise.
Trusting intelligence With commercial banks set to hold large amounts of data in 2019, it is vital they have the technology required to make the best use of it. Artificial intelligence (AI) can help financial institutions make sense of the data they collect, whether it is structured or unstructured.
AI can also help protect commercial banks and their customers from financial misdeeds. By analysing massive amounts of data, AI can identify complex criminal activities while simultaneously eliminating false alerts. In particular, machine learning could hold the key to detecting fraud, bolstering anti-money-laundering practices and improving Know Your Customer checks.
Customer engagement is another area where commercial banks stand to benefit from AI deployments. Chatbots and virtual assistants provide cost and efficiency improvements that are advantageous for banks and clients alike. Swedbank, for example, recently revealed that its chatbot service, Nina, handles 40,000 customer interactions every month. On average, it successfully resolves more than 80 percent of issues.
Rather than going on gut feeling alone, AI provides insights backed up by detailed analysis regarding the best ways to increase conversion rates and boost revenue. Singaporean bank Lazada utilises AI technology to streamline the credit approval process for SMEs, with many other organisations now deriving similar benefits. As AI solutions become more powerful and the amount of data available to commercial banks increases, further opportunities will no doubt present themselves.
As commercial banks move into 2019, there are many emerging trends they will need to stay abreast of. In particular, they should consider expanding their services and streamlining their existing processes. Data – and the technology required to collect, store and analyse it – will prove crucial for this. The winners of the 2019 Commercial Banking Awards are just some of the firms that have already shown promise in this area.