Banking Groups
Learning from adversity
The COVID-19 pandemic has taught us many things. The lessons for the world's banking groups will permanently change how business is done. Banking groups will need to navigate complex technological and regulatory challenges moving forward
The whole world has been tested by the pandemic on a personal level. But from a business perspective, the true test has been on the resilience of systems. Crisis and risk managers have speculated about worst-case scenarios for decades, with many developing complex plans and strategies designed to mitigate the worst impacts of a disaster.
While few expected an event on the scale of what we are currently experiencing, hopefully a crisis management plan that was at least somewhat applicable was at the ready. For the world's banking groups, the situation presented innumerable challenges. With infections and restrictions spreading at uneven rates around the world, international organisations faced tremendous difficulty in maintaining continuity. Both banks and their customer segments were affected very unevenly, posing vastly different challenges for different divisions.
And, that is all before banking groups started to manage their own, internal difficulties. The truly successful banks were able to marry their ongoing digital transformations with their pandemic crisis response strategy. With the resilience of organisations and their way of doing business substantially tested, some took the opportunity to accelerate transformations that were already underway. As the world returns to some form of normality, banking groups will be making careful considerations as to what stays and what goes in light of the emerging trends.
Full steam ahead Despite the widespread efforts to curb COVID-19 and vaccinate the world's population, global immunity is a long way off and companies will have to manage ongoing disruptions for many years to come. IHS Markit predicted several key trends that will come to shape global banking in the months and years ahead. Many are related to the lingering effects of the pandemic. When lockdowns first began to sink their teeth into the economy, governments across the world made substantial efforts to ease burdens where they could. Loan payment moratoriums and the easing of other forms of reduced regulatory compliance got many through the pandemic, but as people look to recovery, policies will begin to change focus. Government budgets are most likely to direct their attention to the worst hit and slow recovering sectors of the economy. Tourism, particularly international tourism, is one such example. This substantial shift in policy will affect particular divisions of various banking groups. The lingering effects of the pandemic are likely to have an impact on how banks are regulated. In a challenging economy, it would be reasonable to expect that lending standards would be tightened. There are some exceptions to this, with IHS Markit expecting Asia, thanks to its relatively limited number of COVID-19 lockdowns, to experience a fast economic recovery (see Fig 1).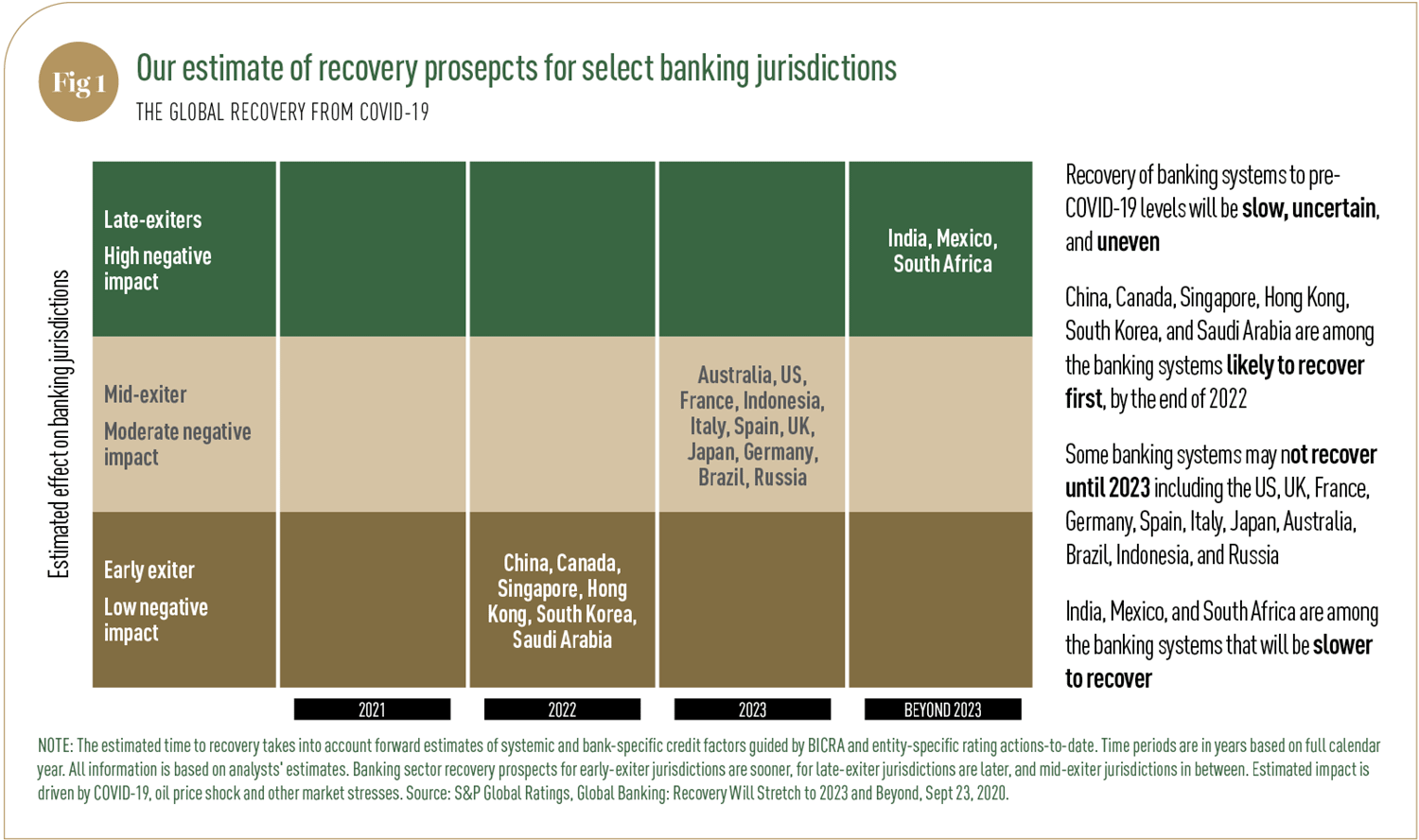 However, throughout the rest of the world the provision of credit could be expected to slow. A potentially surprising figure is that in 2020 non-performing loans remained relatively stable around the world (see Fig 2). This is most likely due to stimulus and economic policies, so this may not continue for much longer. Of particular interest are the issues that banking groups may face that are not as obvious as broader macroeconomic forces. One such challenge is the move to remote working. Much of the attention from the media and business has been on what this will mean for day-to-day operations, but there is also the emergence of new security threats. Suddenly, with many people working from home on their own, with personal computers, there is a significant opportunity for hacking or other data breaches. Also, with customers accessing their finances from home instead of in-person at a branch, a banking group's online security for customers has been put under extreme scrutiny. A lost hard drive or stolen laptop may not end up amounting to much, but banking groups' IT departments will need to be vigilant to any and all potential threats.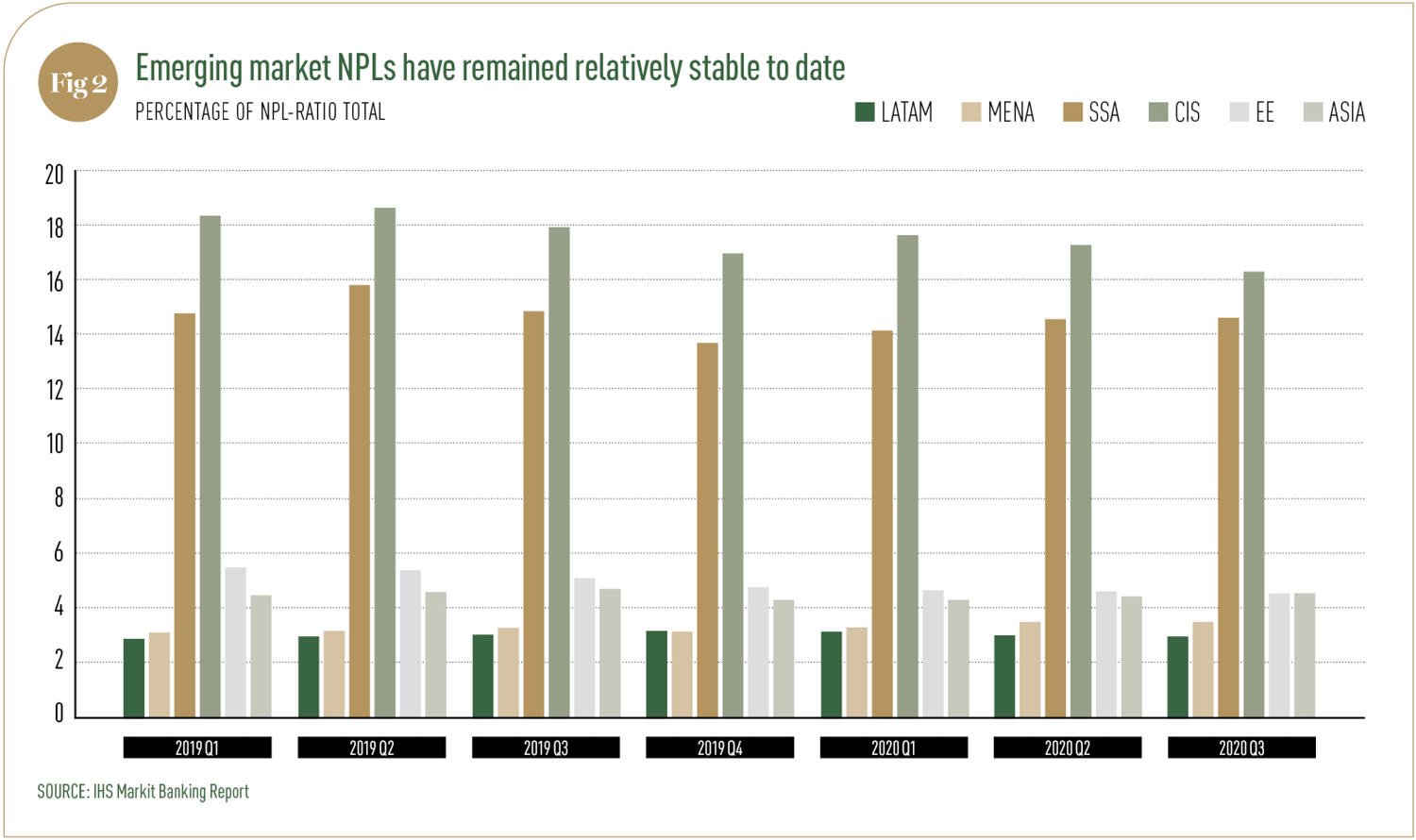 New rules While these changes mainly focus on the short and medium term, longer term there are inescapable regulatory changes the world's banking groups will need to contend with. EY compiled some of the major forces in its 2021 Global Bank Regulatory Outlook.
The Biden administration has signalled that climate change will be front and centre of its COVID-19 recovery and economic agenda, even going as far as to suggest that trade policies might soon be linked to a country's climate mitigation efforts. To any banking group deciding the businesses it will cater for, as well as any expansions to its own operations, climate impact will be a leading factor. Fitting today's regulatory framework, while also considering how policies may tighten in the future, will be a major conundrum for future planners.
The threat of data loss from employees working from home has already been discussed, but there exists a wider regulatory challenge for banking groups. Technology and data have provided a wealth of new opportunities, but privacy concerns around how they are used has been concerning global regulators for some time. For banking groups that utilise customer data, particularly across borders or between different parts of the group, the highest standards will be of the greatest importance to ensure they avoid any and all reputational damage. Additionally, both the environment and technology will be on the mind of regulators when assessing prudential risk.
Ultimately, the list of risks that an organisation might face, and that might threaten its future, has become a lot longer. The banking groups that will succeed in this environment are the winners of this year's World Finance Banking Groups awards. The victors are the banking groups that have shown leadership and vision in the face of incredible adversity, and will navigate the complex regulatory environment ahead with ease.
The future may be uncertain, but the groups listed will be able to manage whatever is thrown at them.