Private Banks
The drumbeat of recovery
With economies recovering from the COVID-19 pandemic far more quickly than anyone expected, private banking customers are eager to identify opportunities that line up with their priorities
One year ago, the world looked like a very different place. Waves of lockdowns were shutting down international business and travel, and people across the globe were enduring harsh restrictions. The efforts to contain the COVID-19 virus were entirely necessary, but the random and sporadic implementation left many struggling to respond to changes both on personal and professional levels. No matter who you are or what your situation was, it was a time for deep introspection.
Fast forward to today and you have a world where the end is in sight. Never before in human history has a vaccine been developed so quickly and distributed to so many people. With a greater percentage of the globe's population receiving the vaccine every day, people are now re-entering the world with a new set of values and priorities. To those with significant investment portfolios, many are looking at a vastly different economic landscape with an entirely new perspective.
To meet the expectations of these clients, private banks will have to adopt new products and policies reframed around this new, post-Covid world. For many, this will be a continuation of the advisor-client relationship they have spent many years building, and a natural evolution of doing business. For others, it means a complete rethinking of how they operate. Either way, only the most dynamic and responsive companies will find success in 2021 and beyond.
Identifying future trends The core challenges of private banking and wealth management have remained consistent for many years now. The key trends from Deloitte and Efma's 2016 Wealth Management and Private Banking report are still largely applicable today. There are significant wealth opportunities across borders, and a thorough understanding of regulatory requirements is needed to successfully tap into them. Relationships between advisors and their clients need to be timely, multi-channel and globally focused. Products should be outcome-oriented and closely tethered to business development.
But how does all this apply to a post-Covid world? Analysts are beginning to look at and identify the trends that will come to shape the future. Citi's The New Economic Cycle: Investing in a Post-COVID World report identifies four key 'unstoppable' trends: Digitalisation, the Rise of Asia, Greening the World, and Increasing Longevity. While these trends have certainly been developing for some time, the pandemic has provided the world an early taste of what is to come.
Digitalisation refers to the increasingly interconnected world we find ourselves in, something that has become abundantly clear during the pandemic. COVID-19 would only have had to come along a few years earlier and the world's digital infrastructure might not have been sufficient to handle the load that was placed upon it (see Fig 1). With businesses temporarily going online, the value and necessity of new technologies like 5G, fintech, e-commerce and cyber security is more apparent than ever before. Any business connected to these fields has the potential to be a significant investment opportunity.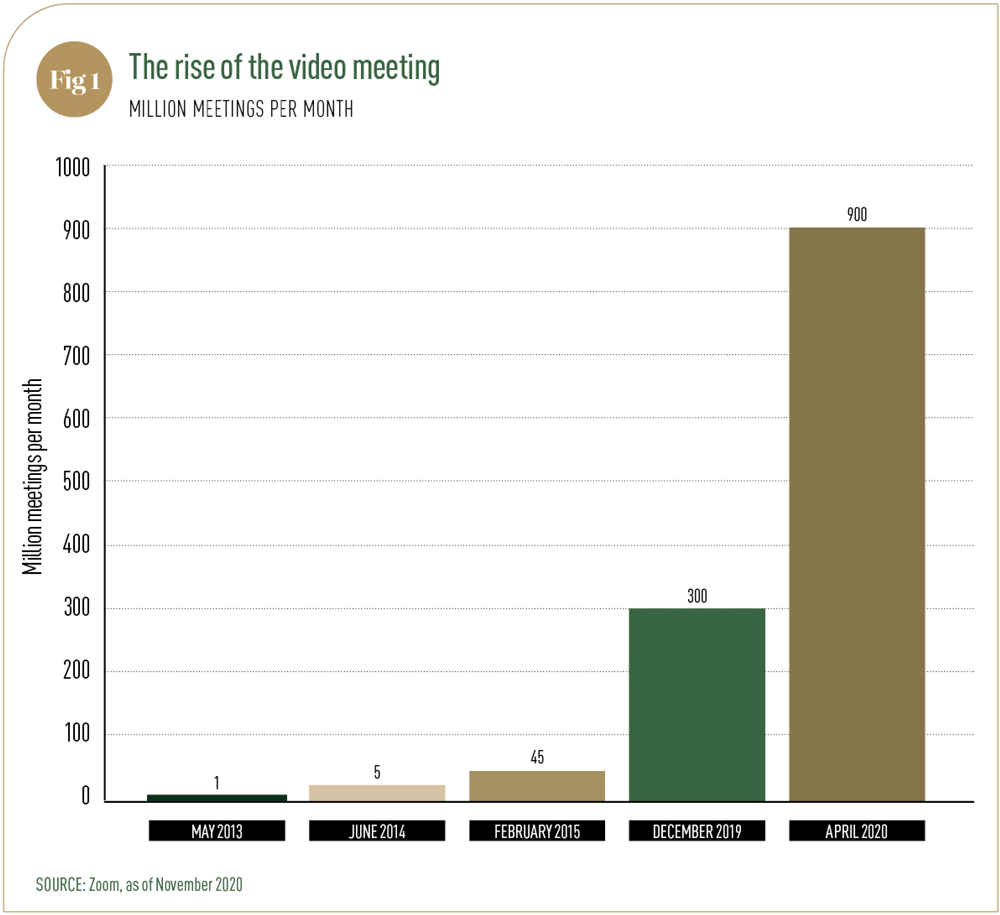 The financial rise of Asia has also been continuing for years, setting up a potential global duopoly between the US and China in terms of economic competition and demand. A change in US president has done little to alter ongoing tensions, and competition looks set to intensify. Investors will have their sights firmly set on both regions for new opportunities.
'Greening the World' relates to the incredible change in energy policy we are experiencing. The shift away from fossil fuels is rapid and inevitable, and will represent the greatest shift in energy production since the development of mainstream electricity usage. It is also a shift that is being driven by the market, not just by policymakers (see Fig 2). The cost of renewable energy is falling by the day, and businesses are beginning to see the financial incentive of going green, as well as the improved public approval such a change brings.
Finally, increasing longevity refers to the healthcare progress that is being driven by both improvements in healthcare technology and demand from the world's aging population. Both the capability and necessity of the wider healthcare sector have been made apparent by the COVID-19 pandemic, and many of the changes that have been made in the last year are here to stay. Combined, these four core trends are expected to drive significant investment in the coming decade.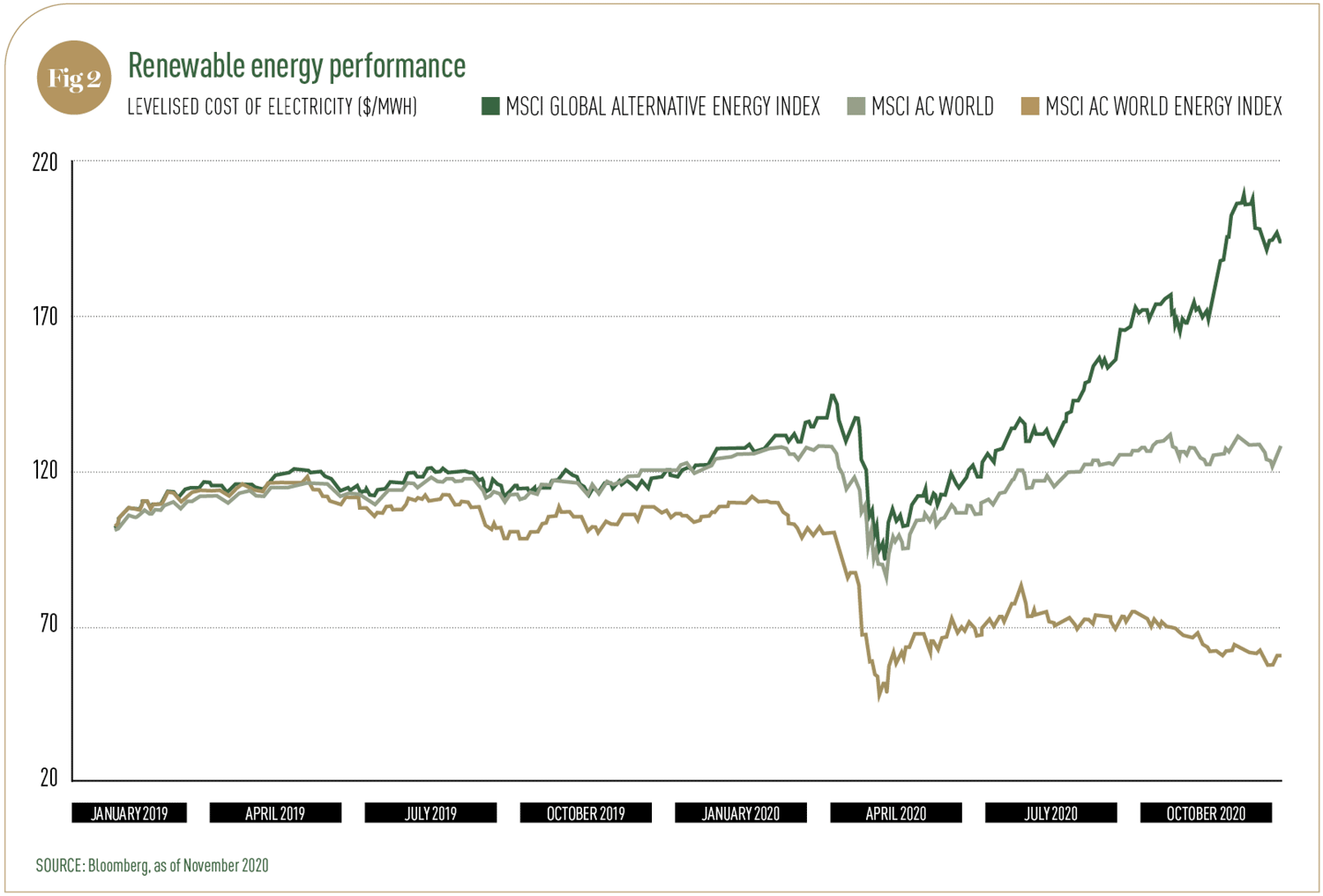 A long-term plan However, the challenge for private bankers will be reflecting the priorities of their clientele across these four areas. The year of the pandemic has been a significant time for personal growth, and finding a way to achieve growth while reflecting a customer's priorities is not an easy task.
According to JPMorgan's Outlook 2021 report, a goal-focused outlook is recommended, particularly in a world where there are significant opportunities being presented in a rapidly recovering economy.
"We believe this young recovery could last for years. But before you act on this kind of optimism, make sure you have a solid, long-range investment strategy that aligns with the goals you have for yourself and your family. Planning holistically is the only way you can truly build and keep full confidence in your investment portfolio," the report reads.
While clarity of purpose will help, only the leading private banking institutions will be able to achieve it. The banks that have shown they can respond to customer needs and achieve these goals are the recipients of this year's World Finance Private Banking Awards. The winners are those that have the capacity and service needed to successfully capitalise on the new business landscape, while embodying their customers' new priorities in life.