Banking Groups
Embracing groupthink
In spite of global economic uncertainty and slow growth, technological innovation is giving banking groups the opportunity to thrive – provided they're brave enough to take the chance
Over the course of the past year, the world has experienced a flurry of political, social and economic upheavals. Events such as the US presidential election, the Brexit vote and India's unprecedented demonetisation scheme have created an uncertain international business climate, with a rise in protectionism and anti-globalisation sentiment now posing a real threat to economic growth. As a result of these disruptive events, the banking sector has been forced to contend with extreme market volatility, forcing banking groups around the world to rapidly adapt to a new economic environment. As the banking industry adjusts to these political shocks, it is also dealing with its own internal transformation. Technological advances have begun to change the face of banking, with fintech emerging as the biggest trend of 2017. From blockchain technology to big data, the sector has undergone significant digitalisation, with more large and mid-sized banks incorporating such systems into their everyday operations than ever before. What's more, fintech solutions are advancing at an incredible rate – those that cannot quickly adapt will ultimately be left behind in this digital race. However, although digital banking options are proving increasingly popular among customers, banking groups must ensure that their strict security standards are maintained in this technological age. Balancing these two sides will be the making of those banking groups that will become market leaders in a few years' time.
Test of mettle We are now living in an era of heightened political, economic and fiscal uncertainty, with market volatility fast becoming the new norm. Banks across the globe have been battered by Brexit, and this unfortunate trend looks set to continue as the UK attempts to negotiate its exit from the EU. Shares in leading banks plunged by up to 20 percent on the day after the referendum (see Fig 1), and while some banks have since managed to recover, others are still struggling to make back their losses.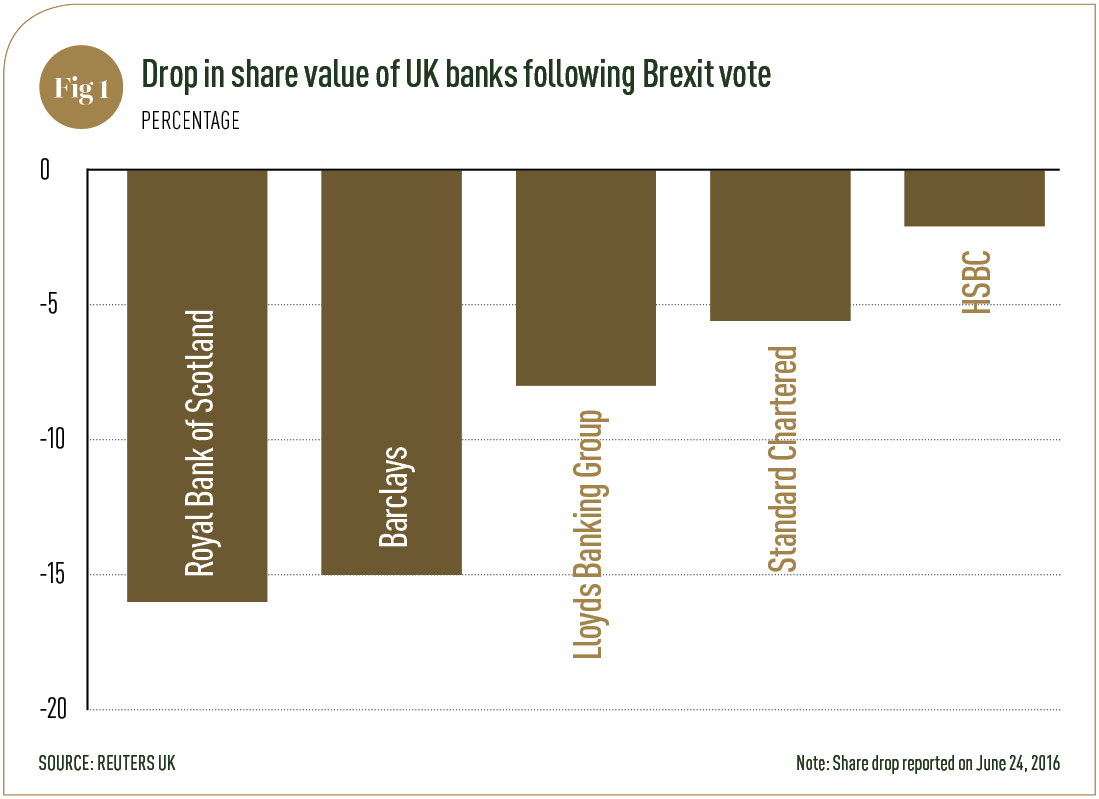 What's more, Brexit may well trigger a mass exodus of banking jobs from London, with many global banks already setting up new EU headquarters outside the UK's veteran financial centre.
According to Brussels-based think tank Bruegel, London could lose more than 10,000 banking jobs and 20,000 roles in financial services as the UK prepares to leave the single market, delivering a devastating blow to the nation's economy.
Frankfurt is fast emerging as an attractive destination for banks looking to relocate, with Morgan Stanley, Goldman Sachs and Japan's Nomura all announcing that they would be shifting some operations to the German city. Similarly, Dublin is now welcoming an influx of banking talent, with Bank of America recently choosing the Irish capital as its post-Brexit base for EU investment banking. Relocation may prove to be a prudent move for banking groups, as the UK is widely expected to lose its financial passporting rights when it eventually leaves the single market. Meanwhile, on the other side of the Atlantic, there is a similar level of market uncertainty, as President Trump continues to diverge from the Obama administration's financial stance. Following his election victory in November 2016, Trump has laid out an ambitious economic plan which aims at raising US growth to more than three percent. In order to achieve this goal, he has proposed a series of large-scale tax cuts, in addition to a $1trn investment in infrastructure and a $10trn budget cut.
As a fervent critic of banking regulation, Trump has also vowed to roll back the extensive Dodd-Frank Act, which was created in response to the 2008 global financial crash. Although this legislation was designed to protect consumers from financial misconduct, the Trump administration now argues that such rules are stifling banks' ability to perform efficiently, and are therefore limiting the nation's economic growth. While US bankers are not expecting a complete repeal any time soon, the Trump presidency may still provide some regulatory relief to Wall Street's major banking groups.
Fintech future Any discussion of the modern banking industry simply isn't complete without a mention of the ever-growing role of technology. Digital advances are rapidly reshaping the financial landscape, and over the past year the banking sector has experienced a remarkable acceleration in digitalisation. Blockchain technology is now a mainstream reality for banking groups, with global financial institutions investing more than $1bn in the technology over the course of 2016.
Bitcoin – the most famous blockchain-based digital currency – more than doubled in value to emerge as the best performing currency of 2016 (see Fig 2), encouraging further investment in blockchain technology among banking industry experts. Indeed, many of the world's leading banking groups are now working together to create their own blockchain currencies, with Deutsche Bank, Santander, UBS and BNY Mellon aiming to commercially launch their 'Utility Settlement Coin' as early as 2018.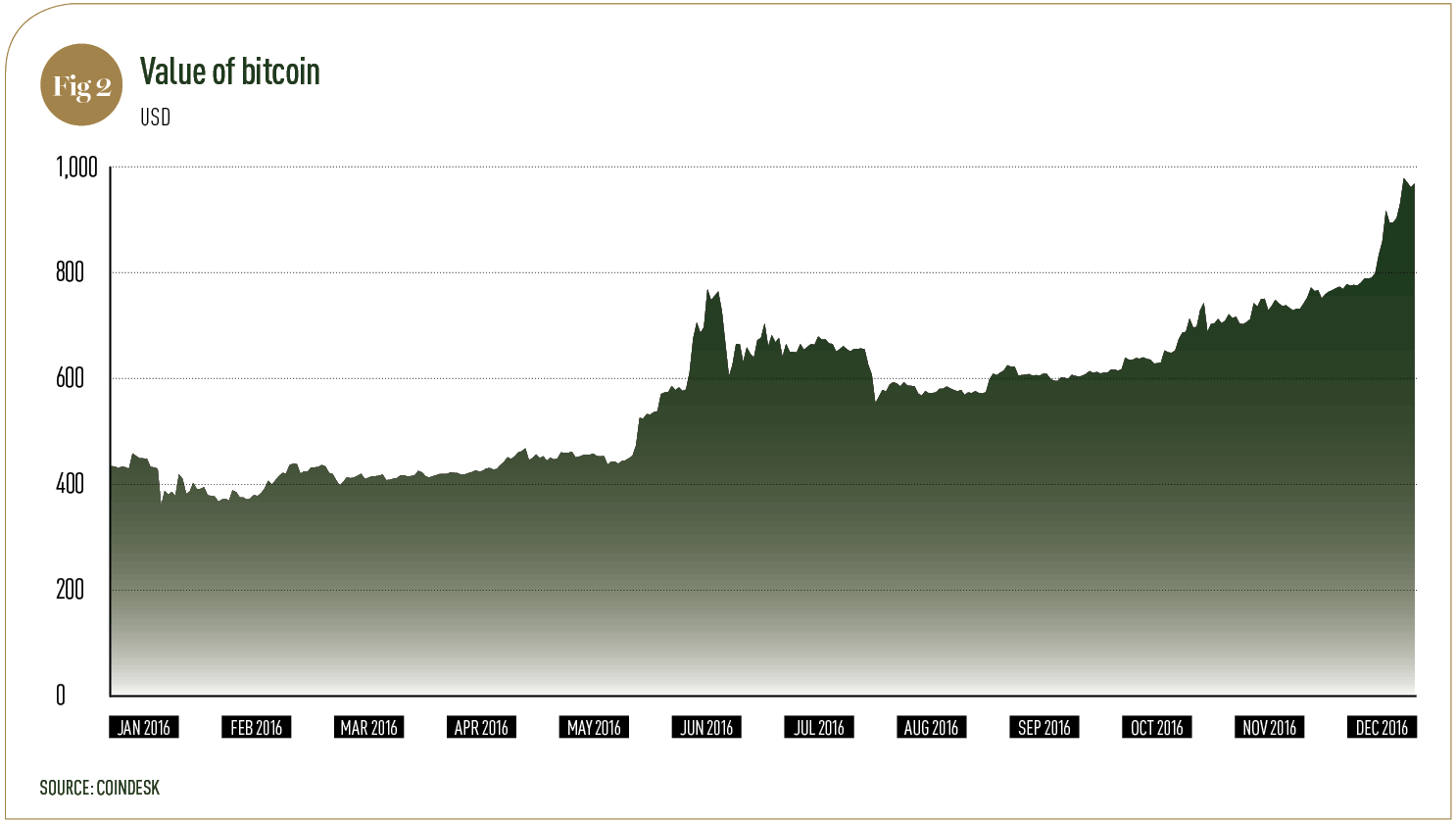 Thanks to rapid improvements in artificial intelligence (AI) and advanced machine learning, chatbots are becoming a key feature in many modern banks today. As banking groups strive to place customers at the heart of their operations, chatbots enable banks to effectively deliver a high standard of personalised customer service to clients who do not have time to visit a high street branch. As AI technology improves, chatbots offer users an interactive yet private communication channel, ensuring a greater level of security than traditional banking apps. These highly advanced machines can instantly answer queries and help customers manage their money remotely, giving consumers the personalised service they require. By adopting the latest AI technology, banking groups are able to create chatbots that combine intimacy with automation, enhancing the overall customer experience and allowing banking groups to thrive in spite of a difficult macro environment.