Private Banks
Sink or swim
Wealth creation remains challenging, but that hasn't stopped high-net-worth clients from increasing their expectations. Private banking firms must incorporate new technology and rework their mindsets in order to stay afloat
Few could argue that 2016 was anything but a tumultuous year for the banking industry. However, the real problem with the two major events that took place during the past 12 months – namely, the election of Donald Trump and the result of the Brexit vote – is that, for the immediate future, it will be very difficult to foresee exactly how they will play out. The UK's negotiations to leave the EU will be drawn out and complicated, while Trump has demonstrated erraticism at its finest. Given this precarious climate, most major financial decisions are now burdened with doubt and uncertainty. In 2017, this prompted a host of new demands from private banking clients, who are looking for ways to protect and grow their wealth at a time where there appear to be few options available for doing so. This demand is pushing private banking firms to new heights and forcing them to find innovative ways to assist clients, in spite of the ongoing challenges.
Keeping the lights on In Capgemini's 2017 report Top 10 Trends in Wealth Management, the number one trend identified was "business-as-usual taking up a significant share of [the] investment allocation of firms". After the huge disruption the 2008 financial crisis caused in the industry, ongoing changes in regulations and compliance requirements have generally increased sector overheads. At the same time, clients are becoming more diverse and making a greater variety of demands. One trend that has emerged in particular, and is continuing to grow, is the desire for social impact investing. Nowadays, more and more private banking clients want to make sure their money is not only increased, but also put to good use.
In a way, this trend has partly been driven by technology. As new systems emerge, a new wave of private banking clients is demanding both more transparency from banks and a more hands-on role in actively managing their own money. As such, clients seek a very personal service and access to their accounts all day, every day, for any minor tweak to their portfolio they may wish to make. Most respond poorly to feeling like they have been left in the dark. The days when a client was content to leave it to the experts are long gone.
To meet these new requirements, many firms are investing in fintech in order to get an edge over their competitors. Multiple factors have led to this adoption of digital platforms (see Fig 1), and these efforts are taking a number of different forms, including modern apps and revamped back-end systems.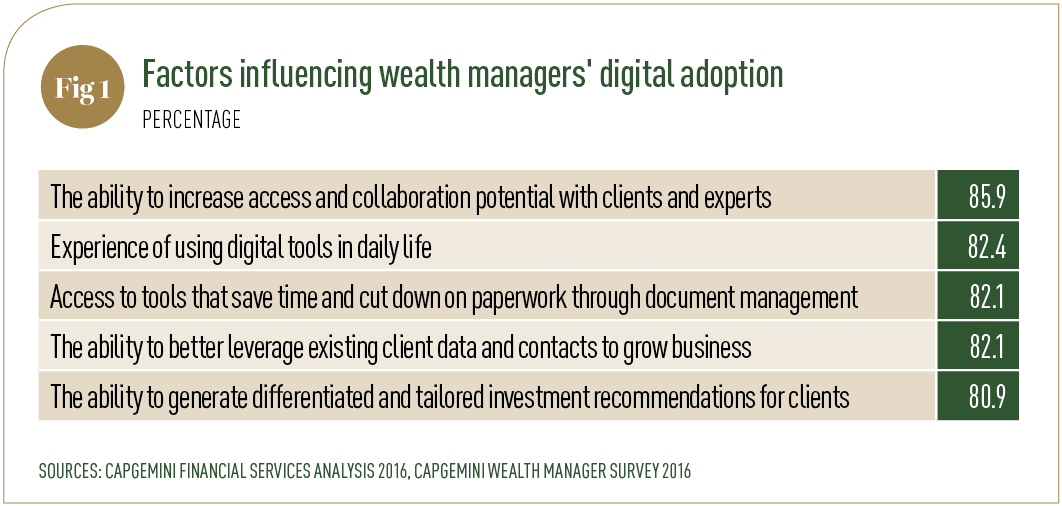 One growing trend is the use of robo-advisors in the sector. These are artificially intelligent systems that can guide clients towards more successfully managing their own money. Interestingly, this kind of technology could also act as an important step towards attracting younger customers. According to PwC's 2015 Wealth Management Infrastructure Survey, 46 percent of wealth managers believe that robo-advisors will become a critical tool for engaging Millennials. That said, with this greater focus on digital systems and innovative tools comes a number of risks, including cyberattacks. As the number of digitalised banking processes increases, so does the risk of an attack. At present, however, many private banks are still underprepared for what exactly a large-scale cyberattack entails.
In 2016, ransomware attacks temporarily crippled institutions as large as the UK's National Health Service and the National Bank of Ukraine. If a private banking institution suddenly found all of its computers locked down with data encrypted, or saw leaks of sensitive information relating to its clients, it would never recover from the reputational damage. To prevent this from happening, a greater focus on cybersecurity is an absolute must for 2017, and will define spending in the sector for many years to come.
Shifting landscape In a sense, many of the difficulties the world faces can be reduced to a dissatisfaction with globalisation. And, as more protectionist and isolationist policies emerge across the world, it is reasonable to expect that global trade will continue to decline. In light of this and the associated risks, both clients and wealth managers are beginning to increase their focus on the fundamentals of domestic economies.

Naturally, the opportunities they present will vary. The US, for example, is expected to outperform other developed markets with strong consumer spending and investment growth, while the high growth rates of emerging markets could be offset by protectionist concerns. Russia and Brazil in particular have a bright outlook, as both are expected to finally emerge from their prolonged slumps.
One thing to bear in mind for those shifting their focus to domestic economies is the increased policy divergence that has continued into 2017. While the US Federal Reserve has already raised interest rates this year, and is expected to do so again before long, others are pushing ahead with easing policies. The European Central Bank, for example, keeps buying government bonds, and the Bank of Japan has reasserted its commitment to an aggressive stimulus programme until the country's inflation rate exceeds two percent.
Although such factors inevitably create risks and challenges for the private banking sector, they also provide opportunities for those that are nimble, forward thinking, and open to change. Specifically, industry players must be willing to adapt to new technology, cater to the Millennial mindset, and shift in accordance with changing political and policy landscapes. Consequently, private banking teams that are prepared for the volatility of 2017 and beyond could well reap the rewards of a difficult period.