Retail Banks
New kids on the block
Technology has completely altered consumer demands, with established retail banking brands left floundering as agile start-ups corner the market with niche offerings
For a long time now, it has been difficult to get people excited about retail banking. The only real factors that contributed to an individual choosing one bank over another were a slightly better rate, convenient branch locations, or the recognition of an old and trustworthy name. While there were enough such differentiators to provide decent competition between banks, none were particularly inspiring for the average customer.
Fortunately, banking is now undergoing a remarkable transformation. Banks are no longer just about their geographical footprint; even more relevant these days are the unique, special and easily accessible services they offer. For customers, this means apps. Essentially, why go to a branch when you can just tap your mobile phone?
That said, in the years since apps became a necessity for banks, the focus has shifted to the particular services they can provide (see Fig 1). For banks that are many years old, this often means undertaking substantial upgrades behind the scenes to ensure the capacity is there to power new systems to meet demand. This is a frightening reality for retail banks. Many have built their foundations on decades-old infrastructure, and so upgrading to a new system is neither cheap nor straightforward. A complete overhaul of computer systems, while simultaneously ensuring that all necessary regulations are met, could never be an easy task. Given the current direction of the retail banking market, however, there may not be much choice.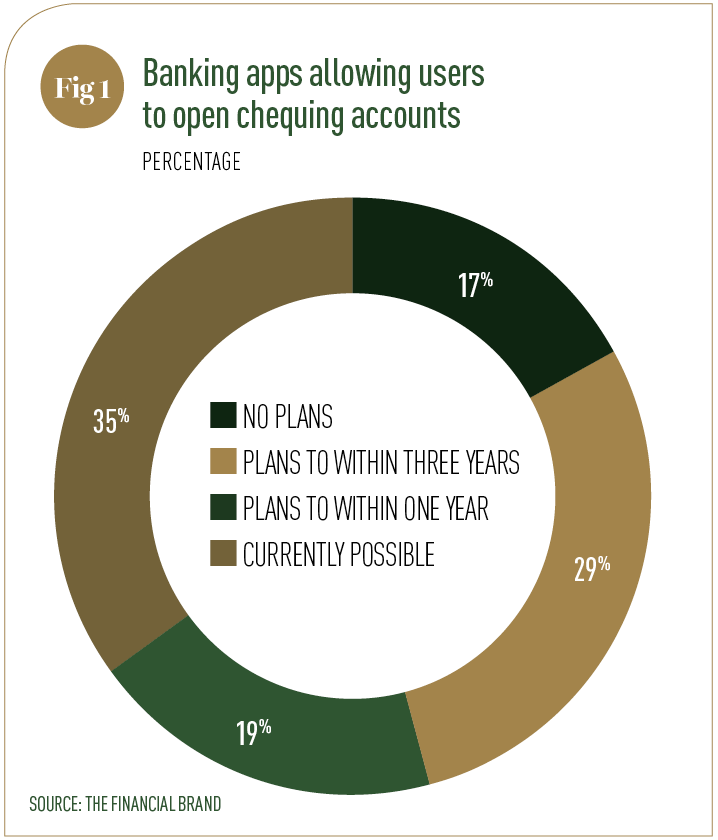 Digital warfare At the end of 2016, The Financial Brand published its annual Digital Banking Report, which revealed some surprising trends that banks will have to take note of in the near future (see Fig 2). After surveying 100 financial services leaders for their top three predictions for the coming year, the focus on digital services was extremely clear. Removing friction from the customer journey was listed as the number one priority. Second was the use of big data, artificial intelligence, advanced analytics and cognitive computing. Third was creating improvements in integrated multichannel delivery.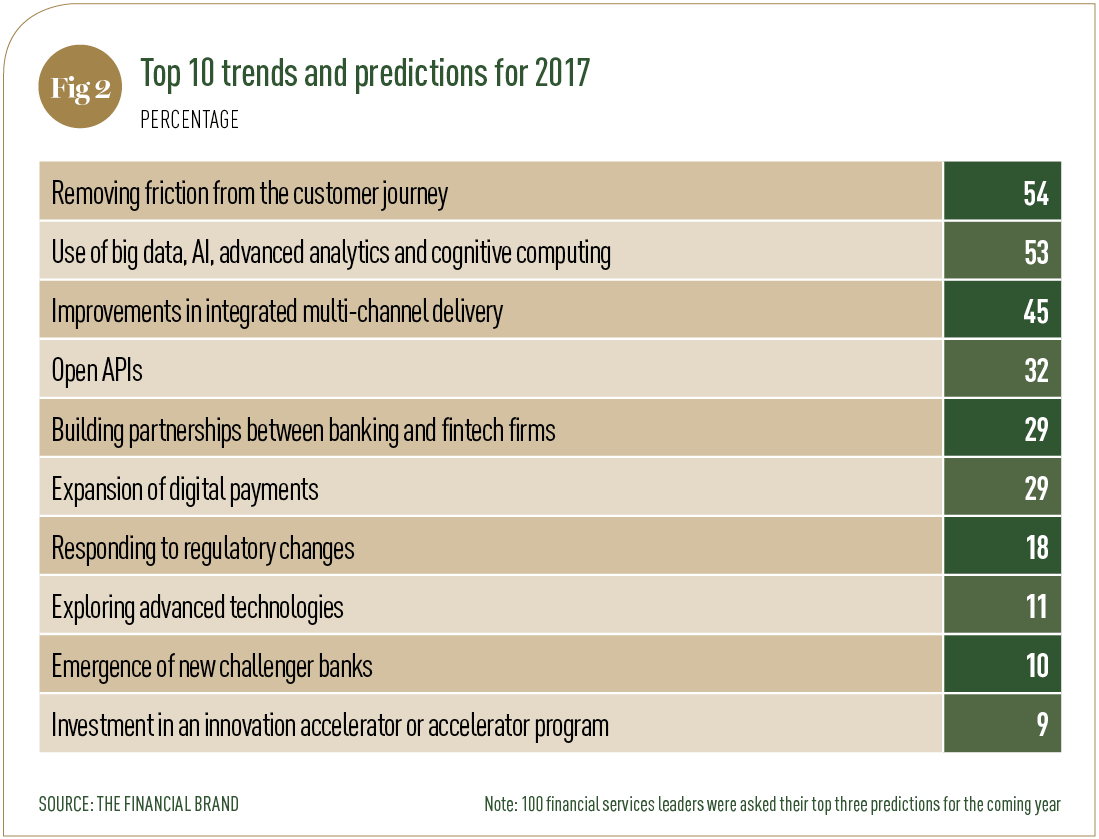 There is one overarching theme in all of these priorities: personalisation. While convenient, many of the banking technologies currently in place lack the personal quality that customers come to expect when making important financial decisions. The cliché of the older customer who complains that new technologies are too complex and difficult to understand has a grain of truth behind it – online banking systems could be a lot more functional and smartly designed than they currently are.
Presently, brick-and-mortar branches are still a necessary part of many customer operations. However, thanks to big data, banks now have the tools to provide better-designed services. With the combined learning from all of their customers, banks are now customising their products and services on an individual client basis. In the very near future, digital services may become indistinguishable from the in-branch experience.
As financial services integrate themselves fully into the digital experience, banks are now looking for more ways to offer unique services that set them apart from competitors. This leads onto the fourth-biggest trend predicted in the report: open application programming interfaces (APIs). In the previous year's report, APIs barely warranted a mention, but the subsequent shift has been swift and significant. In essence, APIs provide a secure pathway for companies to access and make use of another's information and systems. For example, very few companies have the resources needed to build their own digital map of the world but, fortunately, Google is willing to grant them access to the Google Maps API.
For banks, this presents significant opportunities. By opening up APIs, bank customers could have a world of possibilities unlocked for them. Budgeting software could be updated automatically, and financial information could all be bundled in a single place. What's more, banks themselves have a lot to gain behind the scenes. For example, robust APIs can make meeting regulatory requirements a breeze, as regulators can be supplied with direct access to up-to-date critical information.
In with the new This sudden opening up of technology and greater focus on systems has provided an opportunity for agile start-ups to emerge, throw their weight around, and ultimately disrupt the banking status quo. What these organisations look like is incredibly varied. Some aspire to offer the full-featured level of service of a traditional bank. The UK bank Monzo, for example, offers a full current account, complete with a contactless debit card and mobile banking app that boasts features such as real-time balance updates and financial management. Interestingly, Monzo has no branches, but instead puts all of its focus on a digital service that makes the traditional branch look somewhat redundant.
Others are carving out specific niches in the industry, offering highly specialised features like an account specifically designed for freelancers to help calculate the tax they owe, as they owe it. Many of these fintech start-ups are still in their earliest incarnations, and will have a long way to go before they earn the confidence and trust of customers. Still, given such a narrow focus, they have an opportunity to outmanoeuvre larger, more cumbersome organisations.
That said, there are some functions, such as depositing cash, that cannot be done on a smartphone. To fix this, a piece of technology that in 2017 celebrated its 50th birthday may soon undergo a drastic change in the roles it fulfils: ATMs could soon do a lot more than just dispense cash, offering any number of traditional banking services for instances when an app is simply not enough. This corresponds with the strategy of many retail banks today, which sees them reduce the number of branches they have open. As such, it's easy to imagine a future in which a customer walking into a bank is met only with computers and very few, if any, staff.
Technology, in this sense, will continue its strong march towards revolutionising the retail banking industry. Many opportunities and challenges are thus set to open up in the near future, as institutions – both old and new – attempt to navigate this new reality and find what might become a significant edge over others in the space.