Commercial Banks
Relationship reboot
In an industry dogged by low interest rates and stagnant growth, commercial banks are boosting profitability through innovation and intelligent cost-cutting strategies
The economic shocks of the past twelve months have created a challenging business environment for commercial banks. As longstanding low interest rates continue to drive down profit margins on loans, banks must be vigilant about minimising costs if they are to stay lucrative. Customer demands are also changing rapidly, forcing commercial banks to fundamentally restructure in order to offer greater levels of customer service alongside a wider range of customised products. What's more, 2016 also saw a further tightening of financial regulations, prompting banks across the globe to prioritise compliance and adopt a more in-depth view of risk in 2017.
Put simply, the challenges facing the commercial banking industry are numerous and significant, but the sector has responded impressively to a low-growth environment over the course of the past year. Through careful restructuring and consolidation, prudent banks have managed to balance investments in innovation with cost-cutting efforts, remaining profitable under testing circumstances.
Innovative banks always see challenges as opportunities, and the market turbulence of the past year has therefore proved rewarding for the sector's leading players. The industry has changed dramatically in a short space of time, but this long-overdue transformation will undoubtedly stand commercial banks in good stead in 2017 and beyond.
Prioritising profits The stubborn low interest rates and slow growth environment of the past few years have led to significant competition in the banking industry, and have driven down profit margins for all financial institutions. Meanwhile, the aftershocks of the 2008 financial crisis and the somewhat stagnant global economy are further encouraging banks to turn to cost cutting in order to stay profitable.
However, a relentless focus on trimming payrolls and reducing costs is not necessarily a formula for long-term success. Indeed, harsh budgeting efforts risk damaging business confidence in banks, and can ultimately prove detrimental to the customer experience. As such, it is vital that commercial banks take a more balanced approach, focusing on improving operational efficiency in a way that also benefits the customer.
Over the past year, many commercial banks have looked to reduce costs by boosting staff productivity. Instead of ruthlessly laying off employees or slashing salaries, productivity improvement creates a motivated workforce and an enhanced customer service experience, benefitting workers and business clients alike.
Economic incentives are particularly effective, with several commercial banks now offering staff bonuses that are directly related to individual performance, rather than to overall institutional performance. Such incentives instantly put employees in a more productive mindset, as they provide a real motivation for reaching earnings targets.
Alongside these incentives, commercial banks are also increasingly looking to boost productivity through better supervision and feedback. Motivated employees feel supported by their employer, and it is therefore vital that workers regularly receive meaningful and constructive feedback on their performance. Visual aids such as performance charts and scorecards also help to define expectations and set realistic goals for employees.
In addition to improving productivity, commercial banks can also effectively cut costs by fully embracing technology. The banking sector is currently undergoing something of a digital revolution, with new technologies fundamentally changing the relationship between businesses and financial institutions. From mobile banking apps to digital wallets, it is now easier than ever to move money while on the go.
More customers than ever now use mobile banking apps, and for an increasing variety of services, (see Fig 1). Such apps enable customers to apply for personal loans and credit cards remotely, without any need to visit a high street branch. This is not only more practical and efficient for consumers, but also speeds up processes for banks themselves. What's more, the use of electronic documents further boosts efficiency by allowing multiple steps of a transaction to be completed simultaneously. In addition to saving time, electronic documents also save paper, and are an effective way for banks to reduce basic costs. By automating core processes and introducing new technologies, banks can cut costs while actually improving the customer experience for businesses.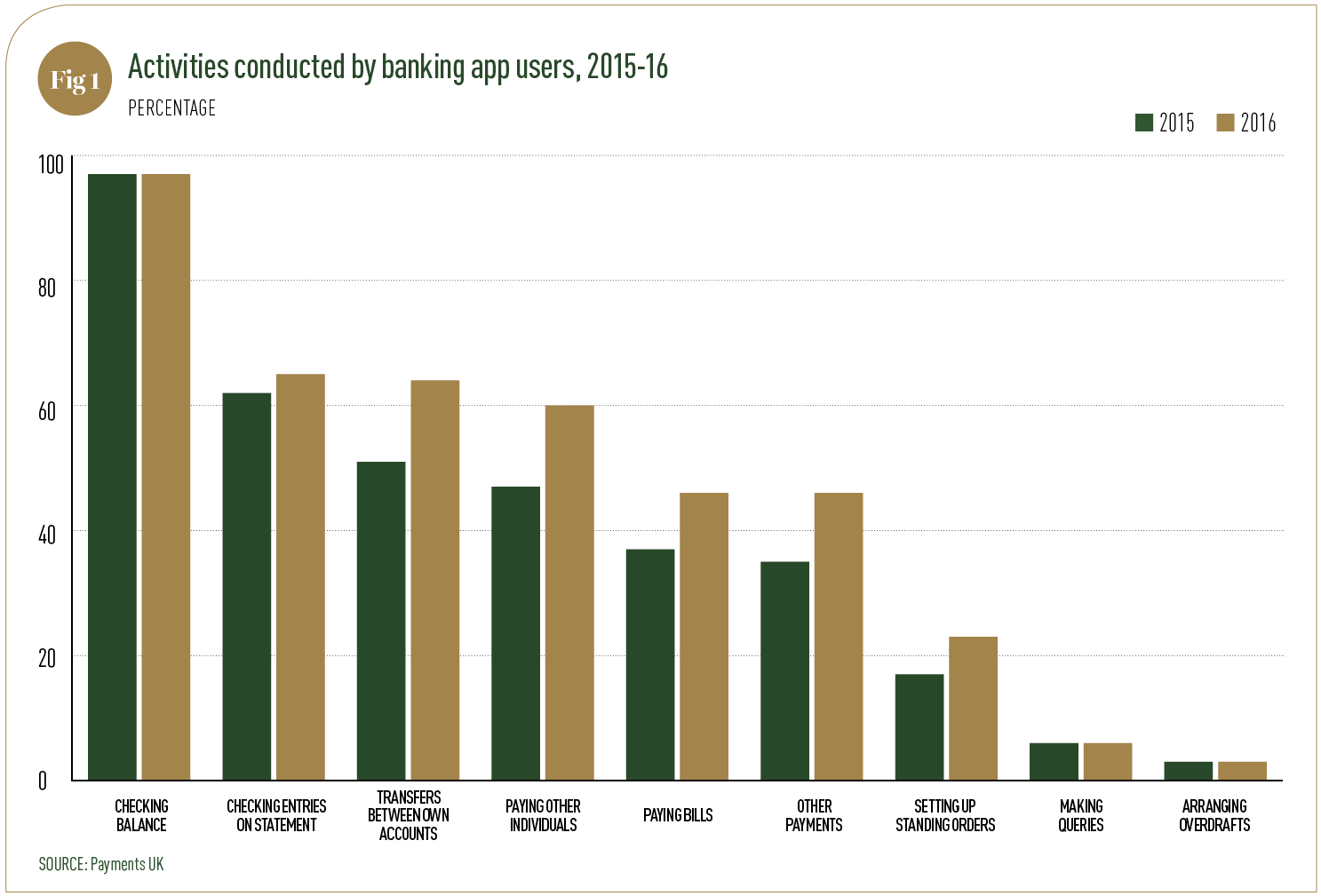 Customers come first A decade on from the global financial crisis, consumer confidence has still not fully recovered. The crisis drastically changed the way banks are perceived by the businesses that use them, leaving many clients feeling betrayed. Winning back this lost trust has been an immense challenge for commercial banks, prompting many financial institutions to put the customer first for the first time in their history.
Prior to the crash, banks around the world were chasing revenue by offering complex products that consumers often did not need and could not understand. This profit-first culture led to the rampant mis-selling of payment protection insurance (see Fig 2), sub-prime mortgages and loans, which ultimately ended in disaster. Clearly, such a product-centric strategy is unsustainable, and commercial banks have accordingly begun to abandon these complex products in favour of a more customer-centric approach.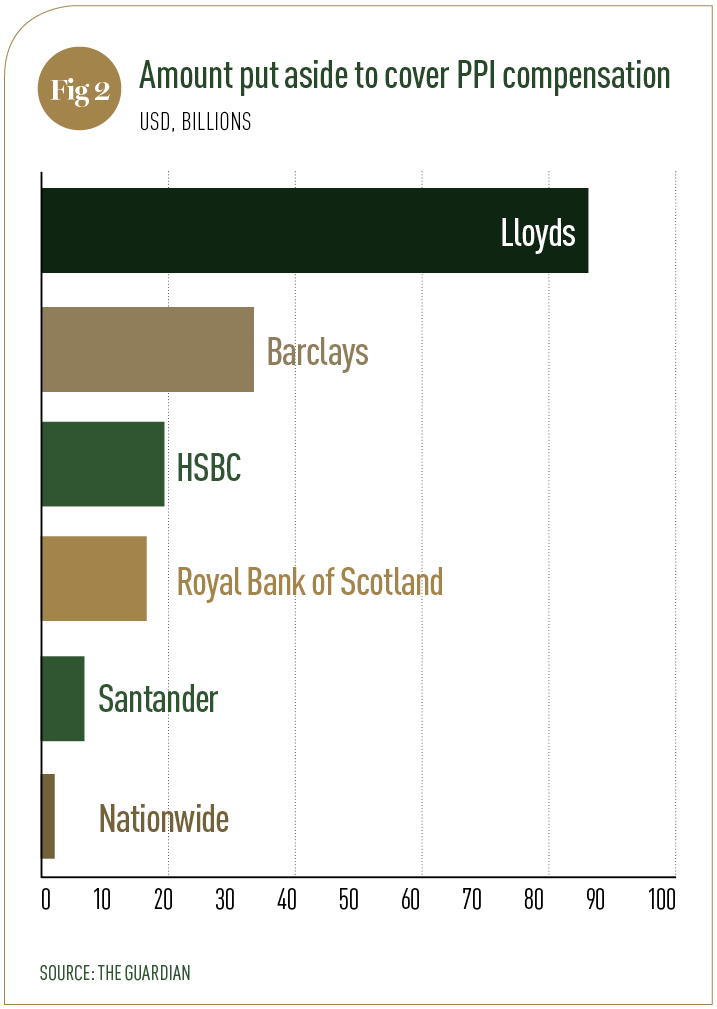 By listening closely to the demands of corporate and business clients, and offering relevant advice and support, banks are now building closer and ultimately mutually beneficial relationships with their customers. From dedicated, round-the-clock customer service teams to state-of-the-art fintech products, banks are going above and beyond to satisfy consumer demands. It may still take some time to fully repair the relationship, but this customer-focused strategy is undoubtedly helping to rebuild a solid level of trust in the industry.
With businesses beginning to show renewed confidence in their banks, the future now looks bright for the commercial banking sector. Despite a challenging international economic climate, this customer-first approach has seen some innovative banks thrive despite mounting odds, overcoming low interest rates and turbulent markets to enjoy a profitable 2017.