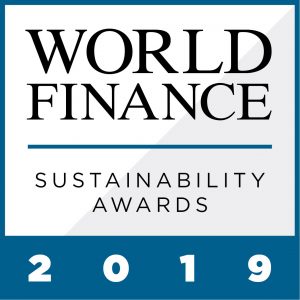 In 2019, the issue of climate change rose to the top of the global agenda. People from around the world took to the streets in a series of large-scale protests, walking out of their schools and workplaces to demand urgent action on global warming. The subject has dominated newspaper headlines and international political conversations, so much so that Oxford Dictionaries declared 'climate emergency' its word of the year for 2019.
But citizens aren't just looking to their political leaders to drive change. Increasingly, consumers are calling on businesses to play their part in tackling global warming, with companies' environmental credentials coming under greater scrutiny. This significant shift in public consciousness, coupled with more stringent government regulations on climate change, has prompted businesses of all sizes to review their environmental, social and governance (ESG) policies, putting sustainability firmly at the heart of their operations.
More than 200 of the world's most recognisable companies – including IKEA, Apple, Google, Nike and Coca-Cola – have already joined the RE100 initiative, committing to using 100 percent renewable electricity across their global operations by 2050 at the latest. This pledge is just the tip of the iceberg, with many other global companies also taking steps to reduce their carbon footprint.
As businesses across the globe begin to take real action to tackle climate change, World Finance introduces its very first Sustainability Awards. The winners of these inaugural awards have shown an admirable commitment to environmentalism and sustainability, and are making the business world a much greener place.
Preparing for the future
In the past, sustainability was something of a corporate buzzword, but it has since become a priority for all forward-thinking businesses. Consumers are growing more environmentally conscious, and this is reflected in how they are spending their money. According to a report by Nielsen, products with sustainable claims – such as being carbon neutral or ethically sourced – sell better than items without such credentials. What's more, the study found that consumers are willing to pay more for the sustainable choice. With the public responding positively to eco-friendly products and sustainable brands, it's clear that going green is not just good for the planet – it's good for business, too.
In the past, sustainability was something of a corporate buzzword, but it has since become a priority for all forward-thinking businesses
Indeed, embracing sustainability initiatives can improve a company's financial performance and public image. Research carried out by Deutsche Bank shows that companies with high ESG ratings actually have a lower cost of debt and equity, and tend to outperform the market in the medium and long term. Investors are also moving away from 'sin stocks' and are looking to create low-carbon portfolios with eco-conscious companies. As shareholders get serious about sustainability, prioritising ESG initiatives might be the key to long-term success.
Setting out the business case for establishing sustainable development goals, the Business and Sustainable Development Commission has suggested that companies could unlock up to $12trn in savings and revenue by 2030 if they commit to pursuing a low-carbon future. Jeremy Oppenheim, programme director at the commission, said in 2017 these new goals "have the potential to trigger a new competitive race to the top". He added: "The faster CEOs and boards make the Global Goals [for Sustainable Development] their business goals, the better the world and their companies will be."
Tracking footprints
In 2016 alone, companies on the Fortune 500 saved approximately $3.7bn by switching to renewable energy sources and reviewing their energy efficiency. In the years since, renewable energy has only become more accessible and affordable, encouraging a number of other companies to follow suit and make the switch to green power. In the UK, for example, businesses consume 56 percent of the nation's total electricity, meaning individual companies have the potential to considerably reduce Britain's fossil fuel consumption. Energy is just one factor that businesses can address to become more sustainable in their practices.
The first step for any company is to measure its carbon footprint. When doing so, it is important to audit the company's supply chain, as this can be an emissions-heavy element for many businesses. According to the Carbon Disclosure Project's Global Supply Chain Report 2019, emissions from a company's supply chain are around 5.5 times higher than its direct operations, so this cannot be left out of a comprehensive carbon footprint analysis. Addressing emissions in this area might involve switching suppliers or looking at different options for materials, but it could also have a significant influence on reducing a company's environmental impact.
Once a business understands its carbon footprint and where it might be losing energy, it can get to work on becoming more energy efficient. From there, in addition to considering a switch to renewables, there are a number of other steps that companies can take to reduce their carbon footprint. Transport, for example, is likely to be another highly polluting area, so businesses could consider switching to electric or hybrid vehicles, as well as incentivising employees to use eco-friendly modes of transport during their commute.
Reassessing the use of paper and plastic can also have a positive impact on reducing day-to-day waste, and properly implemented recycling systems can stop reusable materials from ending up in landfill. From large-scale changes, such as committing to 100 percent renewable energy, to more minor, office-wide initiatives, every change will contribute to making the business world more sustainable.
Teething troubles
While sustainable goals present businesses with a wealth of opportunities, they also pose several challenges. Companies certainly stand to benefit financially from embracing sustainability, with cost savings, increased shareholder interest and improved brand perception all motivating businesses to go green. But becoming an environmentally sustainable company is a complex process, and one that takes a considerable amount of time and planning. Time, however, is a luxury that businesses no longer have.
Since the signing of the Paris Agreement in 2016, governments around the world have been pressing ahead with policies to tackle global warming, introducing stringent regulations that aim to reduce carbon emissions. From the UK's newly established diesel tax to ultra-low emissions zones, new rules are transforming our societies and driving change. But if businesses are slow to adapt to these eco-friendly expectations, they have much to lose – not least, their reputations.
Environmentalism is no longer a fringe issue in the business world, but one that will define companies' growth plans in the years to come. The winners of the World Finance Sustainability Awards 2019 have shown a commitment to ESG policies in all aspects of their operations and have put green initiatives at the heart of their long-term visions. For an insight into some of the brightest names in the world of corporate sustainability, take a look at this year's winners.
World Finance Sustainability Awards 2019
Automotive car production
Audi
Engineering
WSP Global
Shipping
Wärtsilä
Real estate
Vornado Realty Trust
Kitchens
TUKC
Investment
TOBAM
Tissues
The Cheeky Panda
Energy
TenneT Holding
Machinery and electrical equipment
Stanley Black & Decker
Medical technology
Sonova Group
Food
Smithfield Foods
Steel
Salzgitter
Spirits
Saint Ives Liquor
HR services
Randstad N.V
Data centres
QTS Realty Trust
Sports apparel
Pure Sportswear
Chemicals
PTT Global Chemical
Lighting manufacturing
Osram Licht
Carbon offset
Nori
Footwear
NOAH
Brewing
Molson Coors Beverage Company
Consumer technology
Logitech
Coffee products supplier
Huskee
Pulp and paper
Holmen
Communications
Havas
Infrastructure
Granite Construction
Transportation
Go-Ahead Group
Life science
Getinge
Dairy
FrieslandCampina
Flavour and fragrances
Firmenich International
Environmental hygiene
Ecolab
ICT
Cybercom Group
Logistics
CSX Corporation
Wine products
Corticeira Amorim
Airlines
American Airlines Group