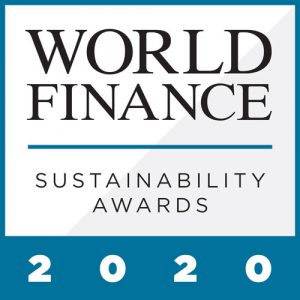 It used to be the case that the sole focus for most investors was making a profit. Following this, it became fashionable to worry about things like negative externalities, such as the impact companies had on society and the planet. Today, sustainability has well and truly made its way into the mainstream; companies all over the world are making sure they take this into account in relation to their products and services.
Back in 2015, the UN launched its Sustainable Development Goals (SDGs). This collection of 17 ambitions, to be achieved by 2030, covers areas like eradicating poverty, boosting education and supporting clean energy. Many banks have signed up to align their strategies with the SDGs, understanding that they have a huge amount of sway in terms of deciding which businesses receive funding.
While much of the sustainability debate understandably focuses on environmental issues, companies are realising that looking after their human capital is key to long-term success
But even considering the huge increase in prominence that sustainability has gained, there remains much work to be done. In environmental terms, the Global Commission on the Economy and Climate estimates that an investment of approximately $90trn is still required over the next 15 years in order to achieve worldwide sustainable development and to meet climate objectives. More work also needs to be done to ensure investors and businesses do not support organisations that contribute to social ills, such as those ignoring their corporate social responsibility mandates.
Careful consumption
Many businesses are left with a dilemma when it comes to sustainability. Most would, in an ideal world, love to reduce their carbon footprint and energy consumption, but plenty also rely on a continuous cycle of consumption for their revenues. The fashion industry, for example, uses 1.5 trillion litres of water every year. Using current manufacturing processes, cutting this down ultimately means fewer clothes being bought. Other sectors, like tourism and agriculture, are facing similar quandaries.
In 2020, therefore, it is likely that more businesses will concentrate on delivering services and products that enable consumers to live more sustainably. According to a 2019 survey by ING, titled Circular Economy: Consumers Seek Help, 64 percent of Americans believe that people in the US are obsessively focused on consumption. More than ever, individuals are choosing to buy from businesses that understand the damage this is causing to the planet.
For companies to address this change in demand, they should first review their product portfolio, exploring whether sustainability can be integrated in a better way. Airline companies, for example, may look at ways of improving the fuel efficiency of their craft; fashion brands could start making clothing from recycled materials. Organisations should also consider the influence they have on consumer behaviour. As well as promoting a new product, marketing materials could focus more on how it has been sustainably produced or what environmental, social and governance (ESG) efforts the company is making.
People first
While much of the sustainability debate understandably focuses on environmental issues, companies are realising that looking after their human capital is key to long-term success. In 2020, this trend is only likely to accelerate.
The World Health Organisation estimates that around $1trn of global productivity is lost every year due to depression and anxiety. Businesses that value sustainability have a responsibility to bring this figure down. One way that firms can better look after their staff is by enabling them to achieve a more favourable work-life balance. Last year, Microsoft trialled a four-day working week that led to improvements in energy efficiency and employee productivity.
Improving working conditions, making sure that all members of staff receive a living wage and offering the right support, whether in terms of mental health or flexible working, may increase company expenditure in the short term. However, these changes are sure to pay off in the future by creating an environment in which employees can perform at their best.
If businesses want to improve sustainability in terms of employee wellbeing, one of the first things they need to do is listen. It may sound simple, but many members of staff struggle because their workplaces simply do not have channels in place that let them share the challenges they are facing.
Organisations are likely to start collecting more data on their employees' state of mind, which can indicate whether initiatives aimed at improving staff wellbeing are working. Privacy, of course, will be of paramount importance here, but workplaces cannot look after their employees if they are not aware of any issues.
Making an impact
While the decision to take sustainability seriously in the finance sector should be welcome, it is essential that the new ESG values being espoused by firms are more than just marketing slogans. In 2020, banks will be challenged more than ever to demonstrate that sustainability is about action, not just words.
Last year, the International Capital Market Association's impact reporting working group issued a handbook advising financial institutions on the most effective way to conduct impact reporting concerning sustainable principles. In particular, the report shares several core indicators that banks should consider when implementing sustainable projects.
In the renewable energy space, financial institutions should remain aware that measuring reporting metrics can be especially challenging when dealing with climate change due to the size and scope of the issue. Nonetheless, banks and investors should use greenhouse gas emissions, renewable energy generation and the capacity of any renewable energy projects as good starting points when assessing new ventures.
Other sustainability challenges will, of course, require different metrics during the impact reporting process. Policies that look to improve energy efficiency will have to examine how much energy is currently being used, while water management must assess how wastewater is treated and disposed of. Many investors and companies will need to get to grips with analysing their current ways of working before they can begin to implement new, more sustainable methods.
In recent times, impact reporting has encountered bottlenecks as organisations discovered that they did not have the processes in place to quickly assess current levels of sustainability. Manually entering data and coming up with analytical solutions can be laborious and prevent firms from advancing with their sustainability initiatives.
Fortunately, there has been some progress here of late. The Green Assets Wallet, for example, was launched last year by a consortium of capital market actors and technology innovators to provide efficiency in the green debt market, including in terms of impact validation.
The online platform offers immutable verification of various evidence points, which are validated by accredited organisations, such as auditor firms. The validation process uses the blockchain to improve transparency, and should make impact reporting far more streamlined. Other organisations are also now looking at using online platforms to similarly improve the process of analysing their green projects.
The majority of businesses are well aware of the importance of sustainability to their customers, employees and shareholders. The ones that are taking this responsibility truly seriously, however, are not simply creating an ESG page on their website: they are implementing significant measures, analysing them and continually looking for ways to improve them. These are the exemplary organisations that have been recognised by the World Finance Sustainability Awards 2020.
World Finance Sustainability Awards 2020
Pharmaceuticals industry
AstraZeneca
Automotive production industry
Audi
Solar energy industry
Azure Power
Glass industry
BA Glass
Transportation industry
Canadian Pacific Railway
Building technology industry
Carbicrete
Footwear industry
CCC
Real estate industry
City Developments Limited (CDL)
Wine products industry
Corticeira Amorim
Logistics industry
CSX
Chemicals industry
Dow
Automotive supplier industry
Faurecia
Infrastructure industry
Ferrovial
Flavour and fragrances industry
Firmenich
Commodities industry
Glencore
Shipping industry
Grieg Star
Coffee products industry
Huskee
Food processing industry
JBS
Winemaking industry
Lapostolle
Textiles industry
Lenzing
Consumer technology industry
Logitech
Semiconductor industry
ON Semiconductor
Lighting industry
Osram
Gas industry
PGNiG
Sports apparel industry
Proviz Sports
Data centre industry
QTS Realty Trust
Meat replacement industry
Quorn
Building supplier industry
Solidia Technologies
Medical technology industry
Sonova
Investment industry
Stat Zero
Jewellery industry
Swarovski
Telecommunications industry
Swisscom
Agriculture industry
Syngenta International
Travel industry
Tourlane
Denim industry
Triarchy
Construction industry
UNIBEP
Aircraft manufacturing industry
Wright Electric
Global Engineering industry
WSP