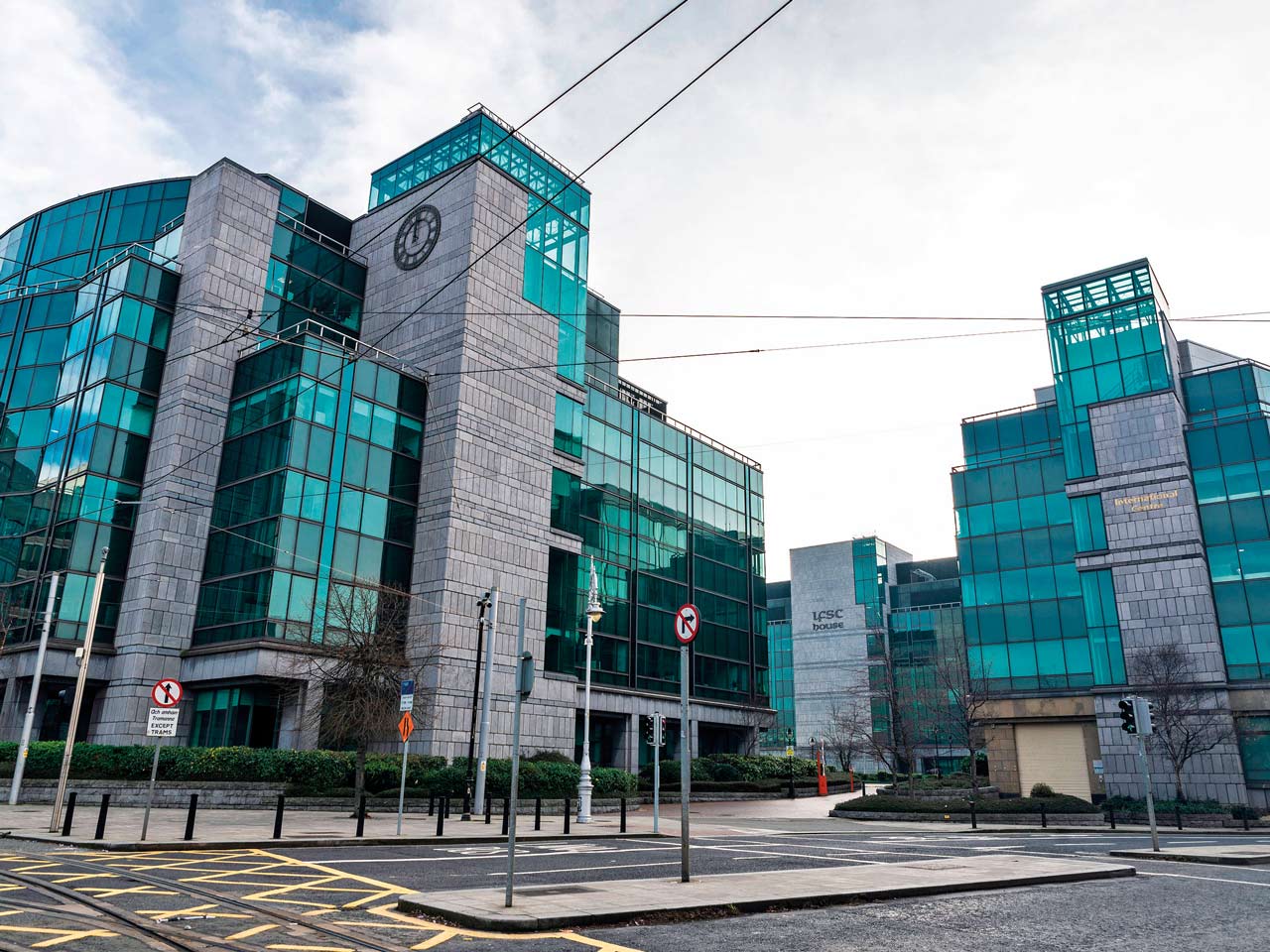 Ireland sets out on its post-Brexit pathway
With the introduction of more robust regulation, Ireland has been busy building on the momentum of post-Brexit opportunities that has seen global firms set up base and employment thrive as the country attracts a mixture of home grown and international talent
Financial services are important to the Irish economy. The sector is a big employer. Over 105,000 people work in the domestic and international financial services sector, just over 4.2 percent of total employment, and it contributed €19.3bn to the Irish economy in 2019, 5.5 percent of total GDP. It was on a growth trajectory before Brexit (see Fig 1).
A key ingredient of the sector's success has been the International Financial Services Centre, established in 1987 in the old Custom House Docks in the heart of Dublin. The IFSC was conceived as a regeneration project, mixing commercial and residential development, and has largely succeeded on both counts. It has been the key to Ireland's huge growth in international financial services, which employed just 100 people when the then Taoiseach (Prime Minister) Charles Haughey backed the ambitious plans 35 years ago.
The IFSC still provides a centrepiece for the sector, although many firms are now based elsewhere in Dublin. New offices are still springing up all around the city centre, both north and south of the iconic River Liffey that flows through its heart.
Brexit looks to be giving the sector another boost, with strong encouragement from the present government, says Minister of State for Financial Services, Seán Fleming: "The international finance sector is doing exceptionally well. Employment has increased by over 2000 in the last year," taking it to over 50,000. He is quick to point out that this is not just a Dublin success story: "People traditionally thought it was just Dublin, but one third of employment in the wider financial services sector is now based outside Dublin."
Ireland has been playing its European Union and financial services credentials for all they are worth, said the minister, citing the country's openness as a great strength. On a recent visit to one major financial services firm in Dublin he was told that it employed people from 66 different countries. "We have a very diverse workforce and that is another strength. We get great diversity of thought," Fleming said.
Raising its game
One challenge that Ireland has turned from a potential weakness to a strength is regulation. Over the years, it has been beset by failures, especially in the insurance sector, and this has damaged Ireland's reputation. A key element in the government's ambitious Financial Services Action plan has been to ensure its regulatory regime raised its game to ensure that such failures were firmly consigned to the past.
This was essential if Ireland was to take advantage of the potential opportunities it saw in the wake of the United Kingdom's departure from the EU. Any regulatory slip-up would have severely undermined its pitch to UK firms looking for an EU domicile from which to service European clients.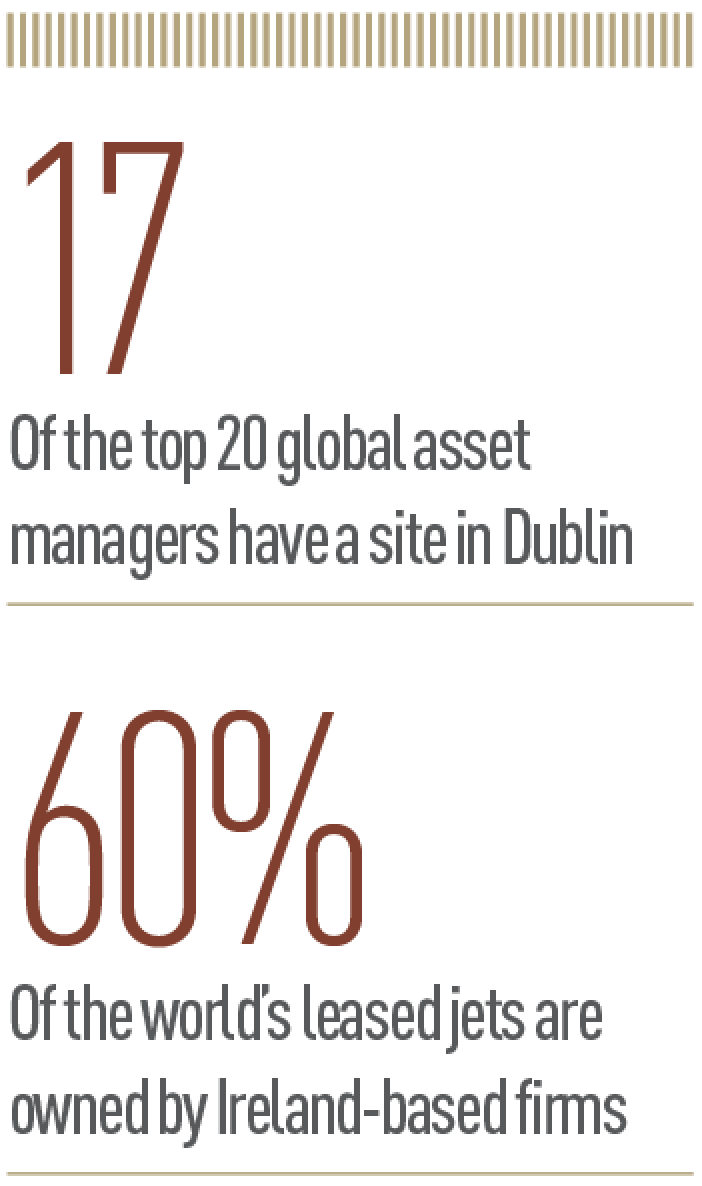 The years of collapses, with high profile names such as Quinn and Setanta, have left their mark, acknowledges Moyagh Murdock, the chief executive of trade body Insurance Ireland. "There was significant volatility and a race to the bottom in those years, made worse by weak regulation. We have moved away from that and now have very robust regulation and the best in class. There has definitely been a change in culture as the regulator and the consumer are now very well protected," she said.
The response, says the Minister, has been to set the regulatory bar deliberately high. "We are not a brass plate country. People must have boots on the ground. It is stricter because it is better but we think that is sustainable," Fleming continued.
This is a message you hear repeated wherever you go in Dublin. "Robust regulation is very important for confidence," says Paul Sweetman, director of Financial Services Ireland, the leading sector lobby group.
"The regulator [the Central Bank of Ireland] and the government were clear that there was not going to be any truck with brass plating. Companies were very clear on what was being said to them and when they got through the process they knew it had been tough," says Michael D'Arcy, chief executive of the Irish Association of Investment Managers, which has seen its membership grow from 13 firms pre-Brexit to 21 today. Dublin now offers a home to 17 of the top 20 global asset managers.
Attractive proposition
The case for tough regulation has got through to international firms looking to establish a European presence. Stephen Cross, CEO of the European arm of US multi-national insurance broker McGill and Partners, says it was a major factor in their search for the right European base in 2020. "Our approach was always to go to a domicile that had a very good reputation and a strong regulator."
Other options promised an easier ride to authorisation but they weren't attractive: "We didn't want to pick lower standards and then have to start again," a reference to the determination of the European Insurance Occupational Pensions Authority (EIOPA) that everyone should be levelled up to the same standards.
Building on the momentum of post-Brexit opportunities remains a priority, says the minister: "Initially some of the new authorisations were defensive but now people say it is a platform for growth."
We want people to know that if you are looking for talent and skills you will find them in Ireland
Marrying the growth in international financial services with the well-established reputation of Ireland in the technology sector is where he sees some exciting opportunities: "The big move has been in Fintech. Fintech has really come along."
Sweetman says the whole sector shares this focus. Brexit has created "a very strong opportunity for Ireland with international financial services. The sector has grown and attracted new capital and foreign direct investment. We have a very strong tech sector and a very successful international financial services sector. In the International Financial Services Centre we have world leading firms in both sectors next to each other. The potential for collaboration is unparalleled anywhere else.
"We have punched above our weight in the technology sector for some years. In the Fintech world we are on the cusp of exponential growth," Sweetman continued. Sustainable finance is another area where Ireland believes it can carve out a specialist niche. "We want firms to house their key sustainable finance international capabilities here. This will help Ireland reach its own climate action targets and it will win inward investment to become an international hub for businesses sustainable finance activities," Sweetman told World Finance.
Ensuring that the talent and skills are there to support this growth will require a delicate balance between ensuring a pipeline of well-qualified young people and bringing in the right people from outside. The talents and skills are in place, says Sweetman, but "we know we need to grow that pipeline. The challenge is to show how we have nurtured those talents and skills and turned that into a competitive advantage. We've done it in the tech sector where they have blended home grown talent with bringing in the skills we need."
He continued: "It makes sense that you'll have a mixture of home grown talent and international talent. That makes for greater success. We want people to know that if you are looking for talent and skills you will find them here." In technology "Ireland has started to market itself as a location to advance your career," says Sweetman.
The challenges ahead
Like everywhere, Ireland is emerging from the restrictions of working through the pandemic. Those who opted for home working are slowly going back to their offices but at a slower rate than in the UK as the empty offices and quiet cafes in Dublin's business districts testify. Generally, people are working just one or two days in offices and there is no great pressure on them to return any faster.
Ukraine is now also inevitably casting a cloud over the sector. Along with major investors and financial institutions around the world, the Irish-based asset managers are watching the unfolding crisis in Ukraine and the response of western liberal democracies very carefully.
Sanctions are the obvious concern: "No-one wants to be caught making an error over sanctions because the potential reputational damage is huge," D'Arcy told World Finance.
Asset management will probably feel relatively little direct impact from the sanctions. According to the Irish Department of Finance and IAIM between 0.3 percent and 0.5 percent of the assets under management in Ireland are Russian backed. "Of that, only a small percentage is sanctioned," says D'Arcy.
The biggest challenge to the growth of the wider financial services sector as a result of the war in Ukraine will be the huge impact on aircraft leasing, another sector that features prominently in the Irish success story: 14 of the top 15 aircraft lessors are based there. Trade body Aircraft Leasing Ireland says 60 percent of the world's leased jets are owned by Ireland-based leasing companies. EU sanctions have forced the leasing companies to cancel all of their contracts with Russian airlines, covering over 500 planes worth upwards of $12bn.
ALI says its members had "limited success" in getting their planes back from Russia before the sanctions clampdown. Now, most have been appropriated by Russian airlines and the leasing companies are turning to their insurers. Most market experts predict that these claims could take several years to settle. It will be a drag on a sector that has enjoyed rapid growth and made a significant contribution to the growth in Ireland's financial services sector but not fatal.
Despite the odd frown over Ukraine, post-Brexit Irish eyes are definitely smiling and full of optimism. FSI's objective of making Ireland a top 20 global financial centre by 2025 is still within its grasp.