A new era for Finland
Finland stands at a historic crossroads. Abandoning its decades-long stance of neutrality following Russia's invasion of Ukraine, the Nordic nation now has its sights set on NATO membership. As the country enters a new phase in its history, Sanna Marin is the bold leader driving it forwards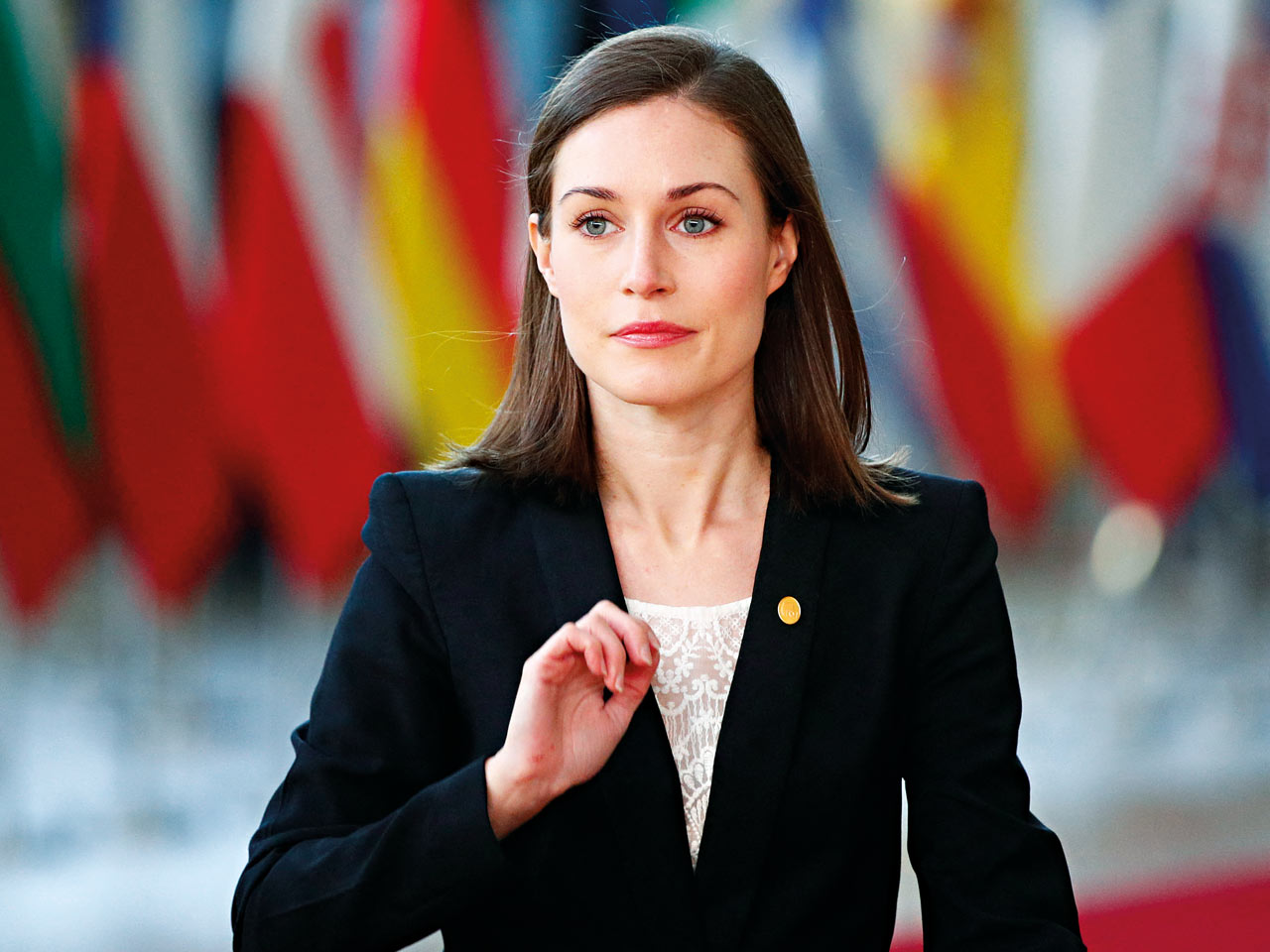 True leaders, it is said, are forged in times of crisis. If that is the case, then Sanna Marin may well be a name for the history books. Not that the Finnish Prime Minister is any stranger to making headlines, of course. Marin first attracted international attention when she took office in December 2019, then becoming the world's youngest leader at the age of 34. The record-breaking achievement was hailed as a feminist victory, ushering in a new era of leadership for a modern and progressive Finland. Marin's coalition government – made up of five parties, each led by women – represented a refreshing alternative to the political status quo. Not only would Finland be governed by an all-female coalition, but also by a remarkably young, millennial set of leaders, with four of the five party chiefs aged under 35 at time of Marin's appointment. A momentous achievement indeed – but celebrations were soon cut short.
Mere weeks into the new role as PM, Marin found herself in crisis mode. On March 11, 2020, the World Health Organisation declared the coronavirus outbreak to be a global pandemic, putting mounting pressure on international leaders to protect the lives and livelihoods of their citizens. Despite only just having her feet under the table, Marin was ready, armed with a plan of action to keep her country safe. This new leader faced an unprecedented challenge – and it may well have been her fresh perspective that gave Marin the upper hand in this time of crisis.
Unconventional beginnings
In a political world that is seen by many as still being too 'male, pale and stale,' Marin stands out as a welcome exception. Every bit the typical millennial, her frank and open social media posts have earned her scores of fans around the world, leading some newspapers to award her the title of 'the leader for the Instagram generation.' But it's not just her age, gender and social media usage that sets Marin out from the crowd.
I'm in politics because I thought that the older generation wasn't doing enough about the big issues of the future. I needed to act
Marin didn't follow the typical pipeline into politics. In an interview with Time magazine shortly after her appointment as PM, the Finnish leader said that as a child and young adolescent, "politicians and politics seemed very far away." Growing up in a small industrial town in south-west Finland, Marin had a somewhat difficult start in life.
"Like many other Finns, my family is full of sad stories," Marin wrote in a personal blog post in 2016. Her mother spent her childhood in an orphanage, and her father's alcohol addiction led her parents to divorce while Marin was still a young child.
From an early age, Marin was aware of the financial pressures facing her family, and worked a number of retail jobs while in high school in order to support her mother. Described by a teacher as an 'average student,' Marin nevertheless strove to improve her grades, becoming the first member of her family to attend university.
"My background influenced how I see society, how I see equality between people," she told Time. "I'm in politics because I thought that the older generation wasn't doing enough about the big issues of the future. I needed to act. I couldn't just think it's somebody else's job."
It is perhaps unsurprising, then, that pressing social issues such as gender parity, equality and climate change are at the very heart of Marin's political agenda. A fellow Finnish MP called her "the most left-wing Prime Minister this country has ever had" upon her appointment as PM, and Marin certainly has a progressive vision for both her country and her premiership.
A passionate defender of the welfare state, Marin is committed to ending homelessness, closing the gender pay gap and ensuring support for refugees fleeing conflict. Her government's ambitious 'equality programme' has prioritised shared parental leave for new parents, encouraging fathers to take on a more equal share of childcare responsibilities in those precious first few months of a new baby's life. Under Marin's leadership, Finland has also raised the school leaving age to 18, in an effort to boost both educational attainment and employment opportunities for Finnish youth.
"We have always worked for equality in Finland, and I think it is also important in the future," Marin told The Observer in 2021. "We have to make sure that structures don't act as barriers to people. The real work to be done now is to make sure that we continue to promote equal opportunities."
A defining moment
Marin hit the ground running upon her appointment as PM, quickly setting out a far-reaching and ambitious plan for the country. But, on January 29, 2020, the first case of COVID-19 was confirmed in Finland, and suddenly, everything changed.
By mid-March, after a fervent few weeks of planning and preparation, Marin's government invoked the Emergency Powers Act – a decision that has never before been taken in peacetime Finland. Restrictions on cross-border movement followed, as did a swift two-month lockdown and further curbs on public life. Marin acted quickly and with confidence, introducing measures to slow the spread of the virus approximately two weeks before her country's Scandinavian neighbours. This decisive action may have spared Finland the worst of the first wave of the coronavirus pandemic, with the county recording one of the lowest Covid infection rates in Europe during 2020.
Winning and maintaining the public's trust was perhaps Marin's greatest achievement of the pandemic
"Finland has a long tradition of responding to crises, and people tend to come together when there is a crisis," Pekka Nuorti, professor of epidemiology at Tampere University, told the Financial Times in an interview from September 2020. "A pandemic is really a mirror of a whole society's functioning and organisation as a whole."
While Finland shut down rapidly, it did not shut down completely, allowing the country's citizens to make the choices they felt were sensible in order to reduce the spread of the virus. This resulted in a 75 percent reduction in social contact among Finns, which helped to keep infections comparatively low during the early months of the pandemic. Thanks to the country's high rates of digitisation, meanwhile, the Finnish track and trace app also proved to be a vital tool in controlling infections. The 'Corona Flash' app was downloaded by almost every other person in Finland in 2020, reflecting the country's widespread desire to comply with official recommendations.
Winning and maintaining the public's trust was perhaps Marin's greatest achievement of the pandemic. Taking a direct, open and communicative approach from the outset, Marin gave weekly coronavirus briefings to the nation during Finland's first two-month lockdown, answering questions from the media and the public alike. One press conference was entirely dedicated to queries from children, with the Prime Minister taking the time to listen to the concerns of the nation's half a million school pupils. Marin's efforts in building trust in her government paid off – in November 2020, an overwhelming 86 percent of the population considered the information provided by Finland's political leaders to be reliable.
Not only did Finns trust their government to manage the health implications of the pandemic, the majority also believed that their leaders were capable of addressing the economic impacts of lockdown. Indeed, the Finnish economy fared better than most during the first wave of the pandemic, as the nation's short, sharp lockdown allowed for a summer reopening, cushioning the economic blow and seeing output fall by just 6.4 percent in 2020 – far below the EU average of 14 percent. The relatively robust state of the economy following the initial Covid lockdown further boosted Marin's standing among the general public, while the international media hailed her as an example of exemplary crisis leadership.
The political goodwill that Marin amassed during the early months of the pandemic ultimately proved vital to Finland's response to the COVID-19 crisis, particularly as subsequent waves resulted in further restrictions. Keeping the public onside, however, is no mean feat – as Marin herself discovered in December 2021, when she was photographed partying in a Helsinki nightclub after coming into contact with a Covid case. The PM apologised to the public, saying that despite being fully-vaccinated, she should have used better judgement. Despite some criticism, Marin's apology was accepted and the incident didn't result in a full-fledged political scandal as it may have elsewhere. Thanks in part to Finland's high levels of public trust in government, Marin was soon able to move on from the unfortunate episode – and by January 2022, she had much bigger fish to fry.
Neutral no more
Across the border in neighbouring Russia, a major military build-up was underway. Despite Russian President Vladimir Putin's claims in late December that he had no plans to invade Ukraine, the mass mobilisation of troops and equipment continued, and on February 24, Russian forces entered the country. The full-scale invasion – thought to be the largest military attack seen on European soil since World War II – marked a significant escalation of the eight-year Russo-Ukrainian war and a major turning point for EU relations and security.
In Finland, Russia's invasion of Ukraine was a reminder of past scars. In 1939, Finland fought its own war with Moscow, ultimately ceding nine percent of its overall territory to the Soviet Union as part of the Winter War peace negotiations. The conflict and its lasting legacy still looms large in Finland's collective memory, with Russia's most recent military aggression in Ukraine stoking up feelings of fear and uncertainty among many Finns. Indeed, a recent poll showed that 84 percent of Finns now believe that Russia poses a significant military threat, prompting the nation's leaders to dramatically reassess the country's decades-long policy of neutrality.
On May 12, Marin joined the Finnish President, Sauli Niinistö, to announce that the country would be formally applying for NATO (North Atlantic Treaty Organisation) membership. The announcement confirmed what had been brewing for some time, and by May 17, the Finnish parliament voted 188–8 in favour of NATO membership, with Finland submitting its application to Brussels the very next day. This sudden political change in heart over NATO membership reflected a dramatic shift in public opinion regarding military alignment. Before the Russian conflict with Ukraine, just 20–25 percent of the population supported NATO membership for Finland. Following the invasion, that figure had risen to 76 percent in favour. Neutrality, it seemed, was simply no longer an option for Finland.
"If Finland makes this historic step, it is for the security of our own citizens," Marin told a news conference while visiting Japan. "Joining NATO will strengthen the whole international community that stands for common values."
Confirming the historic policy shift in typical millennial fashion – with a much-liked post on Instagram – Marin has again demonstrated her ability to take swift, decisive action in a crisis. Responding promptly to the most pressing concerns of her citizens, and showing no signs of shying away from difficult discussions, her bold move to join NATO is certainly not a decision that would have been taken lightly.
A new era awaits
Finland's historic decision to abandon its policy of neutrality in favour of NATO membership cannot be overstated. It marks a significant turning point for Finland, and a new phase in the country's approach to international relations. While its membership bid is yet to be confirmed, the move has already prompted an array of responses from leaders across the globe.
The current NATO chief Jens Stoltenberg has said that Finland will be welcomed "with open arms," alongside its Scandinavian neighbour Sweden, who filed for membership at the same time. Russia, meanwhile, has threatened to retaliate over the membership move, with a statement from the Kremlin warning of potential military action against Finland in response to its application.
"Finland's accession to NATO will cause serious damage to bilateral Russian-Finnish relations, and the maintaining of stability and security in the Northern Europe region," the statement read. "Russia will be forced to take retaliatory steps, both of a military-technical and other nature, in order to neutralise the threats to its national security that arise from this."
Alongside threats to retaliate, Russia is also piling economic pressure on its westerly neighbour, halting its gas supply to Finland just two days after Helsinki applied for NATO membership. While Finland is well-placed to cope, with gas accounting for just five percent of the country's annual energy consumption, the move nevertheless reflects the escalating tensions between the two nations.
Despite the support of NATO Secretary General Stoltenberg, Finland's NATO application is by no means guaranteed to succeed. Unless it is able to secure the unanimous support of all 30 members, Finland will be unable to join the military alliance – and Turkey's President Recep Tayyip Erdoğan has threatened to block the bid. Accusing both Finland and Sweden of hosting suspected Kurdish militants from a group it considers to be a terrorist organisation, Erdoğan has been vocally opposed to letting the Scandinavian nations join NATO. In recent weeks, Marin has met with Stoltenberg to discuss how to tackle Turkey's concerns and move forward with the application, while US President Joe Biden has given his "full, total and complete backing" to Finland and Sweden's NATO bid. Encouraging words, indeed, but until Erdoğan relents, Finland's membership hangs in the balance.
Moving from one generation-defining crisis to another, Finland is at a pivotal moment in its history. This new era of Finnish foreign relations will require a direct, decisive and principled leader – and Marin has shown that she can fulfil that role quite comfortably.