The man who saved the world
The man behind the world's fastest vaccine ever to have been made, Albert Bourla might just be the epitome of a transformative CEO. With sheer determination and a demanding leadership style he steered the pharma giant towards making history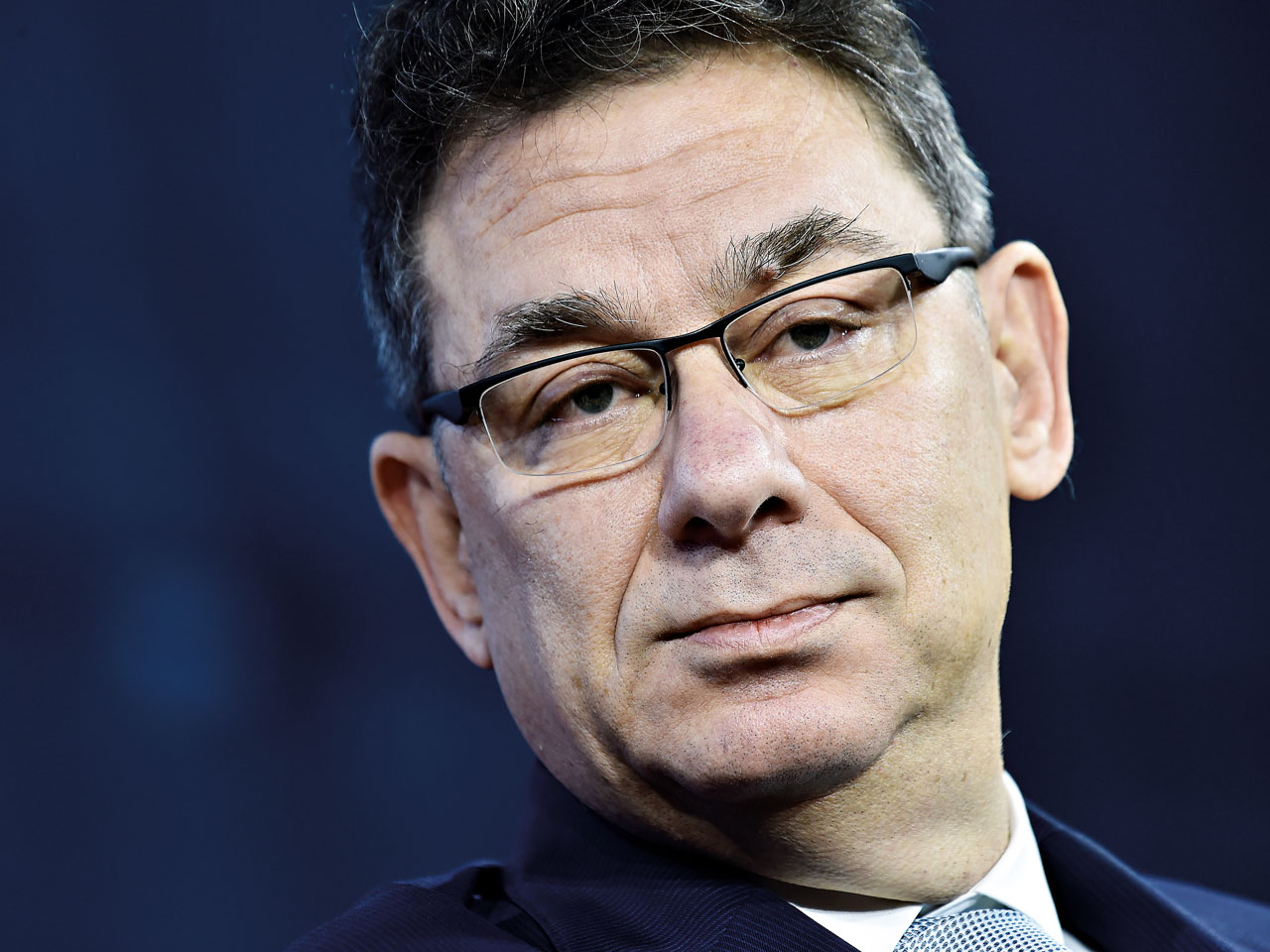 "On March 19, 2020, as COVID-19 swept across the world, I challenged everyone at Pfizer to 'make the impossible possible': to develop a vaccine more quickly than anyone ever had before." Those were the words of Albert Bourla, Chief Executive of Pfizer, as he recounted one of the greatest scientific feats in recent history in an article for Harvard Business Review earlier this year. And it worked; under Bourla's – seemingly demanding, at times bullish – leadership, Pfizer and BioNTech produced one of the world's most talked-about Covid vaccines in the space of just nine months, smashing the previous record of four years (the mumps vaccine in the 1960s), and slashing the average timeframe of 10 years.
Together with vaccines from the likes of Moderna, AstraZeneca, Johnson & Johnson and other pharma firms, the mRNA jab helped to dramatically reduce Covid-related hospitalisations, pull nations out of lockdown and bring economies across the world back from the brink – all while boosting the company's profile like never before, and leading to projected sales of $34bn this year alone (on the back of an estimated three billion global doses).
At the same time, Pfizer has continued to home in on other areas of science, putting the focus on innovation and R&D by spinning off certain sectors of the business (namely Upjohn, the unit behind 'the little blue pill,' Viagra), and witnessing eight percent growth in operational revenue in products outside of the vaccine in 2020. So who is Bourla, how did the new CEO rally teams across the world to achieve 'the impossible,' and what else can we expect from his wider business strategy?
Bourla's background
Born in Thessaloniki, Greece – a place he still refers to as the "epicentre of his life," according to Greek Reporter – Bourla apparently didn't set out to become a businessman. Instead he trained as a veterinarian, graduating with a PhD in reproduction biotechnology from the Aristotle University of Thessaloniki before working briefly as a vet.
But in 1993, he accepted a job as Technical Director of the Animal Health division at Pfizer – reportedly as a "stopgap" while waiting for a permanent academic position to come about, according to the Financial Times.
From there, however, he quickly climbed the ranks. In 2001, he moved to New York to serve as Group Marketing Director for the US, before becoming Area President of Animal Health Europe, Africa and the Middle East in 2006. He then led the company's off-patent portfolio, and from 2014 headed up its Global Vaccines, Oncology and Consumer Healthcare division, gaining experience that would become instrumental to his success several years later.
From 2016 to 2017 he served as Group President of Pfizer Innovative Health, overseeing R&D in consumer health care, vaccines, immunology and other sectors, and creating the Patient and Health Impact Group – focused on developing solutions for increasing patient access.
In January 2018, he was named Chief Operating Officer, and in January 2019 he became Chief Executive, winning the award for the 'Preeminent Greek Leader' in the global pharmaceutical industry by the US Ambassador to Greece a few months later.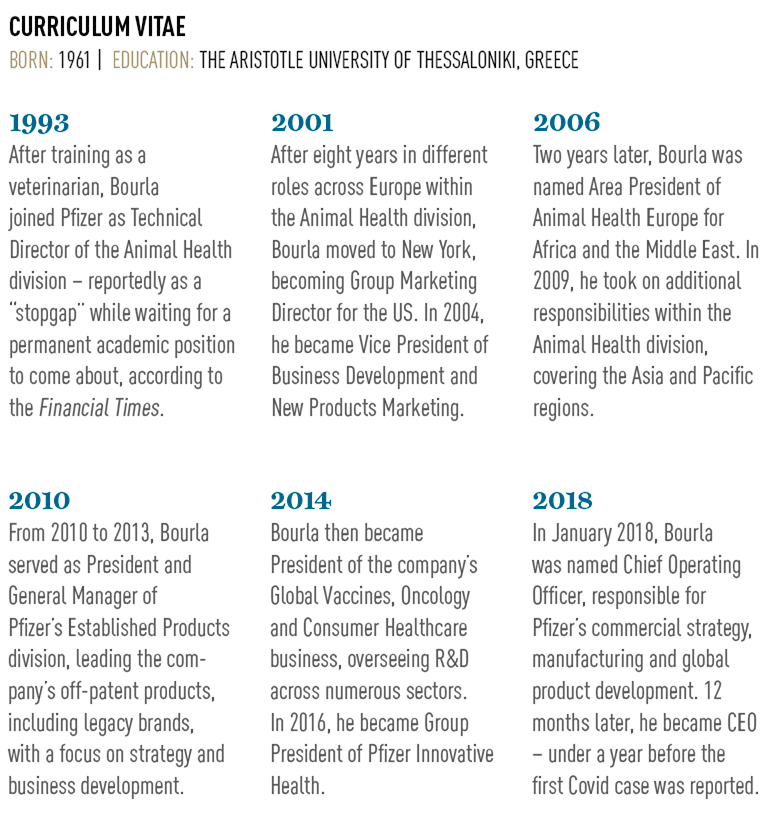 Diverse experience
During those 27 years, Bourla said he gained a "patient-first mentality." Elaborating; "Throughout my career, my focus has always been on the end users of our products, whether they are animals and their caregivers or general consumers," he wrote in the Harvard Business Review. "I have encouraged the entire organisation to adopt the same patient-first mentality, measuring outcomes by people (or animals) served rather than drugs sold."
He believes international experience – including positions in New York, Athens, Warsaw, Brussels, Paris and beyond – also helped to shape his outlook. "My exposure to so many cultures, my background as a scientist, and the diversity of roles I had taken on across Pfizer helped prepare me for my new responsibilities, as did my Jewish upbringing in Greece," he wrote. "Coming from a country that's a small player on the world stage and being a religious minority taught me to fight for what I believe is right and to never give up."
Indeed, fighting seems to be in Bourla's blood; he is a descendent of Thessaloniki's few Holocaust survivors, and his mother escaped being shot by a firing squad after being captured. "I don't want it to become folklore because, it may be inspirational or not, but she was the one who was arrested, she was sexually abused, and physically abused at 17, 18 years old," he told the Financial Times.
That instilled a sense of resilience, according to Bourla. "'Life is miraculous,' she told me. 'I was in front of a firing squad seconds before they pulled the trigger, and I survived [she said]. And look at me now. Nothing is impossible. You can do anything you want.'"
Rob Kaiser, President of Kaiser Leadership Solutions, believes those experiences have indeed helped to define his attitude today. "A history of overcoming personal hardships and a long career of varied and challenging roles helped Bourla to cultivate versatility in his leadership," he said. "He repeatedly stepped outside his comfort zone and learnt how to do what did not come naturally."
A 'new Pfizer'
It's perhaps that background that also gave Bourla a penchant for challenging the status quo. When he stepped into the CEO role in early 2019, his ambition was to create a more innovation-focused, 'new Pfizer' that would put R&D first. As part of that strategy, in July 2019 the company announced plans to combine Upjohn – its off-patent drugs business, behind the likes of Viagra, Lipitor and Chantix – with pharma firm Mylan to form a new spin-off company, Viatris. "With the separation of Upjohn [completed in November 2020], we created a company that was 20 percent smaller but more focused than ever on delivering first-in-class science for the benefit of patients," Bourla said in the company's 2020 Annual Review. "We saw the culmination of a bold, decade-long transformation of Pfizer from a large, diversified enterprise to a smaller, science-driven, innovative biopharma company."
We did not want our decision to be driven by the need for financial returns alone. Saving lives—as many and as soon as possible—would be our top priority
That 'new Pfizer' would focus on "cutting-edge science" to prevent and cure serious diseases; a strategy regarded by some as risky ("clearly, it's higher risk, higher reward," Bourla told the Financial Times. "But if I felt that R&D was lacking, I wouldn't have taken that bet. I'm not suicidal.")
That higher-risk approach differed from his predecessor Ian Read, according to Kaiser. "Read was focused on a strategy of growth through acquisition," he said. "Bourla refocused the strategy on organic growth with his expertise in drug discovery and R&D, coupled with a passion for technology." Bourla set out plans to home in on areas such as targeted cancer and gene therapies, and to put a bigger emphasis on digital. The company took on new Chief Digital and Technology Officer, Lidia Fonseca, to lead its tech strategy, and shook up other parts of the leadership team. A new Chief Human Resources Officer was hired "to drive a culture of courage, excellence, equity and joy," along with four new board members.
The vaccine race
And it was against this backdrop that, just a year later, the company found itself facing both one of the biggest challenges and one of the biggest opportunities in its entire history. "COVID-19 first came onto our radar screen in January 2020, when we began hearing reports of severe respiratory illness and deaths in Wuhan, China," wrote Bourla in the Harvard Business Review. "By February it was clear that this virus would spread to many parts of the world, and we knew Pfizer would have to play a pivotal role in stopping it."
The company had already been working with German firm BioNTech since 2018, with the aim of developing a different kind of flu jab using the smaller company's innovative mRNA technology. No mRNA vaccine had ever been approved before, but the process is quick; to develop a Covid vaccine, BioNTech could theoretically just plug the new virus's genetic code into the software to synthetically trigger an immune response, instead of having to spend months growing weakened or dormant forms of the virus, as with the traditional method. Researchers did exactly that, and in the space of less than two months, BioNTech had come up with 20 versions of the vaccine. But the firm needed a bigger partner – so the founders called Pfizer on March 1, and on March 16, the collaboration began.
Speeding up the pace
That month, the Pfizer team presented an 18-month plan – a timeline that would be faster than the development of any previous vaccine – but Bourla wanted it to be cut by more than half. "This will not work," he said, as reported by the Wall Street Journal. "People are dying." He asked for a vaccine to be ready by October the same year, with the goal of staving off a wave of winter infections. "Everyone knew it would be an enormous, perhaps unattainable, task, but we all knew it was one we were obligated to take on," wrote Bourla. "We isolated our scientists from financial concerns and freed them from excessive bureaucracy. Our board accepted that this was a high-risk endeavour but understood the significance of success and gave us the leeway to spend as needed," he continued. "We did not want our decision to be driven by the need for financial returns alone. Saving lives – as many and as soon as possible – would be our top priority."
To speed things up, Pfizer decided not to use state funding (unlike rival Moderna, which was part-funded by the US and encountered a three-week delay in its own mRNA trial because of federal requests). Self-funding involved significant risk; Bourla told the board they could lose up to $2bn if they failed in their mission, according to Business Insider. And indeed it was a costly endeavour; for a start, Pfizer didn't have any mRNA kit. The company spent $500m in March to buy and design the equipment, then another $1.4bn on giant, garage-sized machines in April.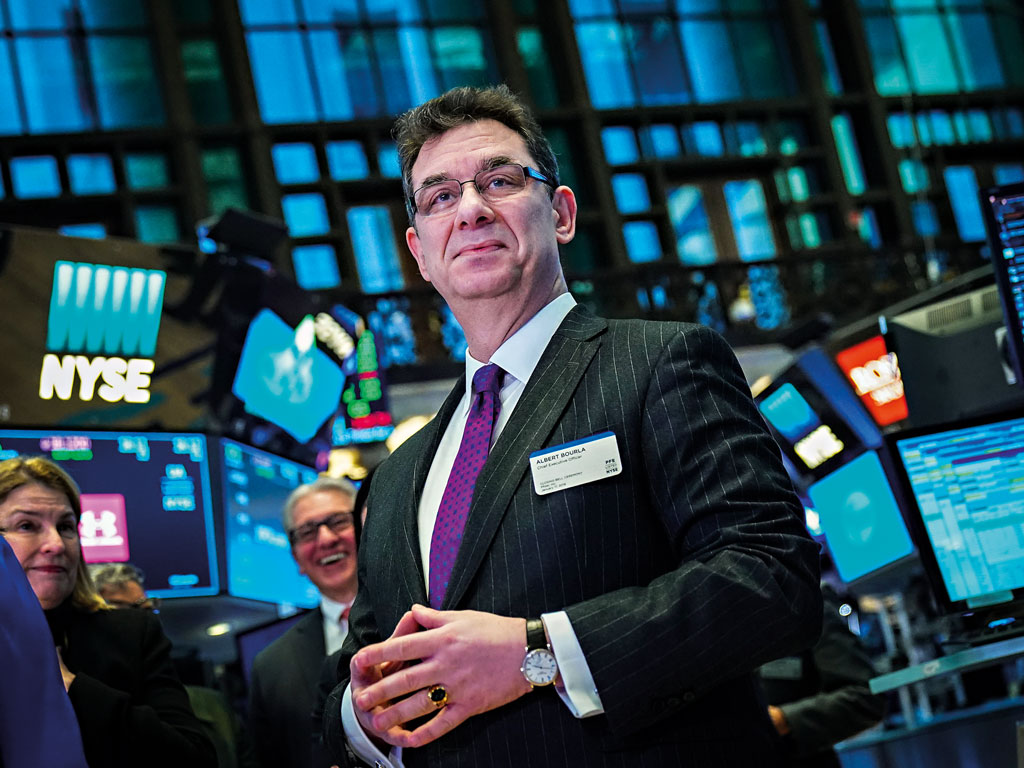 Other decisions were taken to help accelerate the process, including running tests on animals and humans simultaneously (as approved by the US Food and Drug Administration and the German regulatory authority) and combining phase two trials (involving hundreds of subjects, and normally lasting one to three years) with phase three trials (up to thousands of people, usually over one to four years). Those decisions paid off. Roll on several months, and on November 8, 2020, during a WebEx call between Bourla and the team, the results came in; the independent committee had "highly" recommended seeking regulatory approval, with phase three trials indicating a vaccine efficacy rate of 95.6 percent. The UK became the first country in the world to authorise use, shortly followed by the US, where the first doses were administered in December – only two months after the October target initially set by Bourla. By the end of the year, Pfizer and BioNTech had released more than 45 million doses.
Demanding leadership
Throughout the process, Bourla was heavily – perhaps unusually, for his position – involved, participating in twice-weekly WebEx calls. Some have pointed to his apparent pushiness on those calls; in June 2020, he told President of Global Supply Mike McDermott that he wanted manufacturing to increase at least 10-fold, with 100 million doses by the end of the year, according to the Wall Street Journal. "Why can't we make more and why can't we make it sooner?" Bourla asked – to which McDermott reportedly replied, "what we're doing already is a miracle. You're asking for too much."
The following month, McDermott floated the idea of reining production in to 80 million doses by the end of the year. Bourla reportedly told him to "find a way" to hit the 100 million target. McDermott did, modifying the manufacturing process to produce an extra five million more doses per week. A shortage in raw materials led to a three-week hiccup, however, causing production to be scaled back to 50 million in the end. But 50 million doses by December 2020 – less than a year after the virus was first reported – was a remarkable feat; and one that some believe wouldn't have been achieved if it wasn't for Bourla's pushy, certainly forthright, attitude.
Among them is Kaiser. "Pfizer's remarkable, record-breaking development of a COVID-19 vaccine is the result of ingenuity, agility, and a relentless CEO who pushed a global team to do more than it thought was possible," he wrote in an article for Talent Quarterly. "It brings hope to a world desperately in need of it while offering an instructive lesson on the need for demanding leadership – and the versatility it takes to walk that fine line between pushing for more, better and faster for a noble cause, and just being pushy." Kaiser said what made that approach successful was Bourla's ability to balance an ability to encourage his teams to go above and beyond with "credibility, strong personal connections and a compelling mission."
"He had earnt trust and followership and had plenty in the relational bank account to draw from," Kaiser told World Finance. "He also led with purpose and he kept his ego in check. Literally saving the world is an incredibly powerful way to galvanise an organisation. All of these are key ingredients in crisis leadership."
Future challenges
If those qualities drove Bourla's success in helping to bring the world's first Covid vaccine to market, they might just help him to overcome the next challenges facing Pfizer, too.
Bourla refocused the strategy on organic growth with his expertise in drug discovery and R&D, coupled with a passion for technology
For his job is far from over; while booster shots and continued global demand for Covid jabs are likely to keep the company's coronavirus business going for some time, Pfizer faces several sticking points moving forward; not least losing patents and market exclusivity on medicines that represent up to $20bn in sales in the latter half of the decade. Top-selling drugs including Lipitor, Chantix and Viagra have already lost their patent protections. In March, stock was trading at roughly the same level as pre-pandemic, as investors waited to see how Pfizer delivered in areas beyond the vaccine.
But Bourla seems well aware of the need to diversify, emphasising the work done in 2020 outside of the jab. "While we invested significant time, resources and brainpower to find medical solutions to the pandemic, tens of thousands of Pfizer colleagues continued to advance equally important work across all of our therapeutic areas," he wrote in a 2020 letter to shareholders. "We believe that science will win the battle against not only COVID-19, but many other diseases as well."
Outside of Covid efforts, the company has said it is forecasting new revenues of $15bn by 2025. And alongside gene therapy for rare diseases, immunotherapies and targeted cancer treatments, Pfizer is expanding its vaccine business beyond the coronavirus jab. In June, the FDA approved the company's next-generation anti-pneumonia vaccine (pneumococcal conjugate), which offers a promising new revenue stream – Pfizer's previous pneumonia jab, Prevnar 13, brought in nearly $6bn in sales in 2020 – while marking another heroic, life-saving effort under the company's 'Breakthroughs that change patients' lives' tagline.
And Bourla has spoken about plans to develop the mRNA technology used in the Covid jab to fight other viruses too. "There is a technology that has proven dramatic impact and dramatic potential," he told the Wall Street Journal. "We are the best positioned company right now to take it to the next step because of our size and our expertise." He said Pfizer was ready to go it alone with the technology and was increasing its R&D in the sector, hiring at least 50 new employees to help in the mission to produce more mRNA vaccines.
Purposeful vision
How that unfolds in reality, and where the company goes from here, remains to be seen. Kaiser believes the real challenge for Bourla and the wider company will be in remaining "focused and hungry – to neither get complacent with success, nor carried away with a sense of invincibility that can lead to overreach." But if the past year and a half is anything to go by, Bourla doesn't look like one for complacency. His approach might have garnered criticism, but it's hard to refute the achievements made under his leadership – a feat that acts as a testimony to the power of a purposeful vision, and one that is likely to prove inspirational to many in the years to come.
"It took a moon-shot challenge, out-of-the-box thinking, intercompany cooperation, liberation from bureaucracy, and, most of all, hard work from everyone at Pfizer and BioNTech to accomplish what we did in 2020," Bourla wrote in Harvard Business Review. It also took relentless ambition, sheer determination and undefeatable optimism. Bourla is living proof of the power of a transformative CEO – and if 2020 is anything to go by, something tells us he isn't quite done in making the "impossible possible" just yet.