Hollywood vs. Streaming
Movies were producing revenues of over $100bn a year before the pandemic. But a series of lockdowns and a streaming boom has threatened to topple Hollywood's reign.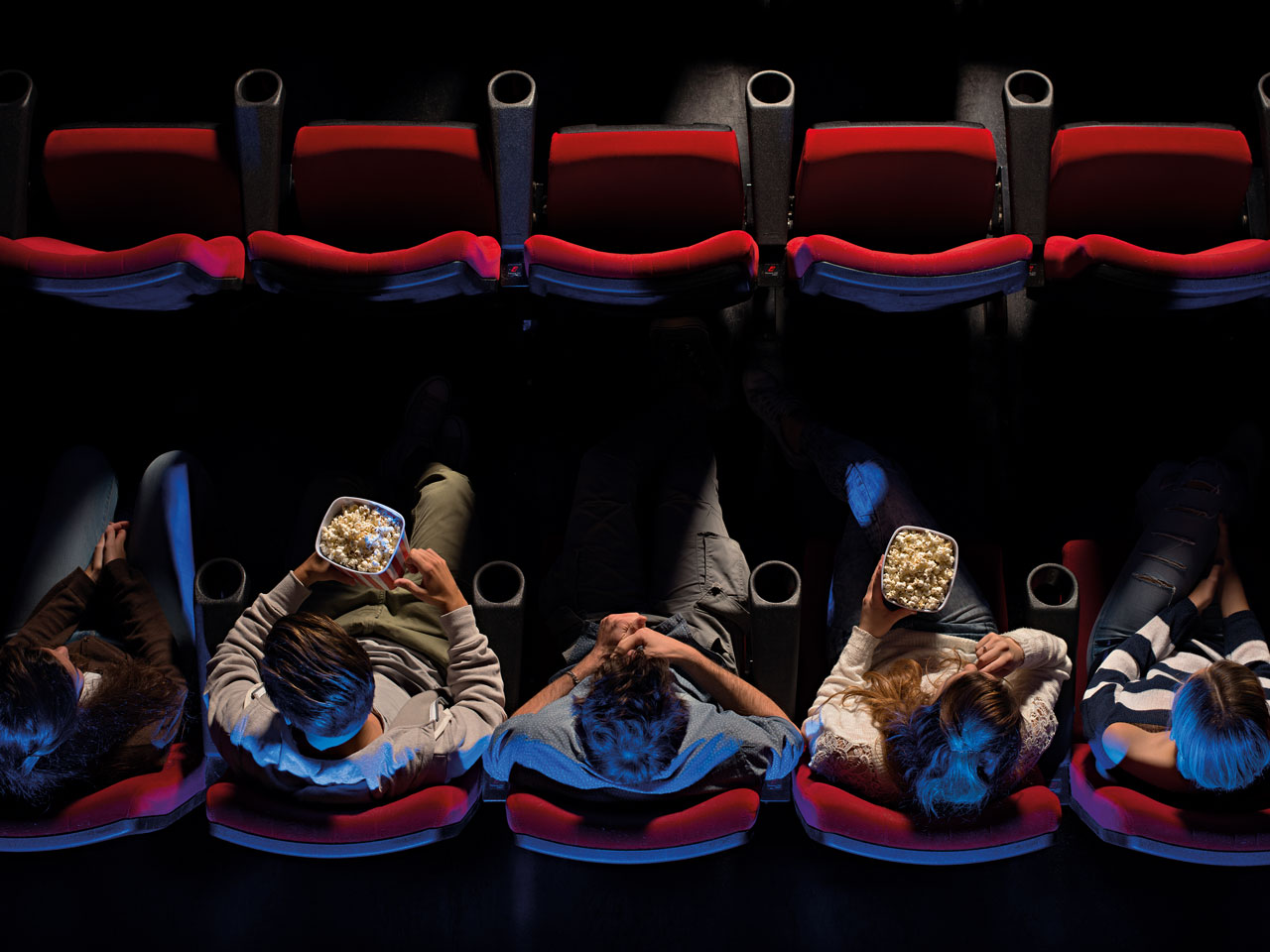 However, recent subscriber losses at Netflix suggest that streaming's golden era may be coming to an end already. As the battle for our attention and our views rumbles on, who will come out on top, cinema or streaming?
While the 2022 Oscars will forever be defined by a certain headline-grabbing slap, it was far from the only significant story of the night. Away from the on-stage celebrity drama, history was quietly being made at the 94th Academy Awards. When it came to the coveted 'Best Picture' award, feel-good family drama CODA beat off stiff competition from established auteurs to scoop the top prize. With this momentous win, Apple became the first streaming service to achieve a Best Picture Academy Award.
In many ways, it was a moment that felt somewhat inevitable. It is certainly no secret that the streaming giants – Netflix, Apple TV+ and Amazon – have had their sights firmly set on awards success for some years now, eager to prove that their content has as much artistic merit as anything produced by Hollywood's traditional movie studios. Having now won over the Academy, it appears that we are witnessing the seemingly unstoppable rise of streaming platforms. And while the golden age of streaming is good news for big tech, it could spell big trouble for tinseltown. With their high ambitions and deep pockets, do the streaming giants threaten to bring about the end of Hollywood as we know it?
When the curtains closed
The idea that streaming might kill cinema seems steeped in moral panic. After all, new technologies have always been treated with some suspicion. In fact, technophobia stretches back to the advent of the written word, with Greek philosopher Socrates suggesting that transcribed texts might lessen the importance of oral tradition and verbal communication.
Since then, all technological advances have been subject to some scrutiny, with each new invention purported to be 'killing off' whatever had come before. Just as the radio was supposed to kill off books and television was meant to kill off the radio, now streaming will be the demise of cinema. In the past, this tech-related panic may have seemed hyperbolic. But in today's world, questioning the scope and influence of big tech is far from a fringe idea.
In March 2020, as countries around the world found themselves placed into government-mandated lockdowns, life very suddenly moved online. Overnight, almost all human interactions – both work-related and social – began to take place virtually, and one by one, entertainment venues shut their doors, their owners unsure as to when they would open to the public again. A few weeks in lockdown then turned into months, and technology provided some much needed entertainment and escapism for the millions who found themselves largely confined to their own homes.
From the safety of the sofa, the quarantined masses could lose themselves in an endless stream of content courtesy of their trusty streaming providers. And as cinema doors remained firmly closed, blockbuster releases such as Wonder Woman 1984 and Disney's live action Mulan found themselves punted to the small screen, eagerly consumed by lockdown audiences. In 2020 alone, Netflix gained more than 36 million subscribers, while its rival Amazon Prime saw its subscriber base grow by more than 50 million over the course of the pandemic.
The lockdowns saw the streaming giants post record profits
Launching somewhat fortuitously mere months before the onset of the pandemic, Disney+ hit 73 million subscribers in its very first year of operation, boosting the US streaming market to record growth in 2020. Just as remote working and virtual meetings quickly became the 'new normal' in our working lives, the pandemic dramatically reshaped our behaviour when it comes to entertainment and socialising. Even as successful vaccination drives enabled the world to cautiously open back up again, our old habits and pastimes did not immediately revert to their pre-pandemic norm. While global box office revenue picked up in 2021, it was still down by 50 percent when compared with 2019 figures – perhaps unsurprising given ongoing pandemic restrictions and widespread trepidation over emerging Covid variants.
But as cinemas started to open their doors again, it soon became apparent that the audiences they were welcoming back had changed. Granted, the average age was now skewing younger, with older movie-goers hesitant to return to cinemas, but the real difference was one of habits and expectations. If streaming is the 'new normal' when it comes to how we consume entertainment, then where does that leave cinema?
The shut-in economy
The pandemic may have seen streaming services flourish while the traditional box office floundered, but the pandemic can't be given all the credit for the rapid rise of streaming platforms. Long before COVID-19, streaming services were disrupting the global movie industry, as customers began to show an increased appetite for 'on demand' services. In the post-financial crisis era, the so-called 'shut-in' economy has thrived.
In a recession-ridden world, staying in has become the new going out, with a whole host of new apps specifically engineered to ensure that you never need to leave your house again. Need a food delivery? Getir promises to get your groceries to your front door in 10 minutes. Need to hire a handyman?
Taskrabbit will have somebody on your doorstep that very same day. Need a responsible animal-lover to walk your dog for you? Just download Rover – you'll even receive a GPS map of your dog's walk, complete with toilet break alerts. With just a couple of taps on a smartphone screen, almost any demand can be fulfilled within minutes, while routinely low wages for gig workers keeps costs down for consumers.
Simply put, the rise of the shut-in economy shows that we have been self-isolating long before COVID-19. Studies have shown that younger millennials and those belonging to Generation Z are less interested in going out socially than previous generations, preferring to 'Netflix and chill' than head out for a hedonistic night on the tiles.
Whether the proliferation of 'on demand' apps prompted a change in our collective behaviour or vice versa, by March 2020, our social habits were already shifting – we were going out less and streaming more. The pandemic only served to accelerate this trend, firmly establishing streaming as the default way to watch new releases.
Already growing at an astonishing rate, the lockdowns saw the streaming giants post record profits, growing their deep pockets and extending their influence over the global film industry. As the world began to cautiously reopen and cinemas welcomed back audiences, streaming companies found themselves in a very powerful position. Well-funded, and with a steady stream of subscriber income flowing in, Netflix, Amazon and Apple have been able to acquire a broad array of films over the course of the past two years, releasing them directly to consumers through their online platforms and limiting the pool of films available for bricks-and-mortar cinemas to screen. So for those who prefer the cinematic experience to the at-home alternative, there are simply fewer new releases to enjoy when they do venture out to their local multiplex – they have been gobbled up by streaming.
Even as the world moves towards something of a post-pandemic reality in 2022, the shut-in economy is here to stay, and so too are the big tech companies that allow this home-based consumerism to flourish (see Fig 1).
The Big Tech boom
In April 1976, the Apple Computer Company was founded, debuting its first computer device a few months later. In the summer of 1994, Jeff Bezos launched his online bookselling service, Amazon, from his garage in Bellevue, Washington. Three years later, Netflix started life as a mail-based DVD rental firm, eager to replicate Amazon's online success.
Fast forward to 2022, and it's hard to fathom just how colossal these three firms have become. From humble beginnings as computer builders, booksellers and DVD dealers, Apple, Amazon and Netflix have far outgrown their origins. Today, the three companies make up half of the 'big six' tech firms, and are worth a combined total of just shy of $5trn. At this size, these far-reaching tech behemoths exert an almost unimaginable influence over the global economic and cultural landscape.
Wielding enormous financial power, these six tech companies have the ability to influence politics and public opinion – spending a collective $64m on political lobbying in 2019 alone. And it doesn't stop at politics. As Apple's recent Academy Awards success has shown, the big tech giants are beginning to dominate the cultural conversation too, beating the traditional entertainment industry at its own game.
While the lockdown streaming boom certainly helped to propel big tech to a new level of cultural dominance, the reality is that streaming platforms have been boosting their position within the film industry for many years now, through a series of ambitious acquisitions.
The modern wave of consolidation in the media landscape arguably began in 2009, when Disney purchased Marvel Entertainment for $4bn – a bargain deal given the box-office revenue Disney has earned from Marvel movies over the course of the last decade. In 2012, Disney further solidified its status as a pop culture juggernaut with the purchase of Lucasfilm for a further $4bn, giving the company the rights to the ever-popular Star Wars empire.
Then, in 2018, Disney achieved the seemingly impossible – purchasing rival Hollywood studio 21st Century Fox for an eye-watering $71bn. The deal ushered in a new era for the global film industry, instantly bringing the number of Hollywood movie studios down to five – Warner Bros., Sony, Universal, Paramount and Disney. The era of the 'big six' studios was now over, with Disney taking one of its biggest rivals out of the picture.
The record-breaking acquisition gave Disney a staggering 35 percent share of the movie market, adding a vast array of film and television material to its already impressive arsenal of content.
The content race
The Fox acquisition also signified a substantial shift in Disney's priorities. While its previous acquisitions had been focused on blockbuster big hits, Disney's takeover of 21st Century Fox was motivated by streaming. In order to compete with industry pioneer Netflix, Disney was looking to beef up its catalogue of content ahead of launching its subscription service Disney+, and Fox's vast library of TV series helped to successfully pad out Disney's streaming offering. Bringing fan-favourite Fox shows such as The Simpsons, The Walking Dead and It's Always Sunny in Philadelphia into the Disney domain, the company was betting big on streaming. So far, the controversial move appears to have paid off – with Disney+ gaining 10 million subscribers on its very first day of operation.
But Disney isn't the only firm looking to beef up its streaming arsenal. Amazon has also been playing the streaming long-game, and in March of this year, purchased historic Hollywood studio MGM for $8.45bn. The deal gave Amazon control over MGM's vault of over 4,000 movies and countless hours of TV, including the entire James Bond catalogue and the Rocky series, in a huge boost to the firm's Prime Video streaming business.
As outgoing CEO Jeff Bezos explained during the company's 2021 annual shareholder meeting, the acquisition was so attractive to Amazon because of MGM's "vast deep catalogue of much-loved intellectual property."
His comments echoed those of Mike Hopkins, Senior Vice President of Prime Video and Amazon Studios, who said that "the real financial value behind this deal is the treasure trove of IP in the deep catalogue that we plan to reimagine and develop together with MGM's talented team."
After a blockbuster two years of record subscriber growth, the first cracks have begun to show in the streaming landscape
As the streaming wars continue and firms compete for audience attention, intellectual property is the hottest commodity around. Just as Disney has produced a wealth of new content featuring beloved characters and locations from Star Wars and the Marvel universe, Amazon is keen to follow suit, prioritising spin-offs and reboots as it looks to bolster the position of Prime Video in what is an increasingly competitive environment.
Despite its deep pockets, Apple is taking a slightly different approach to streaming. Granted, the firm is spending big on Apple TV+ – reportedly splashing out $6bn on content in order to launch the service back in 2019 – but instead of snapping up established Hollywood studios with their immense libraries of historic titles, Apple is prioritising investments in original features. And it isn't following the Netflix approach to original content either, which tends to favour quantity over quality. Last year, Apple TV+ released just six original feature films, compared with 69 Netflix original movies released in the US. But with annual revenues of approximately $366bn, far outstripping Netflix's $30bn, Apple can easily afford to pursue the prestige angle and aim for awards show glory. With one Best Picture award already under its belt, Apple might just prove that slow and steady will win the streaming race.
No more worlds to conquer
After a blockbuster two years of record subscriber growth, the first cracks have begun to show in the streaming landscape. For the first time in its history, Netflix announced that it had actually lost subscribers – with 200,000 users cancelling their accounts in the first three months of 2022. While this may seem like a fairly insignificant drop given the company's 222 million-strong subscriber base, it is indicative of a worsening trend.
Netflix's subscriber growth has been slowing for some months now, as the effects of increased competition and the escalating cost-of-living crisis begin to make themselves known. The company warned that it expects to lose a further two million subscribers by July, with executives considering introducing advertising along with a crack-down on password sharing in order to get the firm back on track. The shock news wiped over $50bn from Netflix's value in just one day, with investors left asking – has the streaming bubble burst?
In a note to investors, Netflix explained that its "high household penetration" made sustained growth more challenging. It is certainly true that the company is reaching something of a saturation point in its US and European markets – 52 percent of UK households have a Netflix subscription, which, when taking into consideration password sharing among families, leaves relatively little room for growth. Quite simply, Netflix is dependent on subscriber growth for revenue, and with 222 million people already signed up, there is nowhere else for it to go. What remains to be seen, however, is whether Netflix's subscribers are abandoning the platform in search of better content elsewhere. While streaming providers are increasingly competitive with one another, consumers don't feel forced to choose between them – in fact, they like to have their cake and stream it too. In the US, 46 percent of homes have four or more subscription streaming services, while in the UK, a recent study showed that 65 percent of homes subscribe to two or more streaming providers.
But as the cost-of-living crisis starts to have a real impact on consumer spending habits, squeezed customers may find themselves forced to cut back on 'unnecessary' expenditure. Multiple streaming subscriptions may become hard to justify as bills begin to soar, and if consumers do find themselves reviewing their subscription packages, Netflix can't count on its reputation as the pioneer of streaming to save itself from being axed from the monthly budget. For the company's rivals, Netflix's recent turmoil should be taken as something of a warning sign. Amazon, Apple and Disney have spent considerable time and money trying to emulate Netflix's groundbreaking streaming model – a model that may well already be broken. Granted, each of the three firms is much more diversified and has far deeper pockets, but they have all been convinced that streaming is the future of entertainment.
Among cinema owners and industry professionals, there is a sense of cautious optimism over the future for cinema
Indeed, Disney has completely restructured its operations to prioritise streaming over traditional cinema releases, while Amazon is set to spend $464m on just one season of its upcoming The Lord of the Rings series. Apple is estimated to have spent more than $10m on the Oscar campaign for CODA alone, demonstrating its dedication to its newly-established streaming arm. Streaming has been a big investment and a big commitment for each of the three firms, and while subscriber sign-ups look healthy for now, they too could be heading towards the Netflix cliff edge. The next challenge won't be subscriber growth but subscriber retention. In an age when everything is 'on demand' and we are spoiled for choice, convenience is no longer a selling point – it's quality that really matters in the end.
A new hope?
As the streaming giants continue to compete for our attention and affection, cinemas are welcoming a steady flow of customers through their doors. Already, blockbuster hits such as The Batman and Spider-Man: No Way Home have seen ticket sales bounce back from the historic lows seen in 2020 and 2021, while UK box office sales are set to double this year to £1.1bn – just below pre-pandemic levels. Among cinema owners and industry professionals, there is a sense of cautious optimism over the future for cinema.
Of course, in order for there to be a wide and enticing array of movies to attract film-lovers to bricks-and-mortar theatres, these movies need to be made and produced in the first place. According to entertainment analyst Matthew Ball, go back 15 years and the 'big six' studios would each release around 20 to 25 films every year. Now reduced to a 'big five,' the stalwart Hollywood studios might release as few as nine new films in today's competitive climate. In 2022, we can expect to see 71 major studio films released in cinemas – significantly below the pre-pandemic figure – reflecting a generalised push to prioritise streaming for smaller, less 'showy' movies.
But as the cracks begin to show in the growth-obsessed streaming model, the traditional methods of film production, distribution and consumption are suddenly not looking quite so passé. Box office sales are slowly bouncing back, and there is something still to be said for the magic of the big screen. Hollywood and Silicon Valley may be uneasy bedfellows, but they can coexist – if the tech giants' studio acquisition spree is kept under control, that is. Watching a film in 4DX, the immersive experience created in South Korea, proves that cinema is evolving, not dying. And if it wants to stay relevant, streaming will need to evolve right alongside it