Green protectionism
Is the global economy heading for an era of protectionism under the guise of environmental policy?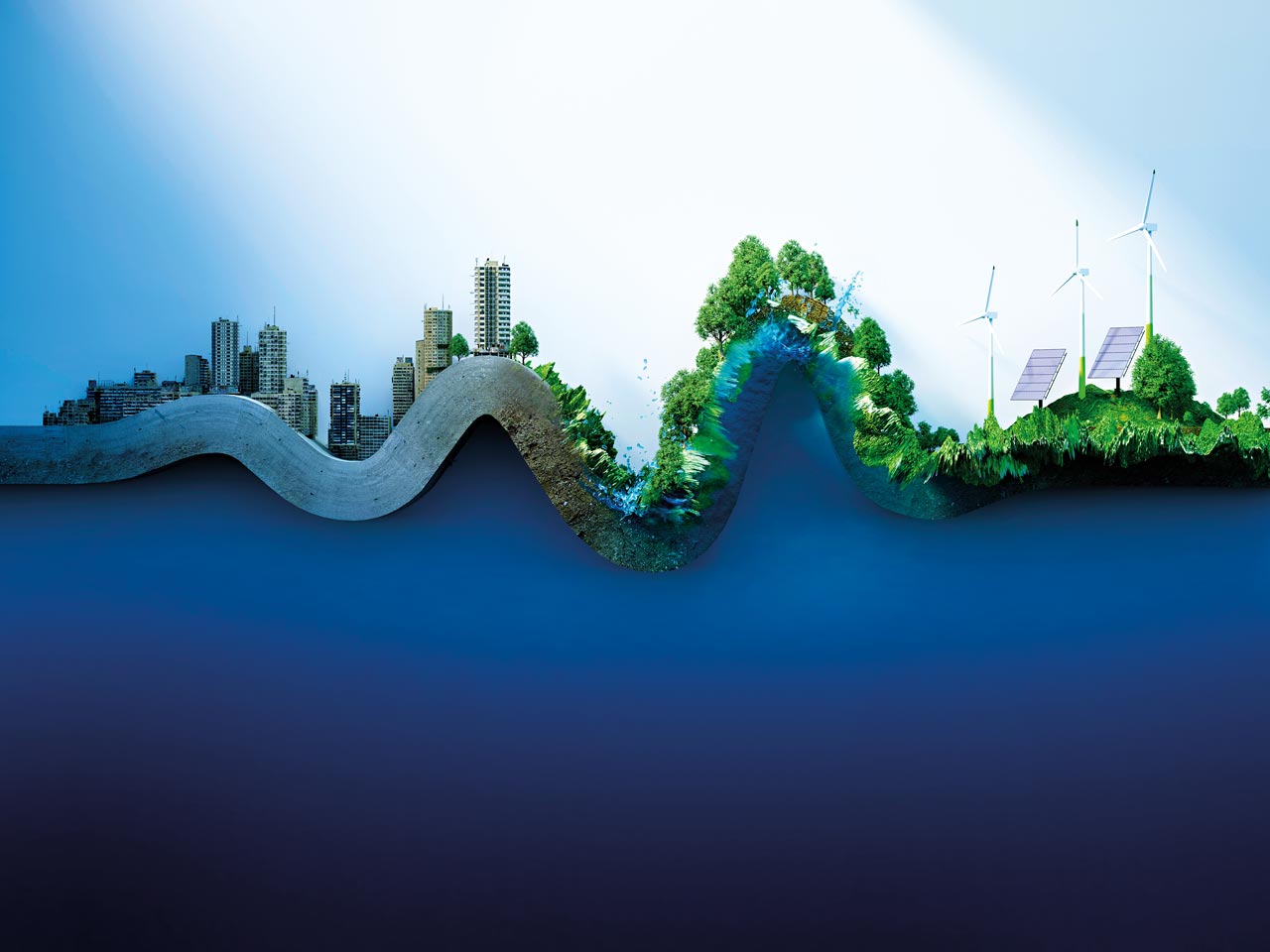 Standing in the middle of Verkor's headquarters in Grenoble, Olivier Dufour, the firm's co-founder, delineates his vision for the future of Europe's green economy. "Batteries replace oil – it is important not to move from one dependence to another," he exclaims. Founded just three years ago, Verkor has quickly become one of Europe's leading low-carbon battery producers. The firm recently partnered with Renault to supply the equivalent of 12 GWh of batteries annually. Through its 'Ecole de la Batterie' it will train up to 8,000 employees to meet the sector's ever-growing needs.
Several EU regulatory initiatives aim to turn the bloc into a battery production leader, yet Europe needs to do much more to rediscover its industrial mojo, Dufour says: "The EU needs to reinforce its regulation to enable rapid scaling up all along the battery supply chain, from mining to recycling. It needs to use all the catalysts in its hands: financing, trade mechanisms, training, permitting and energy prices."
Showing them the money
The race for battery supremacy is part of a broader industrial realignment, fuelled by a mix of environmental, geopolitical and trade interests. Covid brought to the spotlight the vulnerability of global just-in-time supply chains. Trade tensions have slowed globalisation down. Climate change, an emergency that requires global collaboration but local action, is increasingly seen as an opportunity for developed economies to 'onshore' industry.
The first shot was fired last summer when the Biden administration passed the Inflation Reduction Act (IRA), pledging to provide $369bn in tax credits, grants, subsidies and loans to boost US clean-tech manufacturing. The plan has sparked a manufacturing boom, says Jonas Nahm, an energy expert at the Johns Hopkins School of Advanced International Studies: "There are an impressive number of plant announcements, particularly in the battery and electric vehicle sector. It's also accelerating investments in domestic solar manufacturing and other technologies supported by the bill's tax provisions and local content requirements."
Widely believed to be a part of the US strategy to weaken China's dominance in the green economy, the IRA includes over $60bn dedicated to onshoring incentives (see Fig 1). Currently, around 90 percent of clean-tech manufacturing is located in Asia, with China alone accounting for 85 percent of global solar cell production. However, the bill's domestic production requirements have irked US allies. Only firms that source parts and materials from the US or its trade partners can benefit, excluding the EU and Japan, which do not have a free trade agreement with the US. The Belgian Prime Minister Alexander De Croo has accused the US of trying to poach European investment: "They are calling firms, in a very aggressive way, to say 'don't invest in Europe, we have something better.'"
The makeup of the bill has been the product of a polarised political environment. Many Republicans perceive the energy transition as a nuisance that renders competition with China harder. The Biden administration passed the IRA as a 'reconciliation bill,' which only deals with spending and revenue, to frame decarbonisation as an economic issue. The bill has also been criticised by industrial groups, such as the National Association of Manufacturers, because of its 15 percent minimum corporate book-tax, aiming to raise revenue for subsidies and tax breaks. Many of the planned facilities are in Republican states, which could boost support for an energetic climate policy, says Nahm. But political division has affected the bill's remit, he told World Finance. "It doesn't include investments in many institutions, like vocational training, that would also be helpful in allowing businesses to respond to these incentives and build up a clean-tech manufacturing sector in the US."
Many experts question whether the IRA goes far enough to tackle climate change. One flaw is that incentives are carbon intensity-based, with a focus on future clean energy and no accountability for existing emissions, says Sanjay Purswani, a senior knowledge analyst specialising in energy at the Boston Consulting Group, adding that they may not be sufficient to achieve cost parity with fossil fuels.
Delays in the bill's implementation may also dampen its immediate benefits. "The IRA gives the industry a long-term horizon to point to with tax credits, but is also introducing uncertainty with the delays in guidance," says Cassidy DeLine, CEO of Linea Energy, a US power producer, adding: "You have manufacturers who are planning to build domestic manufacturing facilities, but we don't have the guidance on what will enable equipment to actually qualify. The more stringent the requirements are, the more likely it is that fewer of the announced domestic factories actually get built."
Potential costs have also raised concerns, given that its open-ended budget could increase demand for green subsidies. Goldman Sachs estimates that the bill could cost up to $1.2trn, but also spur over $3trn in private investments. However, researchers at the US think-tank Brookings Institution estimate that IRA incentives will be less costly than climate-related damages, while helping the US achieve emissions reductions of up to 42 percent by 2030, up to 11 percent lower than without the bill. US solar and wind power could be the cheapest in the world by 2030, courtesy of the IRA, according to Credit Suisse.
Europe fights back
In a truly European fashion, the EU has taken its time to respond. Its post-Covid recovery fund made available €724bn to member states, a third dedicated to green projects. The French president Emmanuel Macron has been touting his vision for a 'sovereign' Europe leading the fourth industrial revolution.
The war in Ukraine highlighted the dangers of dependence on a single energy provider, argues Eleonore Soubeyran, an energy policy analyst at LSE. But it was the IRA that stressed the need for a new industrial policy. This March, the European Commission presented its proposal for the Net Zero Industry Act (NZIA), delineating a plan that will mobilise the bloc's full firepower to kick-start a European clean-tech revolution. The scheme will enable member states to loosen regulatory constraints to green investment, in some cases even overriding environmental concerns.
Permits for large plants producing net-zero technologies will be granted within just one year. An example of the potential gains came this May when the Swedish start-up Northvolt announced that it will build its third battery factory in Germany instead of the US, after Berlin pledged generous state support. The plan's goal is to raise domestic clean-tech production to 40 percent by 2030, a major increase from present levels; currently, just 10 percent of solar panels used in Europe are produced locally. "The 40 percent target lacks clarity over what more the EU could do if current measures do not deliver. This is a possible risk, given the ambitious nature of the target," says Danae Kyriakopoulou, policy fellow at the LSE's Grantham Research Institute on Climate Change and the Environment.
Growing anxiety in Brussels over the IRA's impact on European industry has been the main driver behind the plan. According to one insider, it was drafted in less than a month. "It hasn't gone through the full political cycle and the usual refining necessary to reach consensus in the EU. It's a rushed, improvised response to the IRA, so it doesn't amount to anything similar to it," says Ignacio Velasco, a researcher at 3EG, a climate change think tank. To alleviate tensions, the EU and the US have a taskforce to discuss the thorniest subjects. Negotiations have already borne fruit, including US concessions on electric vehicles (EVs) and critical minerals.
Several European firms have criticised the NZIA, warning that it does not match IRA investment incentives. However, the EU's approach is constrained by the bloc's institutional setup. "The EU has limited fiscal capacity, because it doesn't have a large federal budget. It can't throw money at the problem, which is what the US has done. Only member states can do that," says Velasco. The Commission also had to strike a balance between large and smaller economies, with the latter fearing that lax subsidy rules would allow rich countries to favour their companies. In 2022, German and French firms received nearly 80 percent of EU state aid. Forthcoming negotiations about the bloc's Stability and Growth Pact could change that mindset. Margrethe Vestager, the well-respected competition commissioner, has suggested establishing a 'collective European fund,' financed with joint debt, to turbo charge green investment. However, a move towards fiscal federalism will take time, says a source that has been following EU negotiations: "That's bigger than climate change – it's about the nature of the EU. It will not happen overnight as a response to US policy."
Critics also point to a protectionist focus that marks a return to the EU's Keynesian roots, notably industrial planning. Some warn that the plan could set the green transition back by making it more expensive. "While excessively depending on one exporter is not sustainable, as we saw with Russia and gas, it does not excuse incentivising across-the-board inefficient import substitution," says the LSE's Kyriakopoulou.
The first carbon tariff system
Carbon taxes are also becoming a top priority of the global green agenda. Partly pushed by rising carbon prices, the European Commission laid out last December its Carbon Border Adjustment Mechanism (CBAM), effectively the world's first carbon tariff system, to be put on trial this October. The scheme will replace the 'free allocation' component of the EU's domestic emissions trading system (ETS), which helps producers bid for emission allowances. The CBAM will enable member states to tax carbon-intensive imports, including steel, iron, cement and fertilisers, with importers having to obtain emissions certificates based on EU carbon prices.
Bread and batteries
No other industry is more emblematic of the scramble for green profits than electric vehicle batteries. China currently holds 78 percent of the world's EV battery manufacturing capacity, with Chinese battery makers CATL and BYD alone accounting for half of the global market. Both the IRA and the NZIA aim to change that.
The IRA requires at least 50 percent of battery components to be manufactured or assembled in North America, increasing to 100 percent by 2029. The plan has delivered results, with Michigan emerging as a new battery powerhouse, courtesy of Ford's $3.5bn planned battery plant using technology from CATL and another $2.4bn battery plant being built by a subsidiary of Gotion, a Chinese firm. Tesla, Volkswagen and Norway's Freyr Battery have also recently picked US locations to build battery factories.
In Europe, the NZIA offers regulatory incentives aiming to mitigate energy disruption and improve investment costs for battery projects. Taiwanese battery maker ProLogium has highlighted this shift in European policy as a reason for choosing France to build a €5.2bn plant.
However, many analysts are pessimistic that the programme will make a difference. "It will be very hard, probably impossible, to build something akin to the enormous, synergetic industrial ecosystem China has spent more than a decade building in the battery and EV sectors, at least when it comes to scale, and thus price," says Nis Grünberg, a Chinese energy policy expert from the think tank MERICS.
Verkor's Dufour, whose firm has a €1bn gigafactory in Dunkirk in the pipeline, confesses that US states have tried to lure his firm to invest in the country, offering a mix of IRA and local benefits. The EU has set a goal of achieving 90 percent battery self-supply by 2030, based on projected needs of 550 GWh, but this pales compared to US and Chinese plans, he says: "This goal is not ambitious for batteries. The industry foresees a need for 1,000 GWh by 2030, meaning that half of the batteries will have to be imported if the EU target is reached. It should be 100 percent or more, which is achievable if the EU creates the right conditions."
Through the new system, EU policymakers hope to tackle 'carbon leakage' – when manufacturers relocate their production outside Europe to avoid domestic carbon taxes. Another goal is to push third countries to improve their environmental standards, creating a level playing field for European manufacturers. Critics, however, point to a lack of ambition, given that the Commission's initial proposal was watered down by member states. "The phase-out is so slow and long that it will practically not be effective this decade, and after that it could be too late for the climate," says Agnese Ruggiero from Carbon Market Watch, a Brussels-based environmental group.
Complexity is another challenge. The EU will need to make tough choices on which goods and sectors the CBAM will cover and grapple with technical challenges around the price adjustment methodology, taking into account other carbon pricing systems, such as that of South Korea. "Theoretically, CBAM is a better solution because it offers better environmental efficiency incentives, if designed correctly.
That's why it hadn't been implemented in the first place, because it is way more complex," says Patrick Peichert from Frontier Economics, a consultancy. Loopholes may persist, notably 'resource shuffling,' which allows producers to shift products based on the level of each country's environmental standards. "The result would be that countries implementing a CBAM would lose domestic market share, while global emissions would not change," says Roberta Pierfederici, a policy analyst at the LSE's Grantham Research Institute.
EU manufacturers have criticised the scheme for failing to cover exports, leaving them to battle global competition without any support.
One reason for this omission is to make the scheme compliant with WTO rules, which effectively require carbon tariffs to exclude export rebates and have a clear environmental focus. For many developing countries, however, the CBAM constitutes a protectionist measure that will disadvantage their exporters; many have no carbon-measuring systems in place. India is planning to challenge the system at the WTO, while other countries have begun negotiations with Brussels, requesting potential waivers. To alleviate these fears, the EU has committed to provide climate finance to developing countries.
The CBAM is even less popular with Chinese and US policymakers, who have argued that it penalises their producers. The EU has retorted that the scheme just extends rules that already apply within the bloc. "Europe is entitled to its own import rules, just like with food safety standards," says Carbon Market Watch's Ruggiero. One way it might gain some acceptance is the adoption of similar policies by other economic superpowers. China is expected to incorporate carbon pricing into its emission trade system, possibly even tracking the full-lifecycle carbon footprint for all traded goods, while politicians and economists have also lobbied the Biden administration to establish a US carbon tariff system.
A WTO crisis
The increasing role of climate concerns in trade disputes has prompted suggestions that, like many other international organisations, the World Trade Organisation (WTO) should have a climate-orientated mandate. "There is a general recognition that WTO rules are not up to the challenge of climate change," says Soubeyran from LSE. But the overlap of climate and national security makes that more difficult, especially after the US lost a string of cases where it tried to justify erecting trade barriers by invoking national security concerns. Disputes between the US and China on a number of issues, as well as sporadic friction with the EU, have diminished the organisation into a shadow of its former self. Its main dispute settlement mechanism has been paralysed, with the US refusing to appoint new members to the relevant appellate body.
A case in point is the IRA's clash with WTO trade rules, notably its domestic content provisions. "From an environmental perspective, you can't justify excluding some members and not others. That is very hard to defend at the WTO," says a source familiar with the operation of the body. China's commerce ministry has said that the bill possibly violates WTO rules concerning discriminatory subsidies, while South Korea is considering filing a complaint on the grounds that the law even breaches a bilateral free trade deal. For the US though, that horse has bolted, says the source: "The IRA falls into a wider pattern of US behaviour: it doesn't care about the WTO anymore. In their internal political and legislative dialogue, it isn't relevant anymore."
The emergence of green industrial policies has raised concerns that the global economy is entering a phase of protectionism. Canada has warned that a subsidy race would hurt everybody. In the UK, the Labour party, which is expected to win the general election next year, has made an IRA-like £28bn green investment programme its flagship policy. Emerging economies would pay the price of a global race to the bottom, warns the LSE's Pierfederici: "US and EU subsidies could decrease green foreign direct investment in developing economies that do not have the same capacity to subsidise their green sectors, exacerbating the North-South divide and resulting in a significant increase in demand for critical minerals, many of which are geographically concentrated in developing countries."
All eyes are on China, the country accused of starting the protectionist race. Given its green tech lead, the Chinese government is expected to deploy a carrot-and-stick strategy to ensure its producers stay competitive. Ironically, China is getting a taste of its own medicine, but it will not back down, says Alex Wang, an expert on Chinese energy regulation who teaches at UCLA: "It may double-down on support for green industries to maintain the global supply chain dominance it has built over the last two decades. China looks to expand its clean technology business in the global South, as Chinese companies face increased resistance in the US and Europe."
So far, its response has been meek. One reason, argues Nis Grünberg, an expert on Chinese energy policy from the think tank Mercator Institute for China Studies (MERICS), is that it already has IRA-like state aid measures in place. But a more aggressive stance should be expected, he says, as China could weaponise green tech in its disputes with the US and adopt offensive and defensive trade policy instruments such as export restrictions, localisation requirements, and foreign direct investment screening to retaliate. A first warning was given last February when Chinese authorities published a draft law suggesting that the country could impose strict export controls on solar manufacturing technology.
In search of a new balance
In April 2022, a report co-authored by the WTO, the OECD, the IMF and the World Bank warned about the dangers of climate subsidies. But with climate change already serving as a fig leaf for protectionism, the knives are out. Multilateralism is dead when it's most needed to tackle a global emergency, while state support – 'green' Keynesianism – is becoming the new norm. Subsidies incentivising a switch to less efficient producers may be counterproductive, but are also reducing our addiction to fossil fuels, says the LSE's Kyriakopoulou: "Such measures are partly correcting market failures and implicit inefficient fossil fuel subsidies that already come at a huge cost to taxpayers. The IMF has estimated that fossil fuel subsidies cost almost $6trn in 2020."
The EU has committed to provide climate finance to developing countries
The original sin, according to Andre Sapir, an economist at the Brussels-based think tank Bruegel, may lie in the Paris Agreement: "It only defined the objectives and left the instruments to reach them unclear, letting countries choose their own policies. It was inevitable that this could create friction in industrial policy." Currently, no forum exists to ensure international collaboration on the crucial overlap of climate and industrial policy.
Optimists argue that tensions highlight the increasing importance of the green economy, which has finally become a legitimate growth strategy. Oddly enough, protectionism might be bad for the world economy, but good for the planet, says Pierfederici: "In the long-term, competition could lead to a reduction in the cost of green tech, thus contributing to the climate goals." For the time being, pessimism prevails. "It will get worse before it gets better. Eventually they will realise that protectionism is costly for everyone," Sapir says. "But it will take time."