The Zoom Boom
Few entrepreneurs profited in 2020 quite like Eric Yuan, founder and CEO of Zoom. But having poured his life's work into the video conferencing platform, Yuan's success had been a long time coming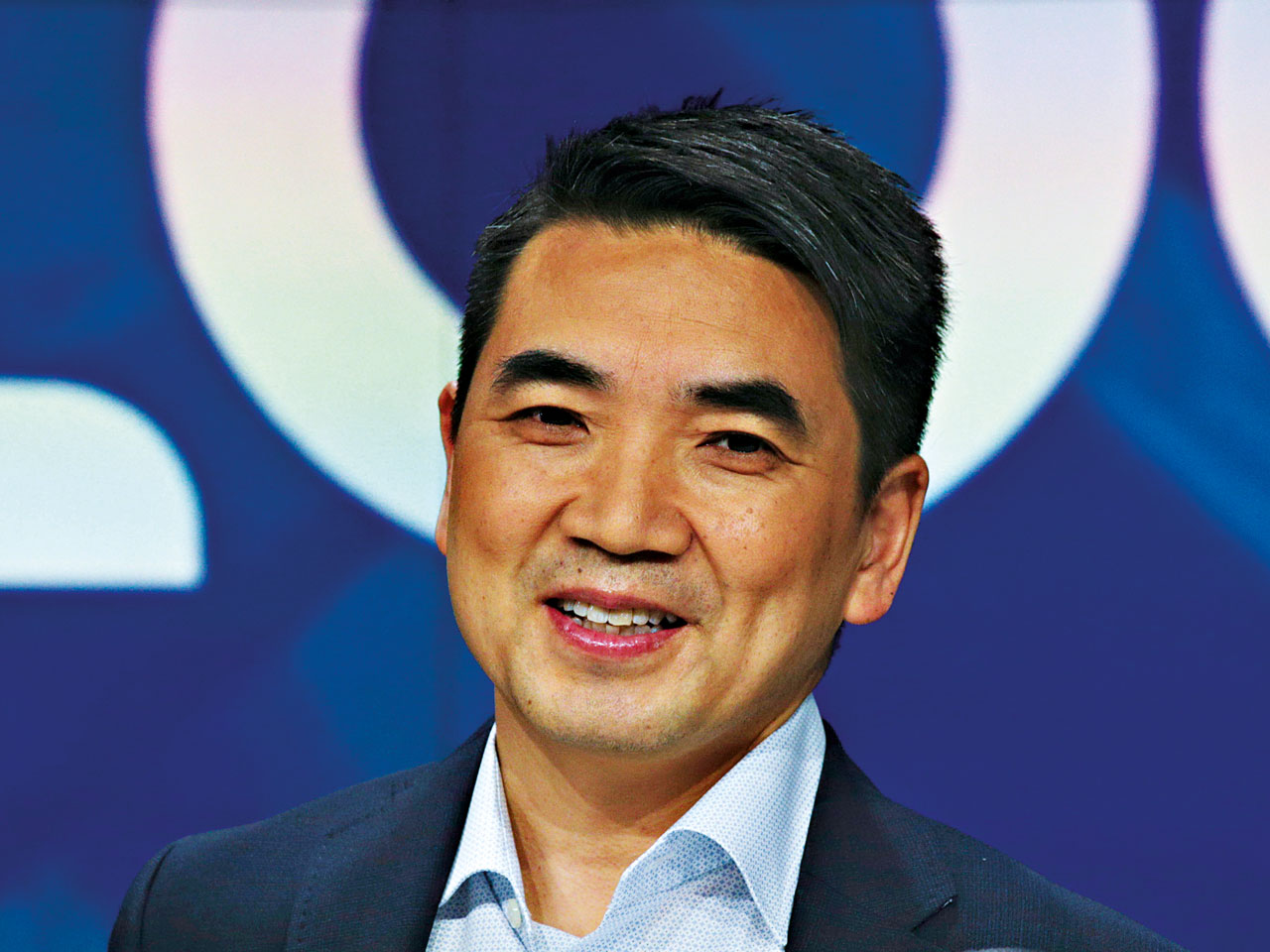 Economically speaking, it has been the kind of year that any entrepreneur dreads. After the long recovery from the Great Recession, many economic experts and business moguls allowed themselves to believe that the worst days were behind them, and that they would never again see such a crisis in their lifetime. But then along came COVID-19, plunging the world into the worst economic downturn since the Great Depression. 2020 success stories are certainly few and far between, but amid such chaos, certain individuals have thrived. Eric Yuan, founder and CEO of video conferencing phenomenon Zoom, is undoubtedly one of this year's biggest winners.
When the world as we know it started to shut down back in early March, the word "Zoom" quickly joined the likes of "social distancing", "bubbles" and "WFH" as part of our pandemic-related vocabulary. Everything from daily work meetings to high-intensity workout classes and Friday night drinks suddenly moved from the real world to the virtual one, and Zoom was there to facilitate it all. The company's user numbers have skyrocketed since the onset of the pandemic, with over 300 million video call participants flocking to its platform every day during the month of April.
Meanwhile, Zoom founder Yuan has been enjoying the fruits of his labour, seeing his net worth soar by almost 400 percent in 2020, with his personal shares in Zoom now valued at around $17bn. But to credit Zoom's success to the events of 2020 alone would be doing the company – and indeed, Yuan – a disservice. While many of us might not have heard of Zoom until a few short months ago, Yuan has been steering the company on a pathway to success ever since its inception in 2011. By focusing intently on the user experience and always making customer satisfaction and happiness a priority, Yuan has ensured that Zoom stands out from its competitors, showing that even in a crowded market, the cream always rises to the top.
Engineering meets entrepreneurship
Born the son of mining engineers in Shandong Province in eastern China, Yuan showed an instinctive entrepreneurial spirit from an early age. Clearly a driven child, Yuan was not yet ten years old when he started collecting discarded construction scraps, which he would then hand over to be recycled in return for cash. As a young adult, Yuan showed a burgeoning interest in technology when he chose to study applied mathematics and computer science at Shandong University of Science and Technology. It was during this time at university that Yuan had his first thoughts of what would eventually become Zoom. When visiting his girlfriend at the time – who he later married – Yuan would have to undertake a ten-hour train journey, meaning that the couple could only spend time together once or twice a year during the holidays. Speaking on the Evolving for the Next Billion podcast in 2018, Yuan said; "Someday if I can have a smart device and with just one click I can talk with you, can see you, that was my daydream, right? And every day I thought about that…the technology was not ready but the idea was there."
Yuan had a clear vision of what he wanted to create with his new company – as well as an awareness of the pitfalls to avoid
After completing his masters degree, Yuan spent a fateful few months working in Japan in 1994, where he attended a speech given by then Microsoft CEO Bill Gates, who at that time was gearing up to release the groundbreaking Internet Explorer web browser. Inspired by what he had heard, Yuan felt the pull of Silicon Valley, determined to play a part in the innovations of the West Coast dotcom boom. However, his US aspirations were almost thwarted at the first hurdle, when his visa application was unceremoniously denied due to a translation-related misunderstanding. Undeterred, Yuan continued to make application after application – submitting a grand total of seven rejected requests in a year and a half – before finally being accepted on his eighth attempt.
In 1997, at the age of 27, Yuan was able to take the first step in the journey that would lead him to Zoom, settling in San Jose, California, and landing an engineering job with video conferencing company, Webex. His talents and drive soon established Yuan as a key player within the company, and he quickly rose through the ranks, eventually becoming the VP of engineering. In the 14 years that Yuan spent at Webex, the company grew significantly, establishing itself as one of the leading options for video calling and conferencing. The appeal of video conferencing really became clear in the mid-2000s, with tech conglomerate Cisco acquiring Webex for a cool $3.2bn.
But Webex's video hosting software certainly wasn't perfect – and Yuan was only too aware of this. By taking the time to speak with Webex users, Yuan took note of a growing list of common customer complaints, which included connectivity issues, video and audio lags and time-consuming installation processes for new users. Thus far, Webex had survived and thrived largely because of a lack of competitors in the video conferencing market, but Yuan recognised that it would only be a matter of time until other, more forward-thinking companies would start snapping at Webex's heels, potentially offering a better service at a better price.
Yuan voiced his concerns and suggested ways to improve the software, but was met with resistance, ultimately leading him to part ways with the company in 2011. Not one to rest on his laurels, Yuan immediately began planting the seeds for his next venture: the ubiquitous video conferencing platform that we now all know as Zoom.
Curriculum Vitae
Born: 1970
Education: Shandong University of Science and Technology in Jinan, China
1997
Yuan moves to the US after an incredible total of seven rejected Visa applications. Upon entry he settles in San Jose, California, and lands himself an engineering job at the video conferencing company, Webex.
2007
Cisco acquires Webex for a total of $3.2bn, showing a huge vote of confidence in the video conferencing software that Yuan himself had played a key role in creating and developing during his time there.
2011
Yuan parts ways with Webex after receiving pushback on his suggestions for improving the firm's video conferencing software. This same year, Yuan would raise $3m of investment to start his own video conferencing company.
2013
After much meticulous planning, Zoom officially launches in January. The company claims to have reached the impressive milestone of one million video participants just four months later, in May.
2017
Yuan's fast-growing video conferencing phenomenon officially enters the exclusive unicorn club, and reaches a $1bn valuation shortly after securing $100m in investment from Sequoia Capital in January.
2019
After two more years of solid growth following the Sequoia investment, Zoom goes public in April. On its first day on the public markets, Zoom was valued at $16bn, making it one of the year's most talked about IPOs.
An instant hit
From its very earliest days, the Zoom ethos has been focused squarely on one crucial thing: keeping people happy. In an interview with Forbes magazine, Yuan simply described Zoom's company culture as "happiness," explaining that his priority was making sure that everyone involved in Zoom – from its employees to its paying customers to its visiting video participants – were happy in all of their interactions with the platform. Having learned valuable lessons from his time at Webex, Yuan had a clear vision of what he wanted to create with his new company – as well as an awareness of the pitfalls to avoid.
Zoom might be the pandemic's greatest success story, but the company's recent triumph has been many years in the making
By 2011, when Yuan officially founded Zoom, the video conferencing market was quickly becoming a more crowded scene, meaning that his fledgling company needed to set itself apart from its well-established competitors – the likes of Skype and Google Hangouts among them. Along with taking a customer-focused approach, Yuan conceived of another key strategy that would enable Zoom to stand out from the crowd. Instead of pursuing an audio-first approach and then attempting to add video to that function, Zoom was to be built as a video-first platform.
This unique approach and clear vision soon won over investors, with Yuan able to raise $3m in 2011 to bring his idea to life. Working with a small team in California and a number of engineers back in his native China, Yuan was able to create the first Zoom iteration within two years, which performed incredibly well with beta testers, and eventually launched in January 2013. Yuan's carefully conceived creation was an instant success. By May, Zoom claimed that it had rocketed to one million participants in its video calls, quickly securing another round of funding worth $10m.

From the start, investors and users alike could tell that Zoom was a little different to its competitors. The platform's low data usage meant that video calls could still work for people with a patchy or slow internet connection, and its cloud-based nature reduced the need for time-consuming installation processes. The platform could also instantly identify what device its video participants were using and adjust accordingly, meaning that there was no need to create different versions of Zoom for Mac or PC. What's more, at a cost of just $9.99 per month for its 'pro' package, it offered a cheaper alternative to its rivals, with arguably better functionality. As users flocked to the platform, investor interest in Zoom also continued to grow, with venture capital powerhouse Sequoia investing $100m in the company in its Series D round of funding in January 2017. This substantial investment saw Zoom valued at $1bn for the first time, officially making it a rare tech unicorn. But, unlike most members of the lauded unicorn club, Zoom was actually posting profits year after year. Following its $1bn valuation, the company enjoyed two more years of impressive growth, posting $330m in revenue in the year ending January 31, 2019. With such a healthy track record the next step was clear: it was time for Yuan to take the company public. That day finally came in April 2019, with company stock surging by 72 percent on its first day of trading. By its third day on the public markets, Zoom had leapfrogged Lyft to become the most valuable tech IPO of the year. Zoom had made it – but nobody could have predicted what was to come next.
Right place, right time
While Zoom's IPO certainly put it on the map in tech and investor circles, Yuan and his company were still a long way off becoming household names. When it went public back in 2019, Zoom was still predominantly a business-focused communications tool, with most of its users coming from the corporate world. Among the general public, meanwhile, the platform was little known – after all, just how often did your average citizen hop onto a video conference, outside of a business setting?
Thanks to Yuan's clarity of vision and, most of all, his commitment to customer happiness, Zoom is more than just a pandemic success story
Then came COVID-19, and almost overnight, our entire lives changed. Across the globe, governments issued orders requiring people to stay at home, leaving only for essential journeys such as stocking up on lockdown provisions.
Bustling city centres suddenly lay empty, and the lights were turned off in offices across the land as workers opened up their laptops and started clocking in from home. With social distancing measures coming into effect, and people abruptly separated from their friends and loved ones, technology became something of a vital social lifeline for many, with video calls helping to keep people connected while they had to remain apart. Zoom, then, became not just a vital tool to facilitate working from home, but also a way for people to connect with the world outside their homes. In the space of a few short weeks, Zoom hit the mainstream. Soon, Zoom quizzes, Zoom drinks and even Zoom dates were all just another run-of-the-mill part of our new normal. Simply put, Zoom was at the right place at the right time, offering an easy-to-use, reliable service that even the biggest technophobes could navigate with ease. Zoom might be the pandemic's greatest success story, but the company's recent triumph has been many years in the making. From his years at Webex, Yuan understood that the customer experience is paramount, and from its earliest days, Zoom has been committed to offering a superior service. This year, when push came to shove, this customer-focused mindset allowed Zoom to expertly leapfrog its competitors, establishing itself as the clear pandemic champion. But as 2020 draws to a close, we have to ask: is the Zoom boom sustainable?
Changing the world
As spring turned to summer and weeks of lockdown turned to months, a new, Zoom-related turn of phrase entered the public lexicon: Zoom fatigue. Even the most enthusiastic early lockdown Zoomers felt their passion wane as lockdown dragged on, with the novelty of virtual yoga classes and video call pub quizzes beginning to wear off. But fatigued as we might be, with fresh lockdowns being imposed on countries throughout Europe, we are likely to be Zooming for some time to come. Even at the end of these government-mandated lockdowns, however, many people – Yuan himself included – believe that we will see a fundamental shift in the way that we work, with regular homeworking becoming the new norm in the years to come. "Coronavirus has completely changed how people think about where or how you should work," Yuan said in an interview with The Telegraph – conducted via Zoom, of course. "Millennials grew up realising that they can get the job done without having to go into the office. Give it maybe 10 years and the millennials become the leaders and then it will become very common. Coronavirus is just a catalyst."
Similarly, Coronavirus might have been a catalyst for Zoom's success, but it certainly wasn't the cause of it. Those seeds were planted long ago, when Zoom was but an idea in the back of Yuan's mind. Thanks to Yuan's clarity of vision and, most of all, his commitment to customer happiness, Zoom is more than just a pandemic success story – it's proof that a good idea can indeed change the world.