What happens when a country runs out of money?
Sri Lanka offers a sobering lesson on the perils of sovereign debt and the political bacteria that thrive in a power vacuum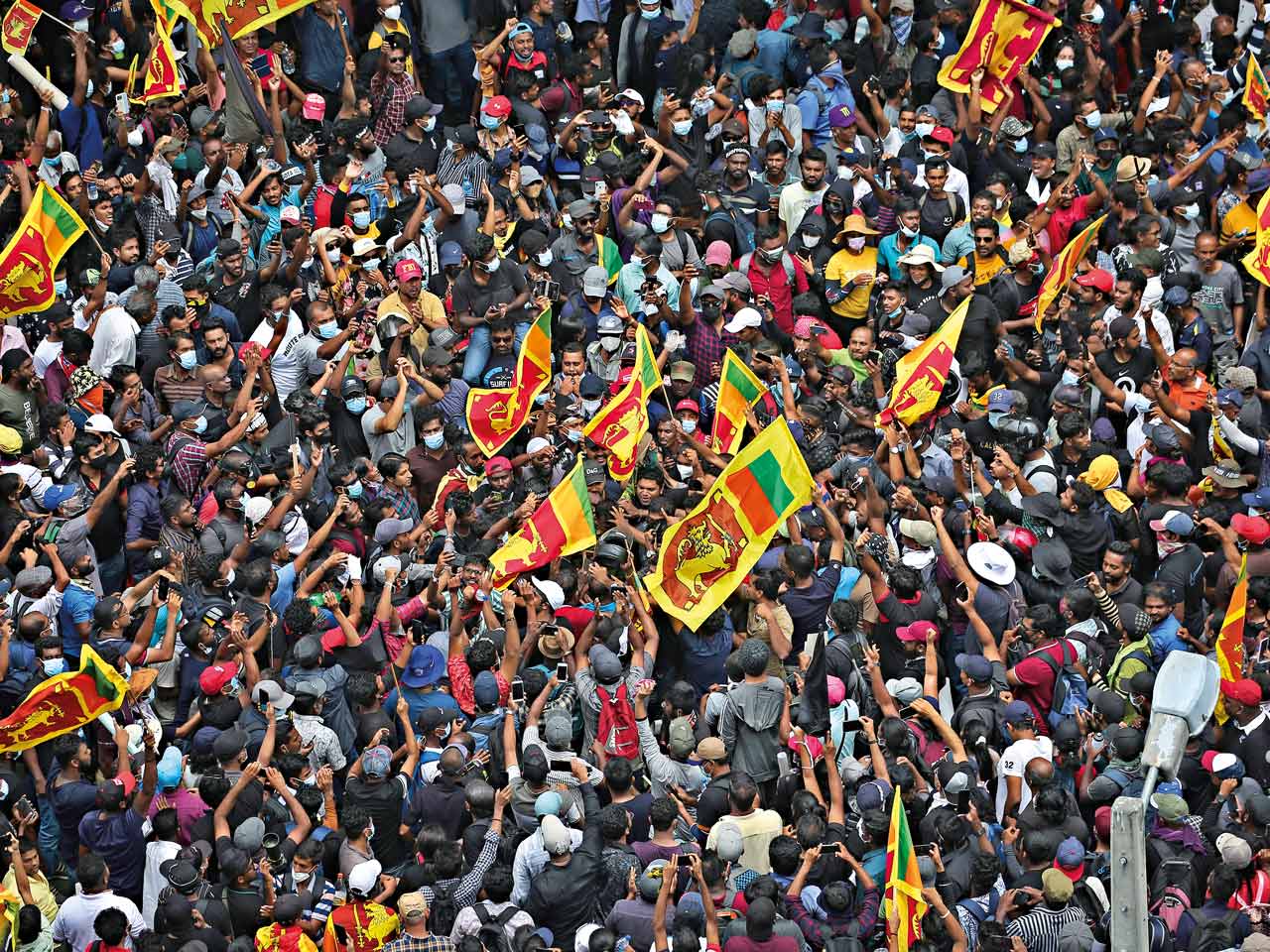 Picture the scene: ordinary people splash in Sri Lanka's presidential pool while another dozen or so pump iron in the presidential palace gym. Hundreds more enthusiastically wave the national flag in gilded offices, atop balconies, and on manicured lawns. Others loudly sing the national anthem, raising homemade banners and linking arms.
Though this is no celebration – it's a snapshot of a country turned upside down and the culmination of a months-long struggle against rampant corruption and crashing living standards. Worse, there is more to come, not just for Sri Lanka but for many other low and middle-income markets saddled with heavy and increasingly expensive sovereign debt.
They are exhausted
The island nation with a population of 22 million is no stranger to turmoil. This is a country still reeling from a civil war in which up to 100,000 lives were lost. Its economic fallout was severe. And still, the economic crisis unfolding today is the country's worst – worse even than the crisis borne by a quarter-century-long war.
Budget and current account deficits, hyperinflation, a devalued currency, and a huge sovereign debt that it can no longer pay, Sri Lanka's economy could hardly be in worse shape. The reality for people on the ground is stark. As recently as October, inflation reached a fresh record of 73.7 percent from just a year ago (see Fig 1). Transport costs were up 150.4 percent, food prices 94.9 percent.
"These days, we don't have a proper meal but eat only rice and gravy," one woman told the World Food Programme (WFP). But at these rates, even staples like rice are becoming unaffordable. The average monthly cost of a nutritious diet has soared 156 percent since 2018. The causes pre-date 2018, some say by decades, though it was only this year that the consequences crept into the wider public consciousness. In June the government ordered employees to work from home to reduce the rush on public transport. Then in July sales of fuel for private vehicles were banned against a backdrop of nationwide school closures and prolonged power cuts.
The signs aren't just in the workplace, but in homes too. According to the World Food Programme (WFP), over a third of people are facing moderate to severe hunger. "They are exhausted," says the organisation's Country Director for Sri Lanka, Abdur Rahim Siddiqui. "More than 60 percent of families are eating less, and eating cheaper, less nutritious food."
This is in a country that, until recently, was a leader in South Asia on many important indicators, including health and education. By all accounts it was a middle-income country. Its GDP was on par with South Africa's. But Sri Lanka relies on imports for essentials like fuel, food and medicine. Essentials that, as of today, it simply cannot afford. So when in May it failed to make an interest payment on its foreign debt for the first time in history, its people took to the streets en masse.
First hundreds and then thousands rallied outside parliament, staging sit-ins and sticking placards in the faces of their wildly unpopular government. It wasn't just students either. By May, people of all stripes had joined a collage of peaceful protestors.
Over a 100-day period, the protests forced president Gotabaya Rajapaksa and prime minister Mahinda Rajapaksa – both brothers – to resign
United as they were, the protests were unusual in that they were mostly apolitical – not so much concerned with installing a rival party per se, but calling rather for the removal of one President Gotabaya Rajapaksa and the wider Rajapaksa regime. This, by the way, is an oversimplification of their demands, but it was the one that really cut through.
They were successful – to a point. Over a 100-day period, the protests forced president Gotabaya Rajapaksa and prime minister Mahinda Rajapaksa – both brothers – to resign. Eventually the president was forced to flee the country to escape the uprising. A third brother, former Finance Minister Basil Rajapaksa, also resigned. But three is hardly a clean sweep for the powerful Rajapaksa clan. All said, the Rajapaksa brothers are believed to have placed more than 40 relatives in influential positions during their respective tenures as president.
The big three are gone, but to underline the difficulty protestors will have in forcing a meaningful change of government, just seven weeks after his dramatic exit Gotabaya returned to Colombo – this time with a beefed up security team. Billboards appeared in the city proclaiming "I'm back." This is a man whose approval rate fell to 10 percent.
His power is diminished, clearly. But his reappearance shows the resilience of not just the Rajapaksas, but of the precarious political machinery that landed Sri Lanka in this crisis. After all, his is a family that has presided over Sri Lankan politics for over two decades. The problem is, theirs is a rule beset with nepotism, corruption, and total mismanagement.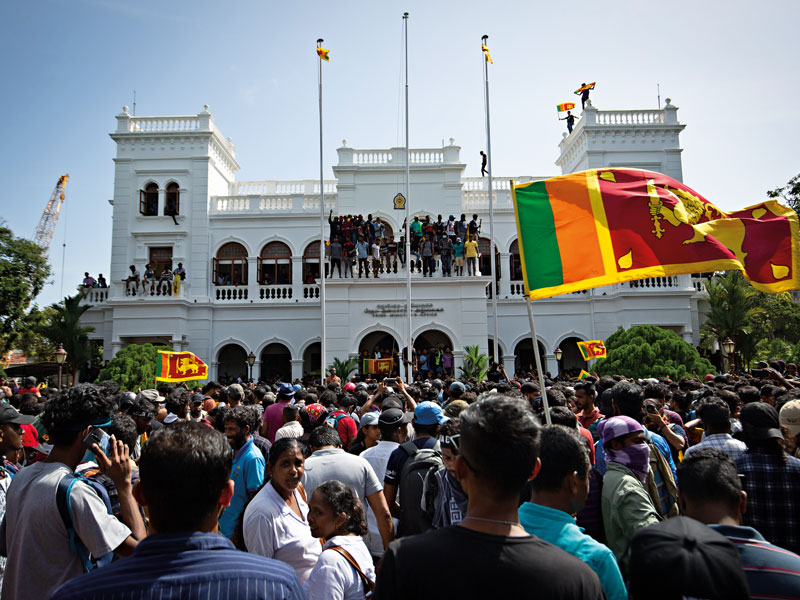 The making of a crisis
When the civil war finally ended in 2009, then President Mahinda Rajapaksa took out massive foreign loans to pay for war expenses and, tellingly, fund flashy expensive infrastructure projects to attract tourism and reward his pals. Take for example, 'the world's emptiest international airport,' as it was named by Forbes. Dubbed – unsurprisingly – the Mattala Rajapaksa International Airport (HRI) when the ribbon was cut in 2013, it cost a cool $209m. The majority ($190m) came in the form of high-interest loans courtesy of the Chinese government.
This is not a crisis created by a few recent external and internal factors, it has been decades in the making
It was a sign of things to come. By 2018 the airport was almost completely abandoned, with only a vanishingly small number of flights scheduled. The international press luxuriated in their descriptions of empty runways and eerily abandoned kiosks. The 12,000 square metre 'ghost airport,' said one newspaper. It was a disaster, and it was only one of many projects that failed to generate the revenue it so urgently needed to pay off Sri Lanka's expensive loans.
Without the foreign reserves to fund these kinds of projects, and there were many, the government was forced to rely on foreign lenders like China to help service its debts, sparking a vicious and faintly familiar cycle (more on that later). Instead of focusing on economic reforms that might increase those reserves, the Rajapaksas introduced sweeping tax cuts to shore up political support and free up disposable incomes – with very limited success. The snazzy headline change was a reduction in VAT to eight percent from 15 percent. Seven other taxes were abolished altogether. In all, the cuts are thought to have cost the government more than $1.4bn and extended the budgetary deficit. Compounding the issue is the fact that income from exports has stayed low, while at the same time Sri Lanka's import bill has ballooned. Today, the country imports $3bn more than it exports every year, while its foreign reserves have dwindled to essentially nothing. And at what cost?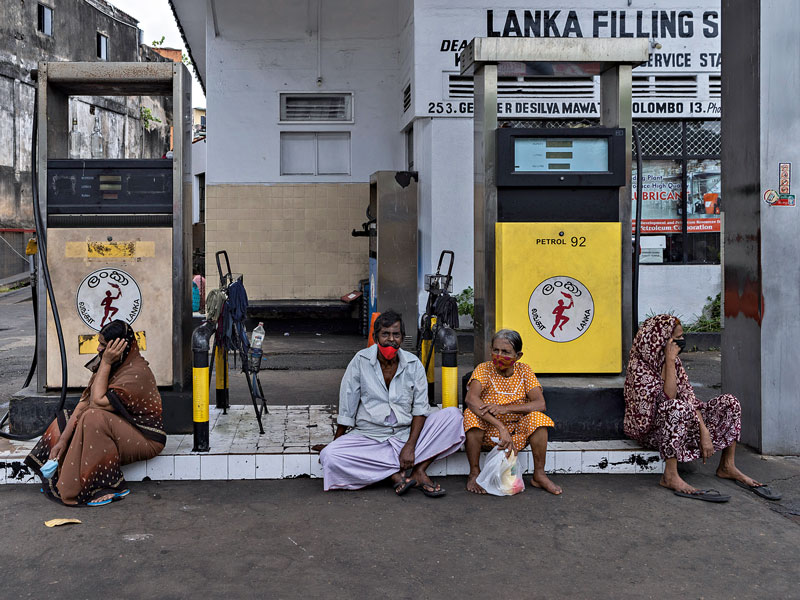 According to Jayati Ghosh, professor of economics at University of Massachusetts Amherst, writing in The Guardian, "this is not a crisis created by a few recent external and internal factors, it has been decades in the making." She continues, "ever since its 'open economic policy' was adopted in the late 1970s, Sri Lanka has been Asia's poster boy for neoliberal reform, much like Chile in Latin America."
In practice, this means that in Sri Lanka – as in other emerging markets – the strategy has been to make exports the basis for economic growth and lean on foreign capital inflows for support. So when inflows are curtailed by the likes of COVID-19 or the war in Ukraine, earnings fall and the price of essential imports like food and fuel skyrocket. In other words, ordinary people pay the price.
For its part, the WFP has launched a $60m emergency appeal for food and nutrition to assist three million of the most at-risk Sri Lankans. But without an immediate and massive package to account for the country's shortfall, the situation looks dire.
There was some solace to be found in September when the IMF tentatively offered Sri Lanka a $2.9bn loan. Because, if nothing else, the loan will provide some breathing space. Though the country needs to strike deals with international banks and asset managers, who hold the bulk of its $19bn in sovereign bonds. Gotabaya Rajapaksa may have resigned, but his legacy, and more importantly, a long legacy of sovereign debt remains.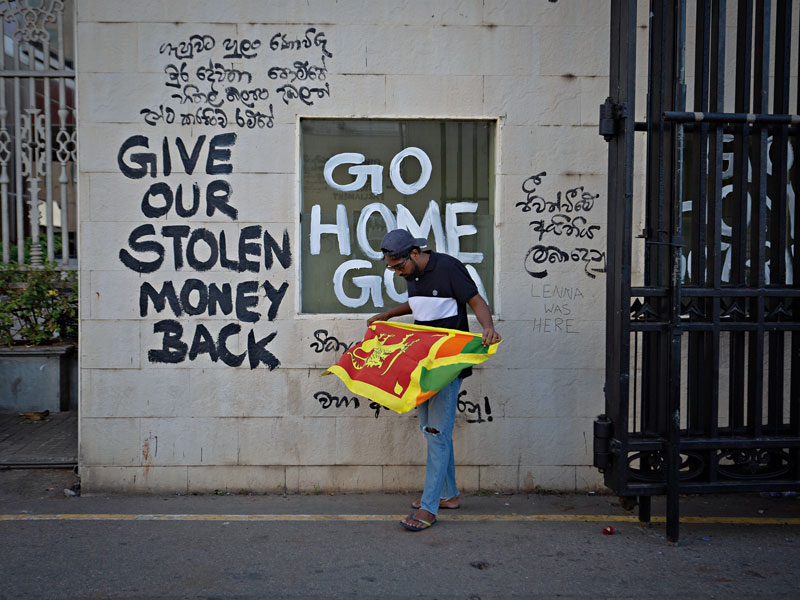 What's the cost?
As of today, Sri Lanka owes about $51bn in overseas debt to international bondholders and international creditors including China, Japan and India. Its favourite airport partner holds about 10 percent of Sri Lanka's debt, and China has been reluctant – if not totally unwilling – to forgive any of Sri Lanka's debt so far. Many commentators have framed this as a kind of cautionary tale about the dangers of doing business with China. But the reality is far more complicated.
By far the largest share of Sri Lanka's debt is held by commercial institutions. Over the last 20 years, its debt has shifted away from the kinds of low interest rate loans granted by the likes of the World Bank or Asian Development Bank and towards mostly commercial loans from private banks.
In 2019, 56 percent of Sri Lanka's debt was held by commercial lenders, versus 2.5 percent in 2004. As you well know, these loans carry much higher interest rates. When, as with the Mattala Rajapaksa International Airport, infrastructure projects failed to yield the requisite returns, it wasn't just the public finances but the public at large who began to feel the bite. Now we have a situation where a destabilised government must restructure billions in loans while ordinary Sri Lankans are in dire need of food and fuel. Again, at what cost?
According to the War on Want, "Many Sri Lankans fear that the IMF and World Bank will enforce the same 'solutions' that caused and fuelled the current crisis: further deregulation, cuts to public services, privatisation and poverty wages pushed even lower."
Typically, a country's debt repayments must be prioritised over social security schemes or investments in public services. In recent years over 40 percent of government spending was spent on paying off interest on foreign debts. Can Sri Lanka – or more accurately, Sri Lanka's people – afford more of the same? "Sri Lanka's collapse should be a wake-up call to other countries, highlighting the perils of sovereign debt in an era of geopolitical competition," according to the US Institute of Peace.
On the same day Gotabaya fled Colombo, Pakistan reached the final stages of an IMF deal to put its finances on a firmer footing. The jury's out on whether this will be so, or whether the debt upon debt approach will prevent the likes of Sri Lanka and Pakistan from pursuing the kinds of policies that benefit ordinary people. This is not just a Sri Lanka/Pakistan problem. Around 60 percent of low-income countries and 25 percent of emerging markets are in debt distress or at high risk of it. Couple this with rising interest rates and the strengthening of the dollar and it makes for quite the cocktail. A stronger dollar makes repayments even more expensive while at the same time borrowing costs for debt distressed countries have skyrocketed.
"The protests will again erupt – there's no question about it," says Jayadeva Uyangoda, professor emeritus of political science at the University of Colombo. "We can expect a situation with a lot of tension in the coming months." Tension, because people on the streets are concerned about debt-driven concessions. But in a much more real sense, they're concerned about a newfound determination to clamp down – and hard – on their protestations.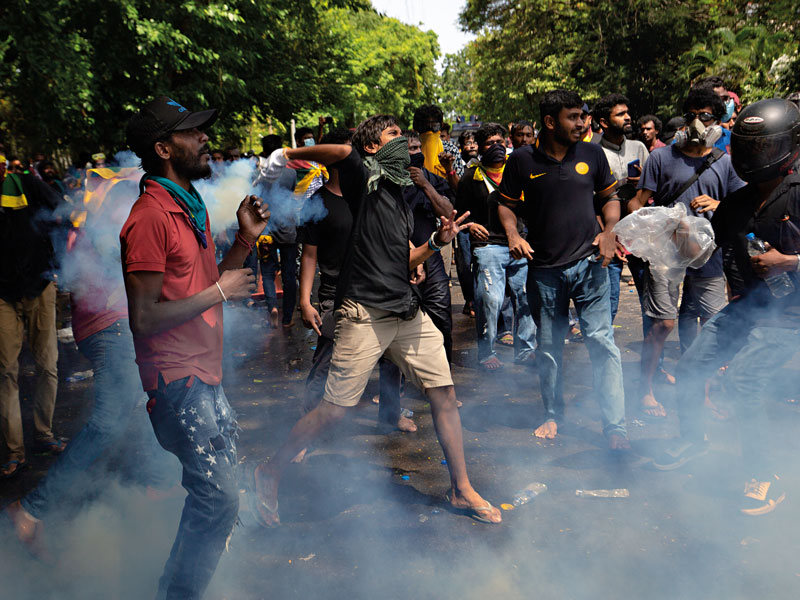 A familiar feeling
While protestors scored a minor victory in July with Rajapaksa's resignation, his successor, Ranil Wickremesinghe, has shown a worryingly authoritarian streak. More authoritarian even than his predecessor. Most concerning is his new government's use – or abuse – of emergency powers to contain protests. On September 23, it gave sweeping powers to authorities with the Official Secrets Act and the creation of 'high security zones' in central Colombo. Protestors now require written permission from police before they can legally organise any public gathering. Without it, police have wide-ranging authority to arrest anyone inside these zones. Only the High Court can grant bail.
Sri Lanka's collapse should be a wake-up call to other countries, highlighting the perils of sovereign debt in an era of geopolitical competition
"In the wake of an unprecedented economic crisis in which families sometimes have to choose between food and medicine, these repressive measures further close avenues for dialogue and maintain a political climate prone to an escalation of tensions," according to UN experts.
"Limitations to the right to freely assemble must be applied only in exceptional circumstances and strictly according to the law. National security cannot be used as a pretext to shut down expressions of dissent, and detention purely due to peaceful exercise of rights is arbitrary."
Even outside of Colombo, authorities have responded to protests with excessive or unnecessary force, using teargas, water cannons and even live ammunition. The police and the military together have already arrested an array of what appear to be protest organisers. They've also raided the homes and the offices of protestors and – worryingly – opposition political parties. The latter suggests that they're not only concerned about public opposition, but political opposition too. The step up in rhetoric and action has some organisations worried.
"The Sri Lankan authorities have repeatedly and unrelentingly stifled the voice of the people," says Yamini Mishra, Amnesty International's South Asia Regional Director.
"The new government in Sri Lanka has continued resorting to the unlawful use of force, intimidation and harassment to subdue protestors, sending a chilling message to the people of Sri Lanka that there is no room for dissent. The right to freedom of peaceful assembly is a keystone of any rights respecting society. It must be respected and protected," Mishra said.
What next?
The protests have been muted, sure, but there are voices still on the streets calling for change. Their hope: that Sri Lanka will hold new elections within the year and establish a new constitution to empower its people and reduce the president's executive powers. Chances of success are slim – and get slimmer by the day. People calling peacefully for reforms and greater accountability now face a very real risk of violence and arrest. But hope has not faded.
"We will continue our fight till we achieve our goal for a complete change of the system," said one leading activist, Father Jeewantha Peiris. "This is a freedom struggle."
As for the country's spiralling debt crisis, history tells us that there is only real and systematic debt relief when there is the will to do something. Sri Lanka's inclusion in global news outlets let a lot of people know that there is a crisis unfolding. Whether there is a willingness to step in…we shall see.
But as the headline-grabbing pictures of protestors storming the presidential building fade from memory, the international community may forget Sri Lanka's plight. And by extension, that of other low and middle-income countries like it. Time, sadly, may be running out.