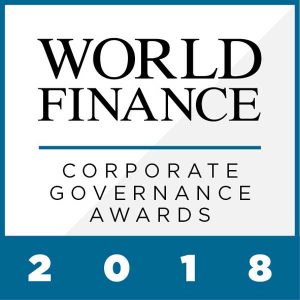 Corporate governance is about effective management, upholding a certain level of moral and ethical integrity, and building relationships with company stakeholders. It also requires strong leadership and a commitment to making the right decision – not necessarily the easy one.
The relative economic prosperity delivered by 2017 did not always produce the most favourable conditions for corporate governance policymakers. Falling unemployment, persistent growth and buoyant stock markets may have made for a healthy business climate, but success can sometimes cloud judgement. It is much harder to introduce – let alone adhere to – strict rules and regulations when the going is good.
When it comes to corporate governance, companies will need to think carefully about both their present-day image and their long-
term reputation
So, although 2017 brought financial stability, it was also notable for a number of corporate governance missteps. In the US, Equifax faced accusations of insider trading, while Steinhoff, one of South Africa's leading retailers, struggled to explain accounting irregularities. Perhaps worst of all was Uber's decision not to disclose the data breach it suffered in 2016, an act that even raised eyebrows among those who had grown accustomed to reading about the company's many indiscretions.
The past year also brought the issue of sexual harassment into the spotlight. Following allegations made against producer Harvey Weinstein and a number of other high-profile Hollywood stars, the 'Me Too' movement soon spread to other industries – and the finance sector was no exception. In light of the testimonies of countless women, many businesses are rethinking their policies on sexual harassment and taking a closer look at gender imbalance in the workplace.
The World Finance Corporate Governance Awards celebrate the companies that are not simply reacting to shifting attitudes, but are being proactive in driving positive change. By maintaining the highest possible standards of transparency, sustainability and inclusivity, these organisations have proven themselves to be worthy recipients of this year's awards.
Taking responsibility
Maintaining the status quo is easy, but it can lead to stagnation. In 2018, a growing push towards greater corporate responsibility will make it difficult for businesses to simply continue as they were. The Harvard Law School Forum's Global and Regional Trends in Corporate Governance for 2018 report sees board quality and composition as one of the biggest developments to take place this year. Increased gender diversity is sure to be a key focus area, with institutional investors showing a greater willingness to vote against nominating committees if they feel female members are underrepresented.
Similarly, companies will find themselves expected to create a positive working environment. Reports of sexual harassment need to be thoroughly investigated and gender pay gaps swiftly closed. Accountability will surely be high on the corporate governance agenda this year, with board members no longer able to plead ignorance regarding harassment, whether it discriminates against any gender, sexuality, race or creed.
If creating a more transparent working environment helps organisations deal with toxic cultures, it will also help them with financial disclosure. Across the world, pressure is mounting on firms to ensure their pay practices are as fair as possible. In Germany last year, the Transparency of Remuneration Act came into force and, more recently, an updated version of the Markets in Financial Instruments Directive (MiFID II) was implemented across the EU. The individual accountability of management body members will be heightened as a result of MiFID II, and employees will surely agree it's about time, too.
In 2018, management will be placed under greater scrutiny than ever before when it comes to their corporate governance policies. Whether this relates to human capital, investor stewardship or remuneration, companies will need to think carefully about both their present-day image and their long-term reputation.
Technological trouble
The world of technology changes rapidly, creating new business opportunities and unforeseen problems. For corporate governance policymakers in particular, technological developments can prove to be something of a headache. Throughout 2017, high-profile organisations – including the likes of Equifax, Verizon and the UK's National Health Service – suffered cyberattacks that disrupted operations and fractured customer trust. Although cyberattacks are, to a certain degree, unavoidable, the ways in which businesses react to them will determine the extent of the damage caused.
The threat posed by cybercriminals certainly isn't going away, which means that businesses of all sizes will need to make a renewed effort to improve their defences in 2018. Technical solutions will, of course, be important, but better corporate governance will also prove vital. Companies must ensure that cyber-risks are conveyed to all members of staff – from new recruits to c-suite executives – and not simply left to the IT department. Board members should also make cybersecurity discussions a regular part of company meetings in order to discuss the legal and financial implications of an attack.
The formal adoption of the General Data Protection Regulation (GDPR) in May this year will also have a substantial impact on corporate governance worldwide. GDPR will significantly change the corporate landscape, forcing companies to take personal privacy and data collection more seriously. Some organisations are likely to increase their investment into employee training, while others may choose more technical solutions. Whichever approach is taken, businesses need to act sooner rather than later.
Looking long term
Sustainability is a corporate governance concern for businesses around the world. In the EU, concerns over corporate contributions to climate change achieved mainstream acceptance a number of years ago, but more work needs to be done. In particular, better corporate planning for the two-degree scenario, which aims to limit the average global temperature increase to two degrees Celsius, is of paramount importance.
In the US, the Task Force on Climate-Related Financial Disclosures aims to support better access to corporate data so climate-related risks can be assessed, priced and managed more effectively. Although corporate attitudes towards environmentalism are a little less clear-cut following President Donald Trump's decision to pull out of the Paris climate accord, local governments and many private businesses have subsequently come out in support of the agreement. As in the EU, there is currently no requirement for a US organisation to appoint a climate change expert to its board, but this is certainly something for forward-thinking companies to consider.
Of course, sustainability concerns can cover more than just the environment. Long-term planning and honest appraisals are often seen as the minimum requirement for good corporate governance, yet some companies have still failed to achieve this. Notably, the collapse of Carillion in the UK showed what happens when governance fails. Consistent board effectiveness reviews and regular, impartial auditing are needed if an organisation is to deliver sustainable success in the best interests of all its stakeholders – not just its managing directors.
Organisations now have more channels through which to communicate with investors and members of the public. What's more, they have access to corporate data in greater quantities and at higher levels of accuracy. With this in mind, there is little excuse for companies that continually fail to deliver the high standards of transparency and accountability expected in the modern business world. To celebrate those who have shown a willingness to embrace these values for the good of their employees, customers and industry, we present the World Finance Corporate Governance Awards.
World Finance Corporate Governance Awards 2018
Angola
Banco de Fomento Angola
Bahrain
Batelco Group
Bermuda
Arch Capital Group
Canada
Nutrien
Chile
IPAL
China
HNA Capital
Colombia
Tecnoglass
Cyprus
Bank of Cyprus
France
Unibail-Rodamco
Germany
Metro Group
Greece
TITAN Cement
Iran
MAPNA Group
Italy
Telecom Italia Group
Jordan
Jordan Islamic Bank
Kenya
KCB Group
Mexico
Unifin
Nigeria
Zenith Bank
Norway
SalMar
Peru
InRetail
Philippines
PLDT
Poland
PKN Orlen
Portugal
Millennium bcp
Saudi Arabia
SABIC
Singapore
CapitaLand
South Africa
Kumba Iron Ore
Spain
Amadeus
Switzerland
LafargeHolcim
Thailand
BCPG
UAE
Dubai Electricity &
Water Authority (DEWA)
UK
De La Rue
US
Twitter