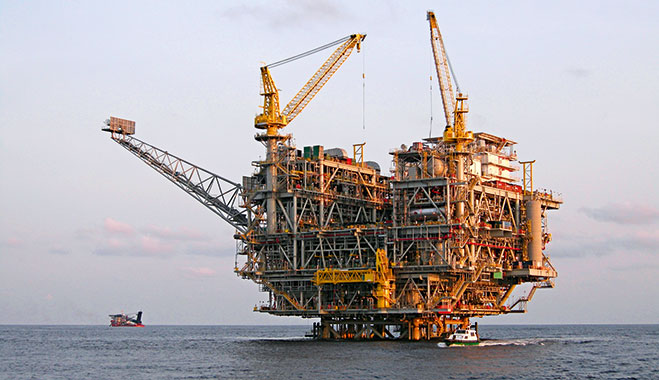 An oil rig off the coast of Angola. The country is Africa's second-largest oil exporter, behind Nigeria, but is heavily reliant on it&nbsp
The Angolan economy has seen its fortunes take an oil-inspired upward turn after the conclusion of a costly civil war at the turn of the century. 10 years ago, Angola's GDP stood at just $10bn, according to the World Bank, but has since swelled to $110bn and become the third-most prosperous economy in the Sub-Saharan region. The country's success story is in large part due to the oil industry, so much so that economic boom and bust is inextricably tied to changes in oil prices, leading many to raise the issue of Angola's lack of economic diversity.
Recognising that the country must diversify if it is to ensure a sustainable form of growth, resident Angolan firms and the country's government are taking steps to supplement the country's existing economic strength with alternative channels of growth. Banco Angolano de Investimentos (BAI) is just one of many domestic companies whose influence can not only be seen in the financial sector, but in the rise of local SMEs and the betterment of the communities in which they operate.
Founded in 1996, BAI remains the biggest bank in Angola by asset size – approximately $12bn total assets – and is well positioned to negotiate the numerous challenges posed by a financial landscape in the midst of change, with 500,000 domestic clients and a network of 120 branches and seven corporate centres.
The bank's mission is to uphold and advance the national economy and at all times abide by a fivefold ethos of respect, transparency, customer centricity, ethicality and professionalism. Put another way, BAI promises to deliver efficient and personalised results in all it does, which reinforces its reputation as an essential partner for doing business in Angola.
Aside from offering exemplary banking products and services to individual retail customers and SMEs, BAI is also highly regarded among corporates and the Angolan community at large. However, what differentiates BAI from local competitors is its steadfast understanding of the ways in which oil props up the national economy and why it is that the country must diversify if it is to grow.
Oil contribution to Angola
45%
Of GDP
75%
Of government revenue
90%
Of export earnings
The importance of oil
Many in Angola are directing their attention towards industries other than oil and gas in an attempt to bolster the many sectors that can also offer the country opportunities for expansion. Nonetheless, the importance of the oil sector to Angola's economy is plain to see; World Bank figures show that the industry accounts for around 45 percent of the country's GDP, 75 percent of government revenues and an incredible 90 percent of overall export earnings.
To further illustrate the changes of this past decade, Angolan oil production increased at an average rate of nine percent between 2000 and 2012, averaged at over 1.7 million barrels per day in 2013 and is on course to reach a rate of two million barrels per day as of 2015, according to the country's oil minister.
One of the primary ways in which the financial sector is hoping to benefit from the oil sector is through the introduction of a new law requiring foreign oil companies to pay suppliers from funds drawn from local Angolan banks. Although the policy will no doubt benefit Angolan credit markets – with the Economist Intelligence Unit estimating that it could bring an added $10bn to Angolan shores – many believe that the law could lead to delays and reductions in short-term oil production. Regardless of these concerns, however, the fact remains that financial institutions such as BAI will most definitely thrive in the face of additional liquidity.
The development will likely serve to boost Angolan coffers and provide both business and government with the necessary liquidity to invest in additional projects. Although the changes will complicate dealings, BAI boasts an in-depth, specialist knowledge of oil transactions and is well equipped to increase its operational efficiency.
In terms of facilitating finances for those in the oil industry, BAI has offered its extensive services to a great many oil companies operating in and around the region, whether on a company or individual basis. One of BAI's biggest partners is Angola's national oil company SONANGOL, with BAI having structured many of the organisation's financing needs and offered a number of investment banking services in liaison with a select few international players in the field.
Bettering the community
Aside from BAI's dealings with the oil industry, the bank's central focus lies in advancing the wider economy and facilitating those in the local investment space. BAI has been supporting government and local businesses since its establishment, with the intention of contributing to the diversification of Angola's economy. The most notable of these schemes is entitled Angola Investe, and draws on an annual fund of $50m to supplement those with ideas for local projects that could potentially serve to offset the need to import so many foreign goods.
Another of BAI's goals is to bring banking to those without access to financial services in many of Angola's local communities. According to the Angolan Central Bank, as of 2012 only 22 percent of the Angolan population had access to these services, which represents a huge challenge for all of Angola's financial institutions and highlights an issue that has plagued neighbouring nations in the region for quite some years now.
BAI's concerns lie not only with business but also in developing the local community
In response to this issue, BAI has delivered on many of these challenges through its subsidiary BAI Banco Micro Finanças (BAI BMF), which microfinances small businesses and entrepreneurs and has also brought banking branches and financial services for the first time to many of Angola's unbanked population. Propelled by a substantial investment in its people, training and motivation, alongside a strong emphasis on consolidating its balance sheet, BAI BMF currently has 19 branches across the country.
In addition to BAI BMF, BAI has other member companies in its group, namely: Academia BAI (education, Angola); BAI Europa (banking, Portugal); BAI Cabo Verde (banking, Cape Verde); Nossa Seguros (insurance, Angola); Griner (construction, Angola); and Imogestin and Novinvest (real estate development and promotion, Angola). This conglomerate of companies provides synergies to Angolan businesses and acts as a platform from which they can grow outside of Angolan borders.
BAI's concerns lie not only with business but also in developing the local community, and the bank is not only demonstrating social responsibility through its actions, but is embedding corporate social responsibility in the core values and principles of the whole organisation.
Inspired in large part by the country's enduring social deficits, BAI dedicates its attention and resources to numerous sectors spanning education, health, sports and culture, provided that each of these projects promises a degree of sustainability and balanced development for the community in question.
The future for Angolan banking
In order to maintain its leadership in the Angolan banking sector, BAI is looking to invest a great deal more time and resources in bettering its services and products and reaching a greater share of Angola's population.
The bank's priorities for the coming year will be: consolidating its balance sheet, with an increase in provisions for credit; maintaining the high quality of its banking services; training and retaining employees; enhancing technological and operational support; and streamlining budget control processes. Put simply, BAI is preparing itself to consolidate its holding company so that it is adequately equipped for the challenging economic times ahead.
For the foreseeable future, the Angolan financial sector will be challenged by new market entrants as well as reduced profit margins. Therefore, banks that understand the market's tendencies and demands while managing their balance sheets accordingly will most probably prosper.
As is always the case, attraction and retention of the best human resources, within the described business context, will be one of the key challenges posed to the boards of financial institutions – these being not just technical but also behavioural. Put in a broader context, BAI will continue to support government initiatives, businesses and local communities by investing in its people and in turn delivering professional financial services with a loyalty to local relationships.