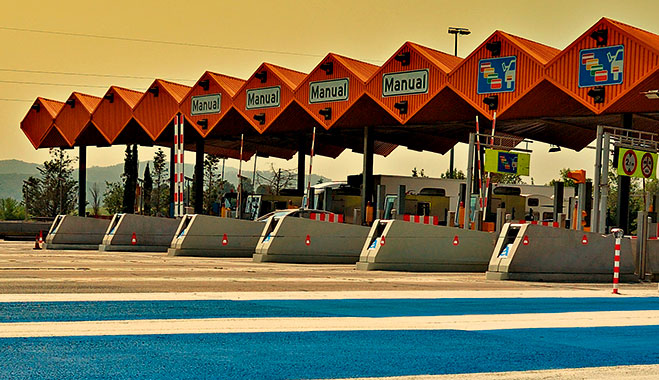 A toll station in Spain. With PPP's increasing in the country, the privatisation of some roads has seen vast improvements to the country's infrastructure&nbsp
Recently, Spain has been labelled an economic wasteland beyond all reasonable chance of repair, so much so that investment has waned to quite extraordinarily low levels. Growth has stifled as confidence in the eurozone's fourth largest economy has taken a nosedive. Nonetheless, analysts believe that Spain's fortunes are on the upswing, and that PPPs are likely to play a significant part in boosting the region's prospects.
Reaching global shores
While a propensity for privatisation is certainly gaining ground in Spain, the benefits are far from exclusive to European shores, with nations as far afield as Latin America turning to PPPs as a means of plugging the infrastructure gap and generating economic growth (see Fig. 1). Aside from boosting government coffers, PPPs can also serve to revitalise consumer confidence, improve efficiency and lessen the burden on the public sector – these being circumstances that have too long plagued a global economy in decline.
One of the clearest examples of a PPP having benefitted fragile Spain is with the privatisation of the Catalonian toll road Túnels de Barcelona e Cadí. The deal – which was jointly undertaken by Invicat (fully owned by Abertis) and Latin America investment banking firm BTG Pactual – amounted to a settlement worth €430m in December 2012, and serves as an example of how privatisation can breed success.
"We participated in the water privatisation process soon after looking at this opportunity, and concluded that it was certainly interesting," says Renato Mazzola of the Toll Road Concession, who is head of Infrastructure investments at BTG.
The multinational firm previously co-headed a consortium, along with ACCIONA, in what amounted to a €1bn water privatisation deal that extended to an estimated five million people across Catalonia. The company believes this second Catalan project – though worth less –is of an equal if not greater importance to a country in the midst of economic turmoil, stating that the privatisation of key infrastructure links can so often serve to stimulate economic growth.
"Privatisation can bring unparalleled benefits to the project with respect to procedures, maintenance and operations in a way that governments cannot," says Mazzola. "I think when you have a private rather than a state operator, you're able to utilise synergies from other assets around the world, and combine them in such a way that the project is made more efficient."
Privatisation can bring unparalleled benefits to the project with respect to procedures, maintenance and operations in a way that governments cannot
Georgiana de Grivel, BTG's Investor Officer told World Finance, "private ownership usually enhances the quality of the service in question because the party's interests lie with customer satisfaction as, at the end of the day, that's what's going to bring more customers into the fold."
Benefits beyond profit
PPPs also offset the burden on taxpayers and shift accountability to rest with private as opposed to public parties, in effect lifting consumer confidence and restoring a measure of satisfaction to an otherwise disillusioned public. Mazzola believes the concession to be crucial in spurring economic growth in Catalonia, "not only can the government actually raise the money to comply with financial requirements, but reallocate resources elsewhere, whether it be to areas where there is a greater need for investment or ones where the private sector is not necessarily interested in investing."
"PPPs can also bring further infrastructure investment to the region," says de Grivel. "For local and international investors who may well have been wary of investing in the past, having an international player involved will serve as a comfort to those who are undecided on the region." The toll road privatisation has given the government an immediate sum of €310m, with the remaining 28 percent due to be paid on completion of the concession period 25 years down the line.
Mazzola states that, "for the government, it was important that they were able to raise the money they needed in order to meet their primary financial requirements. I think it was a win-win situation for all parties involved." BTG won the concession through a rigorous bidding process, which saw the firm put together an incredibly attractive proposal.
"I think a lot of people believed the concession would not draw any bidders, but we were able to work an attractive project finance structure with a few commercial banks – and obviously in any infrastructure project financing is key.
"When we were bidding for the project the market conditions were extremely bad, there were very few banks willing to put money on the table, but given the close relationship that BTG and Abertis have with several commercial banks I think the banks were willing to commit the financing on this occasion."
Pre-established experience
Speaking on the supposed reasons why BTG was selected, de Grivel says, "I think we also had an attractive consortium for the government being an investor group with further plans of investing in the region, and a proven operational track record through Abertis. "The Spanish conglomerate accounts for the majority of toll road concessions in the region… this same partnership was also attractive for banks given our experience in the sector." Investment in infrastructure is something that BTG are all-too-familiar with, being headquartered in Brazil and believing – as so many do – that Latin America as a whole demands a huge infrastructure drive if it is to sustain its gains in the near future.
"Latin America in general is lagging behind compared to other regions in the world," says Mazzola. "There is no question whatsoever about the need for infrastructure in Brazil, Colombia and Peru. However, this need is not excluded to larger nations and extends to smaller Latin American economies such as Paraguay as well."
Deficiencies in Latin American infrastructure are well known, and are so often cited as one of the principal factors inhibiting the native emerging markets from progress. "If there is one economy that is ahead of the game then it is Chile, however the vast majority of Latin American nations require an upturn in infrastructure investment, and for this reason many governments have made this their primary focus."
With government budgets squeezed and the infrastructure gap widening– $200bn a year according to Reuters – the onus lies more so with private players to cement a stronger platform from which Latin America can thrive.
BTG has invested in a number of infrastructure assets in Latin America and have in part contributed to what have been a productive year in terms of bolstering transportation, power, telecommunications and oil and gas assets
Although the likes of Brazil, Peru and Colombia have fallen behind somewhat on the infrastructure front, BTG has invested in a number of infrastructure assets in Latin America and have in part contributed to what have been a productive year in terms of bolstering transportation, power, telecommunications and oil and gas assets. "More foreign and local capital is being allocated to infrastructure, although I think the region as a whole requires a lot more investment in the future," says Mazzola. "We do see a lot of international – especially European – investors participating in the region but most have seen a number of very strong and active local players emerge recently. "Obviously a combination of foreign and local capital in the region is always appreciated, but most importantly we must continue to see governments and private sectors build upon exiting infrastructure so that they're able to guarantee the future economic success of the region."
Speaking specifically about the measures BTG have undertaken to develop the region's infrastructure, Mazzola is confident of further growth. "We've just raised a second infrastructure fund amounting to $1.8bn, which is the largest infrastructure fund in the region, and we are mainly focusing on oil and gas, energy, telecommunications and logistics, which represent the four areas of investment that we've already made.
"We're also looking for opportunities in the water sector, so there's quite a few areas that I think are targets for us as we look for one of these five opportunities." As demonstrated by the Catalonian highway concession, PPPs can so often be the key to economic growth. Recognising that there are many more opportunities of this sort to be had overseas, BTG this year co-headed a $1.5bn joint venture to acquire a 50 percent stake in state-owned Petrobras' African assets in Angola, Benin, Gabon, Namibia, Nigeria and Tanzania.
"We're going to continue with our focus on Europe and Latin America so that we're able to participate in markets outside of Brazil, which is the case right now in Chile too. We're very optimistic about our current investments, and we're confident that there are some great investment opportunities in many major regions across the globe."