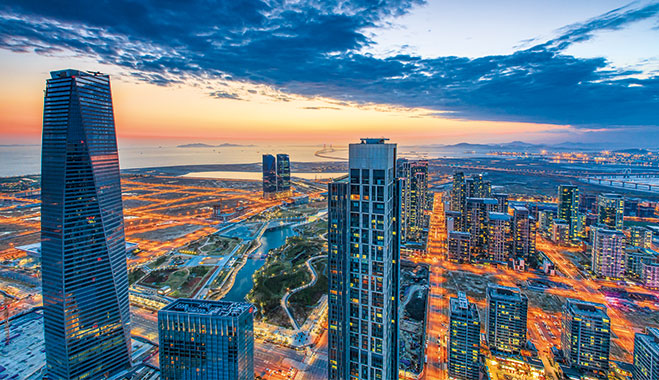 Built on a new embankment on the Incheon waterfront, the Songdo International Business District has been compared to a 'living organism', with green spaces making up nearly half of the city, 16 miles of cycleways and an impressive underground waste disposal network &nbsp
Seoul, in South Korea, is one of the 'smartest' cities in the world; it boasts the most cutting-edge infrastructure as part of daily life. The metro is not only the most extensive subway system by length, but also boasts ultra-fast Wi-Fi. The transport network itself is meticulously timed, with arrival and departure times displayed clearly on laser panels outside stations and bus stops. But a new development 40 miles outside of the South Korean capital is so advanced that Seoul will look positively medieval by comparison. The Songdo International Business District, constructed on a new embankment on the Incheon waterfront, is a purpose-built 'smart city', designed for efficiency and convenience.
Songdo by numbers
$40bn
Cost of the Songdo development (to-date)
40%
Area dedicated to outdoor spaces
40miles
Outside Seoul
Building a city from scratch to fulfil a specific need is not a new concept; Canberra, Brasilia and Abuja were all built in the last 60 years as functional capital cities. But Songdo is unique, being built as an integrated hi-tech environment. Developers describe Songdo as a 'global business hub' and 'home to a variety of residential and retail developments', but at a cost of over $40bn, is Songdo just a glorified model neighbourhood?
The smart city occupies 1,500 acres of land 'reclaimed from the Yellow Sea', making it the largest private real estate development in history. But it's not the geographical space that makes Songdo remarkable. The district was built as part of former President Lee Myung-bak's drive to promote low-carbon and sustainable growth as the principal avenue for development in South Korea.
For over half a century, the country's economy has been dependant on exports and South Korea has become known for its hi-tech industry. When the global economic crisis struck in 2007 and 2008, and foreign demand for South Korean products slumped, the government launched a stimulus package aimed at developing the country's own infrastructure, with a particular emphasis on green investments.
Lee launched the Framework Act for Low Carbon Green Growth, a $38bn economic stimulus package, 80 percent of which was earmarked for green and sustainable investments. In 2010 the National Assembly of Korea increased the value of the Framework Act to over $83.6bn, to be invested over five years.
Songdo has been a huge part of the move towards sustainable growth. The city is a novel model – 40 percent of its area is dedicated to outdoor spaces. By comparison, Seoul and other South Korean metropolises are densely populated with few open-air areas for residents. Songdo is unique, offering city inhabitants something they have never had access to before: green space for leisure. The district has been heavily promoting its 16 miles of bicycle lanes, its central park, and its waterways, which are based on New York City's Central Park and Venice's canals, respectively.
Business and leisure
While South Koreans might not have been wooed by the district's state-of-the-art urban infrastructure, it has certainly been a selling point for international investors. Songdo is the first district in Korea to receive Leadership in Energy and Environmental Design (LEED) accreditation, and the largest project outside the US to be included in the LEED Neighbourhood Development Pilot Plan.
This means the entire development adheres to the strictest environmental standards for energy consumption and waste. According to developers, over $10bn was invested in the design and build of the 100 main buildings in the district, including the Northeast Asia Trade Tower, which will be Korea's "tallest building and most advanced corporate centre," according to Songdo's promotional material.
In many ways Songdo is a living organism. The city's infrastructure contains sensors that monitor and regulate everything from temperature to energy consumption and traffic
Because the district was built from scratch, it has given developers the opportunity to invest heavily in technologies that have yet to debut in conventional cities. Take Songdo's smart rubbish disposal system, a futuristic bit of hardware that spans the whole complex. No rubbish trucks will ever roam the leafy streets of Songdo, instead all household and office waste is sucked through a network of underground tubes to vast sorting facilities where it is all processed, deodorised and treated. The aim is to eventually convert all this sorted and treated waste into energy for the community, but the system is not yet fully operational.
In many ways Songdo is a living organism. The city's infrastructure contains sensors that monitor and regulate everything from temperature to energy consumption and traffic. Essentially, the city can interact with residents on a one-to-one basis. Smart grids and meters are already fairly common in Europe and the US, but the technology in Songdo is more pervasive than anything in the West. Because it was designed to this specification and not converted later like most 'smart cities' in the rest of the world, Songdo is completely geared towards sustainability; even the water pipes are designed to stop clean water, suitable for human consumption, being used in showers and toilets, and all of the embankment's water goes through a sophisticated recycling system.
Everything in Songdo might have been meticulously designed, but there is one key element that has not gone according to plan. Since it's official launch in 2009, the sustainable district remains woefully under-occupied. Despite it's enviable location close to Seoul and it's international airport – "just 15 minutes driving time from Incheon International Airport and three and a half hours flying time to a third of the world's population and regional markets such as China, Russia and Japan," reads the brochure – less than 20 percent of the commercial space in the district has been occupied.
Ghost town
Pre-planned cities have been around for centuries, and they always face the same challenges: how to attract residents and businesses to a new, untested, and unpopulated area. China has faced this problem as the building boom of the early 2000s encouraged developers to invest in new cities and shopping districts that ultimately failed to attract buyers. Songdo is very well connected, and the business facilities are second to none, but attracting inhabitants may still be a slower process than developers hoped for.
In order to speed up the population process, developers have been investing heavily in top-quality international education centres. The hope is to entice a diverse international community. Before the end of 2014, four universities will inaugurate campuses in the business district, including the first overseas university to open a campus branch in Korea, the State University of New York, Stony Brook, as well as George Mason University and the University of Utah, all sponsored at least in part by the Ministry of Knowledge Economy. There is also an enormous, exclusive international school catering to children from kindergarten to high school.
Songdo is the city of the future; all that is missing are the residents
And while Songdo is not yet a hit with the international business community, young professionals have flocked to its leafy boulevards looking for a better lifestyle than the hectic streets of Seoul can offer. The district offers over 22,500 new housing units built to different specifications – from garden houses to sleek high-rises – all connected to the district's energy, water and waste facilities.
But businesses may soon follow, attracted by the skilled workforce provided by the universities, the sustainability credentials and the tax breaks. "It's the occupants who make a city," Jonathan Thorpe, CIO of Gale International, the American developer behind Songdo, told the BBC. "You're trying to create a diversity and a vitality that organic development creates, in and of itself," he explained, "so it's a challenge to try and replicate that in a masterplan setting. At the same time, with a masterplan you have the ability to size the infrastructure to make sure the city works – now and in 50 years' time."
And the brains behind Songdo have thought carefully about financial incentives for businesses. Companies relocating to the district will have access to tax reductions, estate support and subsidies. No property tax will be levied for 10 years, followed by three years where businesses need only pay 50 percent of taxes due; small- and medium-sized companies will also be considered for rent reduction; and employees of companies with over 30 percent international investment will be able to claim a variety of perks – from location subsidies to promotion results compensation.
For South Korea, Songdo is more than a hi-tech business district, but a template for future developments. It is the prototype for the green investment the government wants to build the economy on in the future. It is all designed to appeal to foreign investors, but its manicured gardens and glassy towers also give it an unmistakable air of luxury. This is the aspirational South Korea where everyone is wealthy and your mobile phone controls the temperature in your apartment. Songdo is the city of the future; all that is missing are the residents.