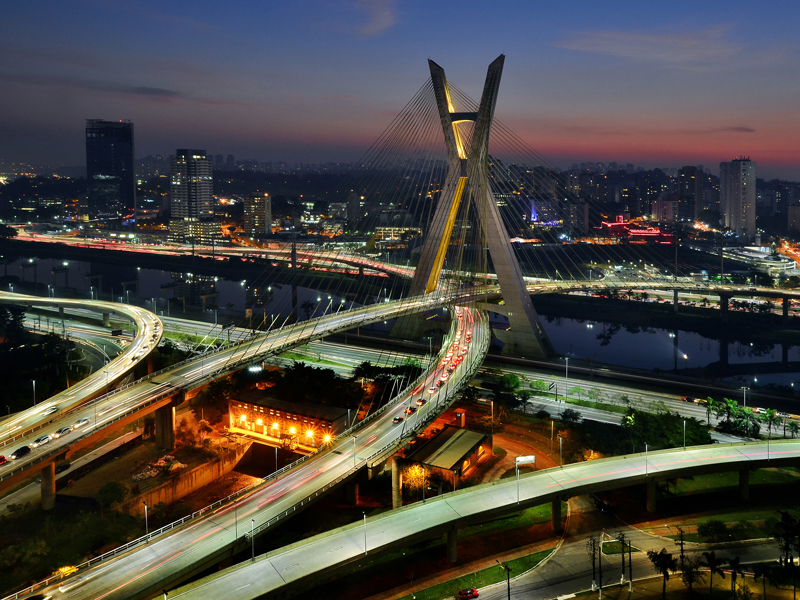 With its population increasingly distrustful of traditional banks, São Paulo has become an excellent destination for fintech start-ups&nbsp
Fintech is proving to be one of the most fruitful sectors for venture returns. According to Juniper Research, fintech companies will generate $638bn in revenue in 2024, a 143 percent growth on estimated revenues for 2019.
As Brexit uncertainty clouds the prospects of one of the world's financial capitals, London, there is a growing interest in the fintech hubs emerging elsewhere. Around the globe, cities are opening their doors to foreign investment and creating incentives for start-up creation, all in the hope of tapping into this burgeoning market. According to a survey by Startup Genome, these are among the top emerging fintech hubs to watch right now:
1 – São Paulo
Brazil has more fintech start-ups than any other Latin American country, and most of them are consolidated in the country's financial centre, São Paulo.
Home to the European Central Bank and more than 200 banks – most of which are foreign – Frankfurt plays an important role in the EU's financial system
Owing partly to a decade-long financial crisis and the high concentration of power in the country's five largest banks, many Brazilians have become distrustful of traditional banks, having come to associate them with high interest rates and bureaucracy. As a result, approximately 40 percent of Brazilians are excluded from traditional banking services. This has made the city a thriving space for disruptive fintech start-ups.
One such start-up is Nubank, a Brazilian online bank and credit card operator, which is currently one of the most highly valued privately held start-ups in Latin America. Over the next 10 years, Brazil's fintech market is projected to generate potential revenue of up to $24bn.
2 – Lithuania
One country poised to see an explosion of opportunities after Brexit is Lithuania. In February of this year, the country saw around 100 British financial companies apply for a licence in the country. This is in part because Lithuania has been creating a favourable regulatory environment to help start-ups flourish. For instance, the Bank of Lithuania's regulatory sandbox allows firms to test new technology before releasing their products to the market.
The country also has the shortest waiting time for e-money or payment licences in the EU. As such, the World Bank placed Lithuania 14th out of 190 countries in its Ease of Doing Business index in 2019. With the number of fintech firms in Lithuania having doubled between 2016 and 2018, the country appears to be well on its way to becoming a leading fintech hub.
3 – Estonia
Estonia has one of the highest rates of start-ups per capita in Europe. According to Startup Genome, 29 percent of all jobs created by these start-ups are within the country's fintech industry. One of the most prolific unicorns to emerge from the Baltic country is international money transfer company TransferWise, which raised $280m in investment in 2017.
This surge in start-ups has in part been driven by Estonia's e-residency programme, launched four years ago, which allows people to register a business in Estonia from anywhere and run it remotely. The government also created the Startup Estonia initiative, which provides training programmes for start-ups and education for investors.
Furthermore, Estonia is considered to be one of the world's most advanced digital societies. According to CNBC, 99 percent of its public services are available online and it has stronger broadband than many countries across the developed world.
4 – Frankfurt
Home to the European Central Bank and more than 200 banks – most of which are foreign – Frankfurt plays an important role in the EU's financial system. As a result, the city is well-placed to attract cutting edge start-ups. The business community in the country encourages such ventures through a number of programmes, including accelerators and corporate involvement initiatives. In 2016, Deutsche Bank launched Digitalfabrik, which supports the development of digital banking products, while platforms like TechQuartier have been created to connect start-ups with banks, investors and mentors.
Financial institutions and newcomers alike are keen to drive innovation, partly inspired by the city's start-up success stories. Perhaps the most well known of these is 360T, a foreign exchange trading platform. In 2015, Deutsche Böerse bought 360T for $796m in Germany's largest start-up acquisition at the time. Although Berlin is still largely considered the tech centre of Germany, it appears Frankfurt is quietly fostering a start-up ecosystem that could one day rival the capital's.
5 – Bengaluru
Bengaluru (previously Bangalore) is anticipated to become one of the next big tech hubs. One of Asia's fastest growing start-up ecosystems, the city is home to 438 fintech start-ups and has been dubbed the 'Silicon Valley of India'. One such start-up is Bengaluru-based Zerodha, an online broker that has transformed stock trading in India.
While fintech is in its early stages in India, the opportunities are rapidly growing. The country recently overtook China as Asia's top fundraising hub for fintech. These opportunities are especially exciting in areas such as payments, which constitute the largest share of fintech start-ups in India. As a testament to the country's potential, Mastercard is planning to invest $1bn in India over the next five years and has opened offices in Gurgaon and Bengaluru.