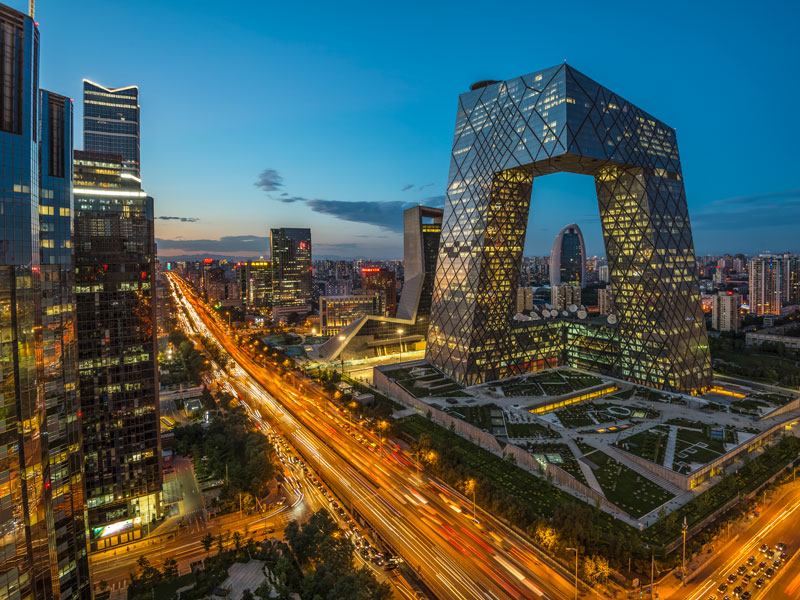 Beijing's Central Business district. For international brands to successfully enter the Chinese retail market, they must be aware of the different needs of Chinese consumers &nbsp
Everybody's talking about China. And everyone wants to quickly enter the largest e-commerce market in the world these days. This is the right attitude, because if you want to be successful in China, you have to be flexible and often very fast. The country offers great potential, especially for international retailers and brands. But one thing should be clear to everyone who wants to expand their business to China: what works in Europe or in the US can fall flat in China.
If you want to be successful in China, you have to be flexible and often very fast
For international retailers, there are still good opportunities to enter the Chinese market as there are many products from abroad that are very popular among Chinese consumers. Chinese people, especially in large cities, are now more than ever looking for individuality – also in products and brands. But how can international brands and retailers get to Chinese consumers? A few years ago, the answer to this question would have most likely been TMall or JD.Com. But these large marketplaces have cost many retailers and brands a lot of money as they not only bring together a huge number of consumers on their platforms, but at the same time also millions of sellers and billions of products. Furthermore, today there are many channels that Chinese consumers use to get inspiration and information, and as many channels where they purchase the products they covet.
Let's take a look at five tips for international retailers and brands to successfully sell to Chinese consumers.
1 – Design your strategy around localisation
China is far from homogeneous. It is, in fact, incredibly diverse—encompassing many ethnicities, a vast land mass, and cultural and societal differences between its regions. Approaching China as one single market is a great mistake.
When looking at the Chinese market you rather need to consider that it is divided into tier one, two, and three cities – with Tier one at the top, based on each city's GDP, size of the population, and ongoing economic growth and development. Tier one cities are basically richer, coastal cities like Beijing, Guangzhou and Shanghai, where the business infrastructure is the most developed, and the standard of living and consumer pricing are highest. Tiers two and three do not yet share this per capita affluence, but China is committed to further developing these cities and regions, and this is where the greatest growth potential lies.
This circumstance means one size or price does not fit all. This applies to other regions of the world, but it does even more in China where income and social gaps are wide, and pricing and assortment reflect that fact. A consumer in Beijing or Shanghai will likely be more affluent than a consumer in a tier three city and will expect (and be willing) to pay higher prices. For instance, in 2012, the average family in Shanghai had an annual income that was more than twice as much as the average family in Gansu Province, which is far inland. But in every market, regardless of income, competition is fierce, and prices change frequently. Furthermore, Chinese consumers are particularly sensitive to pricing.
2 – Be aware that Chinese consumers actively use social media
As widespread as the use of social media has become worldwide, it is nowhere as popular as in China. Forrester Research describes the Chinese as "hyper social", and it's also a reason why Chinese consumers so eagerly share information on social media on their shopping experiences, buyer satisfaction, and where to find the best deals.
It is vital to be able to track what consumers are always saying about your product – not only across social media outlets, but across all eCommerce channels. You need the total visibility that enables you to easily access and analyse data from myriad platforms and sources 24 hours a day, to receive alerts when poor reviews are detected, and to keep your finger on the pulse of what's trending with buyer opinion. By gaining this type of visibility and building instantaneous response into your business model, you can directly impact your B2C sales – and ultimately, the success of your brand.
3 – Always stay top of cross-border regulatory changes
In recent months, the Chinese government has issued a slew of new regulations which have changed the game for both gray-market 'daigou' sellers and those selling through cross-border e-commerce.
For one, China's new comprehensive e-commerce law (effective since January 1st, 2019) cracks down on daigou sellers by forcing them to register as businesses and file tax returns. If you're a retailer that relies heavily on daigou for your revenues, then you should consider alternatives because this market is likely to shrink in 2019.
China is also expanding the scope for cross-border e-commerce because this channel can be better tracked and taxed, when compared to gray-market daigou purchases. It also makes it easier for the government to regulate and protect consumers from fake goods, since they're purchasing directly from overseas brands and retailers.
In November, the government raised limits on CBEC purchases from 2,000 RMB ($289) per transaction and 20,000 RMB ($2890) per year to 5,000 RMB ($745) and 26,000 RMB ($3875), respectively. The government at the same time lowered import duties on inbound postal shipments. Postal duties for the top two tax brackets were reduced from 30 percent and 60 percent to 25 percent and 50 percent respectively.
4 – Beware of the changing e-commerce environment
In 2018, several retailers announced the closing of their Tmall stores, with some opting to exit the China market altogether. US department store chain Macy's, British apparel retailer New Look, and Hong Kong health & beauty chain Watson's are the latest players to announcetheir departures from Tmall, likely due to lackluster Singles Day sales and high commission fees.
This is partly because large platforms such as Tmall, JD.com, and Netease Kaola are increasingly procuring inventory in bulk, directly from brands and at reduced prices. This makes it difficult for multi-brand retailers on their platforms to compete since they oftentimes sell the same popular brands and it's very easy for customers to compare prices online.
Big companies such as Tmall also benefit from economies of scale and can stock inventory in bonded warehouses in China, where they can be shipped out at a moment's notice and arrive at their destinations within just a few days. An overseas retailer such as Macy's in the US can take as long as 20 days to ship their orders to customers in China.
Retailers should think long and hard about how they can differentiate themselves, and whether their products are compelling enough for customers to wait for cross-border shipping.
5 – WeChat mini-stores may hold the key for smaller brands and retailers
Big brands such as Dior or Lancôme are launching innovative marketing campaigns on WeChat to drive traffic and sales to their mini-program stores. Some of the features that are being built into mini-programs to increase e-commerce conversion rates are cosmetics tutorials, live-streaming influencers, and interactive games.
WeChat now makes it feasible for brands to both push content and at the same time sell products, thus creating a closed loop of customer interactions that can be completed within the WeChat ecosystem. Mini-program stores are more visual and accessible, given their 10-megabyte size limit, making it easy for customers to share engaging promotions with one another.
Given WeChat's large user base, mini-program stores may give a fighting chance to smaller brands who cannot get on larger marketplaces or don't want to pay their high fees. Emerging US baby lotion brand Ever Eden and UK cosmetics retailer FeelUnique are also some of the first to launch cross-border WeChat mini-program stores, which are equipped with cross-border payment solutions and logistics tracking features for goods shipped from overseas.