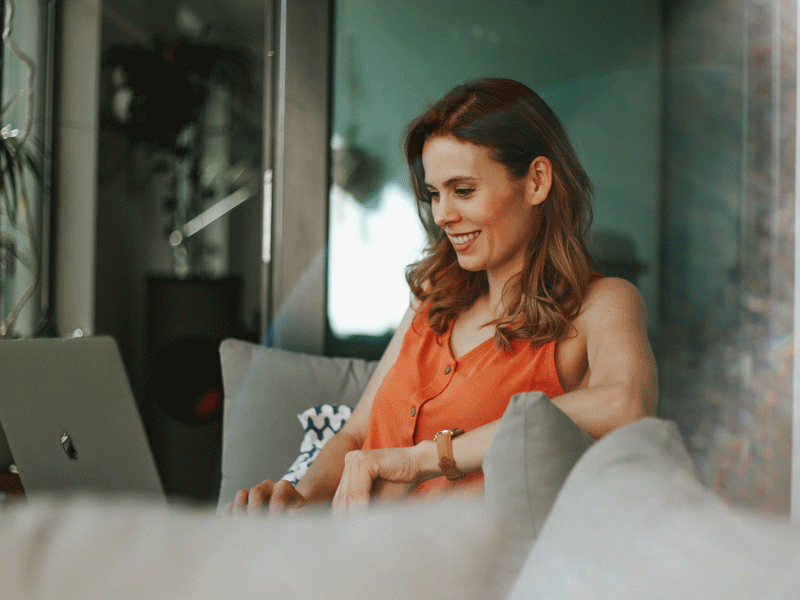 In March 2020, the world began an unprecedented experiment in working from home. Almost overnight, offices were emptied and employees were encouraged to WFH wherever possible, with most employees expecting to return to the office in a short matter of weeks. Weeks soon turned into months, and as the pandemic showed no signs of abating, workers continued to log on remotely, carrying out meetings from their bedrooms and living rooms through Microsoft Teams and Zoom.
Now, one year on from the first COVID-19 lockdowns, it seems that WFH is here to stay, with many companies introducing permanent 'flexible working.' While there are undoubtedly benefits of working remotely – time and money saved on lengthy commutes, and a better work-life balance among them – there are also some downsides. Many have found themselves more easily distracted, while others have found it hard to switch off when their laptop is permanently within reach. For those of you who might be struggling to set up a productive WFH routine, here, World Finance has put together five of the best remote working tips, as recommended by some of the world's most successful business leaders.
1 – "Buffer time," says LinkedIn CEO Jeff Weiner
As CEO of LinkedIn, Jeff Weiner knows a thing or two about healthy work habits. For years now, he has been a vocal proponent of 'buffer time' – brief interludes in your daily schedule that act as 'buffers' between meetings or other periods of high-intensity work. With the dawn of widespread remote working, Weiner has reemphasised the importance of taking these short, scheduled breaks, stressing that they can serve to boost both productivity and wellbeing. Taking to his own LinkedIn profile, Weiner wrote: "Free time in between video calls is increasingly being absorbed by taking care of kids, caring for dependents, doing household chores, and myriad other ways in which people are jumping from one task to the next. Make sure to carve out real buffer time: to catch your breath, get some exercise, or whatever you enjoy that helps put your mind at ease."
2 – "Reflect on the day," according to Zoom CEO Eric Yuan
There is perhaps no company as synonymous with WFH than video conferencing platform Zoom. The company's founder and CEO, Eric Yuan, has said that he believes that the future of work will be hybrid – a mix of remote and office-based working – and that people's working habits will therefore permanently change. In an interview with Business Insider, Yuan reflected on his own WFH routine, with a typical day unsurprisingly consisting of plenty of Zoom calls and meetings. One habit that he always makes time for is putting aside a 15-minute slot in the evening to reflect on the day – examining what went well and what he could have done differently. Yuan calls this slot a "thinking meditation," and says that these periods of reflection help him to consider how he can be continuously improving as a leader.
3 – "Get outside of the house" says YouTube CEO Susan Wojcicki
While some people have found themselves more easily distracted from their work while WFH, others have found it impossible to pull themselves away from their computer screens without the structure of a traditional office day. For YouTube CEO Susan Wojcicki, getting away from her desk and heading outside for some fresh air twice a day has proved invaluable while working remotely. "I need to get outside of the house, whether it's walks or exercise, I find that's essential for me. I need that a couple of times a day," she said in an interview with Bloomberg. As well as making sure to get outdoors, she also said that keeping a positive outlook has helped her while working through lockdown, saying: "I'm also trying to remember that this will end, that we will get through it. Like any crisis – as a leader we all go through crises and we know they do end."
4 – Set a schedule, as advised by Microsoft Co-founder Bill Gates
Bill Gates is perhaps one of the most high-profile figures advocating for WFH culture to continue long after the pandemic. Speaking at an online business summit organised by The Economic Times, the Microsoft Co-founder said: "It is amazing to see how well the work from home culture has worked, and I hope it will continue even after the pandemic is over." While he has sung the praises of remote working, Gates has also acknowledged its limitations and the challenges it poses to both workers and students alike. Making a guest appearance on an episode of Code Break, Gates stressed the importance of discipline and structure when logging on remotely. "I do think that having a new normal pattern and trying every day to stick to that is pretty helpful," he said. "I do think that discipline is pretty important."
5 – Start the day with exercise and meditation like Twitter CEO Jack Dorsey
In the months following the onset of the COVID-19 pandemic, Twitter was one of the first major firms to announce that its sudden pivot to remote working would be a permanent change, telling its employees that they would be allowed to work from home "forever," if they so wish. Pre-pandemic, the company's CEO Jack Dorsey was an early proponent of flexible working, and tended to work from home at least two days a week. When working from home, Dorsey begins his days with a spot of meditation, followed by some high-intensity interval training. This involves a seven minute workout to wake the body up before the start of the working day. "The thing that I love about the workout is that I never have an excuse," he said on a podcast appearance in 2019. "I don't have a personal trainer. I don't go to the gym. All I need in order to do a workout every single day is a chair and wall and my body weight."