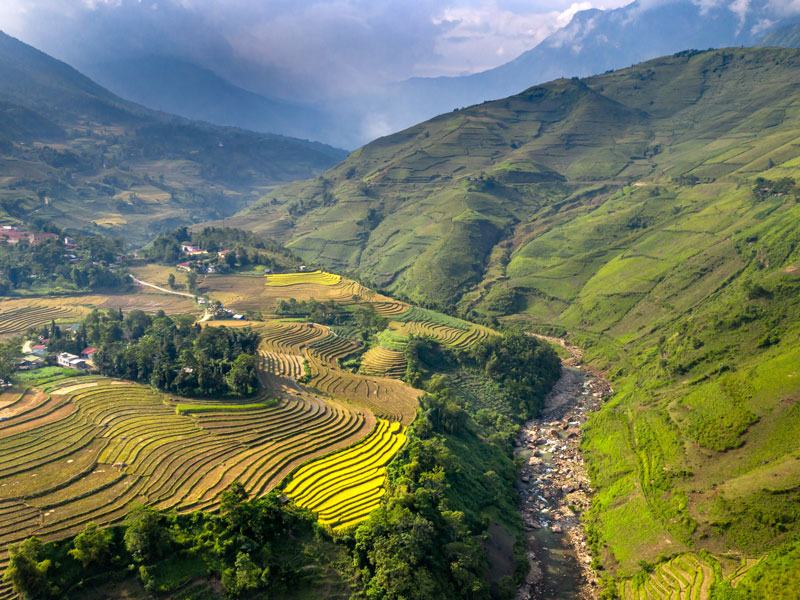 Source: Quang Nguyen Vinh&nbsp
Author:
Leticia C. Tendero, Director of Investor Relations, Standard Insurance
The year 2021 saw the Philippine government implementing a delicate balance between health and the economy. It rolled out the COVID-19 vaccination programme nationwide, enhancing the capacity of our health system while loosening pandemic restrictions, despite high COVID-19 cases in the National Capital Region. This allowed for intermittent lockdowns, gradually opening the economy, bolstering consumer confidence and domestic demand, and eventually leading to economic recovery.
This augured well for the Philippines, albeit belatedly across some sectors, as our economy grew at 7.8 percent GDP in the fourth quarter of 2021 and posted a 5.7 percent GDP for the whole year, a leap from the previous year's negative 9.5 percent. Fourth quarter GDP was even more impressive considering that Typhoon Odette, the strongest typhoon to hit the Philippines in 2021, unleashed havoc across many areas of the country in December 2021.
Meanwhile, two of the Philippine economy's biggest pillars, the inward remittance from overseas Filipino workers and the Business Process Outsourcing (BPO) industry, continued to contribute substantially to the country's GDP, favourably impacting the country's balance of payment and foreign exchange reserves. The BPO industry has been the biggest generator of jobs, an advocate of countryside development, and an enabler of support industries such as food, banking, real estate, hospitality and transportation, among other sectors.
The Philippine insurance industry remained resilient, posting 21.5 percent growth in net premiums written at PhP374.7bn ($6.73bn). The life insurance sector accounted for 82.8 percent of the total, the non-life sector 13.7 percent, and the mutual benefit association sector 3.5 percent. Clearly, the industry rode on the growth momentum of the economy, which has gained traction amid improved mobility and public sentiment.
This impressive growth, as our then finance secretary Carlos Dominguez III enthused, "mirrors the efficiency and swift action of the Insurance Commission (IC) in maximising the use of digital tools and other measures to ensure the resilience of this sector amid the pandemic".
The IC fast-tracked the digitalisation efforts of the industry through the issuance of regulatory measures that encouraged optimisation of digital technology, thus providing the necessary support to enable industry stakeholders to operate effectively despite the lockdowns.
The industry heeded the call and adapted to the evolving business landscape during the continuing 'new normal'. Some companies used artificial intelligence to enable them to customise their products and systems, allowing them to extend their services. With the collaboration of business ecosystems and initiatives, the insurance industry managed to thrive despite the pandemic-related challenges that continued through 2021, with relevant financial metrics posting positive growth.
Similarly, the non-life insurance sector recovered from the pandemic-induced business contractions, registering Php51.2bn (approximately $918m) net premiums for 3.82 percent growth, as compared to negative 16.7 percent in 2020. Based on total gross premiums written, 12.63 percent growth was registered versus the previous year's negative 9.37 percent decline in business.
In the absence of a detailed sector breakdown of business, we can surmise that this growth came on the back of business recovery of the sector's major growth drivers. These included new motorcar sales, which rose to 20 percent, versus the previous year's negative 39.5 percent dive, and the 'build, build, build' infrastructure programme, which acted as a catalyst to the growth in property, construction and engineering insurance segments.
Steadfast and resilient
At Standard Insurance, we ensure that our customers have world-class protection. We remain committed to our vision and our mission, complemented by our corporate values – massive transformative purpose, to attain peace of mind for all mankind. We have ingrained these values in our DNA so that we are led by them through all aspects of our operations. Standard Insurance is resilient, riding on the performance of economic and industry drivers but primarily underpinned by its innovative solutions and its relevant, competitive and sustainable product lines.
As the government intermittently eased mobility restrictions in 2021, insurance drivers of the non-life insurance sector slowly recovered. Motorcar and other property sectors were revitalised and sales numbers spiralled upwards. Our sales teams muscled through the market, surpassing expectations. They have always been resilient, professionally pursuing more business and intermediaries, closing deals fairly but with sustained profitability.
Diversification of market coverage nationwide was key: expanding existing and new markets, intermediaries, dealership tie-ups, relationships and partnerships, among others. We highlighted our promptness, reliability and empathy in claims processing and payments through diverse payment platforms. We met the needs of our customers when they needed us the most.
One of the most important elements that made the company better prepared for this pandemic was having the foresight to explore new ways of creating technological solutions, specifically the decision to industrialise the company's support centre. To this end, we borrowed the best practices from our BPO subsidiaries of transferring our systems to the cloud, long before the pandemic arrived.
The main objective of this exercise was to prevent an existential threat of complete systems failure at head office, should a devastating catastrophic event occur. That event did not come to pass but our actions prepared us well for the pandemic. We are, in fact, the first domestic insurer to be an Amazon Web Services partner.
This allowed our associates to continue working and accessing systems from anywhere even during the strictest community quarantine. Further, through an internally developed insurance office application (ISSI Office), our agents and branch associates can conveniently perform the whole insurance cycle using only a smartphone. ISSI Office covers our motorcar, travel and personal accident and, most recently, residential and pure office property lines.
To date, our Systems and Technology Group (STG) oversees the smooth operations of our IT infrastructure and ensures that all our systems and infrastructure are contemporary and benchmarked against the best in the world. Our STG systems management team expands and upgrades the functionalities of these systems as the need evolves. We use artificial intelligence and data science to enable a more in-depth analysis of huge databases as well as robotics for automating processes.
All technology efforts are ably supported by our cyber-security team.
These technological advancements are some of our responses to IC commissioner Dennis Funa's call to "harness the breakthroughs in InsurTech for the local insurance industry." Of course, planning and preparing is a continuous process, upskilling our associates as well as our intermediaries, and doing whatever it takes to face and withstand any future Black Swans.
Resiliency and human resources
The role and responsibility of each associate is a conscious decision, all working systematically together, forming a well-oiled machine, with the same goals, vision and culture. This is the most important asset that the company values – another key to resilience.
To quote Ernesto T. Echauz, our Group Chairman and Adviser to the Board of Directors: "In whatever we do, it should be to improve the quality of life of our people. We should make sure that they are respected in their communities and are able to pursue their career with the company. As we move along, let us continue to carry out our tasks with the same passion, excellence, competency, integrity and professionalism, both as individuals and as a team."
He spoke those words many years before the pandemic but they remain relevant now. In line with this, management stood by its commitment at the start of the pandemic. All associates continued to receive their full salaries and bonuses, their benefits and everything they enjoyed pre-pandemic, regardless of the challenges that lay ahead. We continue to empower our associates, even our intermediaries, providing structured training programmes focused on retooling, upskilling and reskilling, as well as developing them to be dynamic and strong leaders now and for the future.
Human resources initiated the 'You Are Not Alone' programme, which encourages associates to work through emotional ups and downs by reaching out to trained facilitators or professional psychologists when needed. Corporate sales, meanwhile, initiated a 60-day module that covered both hard and soft skills, culminating in a graduation and awarding ceremony that gave all the sales associates a sense of fulfilment and empowerment. Following this success, the learning and development team is now doing a series of webinars, referred to as 'Self and Team Empowerment Programme'. Spread across 50 sessions spanning four months, it aims to strengthen the quality of one's professional and personal life.
Another major programme is the 'Advanced Management Training Programme' (AMTP), conducted with top management as both participants and lecturers. AMTP deepens and broadens executives' technical knowledge and familiarises them with the end-to-end process of insurance and considerations outside their own expertise. Different divisions were grouped into clusters, who then shared their expertise and experiences.
In addition, our human resource team continues to deliver services during this extended health crisis with financial support for those afflicted with COVID-19, as well as facilitating annual physical check-ups, COVID-19 vaccines, medical consultations and shuttle services.
When Typhoon Odette devastated some parts of Visayas and Mindanao, the whole company reached out to our associates in those cities and provinces to help our own recover from this catastrophic event. As President Echauz said, when it comes to caring for each other, everything is personal at Standard Insurance. That is the very essence of our massive transformative purpose – 'peace of mind for all mankind' starts with our associates.
Our sustainability and longevity efforts
Standard Insurance actively supports sustainability initiatives in the following areas: education, environment, sports development, music and arts, and hunger and malnutrition. A big part of the company's sustainability initiative is its lead role in the Philippine operation of the 'Scaling Up Nutrition' business network, a global movement whose main objective is to enjoin private companies in a collective effort to eliminate hunger and improve nutrition.
All these initiatives support the United Nation's 17 sustainable development goals to end poverty, protect the planet and ensure that all people enjoy peace and prosperity by 2030. Beyond and above all these, we are fully committed to doing our share to make this a better world because our past affects our present and our present determines our future.