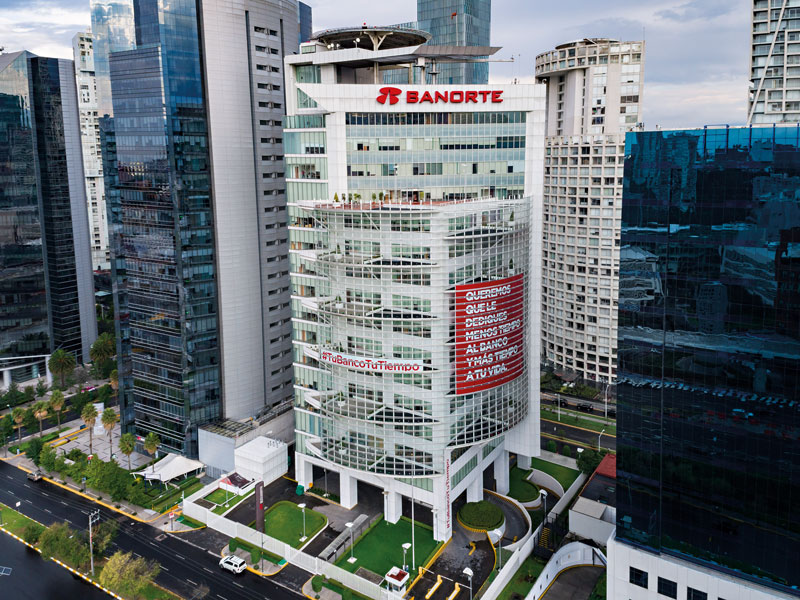 &nbsp
Author:
Carlos Hank-González, Chairman of the Board of Directors, Grupo Financiero Banorte
Three years ago, on stage at Grupo Financiero Banorte Forum, I chatted with Sophia the Robot, a social humanoid robot, about her views on automation and responsible artificial intelligence. Sophia told the crowd that robots springing from serious engineering could free up humans from mundane tasks, allowing them to focus on science and industry and to power a revolution of ingenuity – including in banking services. "Robots don't compete with human intelligence," she said.
"They complete human intelligence." Her advice to those seeking to lead the way: Do not fear the digital frontier. At Banorte, we've long embraced that approach, supporting consumer-centric advances that have positioned our bank as a creative tech leader in the industry.
That was acutely tested amid the pandemic, which radically upended our way of living and working, bringing profound changes to the banking sector. Only those financial institutions operating with digital resiliency, such as Banorte, were able to serve customers efficiently in response to mobility restrictions and new purchasing habits. Banorte was the first bank to roll out a special loan relief programme to help our customers.
We also launched a full-digital account that was rapidly adopted, since it made it easier to open a bank account without the need to go to a branch, while promoting financial inclusion through digital services. Our commitment to the Mexican people has led us to accelerate our digital transformation to their benefit. It's part of what we see as our key role in the sustainable recovery of the economy.
Tailor made
Hyper-personalisation is at the core of that strategic plan. It means offering customised solutions to match each personal circumstance by expanding our digital capabilities while placing the customer at the heart of the bank's digital designs, transformation, and innovation. In May 2021 we established a digital partnership with Google Cloud to transform our banking services; this partnership includes personalising our customer services through artificial intelligence, promoting a culture of innovation among our employees, and strengthening cybersecurity processes.
The outcome is part of what's called a 'Bank in Minutes.' It stems from Banorte's technological overhaul seven years ago to focus on the customer's experience, unifying platforms, data, and processes to create agile and personalised experiences. That architecture makes widespread use of reusable services and components, giving Banorte greater flexibility to generate fully digital cycles in minutes, through any of the physical or digital channels, for our higher demand and transactional offerings, all levered on the omnichannel experience.
Branches can now open personal accounts in just 15 minutes, 100 percent digitally, incorporating high-value features, while prioritising security for our customers. Credit cards and mutual funds are digitally available from the bank's mobile app instantaneously. There's also paperless processing of contracts through any of our channels and digital authentication to make it easier, quicker, and more secure for customers to access our services.
Reflecting the widespread digital adoption, in 2021 Banorte registered a 92 percent increase in mobile banking transactions, compared to the previous year. So far this year, digital customers have grown 21 percent, to 6.7 million, and our mobile banking customers have increased 25 percent, to five million.
We invest about 13 percent of our total income each year in transforming our bank to continuously improve our self-service channels and enhance our banking operations, as well as to leverage on data in the market to stay competitive.
In that sense, Banorte's mobile app was transformed into a more intuitive, fast, and easy-to-use version, through which customers can acquire payroll loans, term promissory notes, insurance, and other products. In boosting its digital services for customers, Banorte has established strategic alliances with partners such as Rappi, a leading Latin-American super app, with more than 600,000 credit cards already delivered.
An innovation track record
This transformation has a long tail. In 2013, Banorte became the first bank to offer a digital payments card designed for e-commerce with a remarkable security feature, generating a digital card with a one-time password as a dual authentication factor. These both mitigated fraud risk and increased usage, resulting in five times more transactions with the digital card.
In 2018, Banorte became the only bank to offer credit line increases through digital banking. Thanks to these and many other efforts, we recently received a Google Cloud financial services customer award, honouring Banorte for innovative thinking, technical excellence and digital transformation.
Also, Maya – Banorte's digital assistant that makes banking easier for our customers – was recognised as one of the best banking innovations worldwide in the 2021 Analytics and Artificial Intelligence category by the European Finance Management Association (EFMA) and Accenture.
Soon, we will be entering the neobank category with the launch of a cloud-based, 100 percent digital bank, with no legacy architecture, that will offer a personal, easy and secure experience to Mexican users, backed by Banorte's more than 120 years of know-how. This initiative is also evidence of how Banorte is broadening the array of financial services through a 100 percent digital channel, making it easier for customers to do their banking.
While some customers continue to value the traditional banking experience, we believe we have found the right balance in our services. The goal is to seamlessly combine our branch-based services with our digital efforts. It ensures a flexible experience that works for all, whether a customer prefers to bank in-person or on their smartphone.
Banorte remains focused on four major technological bridges: the use of the cloud, artificial intelligence, data and biometrics identification. All target the creation of customised services. At Banorte, we're not doing digital banking. We're doing banking in a digital age. And that vision is what motivates us now and for years to come.