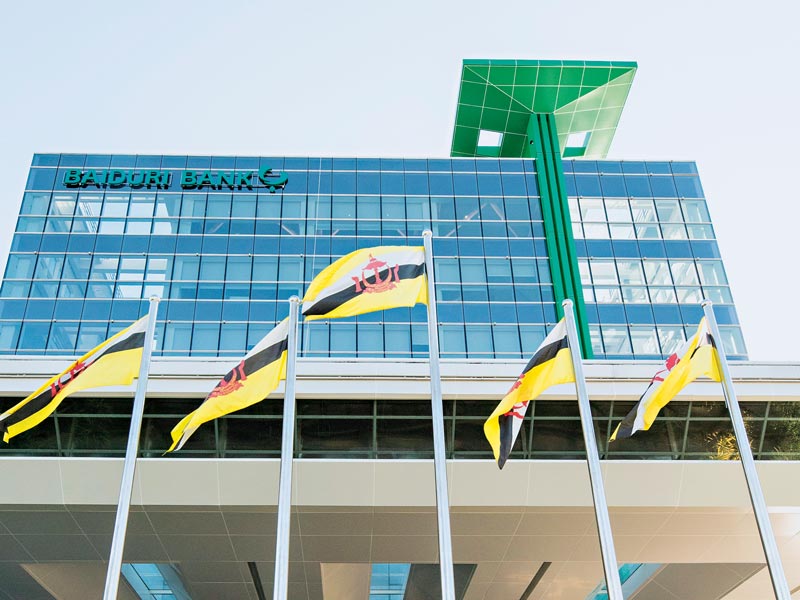 &nbsp
Author:
Ti Eng Hui, CEO, Baiduri Bank
At Baiduri Bank we were recently awarded 'Best Retail Bank in Brunei 2023' by The Asian Banker, a leading provider of strategic intelligence in the financial services industry, and also 'Best Bank in Asia-Pacific for Brunei 2022' by Global Finance. Our bank is acknowledged as the leading conventional bank in Brunei Darussalam with a track record of financial innovations and pioneering activities.
Established in 1994, we have invested strategically in emerging technologies since 2020 to enhance our data analytics, product management, operational efficiency, and customer service capabilities. A crucial part of our digital transformation journey is developing in-house digital capabilities. Our bank has established Fintech and DevOps Units within our IT division to support digital transformation projects. Our dedicated Fintech Unit has been actively deploying modern technologies such as artificial intelligence, machine learning, Robotic Process Automation (RPA) and new microservices to help automate existing workflows.
In October 2022, an RPA introductory and awareness session was held for over 30 employees from different business lines and critical support functions across Baiduri Bank Group. More RPA training programmes are in the pipeline, including a Process Discovery workshop, in-depth training and hands-on practical sessions.
These learning initiatives are designed to help employees understand the RPA process and assessment, qualification, and prioritisation of use cases for automation. Several selected employees will be trained as RPA Citizen Developers, capable of creating new business applications with little support from the central IT team. They will also act as RPA Champions to help further such skill development within the group.
Core banking and credit modelling
On November 1, 2022, we signed an agreement with Temenos, the world's leading open platform for composable banking, to run our core banking services on a Software-as-a-Service (SaaS) platform in the cloud. With this move, Baiduri Bank will be the first bank in Brunei to operate its core banking platform in the cloud under the SaaS model.
Our bank is embarking on a journey to modernise its credit risk management using artificial intelligence
Replacing legacy systems with the Temenos SaaS platform will enable us to offer superior customer propositions with personalised offerings at a fraction of the time and cost. This will also pave the way for easy integration with new systems, including Digital Payment Hub, a national initiative in the Brunei Darussalam Financial Sector Blueprint, 2016–2025.
Phase 1 of the migration project commenced in February 2023, focusing on core banking, data analytics and financial crime mitigation (FCM) to support our retail and corporate banking, finance, and wealth management operations. Subsequent phases of the project will include digital banking solutions and other value-added services tailored to the lifestyle needs of modern consumers, leveraging Temenos open-API architecture.
Modernising and innovating the current infrastructure is also vital to digital transformation. Working with Accel-backed finbots.ai, a Singapore headquartered business-to-business (B2B) SaaS financial technology firm, our bank is embarking on a journey to modernise its credit risk management using artificial intelligence (AI).
Adopting the finbots.ai credit modelling solution will enable us to develop and deploy high-quality credit scorecards, again, at a fraction of the time and cost. This will result in reduced credit risk, improved efficiency and greater agility for retail and SME businesses and accelerate our financial inclusion drive for the underserved credit market.
We are the first bank in Brunei to migrate to an AI-led credit risk management solution. The pivot to finbots.ai is part of our strategic investment in the business transformation journey, leveraging technology to elevate operating efficiencies, analytics capabilities, and customer experience. Partnering with finbots.ai's credit modelling solution directly supports our digital transformation journey.
Launch of Baiduri Qpay
The latest in the bank's digital offering is our digital wallet, allowing UnionPay Debit Cardholders to scan and pay at participating outlets quickly. This new feature adds to the suite of digital payment services we offer as part of our digital strategy, which aligns with Brunei's Digital Economy Masterplan 2025. We also rolled out 19 feature enhancements in December last year for our award-winning digital banking service, b.Digital Personal. Key features include real-time auto-recharge to utility accounts, up to 90 days of account transaction history and one-tap transaction screenshots.
In September 2022, we launched Baiduri b.Digital Business, an all-new digital banking service for businesses. With a refreshed UI/UX designed to enhance ease of navigation and the overall user experience, this new platform offers new and improved features such as two-factor authentication with the use of digital tokens, enhanced security with transaction alerts, access on the go with the mobile banking app and a single dashboard overview of all company accounts.
Through our digital banking, we have seen a 26.7 percent increase in online transaction volume in 2022, while active user base increased by 22 percent. Leveraging accelerated digital adoption during the pandemic has driven growth through our digital payment solutions to facilitate e-commerce. On the business-to-business front, we have been actively promoting our payment gateway and MerchantSuite by Linkly, an affordable subscription-based digital payment service designed for Micro, Small and Medium Enterprises (MSMEs). Our e-commerce transactions have grown by 104 percent from 2019 to November 2022.
In Q4 2022, Baiduri Bank embarked on a new eMarketplace project to provide an alternative platform for merchants to offer their goods and services targeted at both B2B and B2C customers. This major initiative on our digital payment roadmap will complement the existing ecosystem and serve as a value differentiator from both issuing and acquiring perspectives.
We have also invested in improving digital engagements for our customers through our industry-first AI chatbot 'Emmi' – demonstrating our efforts to uplift customer experience using data and technology. This has led to an increase in the total number of chats by 105 percent from August to September 2022, while the engagement rate increased by 12 percent from 2021 to 2022.
Service culture transformation
We have seen critical trends in customer preference for digital banking, such as transactional activities and simple loan applications. The aim is to have this completely done digitally for users' convenience. However, we believe there are certain activities where customers may prefer a more personalised approach, such as wealth management and investment consultation. We also plan to invest in opening more digital channels for our clients.
Key service initiatives include expanding the capacity of the group customer experience team, comprehensive service culture training for all front liners, customer journey mapping and leveraging data and analytics to improve customer engagements.
Following accelerated digital adoption during the pandemic and successful digital engagement initiatives, we are ramping up our efforts to uplift customer experience using data and technology.
Investment in people development
Our bank accelerated and increased investment in HR and talent management as we seek to build a competitive advantage through our people. We have seen an increase in positive trends for total training hours in e-learning and workshops for our employees. Projected 2023 hours will see a 22 percent increase from the entire training hours in 2022.
We are ramping up our efforts to uplift customer experience using data and technology
There was also an increase in the number of hours in people development through our leadership courses, Employee Wellness Initiatives, ad hoc workshops, and e-learning courses. Between 2021 and 2022, the bank saw an increase of about 30 percent. We implemented SAP SuccessFactors, a cloud-based HR solution for core HR processes and talent management. The performance and competency management modules were successfully launched in April 2021, and additional modules will be gradually introduced.
A multi-pronged talent management strategy was also developed. One of the core elements of this strategy is our Graduate Apprenticeship Programme (GAP) – a six-month holistic learning and development programme aimed at providing recent graduates with the necessary knowledge, skills, and experience to increase their employability in the local job market. The application is open to graduates of all backgrounds and academic qualifications in line with the bank's focus on diversity, equity, and inclusion.
GAP provides graduates with a broad exposure to real-world working environment, while helping them build transferable soft skills that they can apply in any working environment. Through completing this programme, we hope that recent graduates will gain valuable work experience and skill sets to help them secure their future careers in the financial services industry, or other industries.
To develop and nurture young talent in specific business areas where the skills gap is most evident, the apprentices were assigned to these areas for experiential learning. These business areas included FinTech, Compliance, Internal Audit and Finance. Apprentices could participate in projects to contribute to the department's strategic goals. They could benefit from the depth of learning and first-hand industry knowledge transfer from the field experts to whom they were assigned.
Looking forward, we at Baiduri Bank expect to focus our talent management on building future-ready and resilient leaders and create a positive and conducive ecosystem for upskilling and reskilling the bank's workforce.