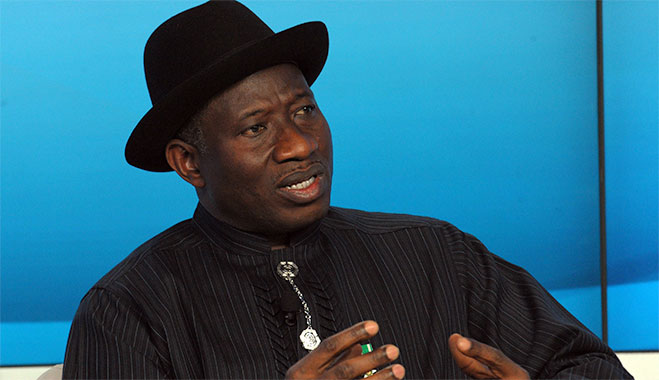 Nigeria's President Goodluck Ebele Jonathan was one of the five panelists today at WEF in Davos who discussed what to do about Africa's rapidly growing population &nbsp
A panel of five experts gathered today at the World Economic Forum in Davos to discuss Africa's growing population, which is forecast to reach two billion by 2050, and the ways in which the continent can ensure sustainable and inclusive growth for all.
The panelists opened by discussing the ways in which Africa differs to that depicted by the media, making specific reference to the conflict in South Sudan. "I want to agree that very much is positive on the continent," said Winnie Byanyima, Executive Director of Oxfam International. "It's so good to hear it from both the private sector and government," she said, after Nigeria's President, Goodluck Ebele Jonathan and CEO of Dangote Group, Aliko Dangote spoke about the region's recent progress and bright prospects for the future, on both social and economic fronts.
"My vision is that if you look at the Africa of 2050, we should have a united Africa, an African economic community where we have only one common market, where there will be free movement of goods, services and people," said Dangote. The company CEO then went to on to outline a vision for the future, in which Africa would supply not just raw materials, but the workers and factories required to facilitate these operations, in effect reaping far more sustainable rewards for the continent.
I feel ashamed that trade between our countries is only at 11 percent
"I feel ashamed that trade between our countries is only at 11 percent," said the Nigerian President, "it's unacceptable." The inability to move freely from country-to-country without incurring extortionate border fees was an issue that dominated the hour-long discussion, as each member of panel conceded that it was an incredible opportunity for the continent going forwards.
"Our target by 2050 should be 80 percent of the inter country trade flows," said Julian Roberts, Group Chief Executive of Old Mutual, who acknowledged that the barriers between African nations are holding the continent back. "The opportunities are there, and the trade will flow."
The potential for growth was best summed up by Dangote: "Imagine if we had sufficient infrastructure or sufficient power, and not only that, but going forward, if we're going to even grow at 4.5 percent until 2050, it means that Africa will have a total GDP of about $9trn; that's twice China today."
Panelists
Julian Roberts
Group Chief Executive, Old Mutual, United Kingdom; Co-Chair of the Governors for Financial Services Industry for 2014 
Goodluck Ebele Jonathan
President of Nigeria
Aliko Dangote
President and Chief Executive Officer, Dangote Group, Nigeria
Doreen E. Noni
Creative Director, Eskado Bird, Tanzania
Winnie Byanyima
Executive Director, Oxfam International, United Kingdom