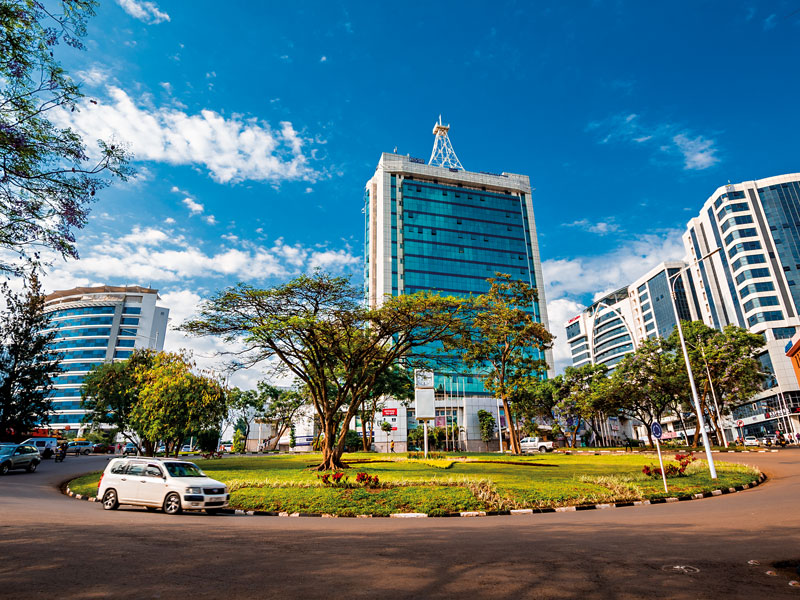 &nbsp
Author:
Nick Barigye, Chief Executive Officer, Rwanda Finance Limited
December 14, 2022
In the span of a generation, Rwanda has emerged from the ruins of conflict and is today regarded as Africa's most inspiring success story. Having laid the strong foundations needed for sustainable transformation, Rwanda is not shying away from dreaming big. Though relatively small in terms of landmass, the country has the potential to become the financial hub of Africa anchored by the Kigali International Financial Centre (KIFC). Established in 2020, KIFC's main objective is to advance the competitiveness of Rwanda's financial sector and position it as the most attractive financial destination in Africa.
KIFC represents what Rwanda aspires to become – a country that is attractive to local, regional and international investors. To achieve this goal, building a sound and vibrant financial services sector backed by fintech-led innovations has become paramount in order to widen and diversify financial products and legal structures offerings. Currently, the financial sector is relatively small. It contributes three percent to the country's gross domestic product (GDP) valued at an estimated $6.9bn. In 2021, the sector grew by 20.3 percent in total assets. Notably, it includes a well-established banking industry with 11 commercial banks, some of which are foreign.
Rwanda is also making progress in developing vibrant capital markets, registering a steep increase in size over the last decade. Today, total market capitalisation is valued at $3.6bn. With 10 listed companies, the Rwanda Stock Exchange is already benefiting from cross-listing opportunities due to being a member of the East Africa Stock Exchanges Association, a regional initiative to integrate regional bourses and benefit from synergies in terms of greater capital mobilisation. By building a reputation as an outward-looking global financial destination, Rwanda wants the financial sector to be a major cog in economic growth. By 2035, the country intends to increase its contribution to GDP to 5.2 percent and 11.8 percent in 2050.
A new hub for finance
To achieve the ambitions of becoming a financial hub, Rwanda Finance Limited (RFL) is shouldering the task of putting KIFC on the world map. The agency is responsible for developing, promoting and positioning KIFC as a unique hub capable of facilitating international investment and cross-border transactions. It is also providing a base conducive to the structuring of various investment vehicles that will tap into regional trade and business expansion opportunities. These cut across investment funds, special purpose vehicles and holding structures, among others.
Through tangible strategies, RFL is determined to adopt best practices across the legal and regulatory spheres and leverage on its robust governance framework and compliance to achieve international best practice standards.
Rwanda has been one of the best performers in terms of economic growth. For over two decades, annual GDP growth rate averaged 7.1 percent. It reached an all-time high of 20.6 percent in the second quarter of 2021. During the year, the economy grew at around 11 percent. The impressive and sustained growth has come with socio-economic transformation, key of which is declining poverty and increasing foreign direct investments. It has also seen Rwanda consistently ranked at the top of African nations in various international surveys. In 2020, it was ranked second in the World Bank Ease of Doing Business Index and fourth in sub-Saharan Africa by the World Economic Forum (WEF) Global Competitiveness Index. Marketing KIFC is not difficult as the fundamentals are right and the environment is ideal.
Other transformations, which are auxiliary in promoting KIFC, include deliberate measures by Rwanda to invest in world-class aviation infrastructures making Kigali an African air travel hub due to its geographic location and high-quality conference facilities, such as the Kigali Convention Centre. Today, Rwanda is regarded as a global conference hub, second only to Cape Town in Africa for business tourism. These factors, coupled with significant investments in ICT and innovation, as well as being part of three regional economic blocs, mean that KIFC has the wherewithal to compete.
Though still in its infancy compared to other financial hubs like Casablanca, Cape Town, Johannesburg and Mauritius, KIFC is already becoming a natural choice for investors. The centre has seen peak interest among regional and African-based investors looking for alternative financial domiciles for their investments on the continent. Chief among them has been institutional investors seeking to establish investment funds and special purpose vehicles to fund regional projects.
The result has been the domiciliation of more than $600m worth of funds. These include the $350m FEDA fund, an African trade and export fund established by AfreximBank supporting and fostering intra-African trade, the $250m Virunga fund between the Qatar Investment Authority and Rwanda Social Security Board and the $10m Angel Investment SPV, a regional special purpose vehicle registered in Kigali by a network of African based angel and venture capital investors under the umbrella of Dakar Network of Angel Investors.
The growing stature of KIFC is being recognised. In September 2021 it made a debut on the Global Financial Centres Index (GFCI). Besides being among the top five IFCs in sub-Saharan Africa, it was identified as one of the most promising financial centres in the coming decade. It was also ranked among the highest across a number of metrics including security, resilience, corruption and cleanliness. Being on the index sets the benchmark for KIFC and exerts more pressure to modernise to a world-class financial hub.
Taking up the challenge
This is a challenge KIFC is willing to embrace. To start with, Rwanda has tightened its anti-money laundering and counter financing of terrorism laws. This is critical considering that the global financial sector is becoming increasingly integrated, something that is demanding high degrees of integrity, transparency and confidence. It also helps build high levels of trust among investors, particularly international investors who are under strict obligations not to invest in jurisdictions that facilitate illicit financial transactions.
Rwanda is regarded as a global conference hub, second only to Cape Town in Africa for business tourism
Rwanda has also enacted other laws that are crucial not only in fostering increased cross-border investments but also giving investors diverse options to structure and set up investments. Besides, new tax laws provide incentives in terms of freedom to repatriate profit and capital across the region. Other recently passed laws have opened the country to new financial actors and entities such as trusts and corporate service providers, funds and fund managers, foundations and trusts, among others. In total, 18 laws have been introduced over the last two years to foster and boost international financial services and activity.
KIFC understands that to be competitive, sustainability is core. On this, the centre is developing avenues for environmental, social and governance (ESG)-driven investments. Rwanda is already seeing an accelerated shift towards green and sustainable financing having recently joined the Financial Centres for Sustainability. The country is also positioning itself to attract gender-focused investments.
In its Vision 2050 blueprint, gender equality and empowerment of women is at the heart of national transformation. These efforts are being recognised with a recent WEF report ranking Rwanda ninth in the world for closing the gender gap, the highest in Africa.
Closing the gender gap, coupled with promoting the up-skilling of finance professionals through partnerships with the private sector and educational institutions, means investors will not have to rely on wide pools of expatriates. This is important even for Rwanda in terms of creating employment opportunities for the new crop of young people bustling with innovative ideas. In fact, the new generation is driving Rwanda's emergence as a fintech hub.
By providing tax incentives for forward-thinking fintechs and enacting critical laws to establish a pro-business regulatory framework for the growing fintech ecosystem, Rwanda has seen an increasing number of unicorns choose Kigali as a base to consolidate their regional operations. Among them is cross-border payments firm Chippercash. A unicorn valued at $2.2bn, the firm plans to commence operations in Rwanda after being granted an e-money issuer licence to offer money transfer services.
Driving sustainable growth
KIFC is committed to leveraging on this exciting fintech ecosystem to churn out innovative financial products and services that are essential to driving the growth of the centre. Apart from attracting investments, it is also important in promoting entrepreneurship. More critically, there is a strong push by the government for Rwanda to shift to a cashless economy and to achieve nationwide financial inclusion. For this reason, KIFC is building an innovation-friendly regulatory environment and attracting investment funds and venture capital to drive the fast-growing fintech sector.
Earlier this year, Chancen International, a KIFC partner, secured the first round of funding for its innovative Future of Work Fund. The $21m investment will enable it to expand access to tertiary education by providing student financing for 10,000 young people in Rwanda and South Africa.
With KIFC's outstanding status as a serious hub, RFL is looking into the future. In October, it launched the pivotal Sustainable Finance Roadmap. The roadmap provides the path for mobilising increased private capital specifically on green and sustainable investments. This is crucial not only in ensuring KIFC continues to be dynamic, but also in strengthening its position on the continent as it heads confidently into the future.