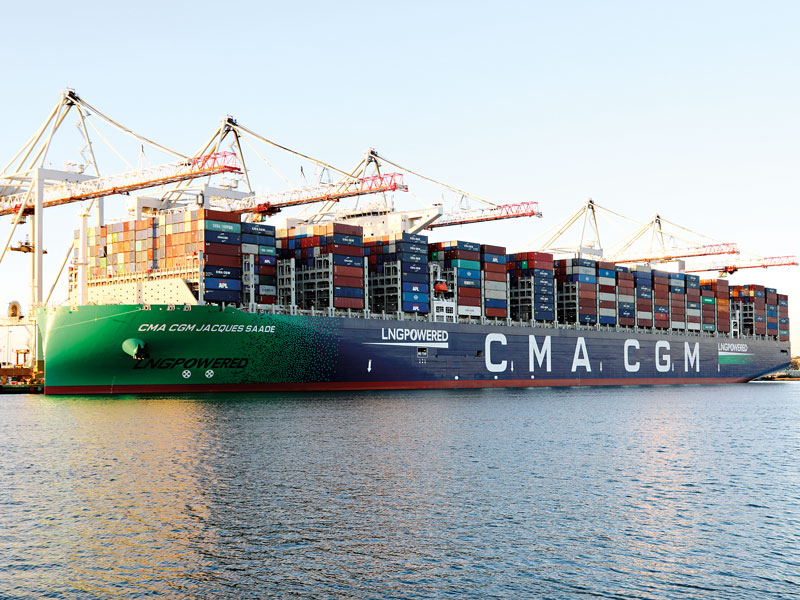 &nbsp
In the latest demonstration of the growing dominance of Asian shipbuilding, three vessels with a combined deadweight of 720,000 tonnes were launched in a single day in November 2020 from shipyards in China. And ominously for rival western shipyards, the vessels – a giant oil tanker and two bulk cargo ships – were built in double-quick time. The construction of the two cargo ships, each weighing 210,000 tonnes, took just 15 months from the signing of the contract to delivery. In a market that has become even more fiercely competitive than usual during the pandemic-triggered downturn, Asian shipbuilders continue to pick up plum contracts from all over the world, with China in the vanguard.
France's shipping giant CMA CGM has handed China State Shipbuilding Corporation the contract for all nine of its pioneering LNG-powered box ships, capable of transporting 23,000 standard-sized containers. The first of the 400-metre-long vessels, Jacques Saadé, was delivered in September 2020.
Climate-conscious construction
Although Asian shipyards can build the biggest ships more cheaply than their western counterparts, it's not all about price. They have embraced the latest, low-emission technologies, working with manufacturers of propulsion systems in the west. The LNG-fuelled Jacques Saadé, one of the most technologically advanced container ships, is a prime example. "In a similar way that electric vehicles stand in the spotlight in the auto industry, eco-friendly vessels like LNG-fuelled ships do in the shipbuilding industry," an official of Hyundai Heavy Industries, one of the world leaders, said.
Although global orders for new ships, known as 'newbuilds,' collapsed by about half in the first nine months of 2020 as owners sat out the pandemic, Asian yards are rapidly bouncing back. China's Yangzijiang Shipbuilding (YZJ) announced in early November 2020 that it had already secured $1.03bn worth of new orders, not counting the value of options (commissions for extra vessels contingent on a favourable market). "Our year-to-date new-order wins of over $1bn are more than we booked for the whole of 2019," said YZJ executive chairman and chief executive Ren Letian. Orders that would once have gone to European yards have been snapped up by China. In late 2020, state-owned Guangzhou Shipyard International won the blue-ribbon contract for P&O's two new 230-metre-long ferries that will start plying the English Channel in 2023.
In Seoul, as in Beijing and Tokyo, shipbuilding is seen as a flagship industry employing hundreds of thousands of people
Bristling with advanced technology and design, these double-ended, quick-turnaround ferries promise to become flagships on the 21-mile crossing, one of the busiest waterways in the world.
Meantime South Korea, another shipbuilding giant that prides itself on heavy industry, is also booking a run of lucrative commissions, like the $2.6bn order from United Arab Emirates state-owned oil and gas company, Adnoc, for three eco-friendly super-large crude carriers to be built by Daewoo Shipbuilding & Marine Engineering (DSME). The vessels will embody the latest low-emission technology in the form of a high-pressure, dual-fuel engine that can run on LNG, the first ultra-large crude oil carrier to do so.
A specialist in big ships, DSME has a full order book that includes nine LNG carriers, four container ships, two shuttle tankers, five very large crude carriers, and one very large crude gas carrier. Although orders are now pouring in, Asia shipyards had their difficulties in the downturn. Measured in terms of deadweight tonnes, output in China fell by 3.6 percent compared with 2019, while new orders declined by 6.6 percent, according to the Association of China's National Shipbuilding Industry. Still, the revenues remain robust, especially for export orders that account for most of China's contracts. Between them, the country's 75 major shipyards posted revenues of nearly $38bn, down by just 0.5 percent, in 2020. In the teeth of competition from main rivals China and, to a lesser extent, Japan, the South Korean government also arranged the merger of Hyundai Heavy Industries (HHI) and DSME into an umbrella company called Korea Shipbuilding, giving the country a 20 percent share of the global market for new ships, especially the highly profitable gas carriers.
High demand for high-tech
The money's no longer in relatively low-tech bulk carriers, having gone to the complex gas carriers that transport LPG, LNG, ethane and other low or zero-polluting fuels around the world. As the Wall Street Journal reported in 2019, LNG ships cost about £175m each on average with a profit margin that is nearly double that of more mundane vessels like bulk carriers that cost about $25m each. This is a business that South Korea is determined to dominate.
In Seoul, as in Beijing and Tokyo, shipbuilding is seen as a flagship industry employing hundreds of thousands of people. That's why governments are willing to pump in funds by way of subsidies, and if necessary, bail-outs. For instance, the South Korean government provided a $2.25bn liquidity lifeline to the merger of HHI and DSME, plus a further $2.6bn in cash.

Yet South Korea has a fight on its hands. One of the busiest shipbuilders in all of Asia, state-owned Jiangnan Shipyard is also scooping up orders for high-margin gas carriers on top of the nine-ship contract from CMA CGM. In a coup in November 2020, Bermuda-headquartered Petredec, which owns the world's second biggest fleet of very large gas carriers, signed with Jiangnan for up to six LPG carriers, all scheduled for delivery by 2023 in the kind of rapid project for which Asian shipbuilders are famous.
Simultaneously, the same shipbuilder is also constructing an aircraft carrier, three destroyers, a heavy-lift military hovercraft – all for the Chinese navy – and a sister ship to CMA CGM's Jacques Saadé. To cap it off, in 2020 the yard signed a spate of orders to construct two giant ethane carriers, technologically advanced vessels that will be at the forefront of global shipping's push towards decarbonisation as they transport the gas from the US to Europe. And looking ahead, it will be business as usual. At the end of October 2020, Chinese shipyards had booked nearly 57 percent of the global market for newbuilds. Ominously, they are also getting into cruise ships, until now a preserve of European shipbuilders.
Japan, Asia's other shipbuilding giant, is watching all this government intervention with concern. Citing the mergers of China's state-owned shipbuilders and of South Korea's big two, Imabari Shipbuilding president Yukito Higaki sounded a warning to Tokyo recently: "Huge shipbuilding companies are now rising up in the world. I would like fair competition without any governmental support. However if current circumstances continue, it is possible that Japanese shipbuilders will not be able to stand on their own feet any longer." This is a crucial issue for Japan where 99 percent of trade goes by sea.
The sun also rises
Looking to the future, Japan is relying on innovation in the pursuit of virtuous, emission-free shipping. And the newly delivered car carrier Sakura Leader represents a milestone in that direction. In an all-Japan operation, Sakura Leader is owned by NYK Line, powered by IHI Power Systems' latest dual-fuel engine, and was built by Shin Kurushima Toyohashi Shipbuilding. For good measure Mitsubishi Shipbuilding provided the complex gas-supply system. Capable of carrying 7,000 units, the vessel is the first large, LNG-fuelled car carrier to be built in Japan and it certainly will not be the last. A sister ship for Sakura Leader is already on the way. Importantly, the engine ticks the International Maritime Organisation's regulations on emissions without the need for 'scrubbers,' exhaust systems that clean up the burnt fuel's residues.
The Japanese government, which has made zero-emission shipping a high priority, has designated the car carrier as a flagship project. Japan invented the car carrier – the first of these slab-sided vessels, virtually one giant container, was launched there in the 1960s and designers have been improving them ever since. The latest car carriers are built to the next generation 'Flexie' specification, that transport not just cars around the world, but trucks, bulldozers, railcars and other odd-sized units, all arranged on six floors of decks that can be raised or lowered according to need. As a bonus, a Flexie car carrier is narrower than previous versions so it can operate in more ports, but it can still carry up to 6,800 cars.
Japanese shipbuilders and suppliers work together in terms of innovation. Among other home-grown innovations, Flexie car carriers feature a spherical, sea-kindly bow and a tear-shaped stern that reduces wind resistance, both jointly designed by Mitsui OSK Lines and Mitsui Zosen Akishima Laboratories.
At the opposite end of the scale, Oshima Shipbuilding, which generally specialises in large ships, has become the hub for another all-Japan project with a big future – a fully automatic, zero-emission, battery-powered ferry. Launched in 2019, the little vessel known as e-Oshima is challenging Norway, the world leader in electric ferries, with its automated ship navigation system that sets the route and speed while simultaneously avoiding collisions.
For Japan, the e-Oshima is not a hobby project. It's part of a joint, government-led programme to become a world leader in battery-powered transport by sea. "The ferry looks like becoming a symbolic vessel in the new age ahead," notes the Nippon Foundation, an organisation devoted to green seas.
It is an absolutely huge business market and one that remains crucial in global logistics and seeing how the largest firms continue to compete with each other is certainly going to be riveting.