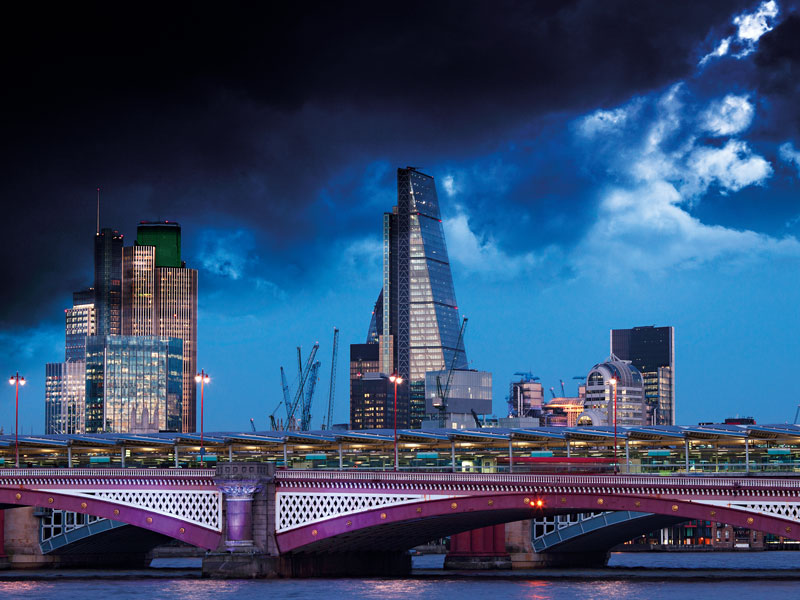 &nbsp
Author:
Adrian Holliday, Journalist and Brexit correspondent
The quest for national sovereignty – or a sovereignty recognised by a majority of Brexiteers – is almost at an end for Boris Johnson's government. By the time World Finance goes to press, the picture will be clearer and several decades of mutual trading cooperation and easy travel will cease between the UK and the EU. New trading frictions will commence. Even with an agreement ratified by the end of 2020, the vast amount of red tape won't be hugely reduced – the government's harder Brexit line and quitting the customs union and single market has seen to that.
As early winter unfurled with much of the City of London emptied of life, Johnson did little to reduce the risk of an accidental no-deal. Though the influence of core Brexiteers was cut thanks to November's ejection of chief adviser, Dominic Cummings, bringing much relief across Whitehall, there was little softening of the line from UK chief negotiator David Frost. In late November, Chancellor Rishi Sunak went on the offensive, claiming COVID-19 was a bigger threat to the economy than a no-deal scenario. Bank of England governor Andrew Bailey disagreed, however, and the London School of Economics supports his contradictory views.
Since quitting the EU on January 31, 2020, the consequences of a hard position – which is what the UK has now largely chosen – have become more stark. The UK exports more than £25bn worth of financial services a year. Did the government do enough to protect it? "Very early on, we called for regulatory equivalence for financial services to be at the heart of a post-Brexit trade deal," London mayor Sadiq Khan said as negotiations neared the last furlough. "But the government has instead placed its red lines around symbolic, but relatively niche ground." The niche ground Khan referred to in barely coded words is fisheries. Fish is a subject that pulls in public – and therefore voting – interest as opposed to the City of London, even if the City employs more than 500,000 and the fishing industry 24,000. The nautical roots run deep.
Across the channel, European leaders have been overwhelmed by COVID-19, putting pressure on Michel Barnier, forced into isolation in late November, to keep dialogue on track despite the threat of on-off suspensions (both Barnier and David Frost contracted the virus earlier in the year). If Barnier pulls off an agreement it still must chunter through a number of committees before a plenary vote. It has to be translated, be legally tight and approval must come from both the European Parliament and the EU Council.
Higher downside pound risk
Speaking to World Finance, Western Union International Bank currency strategist George Vessey said markets had broadly priced in a deal, and that compromise was more likely to come from the UK than Brussels. "In terms of traders holding short or long positions on the pound," said Vessey, "it's pretty much flat. If you compare that to the majority of the last four years, around 80 percent of the time traders have held a bearish position on the pound, expecting it to devalue."
So while there is anticipation for a deal, with that comes more downside risk for sterling. "If we get a deal, then the pound should start to appreciate, but the upside potential to appreciate is definitely less so than the downside risk, should we end up in a no-deal scenario. That is the concern – that markets are anticipating a deal exposes more downside risk to the pound if it doesn't come to fruition." The many overlapping EU and UK rules – one example of the possible chaos may see EU banks re-route derivative trades via New York if working equivalence isn't agreed – is just one of the City anxieties. The scale of derivatives trading is huge. The Paris-based European Securities and Markets Authority, an EU agency, has been working on a solution, but detail has been scant.
Does a post-Brexit European banking crisis loom?
The number of non-performing loans as a result of COVID-19 could hit levels well beyond those of the 2008 financial crisis thinks Andrea Enria, chairman of the supervisory board of the European Central Bank. "The European Central Bank," Enria warned in the FT, "estimates that in a severe but plausible scenario, non-performing loans with euro area banks could reach €1.4tn, well above the levels of the 2008 financial and 2011 EU sovereign debt crises."
Journey to the edge
Meanwhile, many British registered financial operators will lose their right to sell funds or give debt or insurance advice right across the EU, even if Barnier pulls off an agreement. But ex-EU trade spokesman Peter Guilford was confident that emotions, in the end, will be overcome. "The EU Commission's job is to broker deals between forces bigger than itself, within Europe and outside," he said in the FT. "It has nerves of steel, the hide of an ox and no fear of cliff edges."
Stakes in previous trade negotiations – the so-called Uruguay Round, spanning 123 countries – he points out, "were higher than those of Brexit: more countries were involved, there were more sticking points and a less united EU, not to mention entrenched opposition from European and US farmers to a deal at all." Practically, for British consumers, some food shortages may occur as around 40 percent of the UK's food and agricultural products are currently EU-sourced. Grocer Sainsbury's has already flagged up concerns about the supply of dairy and fish products unless EU controls for larger traders are waived. Fresh food supplies are certainly at higher risk. Inevitably, some supermarket prices will rise.
For Boris Johnson now comes the hardest part – piloting a responsible path out of the pandemic while reviving his government
Another issue surrounding potential shortages is the current supply to the UK shores. The UK's biggest container terminal, Felixstowe, has been ranked the worst-performing container port when benchmarked against key competitors, including Hamburg and Rotterdam. The so-called 'Port of Britain' – it absorbs more than 35 percent of all the UK's container goods – is subject to constant congestion, according to new data from IHS Markit. Felixstowe Ports is owned by Hutchison Ports, which blames Brexit stockpiling and COVID-19 related pressures for current delays, including around 11,000 containers of PPE. Some shipping companies have redirected ships away from Felixstowe due to worries about unloading capacity or berthing slots.
There are also complaints about the port's vehicle booking system from trucking companies struggling to get loading slots, a problem that may be exacerbated without a trade agreement. Most Brexit voters gave Ireland little thought in the June 2016 referendum. But Northern Ireland is leaving the EU – sort of. While goods and people can move freely between Northern Ireland and the Republic of Ireland – a priority for peace – a customs border in the Irish Sea means goods coming from Britain are subject to EU customs rules. That means a customs declaration and detailed checks, in some cases. This remains in place for six years. Many Northern Ireland unionists deeply resent the so-called 'sea border,' seeing it as a move that undermines their existing membership with the UK. The threat to override parts of the UK-EU withdrawal agreement via the recent Internal Market Bill, breaching international law, has ratcheted up tensions.
Across the Atlantic, the Biden administration will be intent on putting pressure on Johnson to ensure that the Good Friday Agreement is linked to future trade negotiations. Johnson's – at times slavish – relationship with Donald Trump has gone down badly with Biden and we should expect Biden to bypass Johnson in favour of Angela Merkel, at least initially. If there is no deal and a lack of commitment to the Withdrawal Agreement then a US-UK trade deal gets much trickier.
The regional and local reality
Whatever happens, the outlook for much of the UK does not look promising. The lack of access to EU funds for poorer parts of the UK may mean some inter-EU relations are reduced to the level of 'town twinning.' Europe remains vital to much of the north east of England with strong trading links to Oslo, Gothenburg and Rotterdam, as just one example of this. The north east, with its strong manufacturing centres including the car industry, is vulnerable to higher tariffs and trade costs, as is the West Midlands. The UK's Society of Motor Manufacturers and Traders (SMMT) warned that failure to secure a good deal could cost the UK auto sector £55.4bn by 2025. And a default WTO tariff would pile on almost £3,000 to the price of a new electric vehicle, SMMT president Dr George Gillespie predicted.
No deal or thin deal, Britain is the only country that joined the EU and left. For Johnson now comes the hardest part – piloting a responsible path out of the pandemic while reviving his government. That means reaching out to the many he has sidelined or dismissed and addressing, with sincerity, the UK's deep regional inequalities.
Confidential Cabinet Office notes reported by the media in late November point to a higher chance of UK "systemic economic crisis" – quitting the EU, COVID-19, a bad flu season, the threat of mass unemployment and higher risk of public disorder as many people's finances deteriorate post-Christmas. It's a hard winter ahead.