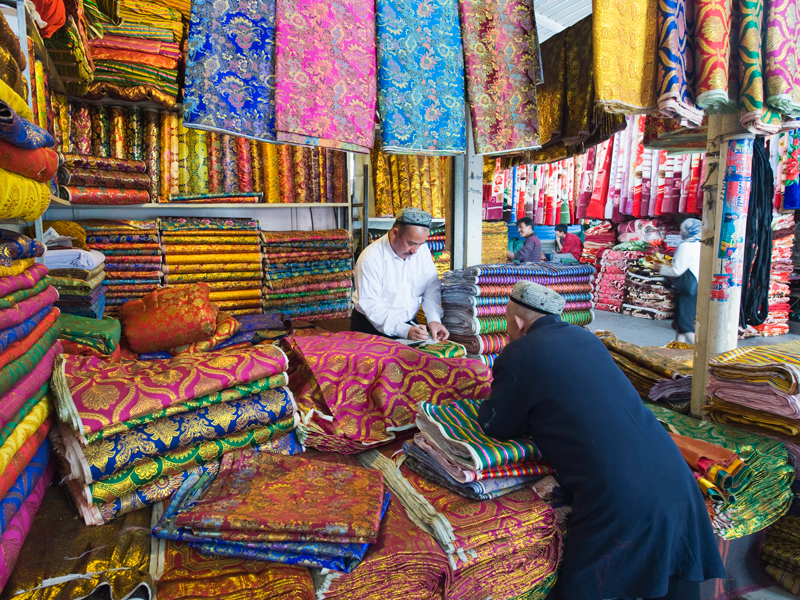 Silk is still sold on the route of the old Silk Road. Today's version includes the Silk Road Economic Belt - the overland component - and the 21st-century Maritime Silk Road&nbsp
Between the second century BC and the end of the 14th century AD, the Silk Road enriched the many empires and dynasties it travelled through. As a direct result of trade, people gained access to goods, ideas and technologies that had been developed thousands of miles away. It represented an early form of globalisation, long before the term had been invented.
Although the route facilitated economic and cultural exchanges between many countries in the East and the West, modern depictions of the route predominantly focus on the transportation of Chinese goods such as gunpowder, porcelain and, of course, silk. Today, the government in Beijing has plans to recreate this corridor of influence. Once
complete, the network will cover 60 percent of the world's population, 30 percent of global GDP and cost more than $1trn.
The New Silk Road will not be built upon the mettle of intrepid merchants, but through huge infrastructural projects and closer economic integration
Unlike the original, however, the New Silk Road will not be built upon the mettle of intrepid merchants, but through huge infrastructural projects and closer economic integration. Along the way, key transit hubs will play a vital role in managing the flow of goods – that is, if they are up to the job.
Concerns are beginning to grow that some of the most critical sections of the New Silk Road are not developed enough to cope with the increased demands that will surely be placed upon them. One such area that is coming under close scrutiny is the Brest-Małaszewicze crossing on the Belarus-Poland border. It is a feature of almost all rail routes linking China and Europe, and yet it also provides the biggest potential stumbling block to the continued expansion of this vital trading network. Along the New Silk Road, a bottleneck is starting to emerge.
Bumps in the road
Just as the original Silk Road was not a single route but a network of trading paths stretching through Eurasia, so too is its modern iteration. Today's version has been formally dubbed the Belt and Road Initiative and encompasses the Silk Road Economic Belt, its overland component, and the 21st-century Maritime Silk Road.
60%
The proportion of the world's population the New Silk Road will cover
30%
The proportion of the world's GDP the New Silk Road will cover
$1trn
The projected final construction cost of the New Silk Road
The project was officially unveiled by President Xi Jinping in late 2013 and has so far augmented Eurasia's pre-existing infrastructure with numerous investments. Nevertheless, China is not always the main funder, and it is far from the only beneficiary. Completed projects such as the Kouvola-Xi'an rail link and the China-Kyrgyzstan-Uzbekistan railway have significantly reduced transit times for people and goods, and promise to boost economic growth.
For the New Silk Road to achieve its full potential, however, it will need to do more than simply connect previously disconnected places. The Eurasian landmass is already crisscrossed with thousands of miles of roads and railways, and updating the many transport links that exist in a state of decline should be a priority. A good place to start would be the Poland-Belarus border.
Up until now, the rapid growth of railway container traffic between China and the European Union has been managed fairly effectively. Between 2011 and 2017, traffic grew from 7,000 forty-foot equivalent units (FEU) – a conventional measure of cargo capacity – to 131,000 FEU. But with expansion predicted to continue, inferior capacity at crossing points along the EU's external border could cause significant issues in the future.
In particular, the crossing point between Brest in Belarus and Małaszewicze in Poland is set to become extremely problematic. Today, the Polish side processes between nine and 10 trains a day, already below the negotiated figure of 14. Evgeny Vinokurov, Director of the Centre for Integration Studies at the Eurasian Development Bank, believes delays occurring here greatly impair the competitiveness of the route.
"Infrastructure bottlenecks in Poland have resulted in up to 3,500 cars having been detained at the Brest-Małaszewicze crossing point," Vinokurov said. "Several major consignors, including Hewlett-Packard [HP], have expressed grave concerns about that crossing point. According to HP representatives, the company's trains running from Chongqing [in China] to Duisburg [in Germany] may have to wait for the crossing for two to three days, while trains running from other Chinese cities may be delayed by five to six days."
Infrastructural problems are partly to blame for the bottlenecks and further investment is certainly needed, both in Poland and Belarus, to modernise this section of the New Silk Road. Better management of current traffic levels would also help alleviate some of the strain. Despite the fact that there are four terminals at Małaszewicze, each capable of handling 10 trains daily, they are often underutilised. Some of them only process one or two trains a day and some do not accept traffic from Asia at all. Before more money is thrown at the infrastructure at the Poland-Belarus border, inefficiencies must be dealt with.
Finding order in chaos
Given that the New Silk Road traverses numerous countries, each with its own established way of doing things, it is no surprise that the route lacks cohesion in places. Language barriers and administrative discrepancies can make the transport of goods across borders far from simple.
Digital solutions should be pursued to simplify the customs procedure, helping to facilitate more consistent documentation between countries
Where Poland meets Belarus at the EU's eastern border, these problems are perhaps at their most pronounced. Differences in track gauges used by EU nations (1,435mm) and Russia, Belarus and Kazakhstan (1,520mm) mean unconventional approaches, including the use of automated gauge conversion technology, may need to be employed. EU speed limits, which are much lower than those of Eurasian Economic Union states, are another factor that adds to the complexity.
Regulatory divergence provides yet another headache. In Poland, technical regulations stipulate train lengths cannot exceed 600m. In Belarus, this limit is 910m, while in Russia it is higher still. This means if a 65-car cargo train arrives at Brest, it will need to be split in two before it enters Poland, with a 45-car train allowed to cross the border while the remaining 20 cars are left until they can join a later train.
Thomas Kowitzki, Head of China Rail and Multimodal Europe at DHL Global Forwarding, told World Finance that this lack of synchronisation is also found in terms of end-to-end train configuration. "Take, for example, a Chinese province announcing a new direct rail connection from Shenzhen to Hamburg. Instead of one direct train, this rail connection is likely to consist of three separately operated trains with multiple rail wagon sets [that] use multiple locomotives from various rail operators."
Every time there is a change of train operator or regulatory standards, the potential for delay increases. And delays can have financial ramifications. "If a container train suffers an excessive delay when crossing the border," Vinokurov explained, "the operator may indemnify the consignor at the expense of the railway company that caused the delay." Although some delays are unavoidable, when they occur over a sustained period they can cause the profitability of foreign trade to plummet to unsustainable levels.
But just a few hundred miles from the Brest-Małaszewicze crossing, a new development is underway that could help alleviate some of the logistical challenges. With the slogan 'time is money, efficiency is life' appropriately hanging outside its entrance, the China-Belarus industrial park is beginning to take shape on the outskirts of Minsk. Initial proposals for the park focused on turning it into a free customs zone, but in 2017 the emphasis moved towards large-scale logistics for Chinese cargo.
Three 17,000sq m warehouses and a 22,000sq m open container terminal have already been completed, with much of the funding being supplied by China Merchants Group. As a focal point for export-orientated production, the park will mean some goods produced by Chinese businesses and destined for the European market will no longer have to travel distances that are quite so vast. It should also improve the efficiency of cargo processing along the route, reducing the pressure for urgent infrastructural development.
Coming together
Given the number of issues that need to be resolved before container traffic can reach the desired levels, it might be tempting for businesses to find alternative ways of getting their products to EU customers. However, while 90 percent of the world's traded goods travel by sea, it is not ideal for all types of cargo or for all destinations. As Kowitzki noted, rail transport along the New Silk Road "fills a gap between sea and air freight. It is cheaper than transportation by air and faster than sea transportation".
Encouraging funding from Chinese businesses into Silk Road projects is one way of plugging the investment gap; greater international coordination of investment policies is another
If rail remains the most viable option for some Chinese producers, perhaps an alternative route could deliver a more efficient passage to the EU. Again, this is unlikely to be the case. The only other prospective route would go via Ukraine, but the unstable political situation in the country is pushing Chinese investment towards its neighbour to the north. The Brest-Małaszewicze crossing is also strategically located along the E20 rail line – the key eastern entrance into the European market.
What's more, plans are already underway to address some of the major challenges at the Poland-Belarus border. Investments totalling $2.5bn were made between 2011 and 2017 to improve capacity across Belarusian rail lines, and proposals are afoot to modernise signalling and communication devices before 2020 ahead of launching a high-speed service. While this will improve transit conditions along a small section of the New Silk Road route, further enhancements will be needed.
For a start, the Polish Government could attempt to match the investment being made on the Belarusian side of the border. Currently, most of Warsaw's resources are being directed at railway routes connecting Baltic ports in the north to countries in Southern Europe. Encouraging funding from Chinese businesses into Silk Road projects is one way of plugging the investment gap; greater international coordination of investment policies is another.
If funds are increased, they must be used in a targeted manner. Digital solutions should be pursued to simplify the customs procedure, helping to facilitate more consistent documentation between countries with different administrative methods. Money should also be concentrated on the most severe bottlenecks first, starting with the Brest-Małaszewicze crossing before plans for new routes begin.
Just like its ancient forebear, the New Silk Road promises to usher in an age of closer cooperation between countries separated by huge distances. In order for it to be successful, unified standards will need to be employed across the route, particularly with regard to legal and administrative issues. It does not really matter whether countries choose the Convention Concerning International Carriage by Rail, favoured by EU states, or the Agreement on International Goods Transport by Rail, preferred by China and a number of other nations east of Poland – what's important is finding a consensus for the entirety of the route.
Reducing bottlenecks along the New Silk Road will not only benefit Chinese companies or, indeed, local businesses found in proximity to the route. By encouraging investment in infrastructure that has long been neglected, it will drive economic growth in Poland, Belarus and many of the other 50-plus countries it passes through.