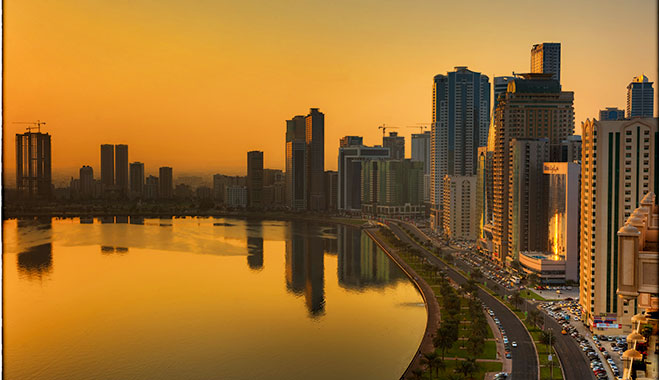 A view of Khaled Lagoon, Sharjah, UAE. Shurooq, the Sharjah Investment and Development Authority, are revitalising the city with the Heart of Sharjah project&nbsp
National cultural identity is a topic that is of great concern in the GCC, with cultural stakeholders consistently warning that the states of this region run a very real risk of losing what fundamentally makes them uniquely GCC.
The growth in the GCC region over the past five decades is nothing short of remarkable. Advanced cities with state-of-the-art infrastructure have blossomed out of the desert and people from across the globe continue to flock to the countries of this region to share in and contribute to its ever-increasing growth and development – and leading the charge is the UAE.
A country with less than five decades to its name, the UAE has become the go-to destination for the internationally mobile – its cities are rich and vibrant multicultural hubs of commerce and industry. It is a country that has made no secret of the fact that it values and rewards expertise, and this influx of qualified foreign nationals has been a vital part of the country's growth strategy.
It is, however, also a country that puts a high premium on its own cultural identity and fully appreciates the pressures a large expatriate community places on that cultural identity. Which is where entities such as Shurooq, the Sharjah Investment and Development Authority, come in.
Self-preservation is key
Established in 2009, Shurooq's mandate is to achieve the social, cultural, environmental and economic development of Sharjah – the third largest of the UAE's seven Emirates – on the basis of its distinct Arab and Islamic identity. It is a mandate that takes on great importance when viewed against the backdrop of Sharjah's long standing role as the Emirates and indeed the GCC's cultural heart.
Cultural identity is a precious and often fragile commodity, one that needs to be protected and cultivated with great care, but also one that can be an immensely profitable asset
Currently being celebrated as the Islamic Culture Capital for 2014 and previously named the Culture Capital of the Arab World, both by UNESCO, Sharjah is an emirate and a city that has actively taken up the mentality of protecting, preserving, and promoting the cultural identity of its nation – as is clearly evidenced in the infrastructure development being spearheaded by Shurooq.
Its flagship development, Al Majaz Waterfront, has quickly become the most popular outdoor leisure destination in Sharjah, and it is easy to see why. With its range of world-class restaurants and cafes that overlook the fascinating Sharjah Fountain with its spectacular music and multimedia shows, its water-themed Splash Park, state-of-the-art indoor children's play centre – ALWAN, Mini Golf course (one of only a few in the UAE), jogging track, and outdoor play areas it is an ideal family destination. It is more than just that though.
This development also houses the newly launched Maraya Art Park, featuring a sculpture park and a children's art park, and is a frequent host to art and culture events that celebrate both the region's culture and pays homage to the cultures of the UAE's many foreign residents. It is a destination that has found the balance between economic development and supplying the specific social needs of its people.
Al Majaz Waterfront's ever-growing success has however only been a starting point. On an even larger scale there is the five-phase, 15-year historical restoration project – the Heart of Sharjah. Shurooq is developing the Heart of Sharjah project, which is considered as the first and largest ever heritage development in the region. This ambitious project aims to restore and revamp the traditional heritage areas of Sharjah to create a tourist and trade destination with contemporary artistic touches that retains the feel of the 1950s and reflects what Sharjah was like over half a century ago.
Contextualising new developments
Scheduled to be completed in 2025 and situated just a few minutes from the city's corniche and 10 minutes from the Sharjah International Airport, the Heart of Sharjah will link its heritage areas together and feature diverse commercial, cultural and residential projects, including a boutique hotel – which is already under development and will be the UAE's first five star Emirati hotel – restaurants, retail shops, art galleries, traditional and contemporary markets, archaeological sites, museums, play areas, and commercial offices.
The Heart of Sharjah will also be realised in accordance with international standards of sustainable development and environmental principles. Work on the first of the Heart of Sharjah's five phases is progressing well, with the most recent and extremely exciting development being the site's registration on UNESCO's tentative list of world heritage sites. This is a landmark achievement that clearly reflects the significance of the archaeological and historical heritage of Sharjah.
Cultural identity is a precious and often fragile commodity, one that needs to be protected and cultivated with great care, but also one that can be an immensely profitable asset. Through these developments described and many others including eco-tourism projects such and leisure destinations that are being developed throughout Sharjah, Shurooq is working to both protect Sharjah's heritage and culture, and build an economically sustainable future for its people.