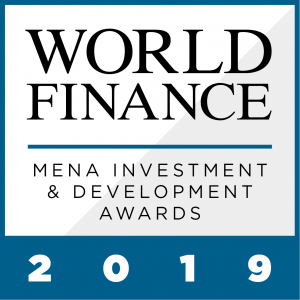 The Middle East and North Africa (MENA) region is home to around 381 million people, comprising six percent of the total global population. It also functions as a yardstick for the world economy due to its vast reserves of oil and natural gas, both of which underpin the global energy industry and therefore, by extension, the global business community.
Oil in particular is highly susceptible to price shocks, either as a result of oversupply or trade tensions, both of which have afflicted the global economy in recent years. The 2015-16 oil glut, caused by the US and Canada's decision to ramp up production, saw the value of Brent crude tumble to below $30 a barrel in January 2016, severely dampening the economic fortunes of oil-producing nations in the MENA region.
In 2017, several of these nations, which form part of the Organisation of the Petroleum Exporting Countries (OPEC), elected to implement supply cuts in a bid to prevent a further slide in oil prices. While these succeeded in driving prices back up, the oil sector remains volatile, as it has faced additional headwinds over the past 12 months in the form of the global economic slowdown, the US-China trade war and the application of sanctions to Iran.
Iran's oil exports plummeted to just 300,000 barrels per day in June 2019, from a high of 2.5 million barrels in April 2018. While this has driven up oil prices due to a supply shortage, it has also posed challenges for oil-importing countries that trade heavily with the US. The sanctions mandate that these nations can no longer purchase oil from Iran, forcing them to find alternative – and often more expensive – suppliers.
These various factors have weakened the MENA region overall, with oil-exporting nations hit hardest; their growth is expected to dip to just 0.4 percent in 2019, according to the IMF's Regional Economic Outlook. Oil-importing nations will fare better, posting collective GDP growth of 3.6 percent, although this is still a decline from last year's rate of 4.2 percent.
Breaking down barriers
Among the world's oil-exporting nations, the countries that are faring best are those that are diversifying their economies by investing in non-oil initiatives. The UAE is one such example: it has accelerated work on the Etihad Rail network, a 1,200km railway construction scheme that will link all major ports in the country and encourage freight transportation of goods. It has also implemented reforms to its business environment, such as improving online registration for new companies and strengthening access to credit, according to the World Bank's Doing Business 2019 report.
For a number of nations in the MENA region, ongoing violence, political conflicts and corruption are inhibiting meaningful investment and development
These actions have served to encourage foreign investment in the UAE's start-up sector: according to a report by MENA start-ups directory MAGNiTT, the country captured 26 percent of all deals and 66 percent of all funding in the region in the first half of 2019. In particular, the $3.1bn acquisition of ride-sharing app Careem by its US rival Uber has served as testament to the calibre of firms being incubated there, thereby boosting investor confidence.
Oman has also taken steps to create a more robust regulatory environment and attract foreign business, notably through the introduction of the new Foreign Capital Investment Law. This legislation, which comes into force in 2020, aims to attract international investment by offering incentives and expanding sectors to external investors.
These two nations, however, are largely the exception to the rule with regards to regulatory reform. Regional integration across the MENA region overall is extremely poor, meaning countries are not able to take advantage of some of the business opportunities on their doorsteps. Tariffs remain high, while bureaucratic barriers impede the flow of both goods and services across borders.
Unbalanced books
In oil-importing countries, meanwhile, large public debt burdens are limiting their capacity to invest in infrastructure and tackle social issues. Jordan is one such example: in 2018, its fiscal deficit stood at 3.3 percent of GDP – 1.4 percent higher than the budget target – due to limited tax revenue growth. As a result, it has been forced to slash public spending, notably on food subsidies, which has led to civil unrest.
Morocco is also grappling with an elevated budget deficit of 3.7 percent of GDP, compounded by its decision to increase public spending in the education and healthcare sectors. The country is the largest energy importer in North Africa, meaning its national finances have been hit by the rise in oil prices since their 2016 lows. In a bid to balance the books, the government announced in October 2018 that it would look to generate MAD 8bn ($827.43m) by privatising a number of state-owned firms.
The one exception to this trend is Djibouti, a rising star of the region, where the economy has been expanding rapidly. GDP growth is expected to reach seven percent by the end of 2019, thanks to the development of new infrastructure such as the Djibouti International Free Trade Zone, an initiative that has helped to establish the country as a key trade and logistics hub. Concerns have been raised, however, about the loans from China that underpin the project.
Grinding to a halt
For a number of nations in the region, ongoing violence, political conflicts and corruption are inhibiting any sort of meaningful investment and development. This is particularly evident in Yemen, where a brutal civil war has been raging since 2015. The country's economy is estimated to have contracted by 39 percent since the end of 2014, as the violence has disrupted all business activity and hindered any sort of foreign investment. Even if the conflict were to end tomorrow, a significant degree of foreign aid would be needed to solve the humanitarian crisis and restore basic services such as healthcare and education before business could resume.
In Libya, a conflict that began in April between the UN-recognised Government of National Accord and forces loyal to the Libyan National Army has left more than 1,000 people dead and thousands more injured. Production of oil – the lifeblood of the Libyan economy – has dropped following a number of forced closures at the country's largest oil field, which are believed to be politically motivated attacks. "The associated lack of security and reforms hinders investment and development of the private sector," noted the World Bank in its economic update for Libya in April.
As a result of this violence, the overarching security situation in the region has worsened, which has brought foreign investment to a standstill. Moreover, May's attacks on vessels in the Strait of Hormuz by the Iranian Revolutionary Guard Corps indicate a deterioration in US-Iran relations, which will further inhibit development in the region as a whole. Finding a solution to this conflict and achieving peace across MENA is therefore essential in securing long-lasting and equitable growth. In the World Finance MENA Investment and Development Awards, we recognise the firms that continued to invest in the region in order to drive vital growth over the course of 2019.
World Finance MENA Investment and Development Awards 2019
Best Islamic Bank
Kuwait International Bank
Best Retail Bank
Arab National Bank
Best Commercial Bank
QNB
Most Socially Responsible Bank
Bank Albilad
Best Bank for Trade Finance
Ahli United Bank
Most Innovative Insurance Product
Tawuniya
Best Asset Management Company
Clarity Capital
Best Fund Management Company
Qatar Investment Authority
Best Investment Banking Company
KAMCO Investment Company
Best Islamic Investment Company
A'ayan Leasing and Investment
Best Telecommunications Company
Ooredoo
Best Logistics and Transportation Company
DHL Express MENA
Best Islamic Private Wealth Management Company
SEDCO Holding
Most Sustainable Energy Company
ACWA Power
Best Customer Experience
Majid Al-Futaim Group
Most Customer-Focused Brokerage House
ANB Invest
Best Organisation for Female Empowerment
Al-Tijari – Commercial Bank of Kuwait
Best Full-Service Law Firm
Al-Twaijri and Partners Law Firm
Best SME Finance and Support Programme
Commercial Bank Of Qatar
Best E-Services Trade Facilitator
Gulftainer
Best Pharmaceutical Company
Teva Pharmaceutical Industries
Best Investment Destination
Invest in Israel – Israel
Best Tourism Destination
SMIT – Morocco
Individual Awards
Business Leadership and Dedication to Community
Sheikh Mohammed Al-Sabah, Chairman of Kuwait International Bank
Banker of the Year
Raed Jawad Bukhamseen, Kuwait International Bank
Fintech CEO of the Year
Wael Malkawi, ICS Financial Systems
Pharmaceutical CEO of the Year
Kåre Schultz, Teva Pharmaceutical Industries
Telecommunications CEO of the Year
Sheikh Saud bin Nasser Al Thani, Ooredoo
Investment CEO of the Year
Mansour Hamad Al-Mubarak, A'ayan Leasing and Investment
Energy CEO of the Year
Paddy Padmanathan, ACWA Power
Logistics and Transportation CEO of the Year
Nour Suliman, DHL Express MENA
Retail CEO of the Year
Alain Bejjani, Majid Al Futtaim Group
Jewellery Designer of the Year
Fatima bint Ali Al Dhaheri, Founder of Ruwaya Jewellery