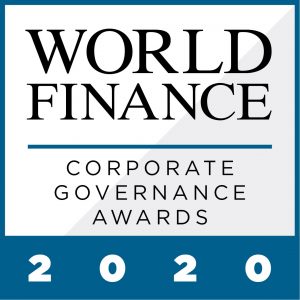 In 2019, Time magazine named Greta Thunberg, a young climate activist from Sweden, as its Person of the Year. The award recognises the impact that Thunberg has made in bringing the climate crisis to a wider audience – an audience that now includes businesses, which are well aware that many customers will no longer put up with firms that prioritise profit over the planet.
Today, environmentalism is a strategic goal for many organisations. However, it is not the only imperative that firms are following: good corporate governance comes in many forms, and businesses all over the world are realising how essential it is to long-term success. Far from being a form of moral posturing, corporate governance can help organisations achieve regulatory compliance, retain their best members of staff and attract new customers. The businesses that have been included in the World Finance Corporate Governance Awards 2020 understand this better than most.
To good purpose
In the year ahead, the companies that truly have a grasp on corporate governance issues will convey to all their stakeholders – investors, employees and customers – that they are working with a sense of purpose that is greater than profit.
This purpose can take any number of forms, but increasing the focus on environmental, social and governance (ESG) issues is likely to prove essential. In its 2020 Global and Regional Corporate Governance Trends report, the Harvard Law School Forum on Corporate Governance and Financial Regulation identified a shift in priorities for many businesses in this area.
Far from being a form of moral posturing, corporate governance can help organisations achieve regulatory compliance
"For the first time, in 2020, we see the focus on the 'E' and the 'S' of [ESG] as the leading trend globally, including in the US, where it traditionally has not received as much attention by boards," the report read. "Indeed, many of the key global trends for 2020, such as board oversight of human capital management, can be seen as subsets of ESG."
Organisations like the Task Force on Climate-related Finance Disclosures are only likely to grow in prominence, providing firms with advice on how to increase transparency in terms of their climate-related information. As we move further away from the signing of the Paris Agreement in 2016, and with the likelihood of organisations meeting their commitments becoming increasingly slim, the pressure on companies to live up to their green credentials will grow.
Nevertheless, old-fashioned governance will remain important throughout 2020. Some of the main regulatory challenges for the year ahead include how financial firms will adjust to the end of LIBOR and new data protection regulations, which will only intensify as the use of technology becomes more entrenched in all areas of the economy.
Avoid disruption
For businesses, good governance can easily be undermined by high employee turnover – it's hard to maintain a position, morally or ethically, without consistent personnel. This is, of course, especially true of leadership positions.
Last year exhibited a general uptick in executive churn, with the third quarter seeing a record number of CEO departures. Businesses would do well to avoid such high levels of turnover again, focusing their efforts on recruiting leadership candidates with a long-term vision that chimes with the company's ethos. Of course, departures are an inevitable part of corporate life, so organisations should put a contingency plan in place. Appointing an emergency or temporary CEO is one way of avoiding unnecessary disruption.
When recruiting, companies will also find themselves under pressure to improve diversity at the C-suite level and below. In the US, investment advisory groups like Vanguard will continue to promote the benefits of diversity at board level in terms of decision-making and financial results.
With rising levels of inequality seen across the western world and questions of sustainability never far away, capitalism is certainly showing cracks
For companies that want to enjoy these benefits, once again, transparency is important. Businesses are encouraged to publish their perspectives on diversity, their approach to board evolution and any results they've measured thus far. Broadening their candidate search will prove useful in this regard. Diverse voices provide businesses with new ideas that might deliver the competitive edge they require.
Although many markets, such as Spain, France and Norway, have laws in place mandating that a certain percentage of board members must be female, for example, progress has been slower elsewhere. There is also criticism that such regulations can turn diversity into a box-ticking exercise. Rather than following the lead of governments, businesses should take a proactive approach to diversity, whether in terms of race, gender, age or any other characteristic. It is, after all, in their best interests; the World Economic Forum reports that higher levels of diversity improve innovation and financial performance.
The stakes are high
For many years, shareholders have been the dominant voice when it comes to determining company policy, whether that is in terms of recruitment, acquisitions or, indeed, corporate governance. However, the year ahead promises to see businesses increasingly move away from this approach to embrace a model of stakeholder capitalism instead. This will mean taking into account public opinion before adopting any corporate policy changes.
With rising levels of inequality seen across the western world and questions of sustainability never far away, capitalism is, if not yet in crisis, certainly showing a few cracks. Businesses have a responsibility to address this, and it is something they have been taking more seriously of late.
Earlier this year, the World Economic Forum published a framework aimed at creating a new form of capitalism centred on the importance of all stakeholders. This was structured around seven pillars: defining corporate purpose; governance mechanisms; corporate risk management; regulation and corporate adaptation; governing disruption; balancing a long-term vision with short-term needs; and cultivating trust.
Committing to the UN's 2030 Agenda for Sustainable Development will also help businesses adopt the type of policies that benefit wider society and the environment. Although 2030 is a decade away, organisations cannot afford to be complacent. Many of the agenda's sustainable development goals, including those related to poverty reduction and promoting inclusive societies, will not be easily or quickly achieved.
It is clear that the companies taking corporate governance seriously have already put a number of ESG measures in place. Far from being a knee-jerk reaction to shifting customer trends, these are part of a long-term mission that will benefit customers, investors and employees.
As we move through 2020, regulatory challenges, environmental hurdles and social change will give plenty of businesses pause for thought. Those that react decisively but with careful due diligence are the most likely to achieve long-lasting success. These are the firms that we have highlighted as part of this year's World Finance Corporate Governance Awards.
World Finance Corporate Governance Awards 2020
Best corporate governance
Angola
Banco Económico
Brazil
Itaú Unibanco
Cambodia
Phnom Penh Special Economic Zone
Canada
Interac
Colombia
Bancolombia
Cyprus
Bank of Cyprus
Denmark
Maersk
Ghana
Databank Group
Hong Kong
COSCO Shipping Ports
Israel
Caesarstone
Jordan
Jordan Islamic Bank
Malaysia
FGV Holdings Berhad
Nigeria
FBN Holdings
Norway
Aker Solutions
Panama
Bladex
South Africa
African Rainbow Minerals
Spain
Iberdrola
Turkey
Şekerbank
UK
Smith and Nephew Plc
US
Avangrid
Best ESG strategy
Russia
Sovcombank