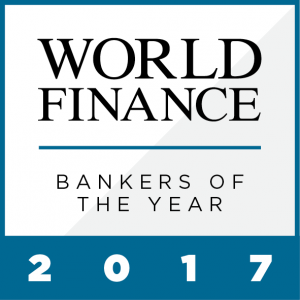 Africa
Segun Agbaje
Guaranty Trust Bank
Having studied accountancy at the University of San Francisco and business administration at Harvard Business School, Segun Agbaje went on to cut his teeth at Ernst & Young in California. He joined Guaranty Trust Bank in 1991 and swiftly rose through the ranks into management, becoming Executive Director in 2000 and Deputy Managing Director in 2002. Agbaje was appointed CEO in 2011, in recognition of his diverse knowledge and experience of all areas of the Nigerian banking industry, particularly commercial banking, investment banking, treasury, corporate planning and strategy, and settlements and operations. Guaranty Trust Bank has more than 10,000 employees and operates across Africa from its base in Lagos, Nigeria. Today, the bank is focused on driving financial inclusion in Nigeria through the digitalisation of its banking services.

Europe
Ralph Hamers
ING Financial Group
Though he began his career with ABN Amro in Canada, Ralph Hamers has been at ING for the vast majority of his time in the banking sector. He joined the company in 1991, first working in structured finance before working his way up to CEO of ING Netherlands, and then CEO of ING Belgium and Luxembourg. He most recently became CEO of ING Financial Group in 2013. A down-to-earth, practical leader with an MSc in Business Econometrics/Operations Research from Tilburg University, Hamers places great value in consumer trust in business. He is also a modernist, and in recent years has led ING to profitable growth in difficult markets thanks to a digital-first philosophy. ING is the Netherlands' biggest bank by assets, with more than 42,000 employees and 40 countries of operation.

Middle East
Mohammad Nasr Abdeen
Union National Bank
As CEO of the only bank jointly owned by the governments of Dubai and Abu Dhabi, flexibility has become Mohammad Nasr Abdeen's stock-in-trade. Under his stewardship, Union National Bank (UNB) has spread across the Middle East and as far as China, with the opening of its Shanghai branch in 2008 making it the first UAE bank to establish a presence in the Asian nation. Abdeen began his career at UNB in 1999, back when it was a standalone operation. The bank now comprises a network of more than 100 branches and employs around 1,800 people across the world. Abdeen's conservative lending policy and careful approach to investment helped UNB to ride out both the 2008 financial crisis and last year's oil price crash in the Middle East. Now the bank is on the rise, with Q1 2017 figures already having beaten analyst forecasts.

North America
William Downe
Bank of Montreal
After graduating with an MBA from the University of Toronto, William Downe joined the Bank of Montreal in 1983. Having quickly established himself as a key player within the group, Downe was appointed Vice Chairman in 1999 before being named CEO in 2007. Since the appointment, Downe has drawn plaudits for increasing the bank's presence in the US, with the acquisition of Marshall & Ilsley in 2011 more than doubling the bank's authority south of the Canadian border. Despite holding a variety of senior management positions throughout Canada and the US, Downe has still found time to engage in numerous charitable causes: he currently sits on the board of a number of charities, including acting as Chair for the St Michael's Hospital Foundation. After more than a decade at the helm of the bank, Downe announced in April 2017 that he plans to retire in October.

Latin America
Carlos Hank González
Banorte
Born into a family synonymous with South American business, Carlos Hank González followed in his grandfather's footsteps by becoming CEO and Chairman of Banorte in 2014. Harbouring great ambition from a young age, González specialised in finance while studying at the prestigious Universidad Iberoamericana in Mexico, before going on to hold a number of senior roles prior to joining Banorte at the age of 43. González has since helped to restore confidence in Mexico's fourth largest bank by assets, bringing stability to Banorte's operations after shares had tumbled 14 percent in the six months prior to his appointment. By ushering in a "new phase of collaboration between all the institution's governing bodies and management", González has greatly improved Banorte's efficiency, something that was emphasised when the financial group registered a 24 percent profit increase in Q1 2017.

Asia
Pedro Cardoso
Banco Nacional Ultramarino
After obtaining an MBA from the Catholic University of Portugal, Pedro Cardoso began his journey up the management ladder at Banco Comercial Português, where he worked as Deputy General Manager of its New York branch. Having proven himself in the US banking sector, he returned to Europe, where he took his first executive role as CFO of Madrid's Banco Caixa Geral. In 2008, he was nominated as a board member of Caixa Geral de Depósitos, the largest Portuguese banking group, before he was appointed CEO of Macau-based Banco Nacional Ultramarino (BNU) in 2011. He also became President of the Macau European Chamber of Commerce in 2015, where he used his almost 30 years of banking experience to strengthen ties between Europe and the Far East. Proficient in five languages including Mandarin, today Cardoso is working to extend BNU's reach beyond Macau to mainland China.

Australasia
Shayne Elliott
ANZ Group
Though he spent his formative years studying in New Zealand, Shayne Elliott's expansive knowledge of the finance industry has come from a truly international career. Beginning his livelihood on the derivatives trading desk at Citigroup, Elliott gained his experience while working in the UK, US, Australia, Hong Kong and the Middle East. Renowned for his numerical aptitude, Elliott became Citigroup's Head of Australia aged just 38, before becoming Chief Executive of Asia-Pacific Operations in 2003. Elliott ended his 20-year association with Citigroup two years later, moving to the Middle East with EFG Hermes before joining ANZ in 2009. Now CEO of the group, Elliott has successfully consolidated ANZ's position as a 'super regional bank', shifting the group's focus towards generating returns after years of spending and growth.