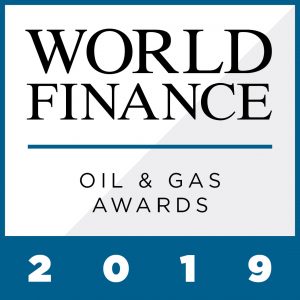 Over the past five years, market volatility has become the new normal for the oil and gas industry. Ongoing trade disputes, geopolitical tension and sanctions on oil-exporting nations have sent crude prices oscillating, while global demand has been unpredictable. Amid all this uncertainty, though, there has been a sense of cautious optimism sweeping the sector.
Valuable lessons have been learned from the 2014 oil crash and the downturn that followed. With crude now swinging between $60 and $70 per barrel, prices might be far from the historic highs of the early 2010s, but they have certainly picked up since their post-crash slump. These higher, healthier prices are decidedly encouraging, and the industry has shown remarkable resilience in the face of volatility. Global growth is also expected to pick up to 3.6 percent in 2020, which could bolster demand.
The turbulence of recent years has shown that the oil and gas sector is able to cope with hardships, from supply chain disruption to sustained low prices. But, as we look towards 2020 and beyond, the industry's biggest challenge is much more existential. Climate change has been described by the UN as "the defining issue of our time", and we are witnessing a global push towards green energy sources, prompting oil and gas companies to reassess what their role might be in the future. This year's World Finance Oil and Gas Awards celebrate the companies that meet such challenges with confidence and a will to succeed.
Go green or go home
Since the signing of the landmark Paris Agreement, the world has been moving towards a low-carbon future. Renewable energy is set to play a crucial role in this transition, helping countries meet their ambitious emissions targets and reduce their carbon output. According to British energy giant BP, renewables will be the world's main source of power by 2040, with green energy accounting for around 50 percent of electricity in regions such as Europe. Renewable energy is predicted to grow in popularity faster than any other fuel in history, and is already generating 85 percent of the growth in energy supply.
The question of sustainability is unavoidable, and oil and gas companies of all sizes need to examine how they can make their existing operations more environmentally friendly
While green energy is becoming more commonplace, fossil fuels are not set to disappear anytime soon. Indeed, many industry experts are predicting that the demand for oil and gas will continue to grow over the next two decades, driven primarily by emerging markets in China and India. In fact, BP believes oil demand will not hit its peak until the mid-2030s if the current rate of change continues. This leaves oil and gas companies in something of a double bind – they must produce enough energy to meet this growing demand, while also reducing their carbon emissions.
Firms are looking to deal with this challenge in a number of ways: larger companies can use their deep pockets to acquire smaller green energy providers, allowing them to diversify into the world of renewable energy without having to build the infrastructure from scratch. Others – Denmark's Ørsted being a prime example – are transforming themselves into green energy companies by phasing out fossil fuels and shifting towards low-carbon alternatives. Ørsted has cut its carbon emissions by over 50 percent since 2006 by refocusing its business on wind and solar energy. As stakeholders and consumers grow more conscious of environmental issues, we may see similar pivots to renewables from leading oil and gas companies in the years to come.
A comprehensive clean-up
For smaller companies with less financial flexibility, however, these large-scale transformations and ambitious acquisitions simply might not be feasible. Fortunately, there are several cost-conscious steps that companies can take to improve their services and appeal to an increasingly eco-friendly customer base.
The question of sustainability is unavoidable, and oil and gas companies of all sizes need to examine how they can make their existing operations more environmentally friendly. This is a practical way for smaller companies to reduce carbon emissions, as it doesn't require a costly expansion into alternative energy sources. By eliminating methane and CO2 leaks from existing infrastructure, properly maintaining equipment and considering carbon offsetting strategies such as reforestation, companies can make their current operations more effective and less environmentally damaging.
Moving forward, oil and gas companies must also consider the environmental impact of decommissioning their ageing rigs. This poses one of the greatest challenges to companies working in the industry, from both a logistical and financial standpoint. A huge number of offshore rigs will reach the end of their production cycle over the next two decades, and these facilities need to be safely dismantled and disposed of. According to a report by IHS Markit, approximately 2,000 offshore rigs will need to be decommissioned by 2040, at a cost of around $13bn a year. With thousands of rigs, platforms and pipelines coming to the end of their life, oil and gas companies need to devise thorough decommissioning plans that are cost-effective and considerate of the environment.
Smart solutions
The oil and gas sector has been slow to embrace new technology. It is only in recent years that companies have begun to tap into artificial intelligence (AI), robotics, the Internet of Things and blockchain, but these cutting-edge systems are already transforming the industry. As uncertainty remains over oil prices and demand, new technology is helping companies to effectively cut costs and streamline their operations, enabling them to better withstand external market shocks.
Smart drilling, for example, has been designed to boost efficiency and has the potential to improve well productivity by up to 30 percent, while cutting construction times considerably. AI and machine learning, meanwhile, are enabling companies to use data in new ways. Companies can harness these advanced technologies to identify trends and pinpoint poor performance, as well as gauging the risks of new projects. AI can be applied at every level of a company, improving efficiency across operations, from offshore rigs to onshore head offices. While not yet as common as AI and machine learning, blockchain also offers a valuable means of simplifying processes and reducing costs – particularly when it comes to supply chains. Digitalisation is drastically reshaping the industry, and companies cannot afford to fall behind their competitors when it comes to adopting the latest technology.
In an industry marked by uncertainty and changeability, success is reserved for the most forward-thinking and adaptable companies. The winners of this year's World Finance Oil and Gas Awards see opportunity where others see challenges, demonstrating innovation and ambition even in testing circumstances.
World Finance Oil & Gas Awards 2019
Best Fully Integrated Company
Africa: NNPC
Asia: PETRONAS
Middle East: Qatar Petroleum
Eastern Europe: Lukoil
Western Europe: Royal Dutch Shell
Latin America: Petrobras
North America: ExxonMobil
Best Independent Company
Africa: Seplat Petroleum
Asia: MedcoEnergi
Middle East: Genel Energy
Eastern Europe: Irkutsk Oil Company
Western Europe: Wintershall Dea
Latin America: Petro-Victory Energy
North America: PEDEVCO
Best Exploration & Production Company
Africa: LEKOIL
Asia: PTTEP
Middle East: PDO
Eastern Europe: Volga Gas
Western Europe: Chrysaor
Latin America: Vista Oil & Gas
North America: W&T Offshore
Best Downstream Company
Africa: Rainoil
Asia: PETRONAS
Middle East: ADNOC Refining
Eastern Europe: Tatneft
Western Europe: Repsol
Latin America: YPF
North America: Valero Energy
Best Upstream Service & Solutions Company
Africa: Century Group
Asia: China Oilfield Services Company
Middle East: MB Petroleum Services
Eastern Europe: Schlumberger
Western Europe: Archer
Latin America: Baker Hughes
North America: National Oilwell Varco
Best Downstream Service & Solutions Company
Africa: Chrome Group
Asia: Puma Energy
Middle East: Q8
Eastern Europe: Honeywell UOP
Western Europe: VARO Energy
Latin America: Rodoil
North America: Motiva Enterprises
Best Drilling Contractor
Africa: ODENL
Asia: Dynamic Drilling
Middle East: ADNOC Drilling
Eastern Europe: Maersk Drilling
Western Europe: Valaris
Latin America: DLS Archer
North America: Nabors Industries
Best EPC Service & Solutions Company
Africa: Nestoil
Asia: WorleyParsons
Middle East: Arkad Engineering & Construction
Eastern Europe: McDermott Wuchuan
Western Europe: Wood Group
Latin America: Techint Engineering & Construction
North America: Bechtel
Best Sustainability Company
Africa: Axxela
Asia: PTT
Middle East: Qatar Petroleum
Eastern Europe: Hellenic Petroleum
Western Europe: Equinor
Latin America: Ecopetrol
North America: Pioneer Natural Resources
Best CEO
Africa: Austin Avuru, Seplat
Asia: Takayuki Ueda, INPEX
Middle East: Amin H Nasser, Saudi Aramco
Eastern Europe: Marina Sedykh, Irkutsk Oil Company
Western Europe: Patrick Pouyanné, Total
Latin America: Miguel Galuccio, Vista Oil & Gas
North America: Joe Gorder, Valero Energy
Best Oil & Gas Law Firm
Africa: Templars
Asia: Ashurst
Middle East: Latham & Watkins
Eastern Europe: CMS
Western Europe: White & Case
Latin America: Canales Auty
North America: Maalouf Ashford & Talbot
Best CTRM Company
Global: Eka Software Solutions