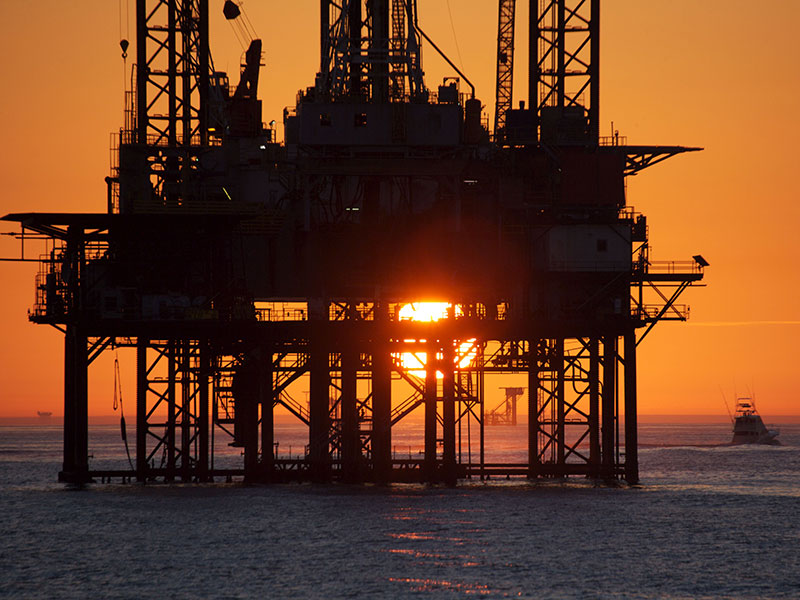 Having operated there for more than 35 years, W&T Offshore believes the Gulf of Mexico is the premier basin in the US for generating strong, sustainable cash flows&nbsp
W&T Offshore has been active in the Gulf of Mexico (GOM) for more than 35 years, and knows the basin extremely well as a result of our keen focus in the region. We have always prioritised free cash flow generation and believe the GOM is the premier basin in the US for generating strong, sustainable cash flows. While other energy companies have moved onshore, we have repeatedly increased our position in the region through a series of successful acquisitions and drilling projects.
We have operations in both shallow and deepwater regions in the GOM and intend to remain active in both sectors. We will achieve this through a combination of acquisitions, lease sale participation, and exploration and development drilling on properties we already own or can access via farm-ins. In terms of exploratory drilling, we tend to be more focused on prospects near existing infrastructure so we can put successful wells online quickly. We prioritise projects based on economic returns and cash flow generation, regardless of whether they are in shallow or deepwater regions.
W&T Offshore prioritises projects based on economic returns and cash flow generation, regardless of whether they are in shallow or deepwater regions
Being focused on the GOM for so long makes a big difference. Over this period, we have developed a strong reputation with other operators in the GOM as well as with property sellers. We also work well with all the relevant federal and state regulatory agencies. We are proud of our safety record and have a very strong drilling success record. We believe our positive operational track record, combined with an ongoing successful acquisition strategy, has enabled us to thrive and create value for our shareholders. It's a reputation that we intend to maintain and bolster over many more years working in the region.
Having a field day
Over nearly four decades operating in the GOM, we have enjoyed a number of successes. In the shallow water sector, a great example is our Mahogany field. Since acquiring the field in 2011, we have substantially expanded its size and depth by drilling or sidetracking 13 new production locations. The field is one of our key assets, and we have a quality inventory of future drilling projects that will enable us to extend the reservoir even further. We have increased production more than 10 times since acquiring the field.
In the deepwater region, a good example is the Gladden Deep well, which we discovered in June 2019. The well was drilled in approximately 3,000ft of water that encountered 201ft of net oil pay. W&T operates the well and owns a 17.25 percent stake in the discovery. The well was completed and placed on production ahead of schedule in Q3 2019, and is currently producing approximately 4,600 gross barrels of oil equivalent per day, with 89 percent of production being oil. We are proud of how quickly and efficiently we were able to get the well drilled and online despite it being a deepwater site, which used to take much longer to drill and start producing.
As well as these successes, we have been granted additional offshore leases, which we have high hopes for. We have been active in federal lease sales for a number of years and participated in two that were held earlier in 2019. We were awarded 15 leases in the first sale in March, when we acquired seven leases in shallow water and eight in deepwater. In August, both leases we acquired were in shallow water. We paid less than $4m for all 17 blocks, covering 83,800 acres. We intend to continue participating in future lease sales, as this is a low-cost way to add new drilling opportunities that complement our existing operations in nearby fields.
Investing in information
We have a pretty simple strategy for acquisitions. We look for properties that meet three criteria: first, they must have positive cash flow and a good reserve base; second, they should have opportunities where drilling can add value; and third, they must allow us to make an impact regarding workovers, recompletions and facility upgrades that can increase near-term cash flow.
ExxonMobil's Mobile Bay assets met all these criteria, and our purchase of them made us the largest operator in the area. We also understand the Mobile Bay assets very well as we own and operate the Fairway field, which is adjacent to the acquired assets. At the Fairway field, we have more than tripled proven reserves since we acquired it in 2011 by substantially reducing operating costs and enhancing production, without drilling a single well. We believe similar low-risk, high-upside opportunities exist in the Mobile Bay assets.

Currently, one of our priorities is maximising the potential of these new properties. We are looking at how we can improve efficiency and reduce operating costs. W&T Offshore also has an onshore gas plant that is near the one ExxonMobil owned, so we are looking at how to make use of that increased capacity. We have identified several exciting drilling opportunities on those assets and will be seeking drilling permits to potentially begin drilling them in late 2020.
Making the most of our current and future assets also involves exploring any new technological developments that emerge. We are committed to using technology in all facets of our operations, particularly in selecting our prospects and ongoing drilling activities. We have invested heavily in seismic predictors and have developed the expertise in house to fully utilise that technology. Our use of 3D seismic data has significantly reduced our drilling risk and increased our drilling success rate to about 94 percent on all wells since 2011.
Unlike onshore shale plays, where acquiring data over large plays from numerous sources can be beneficial, every offshore field and reservoir is different. Data gathered over a large area in the GOM is not nearly as expensive as it is over a shale play onshore. The processing of 3D seismic data is a major key to our success and we will continue to invest in technology and a team that can best use that technology.
Different from the rest
In recent years, the development of the onshore US shale market has dramatically restructured the global oil and gas market. At W&T, our ability to consistently generate free cash flow helps us differentiate ourselves from competitors. All of the wells we drill in the GOM are conventional wells, compared with unconventional wells in the shale plays. Unconventional wells decline at a much steeper rate, and shale plays require considerably more capital to maintain or grow.
Offshore, we can adjust our capital investments when oil prices fall, while the high porosity and permeability of offshore reservoirs often requires fewer wells to produce large reserves of oil and gas. We have been cash-flow-positive for most of the time, and our strategy is focused on staying that way. We have the luxury of deciding whether to invest our free cash flow in acquisitions, drilling, reducing debt or paying dividends to shareholders. Most onshore exploration and production firms in the shale plays have to keep reinvesting in drilling wells and are trying to become free-cash-flow-positive.
The huge growth in the shale plays has certainly had an impact on the amount of oil and gas the US produces. As an industry, we are exporting more oil and developing liquefied natural gas infrastructure along the Gulf Coast so we can export natural gas as well. For onshore players, this has caused pricing issues when there isn't sufficient pipeline capacity to move onshore oil and gas production to the right locations. At W&T, we are well positioned to achieve favourable pricing as our crude is needed at Gulf Coast refineries, while our natural gas benefits from good Henry Hub pricing because of our access to a number of pipelines along the Gulf Coast.
As well as competing against onshore shale players, W&T also makes sure to differentiate itself from its offshore peers. To do so, we are primarily focused on acquisitions and staying within the GOM. We believe this approach has served us well in the past, as it has minimised our risk and allowed us to use our expertise to reduce costs, increase cash flow and find additional reserves that were left behind by sellers who have moved onshore and sold their properties to us. We will drill exploratory wells, but our primary focus is on building value through acquisitions. We think our track record in that regard speaks for itself.