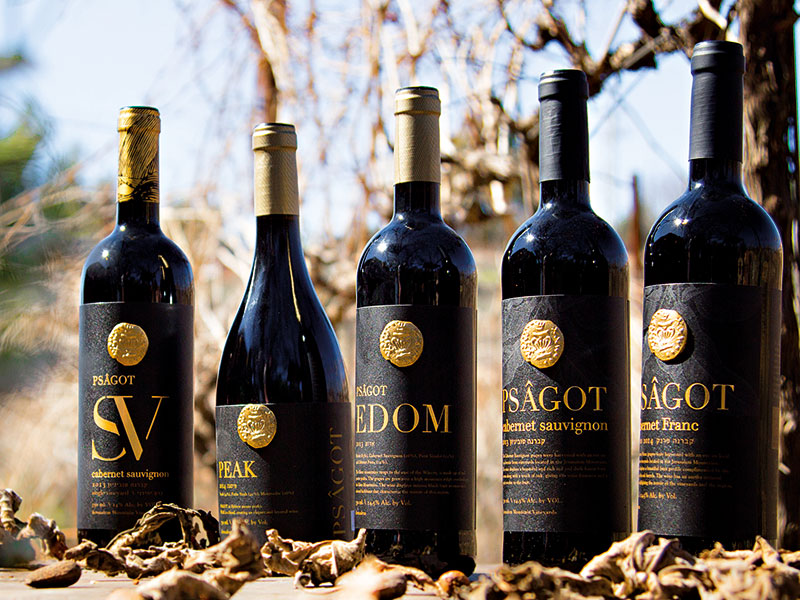 Many of the practices used by Psagot and other Israeli wineries are now being employed around the world: for example, drip irrigation was invented and perfected in Israel&nbsp
Winemaking in Israel has a long history, but it is far from straightforward. The country, like many others situated along the Mediterranean coast, is blessed with the right climate and soil to create some of the world's finest wines, but a range of cultural factors meant that production fell out of favour in the country for centuries. However, it has since made an astounding comeback.
Today, Israeli winemakers produce more than 33 million bottles a year, and they are often award winners. The country's top wineries sell their wares around the world, with exports accounting for 20 percent of Israel's total wine sales. Although the Jewish diaspora makes up a sizeable portion of these international sales – especially during the Rosh Hashanah and Passover holidays, when kosher products must be consumed – Israel's wines have a broader appeal, too. Sales of Israeli wine in Asia continue to grow steadily, and many of the country's winemakers are keen to enter new markets.
Psagot's wine is produced from grapes grown in the same area where the biblical Abraham grew and made his own wine
One of Israeli wine's biggest success stories is Psagot Winery. Located just north of Jerusalem in the Binyamin region, the winery has gone from strength to strength since its formation in 2003, receiving numerous awards for the 11 wines it produces, including World Finance's Best Fine Wine Producer in Israel 2019. We spoke with Yaakov Berg, the company's founder and CEO, to learn how Psagot Winery is using innovative technology to breathe fresh life into an industry that has deep roots.
What makes Israeli wine – and Psagot in particular – so special?
Psagot's wine is produced from grapes grown in the same area where the biblical Abraham – father of monotheism – grew and made his own wine. Some 3,000 years later, the region's modern wines are being recognised by international publications as some of the best in the world.
My co-winemaker, Yaacov Oryah, and I are committed to producing world-class Israeli wines that are true to the terroir they come from; if our wines can't be great, we simply won't make them. Our particular focus is on achieving balance, but this can be challenging in a hot, arid climate like Israel's. As such, we employ all kinds of techniques to achieve the perfect finished product. Ultimately, we make wine for the consumer, not the critic – the fact that critics like our products is simply an added bonus. The many accolades we have achieved over the years indicate that our approach is the right one.
What role does history play in the story of Israeli wine?
Until the end of the 19th century, no wine had been produced in Israel for hundreds of years – a result of the Ottoman Empire's control of the region and the fact that wine was forbidden in the Islamic community. In the late 1800s, Edmond de Rothschild reintroduced Vitis vinifera (the common grape vine) to the region, prompting the first wave of modern winemaking. More recently, Psagot – alongside Domaine du Castel and other wineries situated in the Judean Hills – has committed itself to championing local winemaking.
Psagot's appreciation of history is exemplified by its branding. The coin seen on our wine bottles is a replica of one found in an ancient cave located on our land. The cave dates back to the time of the Second Temple, more than 2,000 years ago, while the coin can be traced to the First Jewish-Roman War, which took place between 66 and 73 AD. One face of the coin shows an amphora, a vessel for storing wine, and the other side depicts a grape leaf. The coin symbolises the preservation of the winemaking tradition and our connection to our biblical and agricultural roots. In the cave, we also found the remnants of a winepress.
How has Israeli wine been received by the worldwide market?
France, Italy and Spain are internationally recognised for their wines. However, the Eastern Mediterranean region, where Israel is located, benefits from the same environmental factors that result in such excellent wines in Western Europe. Wine drinkers are always searching for the next great viticultural region, and many are now setting their sights on Israel.
My feeling is that, while European wine drinkers often consume wine primarily from their country of residence, many are looking for something new, fresh and as good as what their home market has to offer. My goal is to say, "If you love Bordeaux, why not try our Edom?" Nordic countries, meanwhile, have always been open to trying wines from other countries. It helps that the Jewish diaspora has connected the country with people around the world.
How has Israeli wine become so relevant?
The development of Israeli wine has been many years in the making. It advanced in the late 1980s when wines from the Golan Heights began to gain recognition from internationally renowned winemakers. A boost came in the 1990s when critic Jancis Robinson wrote about the wines being produced in the Judean Hills. More recently, the Wines of Israel marketing campaign has placed global attention on the quality and value of the country's wines.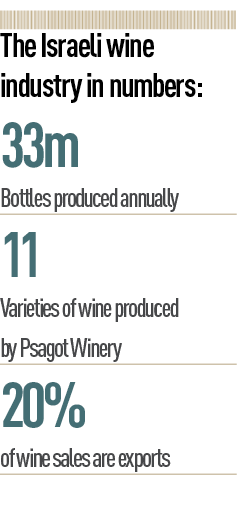 Jay Buchsbaum, Director of Consumer Education at Royal Wine, the company representing Psagot outside of Israel, noted that the focus Israeli wineries place on quality has paid dividends. We've achieved this through attention to detail, starting at the source and continuing with multiple tasting sessions. It may appear as though Israel's wine scene has grown quickly, but a great deal of hard work, effort and skill have been put into the process.
What are the advantages of using modern winegrowing techniques?
Israel is considered to have few natural resources, so its citizens have always used their spirit and intellect to achieve success, leading many to refer to the country as the 'start-up nation'. This culture of experimentation and innovation is key to developing grape varieties that are not only new but also of a higher quality than previously achieved, which ultimately results in the production of better wines.
Many of the practices used by Psagot and other Israeli wineries are now being employed around the world: drip irrigation was invented and perfected in Israel, and the country has also pioneered vineyard monitoring systems, among other technology-based innovations. Some wineries have transitioned to ecologically balanced vineyard operations, which don't use pesticides. This has proved to be an effective means of production and brought additional benefits to local wildlife: many species have returned to areas that use this method. It has since been adopted by several Californian wineries.
What makes Israel's topography ideal for wine production?
Israel boasts diverse topography and geography, which includes volcanic soil in the north, clay-rich terra rossa soil in the Judean Hills and sandy, loamy soil in the valleys of the Negev region. Each distinct soil profile produces a unique grape.
The weather, too, is diverse. Although Israel is thought of as a desert area, snow often covers vineyards in both the Golan Heights and the Judean Hills, giving them full dormancy that brings out a complexity of taste in the grape. Overall, the diversity of vineyards and terroir is pronounced across Israel, allowing the country to build a truly broad range of wines.
Israel is producing award-winning wines – why do you think that is?
A huge number of factors are contributing to the country's award-winning wines. First and foremost are our excellent grapes, which benefit from the strength and diversity of our terroir. When this is combined with cutting-edge winemaking technology, the latest growing techniques and talented winemakers, it's easy to see why Psagot Winery and Israeli wines more generally are receiving such widespread acclaim.