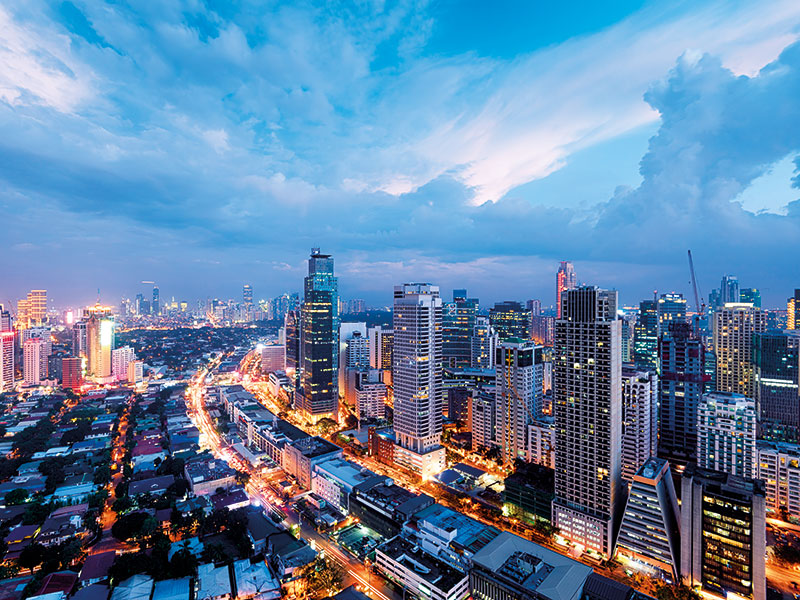 BPI-Philam Life Assurance is the leader in Philippine bancassurance and continues to grow, with an increasing number of branches nationwide&nbsp
Author:
Surendra Menon, CEO, BPI-Philam Life Assurance
The Philippine insurance market has undergone steady yet significant growth over the past few years. In 2018, the net profit of the entire sector grew by three percent, or a staggering PHP 37.43bn ($736m). According to GlobalData, gross written premiums are expected to grow a further 25 percent by 2022 (see Fig 1).
The growth of the Philippine insurance sector goes hand in hand with the country's evolving economy and growing middle class. GlobalData has stated that public infrastructure spending and vulnerability to natural disasters are two of the major drivers behind the rise in demand for insurance in the country. Philippine Insurance Commissioner Dennis B Funa, however, believes that many Filipinos are more likely to invest in insurance today because of the rise of 'insurtech'. By using technology in the creation of new products and better distribution systems, insurance has become more accessible and more closely aligned with customer needs.
The growth of the Philippine insurance sector goes hand in hand with the country's evolving economy and its growing middle class
In an article for BusinessMirror, Funa also noted the current trend towards fitness and healthy living. BPI-Philam Life Assurance's Wellness Series (powered by Philam Vitality) is an example of how insurance has adapted to consumers' desire for a healthier lifestyle. Philam Vitality provides several health-related benefits for policyholders under BPI-Philam, such as discounted gym memberships.
Insurance has begun to appeal to those who are more wellness-minded, not only those who seek financial security and protection. By attracting new demographics such as these, the Philippine insurance market is expanding its customer base and looking towards a brighter, more robust future.
Incentivising insurance
Despite recent growth, financial literacy remains a hurdle to getting more Filipinos to invest in insurance. According to the World Bank, Filipino adults could, on average, only answer three of seven finance-related questions correctly. The survey, conducted in 2015, included questions on basic numeracy, interest, inflation and investment diversification. It is important for us at BPI-Philam to inform Filipinos about the importance of securing their financial future in order to help them make better financial decisions and decrease their risk of falling into debt.
Every October, BPI-Philam celebrates Bancassurance Month, which is part of our efforts to educate Filipinos on financial wellness, the benefits of insurance and the advantages of getting insured through a bank they trust. We've been celebrating Bancassurance Month for four years now, and through this initiative, we have been able to get both existing and prospective clients to visit BPI branches to talk about their financial health.
In 2019, we named the celebration Banca Fiesta and held raffle draws for our customers, giving them the opportunity to win Garmin devices, gym memberships, wellness kits and other prizes. All they had to do was visit a Bank of the Philippine Islands or a BPI Family Savings Bank branch and talk to a bancassurance sales executive (BSE). They were then asked to take the Philam Vitality Age Test, an in-depth quiz that allows individuals to find out how old they are in health terms. BSEs will then educate the customers about the importance of insurance and all the health benefits of getting a Philam-Vitality-integrated policy.
More to come
Aside from the incentives that we offer to potential customers, the hard work of our parent companies is one of the major reasons why we are the number one bancassurance company in the Philippines. BPI-Philam is formed of a strategic alliance between BPI and the Philippine American Life and General Insurance Company (AIA Philam Life). It is also a three-way venture, with BPI owning 51 percent of the company, AIA Philam Life 47 percent and private stakeholders two percent. Our clients and target audience are account holders of BPI.
BPI is a leading commercial bank in the Philippines, with more than 160 years of experience in the local banking industry and an extensive network of 1,000-plus branches and 3,000-plus ATMs nationwide. AIA Philam Life, meanwhile, has been the country's premier and most trusted life insurer for more than seven decades.
We are also the official bancassurance arm of AIA Group in the Philippines. AIA Group is the second-largest life insurance company in the world and operates in 18 markets across the Asia-Pacific region. This is not to say that everything we've achieved is due to the success of our parent companies – it is a great achievement for a company as young as 10 years old to become the country's number one bancassurance firm. In fact, we became number one at just five years old. We've currently only tapped a small portion of BPI's customer base, yet we remain the market leader for bancassurance; if we can tap into an even larger proportion, the possibilities are huge.
We became the market leader for many reasons, one of which was the people who work for us. BPI-Philam is a relatively young company made up of energetic and technologically adept employees with an average age of just 26. The enthusiasm and dedication of our employees has affected how we do things on an operational level. We are proud of the culture we've created within the office, too: BPI-Philam takes good care of its employees by promoting a healthy work-life balance, providing sufficient training, giving free Philam Vitality memberships and encouraging them to participate in health-related activities. We also make sure that while we get the job done, we have fun at the same time.
Despite only being 10 years old, our company has changed markedly over the past decade. In fact, BPI-Philam was called Ayala Life before AIA Philam Life acquired the majority stake in 2009. Just five years after our company began, we became one of the top five life insurers in the Philippines and boasted the highest total premium income. Today, we are the leader in Philippine bancassurance and continue to grow, with an increasing number of BPI branches nationwide. We also work alongside AIA Philam Life to improve our services, both for customers and BSEs. BPI-Philam's annualised new premiums (ANPs) grew from PHP 659m ($13m) in 2010 to PHP 5.4bn ($106.2m) in 2018. As of June 2019, the company has a year-to-date ANP of PHP 2.8bn ($55.1m).
Purpose over profit
At BPI-Philam, we have a passion for innovation and embrace technology because it means we can greatly improve our customer experience. We've adopted and developed new tools to expand our reach and make things easier for both our customers and BSEs. There's always been a misconception that buying and selling insurance is difficult – even intimidating – due to the amount of paperwork involved in securing a policy, but in this day and age, technology renders that argument invalid. At BPI-Philam, we want to promote digital habits so that buying insurance becomes easier for clients and selling insurance is a breeze for BSEs.
With our customers in mind, we've developed a 24/7 online portal called ePlan. Here, clients can easily access their ePolicy, a digital version of their policy contract that can be opened anywhere using a mobile phone, tablet or laptop, provided there's an internet connection. Through this facility, customers can also manage their policy, monitor policy values, view their payment history, update their contact information and perform policy transactions, including loans, partial redemptions and reinstatements.
For BSEs, we have our Interactive Point of Sale (iPoS) and Interactive Customer Assistance and Requirements eSubmission (iCARE). IPoS was designed to make the application submission process easier for BSEs; iCARE, on the other hand, makes after-sales servicing quick and convenient. These two applications can be accessed through what we call our Bancassurance Portal, which is a suite of tools that BSEs can use for selling insurance and managing their clients' policies.
We invest a lot in our BSEs – we want to make sure they are equipped with the knowledge, skills and tools to best serve our customers. It's not just a one-time effort, either: we ensure that we provide continuous support to our BSEs through regular training, effective communications and a nurturing company culture. They are our agents of change, playing a big role in the success of the business. All of our customer service efforts are anchored on customer centricity, which is a value our business fully commits to. Through customer centricity, decisions made within the company are judged upon how they will further improve the customer experience.
We all know that insurance is an important investment. That is why the insurance industry is heavily reliant on how well the business understands and addresses customer needs. Customer service is not just about making a sale – it should also represent the business' efforts to connect with its clients. Nurturing relationships with customers and putting their needs first are two of the best ways of making them entrust their life savings with you. What's more, excellent service shows our customers that we are here to help secure their finances and protect what – and who – matters most to them. Our company has a purpose-led promise to help our clients live healthier, longer and better lives.