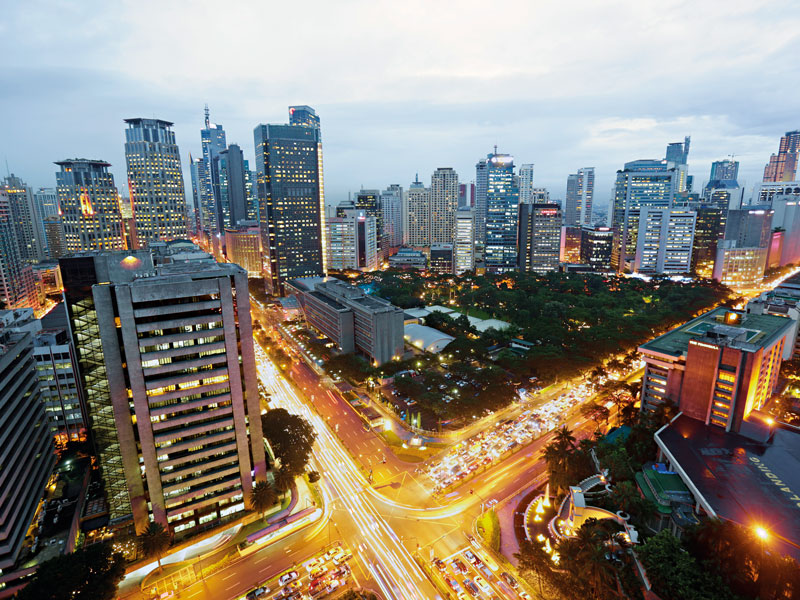 Downtown Metro Manila, Makati City, Philippines&nbsp
Author:
Rafael G. Ayuste, Jr., Senior Vice President, Head of Trust and Investments Group, BDO Unibank
2020 was quite a challenging year for all of us. Lives and businesses were severely disrupted due to the pandemic. As we crossed over to 2021, there was cautious optimism that this would be a year of recovery and rebuilding. We were right to be cautious as the second wave of the pandemic hit. The Delta variant of the COVID-19 virus caused havoc to local and global economies alike, enforcing another round of lockdowns and slowing economic activity in the process. Fortunately, the vaccine rollout in the Philippines has also progressed throughout the year and we saw more Filipinos get fully vaccinated, which consequently led to the gradual reopening of the economy.
The 'We Find Ways' mentality
Similar to 2020, BDO Trust and Investments Group (BDO Trust) has constantly been on hand to assure clients that it is in full control of their investments, transitioning from being defensive to counter market volatility to becoming opportunistic to gear investment portfolios in preparation for recovery and growth.
BDO Trust continues to service clients by embodying the 'We Find Ways' mentality, ensuring that clients get access to investment opportunities despite the challenges of community lockdowns. Digital technology, through email and mobile messaging systems, is highly utilised to share investment ideas that can help to manage investment funds, encourage investment opportunities or simply to reassure.
Video conferencing and collaboration tools are used to execute initiatives such as our investment teleconsultation service, Market Sense and the Practical Investor webinar series. The BDO Invest Hotline and BDO Invest Online provide safe alternatives for clients to carry on with their investment transactions even if most bank branches are already open. These measures not only allowed us to increase wallet share from our existing client base, but the same communication tools were also used to acquire new markets that successfully brought in fresh funds.
For our institutional clients, we now offer a holistic approach to retirement fund management services, which is truly unique in the industry. We believe that it is important not only to provide adequate returns for the company's retirement funds but also address the needs of the ultimate beneficiaries – the employees.
Through the BDO Pension 360, companies can empower their employees in augmenting their funds for retirement through the BDO Easy Investment Plan and the Personal Equity and Retirement Account, and provide them with a facility to responsibly manage their regular retirement payout through BDO easy pension pay. As a testament to BDO Trust's ability to remain nimble and adapt despite the disruptions of the pandemic, clients invested more in 2020 and continue to do so in 2021, increasing BDO Trust's leadership in the trust and investments space in the country with a 24 percent market share with trust assets under management of PHP1.183trn ($23.66bn) as of August 31, 2021.
Preparing for the future
The ongoing pandemic has helped accelerate the use of technology among Filipinos. For the past year and a half, digital transactions have massively increased. Groceries, supplies, discretionary purchases, and banking have seen a surge in digital traffic. Investing is no different. BDO Trust's invest online facility allowed clients to invest in the BDO UITFs from the safety of their own home.
Increased transparency through BDO Invest Online reassured clients that their money was still safe during the pandemic. Moreover, having the means to continue transacting has allowed clients to take advantage of opportunities during this period of economic recovery. BDO Invest Online's end-to-end investment process, from account opening to transaction fulfillment, places it at a competitive advantage to its competitors, most of whom require a visit to the branch. This same straight-through digital process is also available for its programmed investments, the BDO Easy Investment Plan. Currently, only BDO Trust has the capability to show both the client's segregated portfolio via an investment management or trust account and a UITF account in the same online portal, providing the client with a full 360-degree view of their investment portfolio.
BDO Trust is the only Personal Equity and Retirement Account (PERA) administrator and PERA product provider that allows investors to open an account and invest in PERA products fully online, digitising an otherwise 30-minute face-to-face process, revolutionising the onboarding experience and making it more accessible to the intended market who are the overseas Filipino workers. PERA is a voluntary retirement account that is meant to supplement a Filipino's social (GSIS or SSS) and/or corporate pension benefits. It provides tax exemption benefits to contributions of a yearly maximum of PHP100,000 ($2,000) to encourage long-term retirement savings.
BDO Trust continues to invest for the future to better serve digitally savvy investors and to provide more value to customers. Enhancements to its digital channels are already ongoing for a seamless and consistent customer experience through multiple channels.
The pandemic has proven that financial inclusion can be accelerated through a robust digital infrastructure. The digital roadmap for BDO Trust takes this into account to further contribute to the achievement of financial stability and economic development. What this translates to, for our customers, is convenient asset accumulation. To our country, it increases economic participation. To our institution, it is a cost-effective means of achieving market growth and business sustainability.
Focus on sustainability
Another aspect of business sustainability is being able to provide relevant products to customers. BDO Trust has always been an advocate of socially responsible investing. Since 2015, it has made available the BDO ESG Equity Fund, which invests in companies that exhibit exemplary environmental, social and governance attributes. The BDO ESG Equity Fund subscribes to the specific guidelines set by the International Finance Corporation (IFC) for ESG investing. The fund does not invest in companies with the primary business of selling alcohol, tobacco or those purely engaged in gaming or mining.
While the fund is still relatively small, it has the potential to grow exponentially in size and importance as more investors start to see value in socially responsible investing. Clients are beginning to favour companies that manage their environmental and social risks and practise good governance, creating a positive contribution to society. Schools, foundations, religious organisations, associations, and other non-profit organisations, in particular, generally seek a long-term investment portfolio that is consistent with their values and purposes. For these clients, BDO Trust offers a values-driven investment strategy that upholds their own environmental, social and governance principles.
Advocating financial wellness
BDO Trust continues to support sustainable strategies through the advocacy of financially inclusive growth. The pandemic clearly demonstrated the importance of financial wellness as Filipinos were blindsided by the sudden economic downturn. This presented a golden opportunity for BDO Trust to direct the market's attention to greater financial literacy by continuing its investor education programmes digitally, providing fresh content and modules that take into account where the target audience is in terms of their customer journey.
Supporting this strategy is a dedicated team that provides free financial education programmes to clients. The courses, which cover proper budgeting, wise investing habits and retirement planning, are open to different audiences – clients, bank branch personnel, employees, teachers, and blue-collar workers to name a few. Throughout 2020 and 2021, BDO Trust has conducted numerous webinars to sustain its training and educational activities despite limited mobility.
The pandemic has proven that financial inclusion can be accelerated through a robust digital infrastructure
At the heart of these financial wellness sessions is the BDO Easy Investment Plan or EIP, which is the clients' tool to successfully and automatically execute their wealth creation plans. EIP allows clients to invest in the BDO UITFs for a minimum investment amount of PHP 1,000 ($20) for peso-denominated funds and $200 for US dollar-denominated funds. Through the EIP, more Filipinos are able to invest for their emergency fund, children's education fund, retirement and other financial goals easily, affordably and regularly without the need to go to a branch for every transaction. EIP effectively democratises investing for the mass market – allowing easier conversion of savers to investors.
BDO Trust also offers the Personal Equity and Retirement Account (PERA) to help Filipinos augment their retirement pay and plan for a comfortable retirement. PERA lets clients invest a maximum of PHP 100,000 ($2,000) yearly – or PHP 200,000 ($4,000) yearly for overseas Filipino workers (OFWs) – and take advantage of tax-free investment income to encourage long-term savings.
Making Filipinos global investors
In support of its push for improving financial literacy of Filipinos, BDO Trust not only aims to make Filipinos transition from being savers to investors, but also to turn Filipinos into global investors as well. Understanding both the benefits as well as the risks inherent to investing is fundamental to becoming a savvy investor. In addition, learning how local and global economies develop and grow can also help Filipinos appreciate investing more, knowing that diversifying into other markets can help grow their investment portfolio.
Through the BDO global feeder funds, retail and institutional investors alike can conveniently access global assets for as low as $500. Available through BDO Invest Online and BDO branches, these funds allow clients to invest in stocks that are traded in the US, Europe, China, and other developed and emerging markets. BDO Trust partners with the biggest names in the global asset management industry, such as BlackRock, Nomura Asset Management, Wells Fargo Asset Management and Citigroup to leverage on their expertise and experience in global markets. This strategy allows our clients to grow and diversify their investment portfolio as well as take advantage of investment opportunities both locally and globally.
With our advocacy for both financial wellness and sustainable investing and our adherence to the 'We Find Ways' mentality, we believe that our clients can easily take advantage of opportunities in the domestic investment environment as well as confidently venture into possibilities outside the Philippines.